Ewan Porter - Contributor
Return of a rock star
He's back. I heard someone say this week that golf has been waiting for the next Tiger Woods for 15 years – and it turns out that player is Tiger Woods. I can really relate to that.
I called all the LIVE action at last week's US PGA Championship in St Louis – where Tiger finished runner-up on 14-under, two shots behind the winner Brooks Koepka – while I was hosting the World Feed.
I also had inside-the-ropes access at the previous PGA Tour event in Akron, Ohio, broadcasting for PGA Tour LIVE. And let me tell you, the guy is a bonafide rock star again.
In Akron, Tiger started the tournament OK but ended up finishing poorly. I walked the front nine with Tiger and Aussie Wade Ormsby on Sunday, and they teed off two hours before eventual winner Justin Thomas did in the final group.
Without exaggeration, Tiger's crowd was – at least – four or five times bigger than Justin Thomas's crowd. It was the last time that that particular tournament was being held there in Akron, so a lot of people knew that this could be the final time they got to see Tiger play, but irrespective of that, as I said, the guy is like a rock star.
He was walking from green to tee – and when you walk from green to tee there are little alleyways you walk through with the crowd lining both sides – and I've never heard decibels like that on a golf course in my life.
Both weeks, he was acknowledging people in the crowd and high-fiving them and actually making eye contact with them. This is something that he never did in the past. In the old days, he'd have that million mile stare with the blinkers on. Tiger really thrived on that intimidation factor back in the day.
But the landscape has changed a little bit. Tiger engages with the fans now. And the more he engages with fans, the more real he is, the more popular he's becoming. No question about it, he's got more fans than he's ever had.
There's no question in my mind that even though he hasn't won yet, even blind Freddie can see that Tiger is going to win a tournament at some stage soon. He's been in contention the last two Major championships, he's had two seconds this year and he's going to win.
And when he does win, he'll be able to do it without all the bullshit that's attached to it. He can do it without being the aloof guy. Tiger Woods just seems like a more genuine person now. He's been humbled and he's matured.
One thing I mentioned on the broadcast of the PGA Championship was that his last Major win came ten years ago, before he became a father. He's trying to win a Major championship for the first time with kids.
His kids weren't born the last time he won, so he's trying to be a winner again and he's trying to be the proud father as well.
ONE OF THE BOYS
Tiger loves Australians and he always has. He's always enjoyed the company of Australian players because he enjoys the no-nonsense attitude.
A lot of the American players and people in general will place him on an almighty pedestal, whereas the Australian golfers – yes, they'll be in awe of his golf and respect everything he's done – but in person, they'll be like, 'Hey Tiger, how are ya mate, what's happening?'
I think Tiger in a way has yearned to be one of the boys because he hasn't really ever been able to do that. For so long he was in the bubble, but I think he's getting a little bit closer to the other guys now.
Tiger is a more genuine person now.
Tiger engages with the fans now. And the more he engages with fans, the more real he is, the more popular he's becoming. No question about it, he's got more fans than he's ever had.
When he made that apology in that press conference in 2010, five months after the scandal broke, it all seemed a little bit contrived. Since then, you can tell that he is remorseful for everything that happened.
In general, you can tell he's a much better person. He's much more grounded and I think this is being reflected not just in his golf – and his body's obviously holding up as well – but he's just more loved both on and off the tour.
He's taking the younger players under his wing now, while the older brigade he grew up playing with are all genuinely happy to see him out there competing again too. I don't think Tiger was ever one of the guys that you could hang out in the locker room and have a beer with, but he's definitely getting closer and closer to being that guy.
ROARING ON THE COURSE
On the first day of the 2018 PGA Championship, the crowd was the largest crowd in history at a Major championship. That was on Thursday, and every single day after that, they broke the record.
You can say it was predominantly Tiger, but the fans would have been there regardless. They haven't had a Major championship in St Louis since 1992, which is 26 years ago, and they haven't had a PGA Tour event at all for 10 years. 
St Louis is a fairly big city here in the US, a thriving city. Most US cities the size of St Louis hold PGA Tour events year after year, and the people there are sports nuts who love their golf. They've got a lot of good golf courses and it's a big sports town.
So the fans were always going to come out and support the tournament no matter what, but the fact that Tiger was playing, and the fact that he was in contention, definitely added to it.
I don't think Tiger was ever one of the guys that you could hang out in the locker room and have a beer with, but he's definitely getting closer and closer to being that guy.
On the final day, I didn't go on air until 1pm, but I arrived at Bellerive around 7:30 or 8 o'clock in the morning because I was hanging out with a buddy and getting some notes and doing some preparation. The crowd was packed in. They were roaring on the golf course by 8am, it was phenomenal, they were just so into it.
As far as Tiger's play is concerned, his last 36 holes equalled the PGA Championship record for the lowest 36 holes in history.
His last 54 holes was the lowest 54 hole total that he's ever shot in a major Championship – by four shots!
He shot 66-66-64 in the last three rounds. And the final day when he shot 64 – and bear in mind, the lowest round ever in a PGA Championship is 63 – he was hitting it all over the map off the tee.
Tiger never hit a fairway on the front nine, not one, and yet he still made the turn in three under.
Then I think he hit four or five fairways on the back nine. But to shoot 64 after the places he was hitting his second shots from was just phenomenal. Tiger mentioned after the round that he shot 64 with his mind. That's the only way he hung in there, with his mind.
Back in the day, his mind was his most powerful tool, and now his mind is back.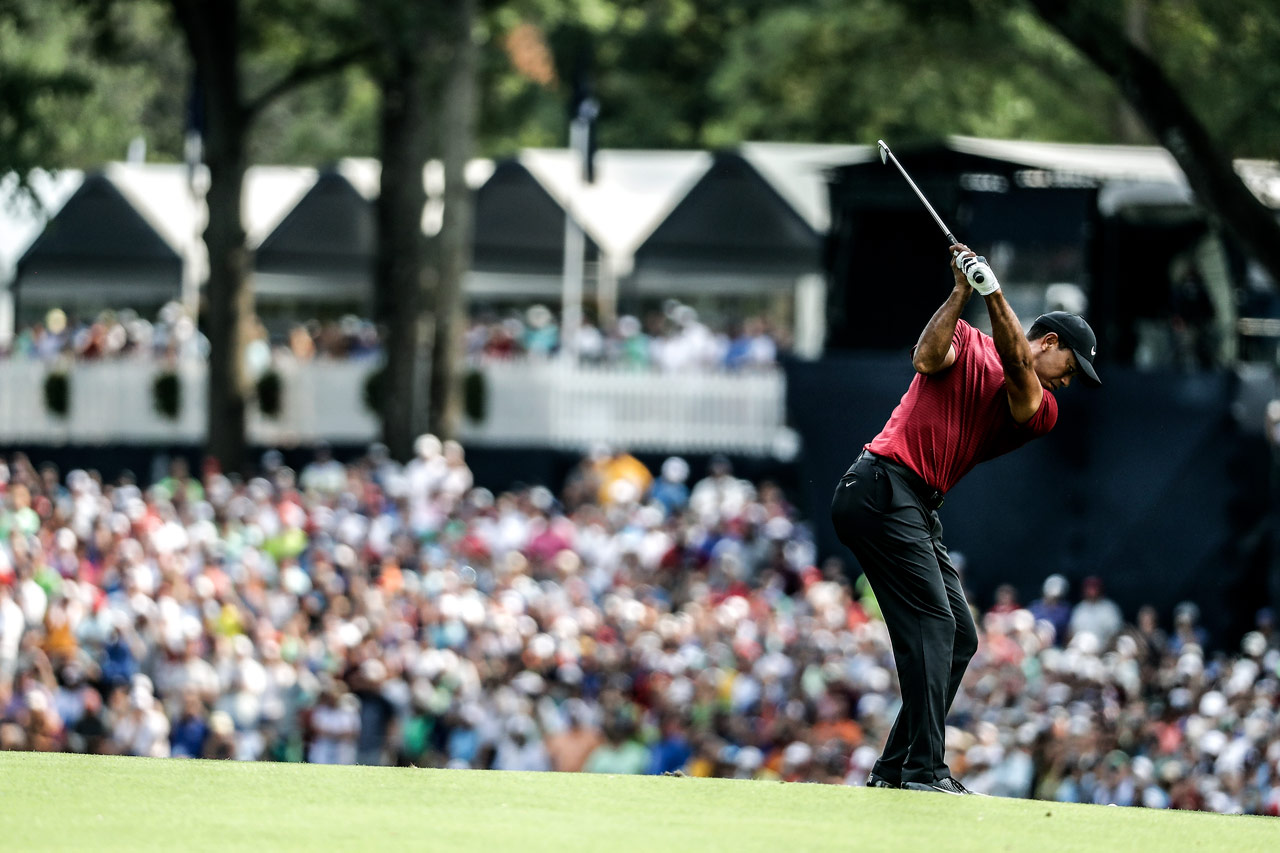 Tiger Woods is just playing golf again. I think he got caught up for a long time in trying to be a little too analytical, a little too technical and scientific with everything rather than just going out there and playing the game that he loved as a child.
There's no way that he could have ever shot that score in the final round playing any other way. Even before that final round, he was hitting it terribly when he was warming up. He was hitting it left and right and he knew that it was going to be a tough day.
But he just dealt with it and went about his business doing the best he could with it, whereas a lot of other players would have been completely panicking. 
SATISFACTION
Perhaps the best word to describe Tiger after finishing second would be 'satisfied'. I think he was extremely proud of the way he performed considering the way he played.
This year, there have been four occasions prior to the PGA when Tiger had been right there in contention with nine holes to play, but had fallen away and had always had a few bad holes. It wasn't a choke. It was just one or two bad holes that cost him a chance.
But I think by playing so well on the back nine at the PGA, he proved to himself more than anything that he can do it again, and that he remembers how to get it done under pressure.
Tiger never hit a fairway on the front nine, not one, and yet he still made the turn in three under.
I think he was very pleased with himself. Tiger didn't necessarily lose this tournament – Brooks Koepka was just too strong, he just was too good in the end.
And when Brooks holed the winning putt, Tiger was there waiting for him and gave him a hug and congratulated him. That would absolutely never have happened 10 or 15 years ago. Tiger could have shot 58 and come second and he would never have hung around. So that was also really really cool to see.
It's great to see Tiger back at or near the top of his game.
I think Tiger's now more appealing to the average Joe than he ever has been – and not just golf fans. For your average person watching golf on television, golf is now a really cool sport. When I was growing up, I was a complete nerd for watching golf. Golf was never, ever cool.
But if you look at guys like Brooks Koepka, who benches 315 pounds, which is about 140 kilos, or Adam Scott, who is in in tremendous shape, or Tiger, who could be a linebacker in the NFL, you've got real athletes now. That makes the game even more appealing.
I'm a tennis tragic as well as a golf tragic, and I worry about the sport when Nadal and Federer retire. They've been going at it hammer and tong for so long now.
A lot of really good players are coming through, but no one who moves the needle, so the ratings are going to drop for sure when Federer and Nadal go.
When it comes to golf, Tiger's 42, so if he doesn't get injured again, he will still play top golf for another 10 years – he'll play brilliant golf until he's 50. So golf is lucky in that regard.
I remember when Tiger wasn't playing, everyone said, 'Well, golf's in a great spot, we've got Jordan Spieth, Rickie Fowler, Rory McIlroy, Jason Day, all these young guys'.
But the TV ratings this week were the highest for the PGA Championship since the last time Tiger finished second – to Y.E. Yang in 2009.
It's proven that when Tiger is back out there, there is not even a comparison. You could have the top five young golfers in the world all battling it out week to week, but the ratings wouldn't hold a candle to what Tiger can do.
More about: Adam Scott | PGA Championship | Tiger Woods