Playing for two bucks a birdie
There's a lake on the right side of the 18th hole at Hillview Golf Course, where I first hung out with Dad on Sunday mornings as a kid, riding in a buggy, getting pulled in a cart and hitting a few balls with his big clubs.
It's a public course at Kalamunda, Perth. There's nothing really special about it. It's quirky with a couple of very sharp dog legs. But the lake on 18 is about 150 metres out and it was one of my first big challenges in the game.
My coach back then, Steve Lander, and I would have competitions to see if we could drive it over the water.
It seemed so far and I remember the first time I accomplished that shot and how happy I was. Now I go back and play with Dad and his friends and I look at it and see how far it really is. And it reminds me of where it all began.
Even for a chocolate bar
I started when I was nine or 10. Dad had come from New Zealand to Sydney when he was about 18 and then got a job in Perth. He was always sporty and still plays nine holes on Saturdays and 18 on Sundays. He never had a lesson but got to a handicap of 10.
At first, it wasn't about playing for me. I guess because a golf course is so open, and there's so much to see and get distracted by, it was just really fun to be out there, spending time with Dad. I was definitely the only daughter out there. There weren't other girls to walk the course with.
So I started hitting a few balls with his clubs, doing some putting. I didn't take too much interest at the start but I was hitting a lot of shots, and using men's clubs wasn't ideal.
My parents had introduced me to a lot of sports. I was mainly doing tennis and swimming then, but I never felt drawn to continue doing either of them at a higher level. What I liked most about golf was you would go to so many different places to play.
Every course was different, and that's what really drew me in. As well as loving the competitive side.
Steve would set other tests besides the lake challenge. The short game area at Hillview wasn't that great. There was one round green, not really shaved, with one pin.
There was a bunker and you could hit 30-metre shots onto the green so Steve would put big buckets onto the pitching area at different lengths. Chip it in this bucket, it's $10, that one is $20. Of course, I would always go for the one that got the most money.
I was always really competitive that way. That was in junior clinics and then I started to see Steve one on one, before I was a member anywhere. He would say if you get a birdie, that's $2.
It was a really good way for me to knuckle down and focus. It's probably not the best way to coach everyone, but it worked for me.
Most of the lessons I would have got something off him, even if it was just a chocolate bar.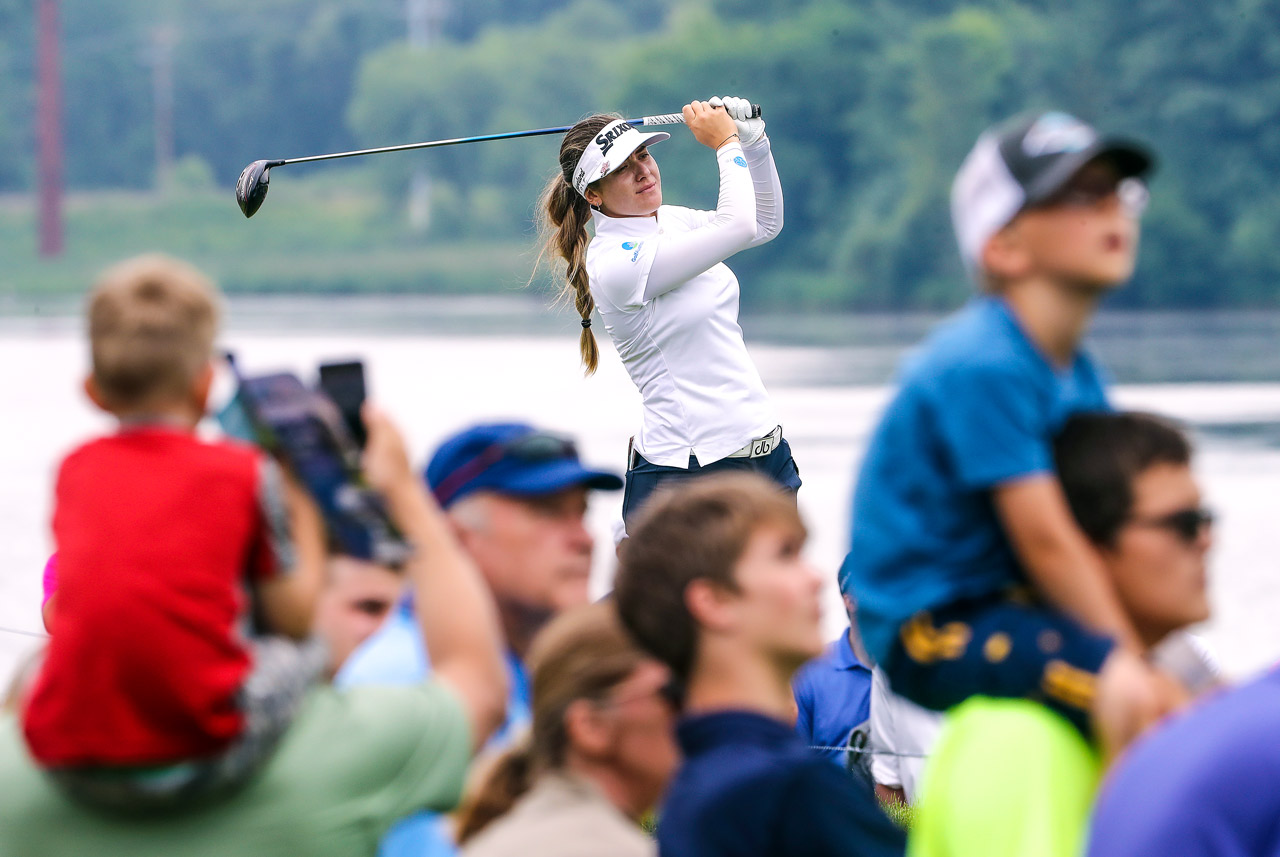 Karrie's doorstep at 10pm
I decided to become a member and got into a few junior tournaments, starting with six holes and then nine and then 18, and really started to enjoy it.
A good friend of mine was playing in the same tournaments and age category and she was a member at Mt Lawley and she said there were other junior members, including more girls. At Hillview, I was one of only two junior girls so I found it hard to get the competitive rounds I wanted and needed.
I got really homesick and didn't want to be out on the golf course, didn't want to practise that hard. It took a toll on my mental health and physically I was drained at the end of the year.
I joined Mt Lawley and played junior club champs, won a few of those, got into Como Golf Academy. From there I got noticed by Golf Western Australia, made state teams, and Golf Australia and made national teams.
I was into playing, but I was late into watching golf on TV and having idols. The first event I remember watching keenly was the US Open with Karrie Webb, but she's more my idol now than she was when I was starting out.
I won a Karrie Webb Series scholarship in 2015 and that was the first time I met her. I went with Julienne Soo and we flew from Australia to go to Lancaster in Pennsylvania. A 30-hour trip to land on her doorstep at 10 o'clock at night. We were both really nervous. But she was so lovely from the get-go.
That first week was so valuable, seeing how good a player you have to be. I stayed with Karrie with last year at a couple of events and it's really cool to have her thinking about me and trying to help now, when I'm a professional.
To have her there spraying Budweiser over us and celebrating on the 18th when I won the Women's PGA at Hazeltine meant so much.
A toll on my mental health
Life on tour is not for everyone and everyone has different strategies to cope. Last year, on my rookie year, I thought it was best to play as many tournaments as I could in a row.
I decided to stay in the US for four months and the first two were okay but the last two I just wanted to get home as quickly as possible, almost counting down the days until I could get back to Perth, which really distracted me from what was going on.
My head wasn't in the right place. I got really homesick and didn't want to be out on the golf course, didn't want to practise that hard. It took a toll on my mental health and physically I was drained at the end of the year.
This year I decided with my team back here in Perth that I'd do a maximum of six or seven weeks away from home. That's been a lot better and I've been travelling with another Aussie player, Su Oh, and that's been really helpful.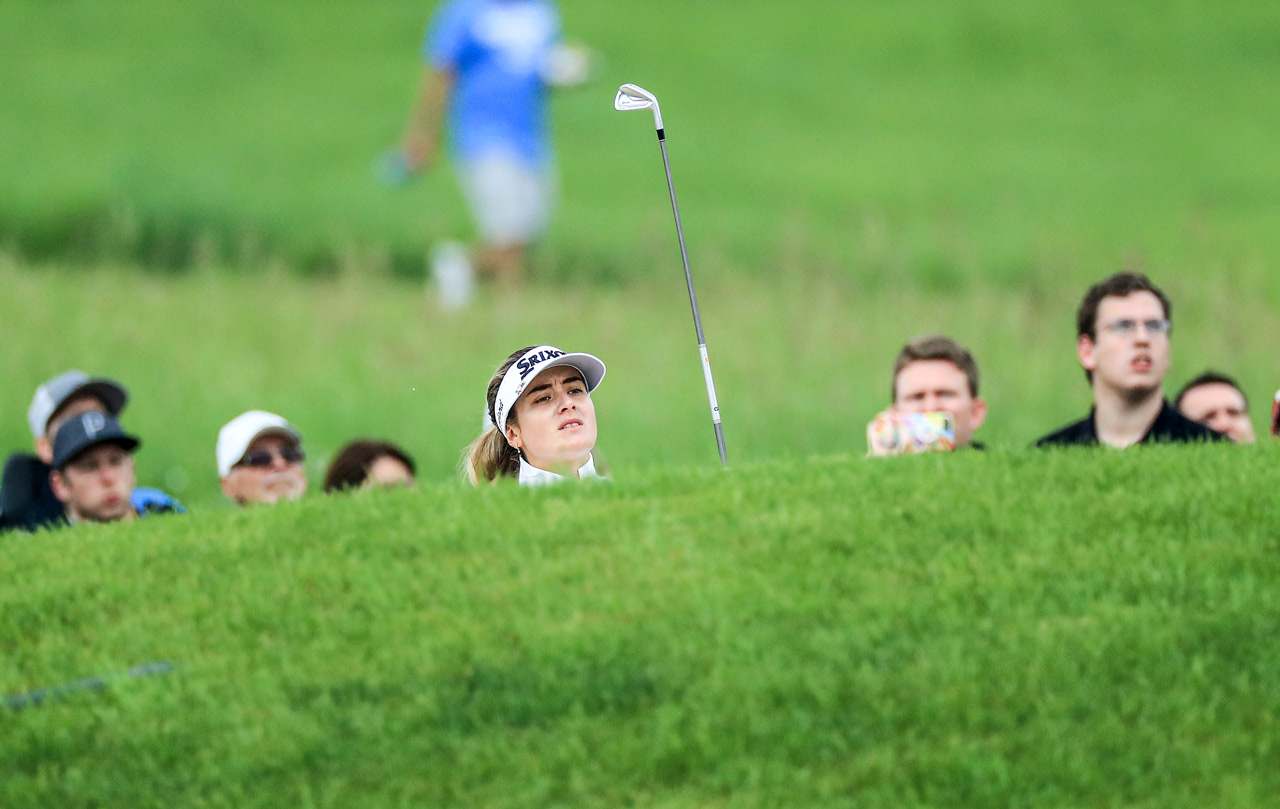 Aussie bbq with an elephant in the room
The Saturday night before I won the PGA, we had an Aussie BBQ at the house we'd rented near Hazeltine. It might have been an obvious subject but my tournament lead was never mentioned.
There were eight of us staying in the house and we invited another eight or so over for dinner and drinks. Because it was my first time ever going into a Sunday with a lead – let alone at a major – it was really good to have so many good friends come over.
Everyone knew the situation I was in but no one brought it up. That was really beneficial, rather than being in my room, on my phone on social media, seeing what people were saying.
They probably would have talked about it if I had been the first person to say something. There were two groups, some of the older players and caddies on one table and us younger players and friends on the other. It kind of felt like Christmas and we were on the kids' table.
Maybe no one wanted to make me nervous, or maybe it was just because we were all having such a great time it never came up. We were joking about Aussie stuff and other things that went on during the week.
We'd had a few issues at the house, so the talk was more about our clogged drain and a blocked toilet than if I could go wire-to-wire in the PGA.
It's not like we avoided the situation. That can feel awkward sometimes. It was just a nice, chilled atmosphere.
Life changing ?? https://t.co/nBIFynpECM

— Hannah Green (@hannahgreengolf) June 24, 2019
How Lily got me through
Leading every round, the nerves had been building. I didn't think anything of it on the first day because there was so much to play.
Really the most nervous I got was the last four or five holes but I drew a lot strength and inspiration from Lily, the seven-year-old girl who wrote me a poem.
I knew what I had been doing really well throughout the tournament was being able to switch on and off between shots.
It was my first time in that situation, leading and playing in front of such big crowds. Playing Hazeltine, I didn't think there was any moment where you couldn't fully focus on a single shot.
I knew the rounds were taking five hours, so I had to find some time to get my head away from it so I wasn't too drained by the end of the ground.

When Lily gave me that note, it was just after I made a birdie on 7. The eighth tee box is quite close, and the group in front hadn't hit their tee balls. Lily was there with a friend and I gave them both high-fives and Lily pulled out the poem.
I obviously read it straightaway and thought it was sweet and gave her a hug. It was forecast to have bad weather for the last nine holes, so I decided to put it in my yardage book in case it got wet. I didn't want it ruined.
There were multiple times on the back nine where we had waits at tee boxes, even second shots on par fours, when I pulled it out and re-read it. It was good to have something distract me from what was going on.
It helped to read something so positive. It said that it hoped I would win, and that she was my biggest fan. Reading something so sweet and heartfelt was what I needed in those moments.
You tell yourself positive things all the time, but it means so much when someone else gives you such positive vibes, gives you something you can read in two seconds and it gives you a boost.
More about: Coaching | LPGA Tour | PGA Tour | US Open Golf | Women's Sport