It's been a battle, but I want a gold medal to match my mum's
My mum has an Olympic gold medal in the safe at home. It's beautiful. I took it to "show and tell" at primary school a few times and it comes out on special occasions.
It's always fun when someone is a massive fan of the Olympics and you can say 'I've got a medal, do you want to see it?'. You can see their eyes light up.
The medal, from when my mum, Lee Capes, was a member of the Hockeyroos gold medal winning team in 1988, is quite a dark gold and deceptively heavy. There's a little chip on it from a time she left it on top the roof of her car by accident, driving off before realising 'ohhh!'.
Now, I want one of my own. I want to bring it home from Tokyo and sit it side by side with my Mum's in the safe.
If that happens, it will be the culmination of a crazy couple of years. COVID means it's not a normal Olympic campaign for anyone involved, but I feel like I'm in a unique situation.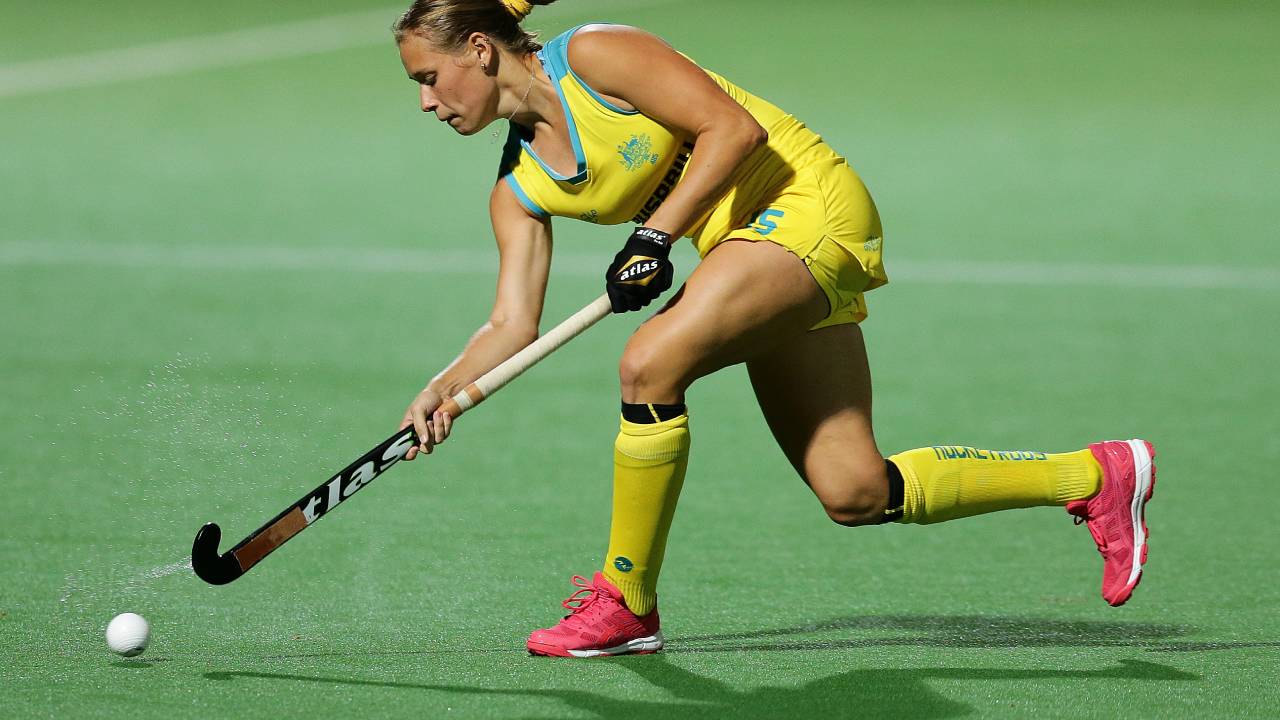 For a start, I'm preparing for a debut at an Olympic Games that may or may not go ahead, depending on whom you ask.
Secondly, I've just returned to playing after seven months out with a serious oestitis pubis (OP) injury.
While recovering and rehabilitating from injury, my team has been the subject of an independent review into its culture, with a new coach coming on board as well.
I've been a member of Hockeyroos since just after the 2016 Olympics and lately it feels like I've been dealing with a lot, all at the one time. One of those things alone would be enough to cause a lot of stress. 
Suffering my first injury
The injury came out of the blue and, at first, I pretended it wasn't happening.
I started not being able to run in sessions at top speed and afterwards I felt like I was crippled. Then any running became really painful. Getting out of bed in the morning hurt.
There were moments of tears and frustration, especially early on. And there were a few moments where it felt like I would never fully recover.
 One day I would feel great doing something and the next day, I would feel terrible doing the same thing. That roller coaster kept me in the moment for the whole time.
There was a day when I was not quite back running and I saw a story in the paper about Elliot Yeo, the West Coast Eagles AFL player, and his experience with the same injury as mine
It was exactly how I experienced it – two steps forward three steps back – a constant battle every day of 'what can I do now?' I had to be honest with myself and realise 'no, I can't push yet,' because otherwise I'm going to hurt myself over again and not make it. 
It was super challenging for a long time in those weeks where I couldn't move forward.  I learnt a lot of self-control in that time.
My physio is Steve Allen, who had worked with the West Coast Eagles and is now with the Hockeyroos. He was awesome, checking in with me every day and when I was sick about talking about how I was feeling he would leave me alone.
Kaitlin Nobbs.His support and that of my coaches made a huge difference. I understand that putting plans around me and what I can do has been really challenging for them because they are also preparing another 26 girls for the Olympics.  But that support and individual attention is what has gotten me back on the hockey pitch so fast and given me a chance of being selected for Tokyo.
The Hockeyroos review
Initially the review into hockey caused some tension and the Hockeyroos were in the media quite a lot. But ultimately it's brought us together and meant that we've had to focus on the relationships within the team. This process has led to us being closer.
In my opinion, it is better that the issues came to the fore in October/November 2020 rather than after the Olympics where sometimes the hype can distract from problems. The review potentially may not have happened if the Olympics had gone ahead on schedule last year.
This year, because we've been in a bubble anyway, to some extent we've put it all to the side and focused on our own jobs. We have had a lot of sessions with a consultant, Bill Nelson, who has assisted many sports teams with their culture.
It was a very hard process for everyone involved but a lot of positives have came out of it. As a team we've worked hard and become good at adapting to changes and going about our daily grind even though things are happening in the background.
In today's Covid world, everything can change at a moment's notice. For example, when I commenced writing this article, Western Australia was Covid free and just resumed Level One restrictions for the first time in a year. The next day, we are again in a strict lock-down for the next few days. COVID can change anything even the Olympics if it wants.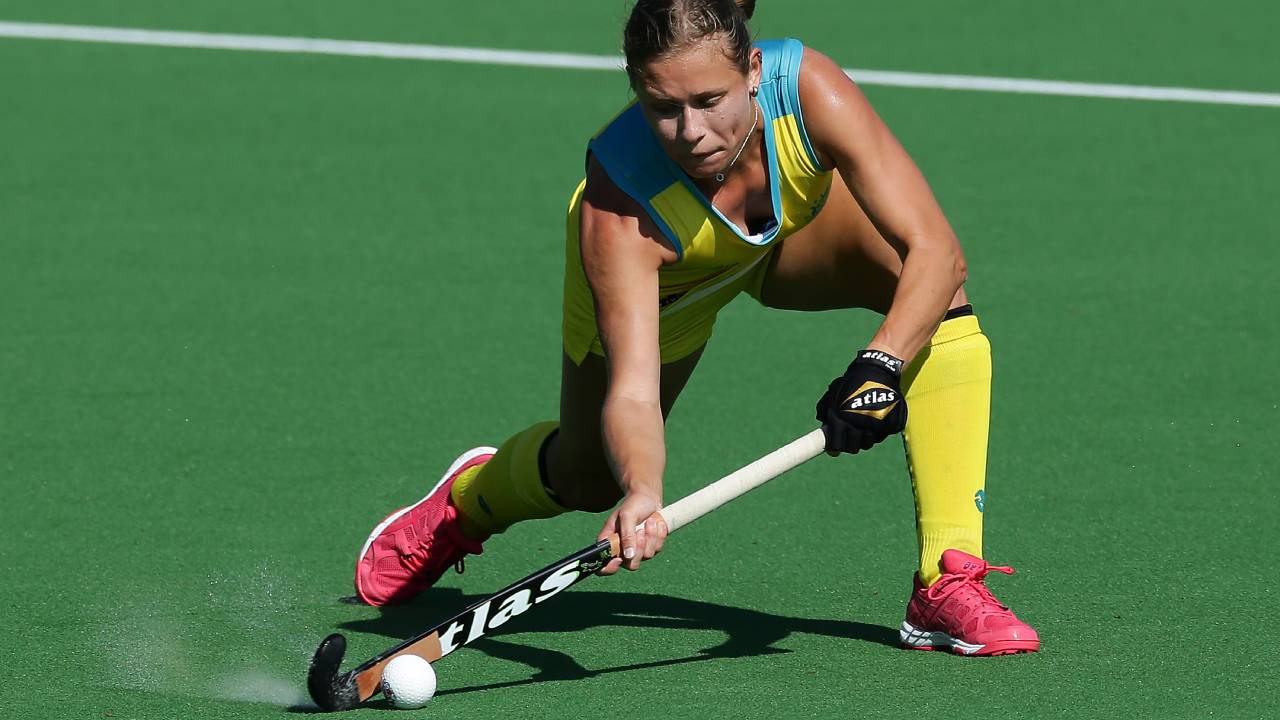 One of the benefits of the review has been having Trini (Katrina Powell) being appointed  as Head Coach. I don't think there was anyone else who could have stepped into that role at such short notice. I've had Trini as a coach since I was a junior player for NSW. She's worked with the Hockeyroos before and came to the 2018 Commonwealth Games with us as an Assistant Coach. 
Trini is such a dedicated, passionate coach who has grabbed the reins and pulled us in the right direction to get us prepared for this Olympics and put everything that has happened behind us.
She came in with a really positive message and her passion is contagious. You hear her talking about hockey and we all feel the fire and understand the excitement she has for the sport and our group.
She told us she wants to make this Olympics a memorable experience in every form and that includes us playing the best hockey possible and hopefully that allows us to have a podium finish. 
That excitement to push us forward and to keep getting us better and better to the standard she thinks we're capable of has been really good.
A different Olympic experience 
There's no doubt this will be a different Olympic experience from ones that have come before it  although I don't know it first-hand – just what it has been like for teammates who have played before and my parents' experiences.
 .
The team is getting information from the AOC that we're only allowed in the village a few days before the first game and we have to be out two days after the tournament. All the sports that start and finish at the start of the Olympics will be gone before that. 
Mum has talked previously how in 1988 they watched the athletics and as many different sports they could because it was relatively easy to do. I know I'm going to miss out on that aspect but I'm just stoked to be going to an Olympics and enjoy the experience.
 Hopefully there will be another chance to enjoy the full experience in Paris, 2024.
There is, of course, a chance that there could be a sting in the tail the nearer we get to departure. It's quite frustrating, and sometimes annoying, when someone says to you 'is the Olympics going ahead?' 
I always come back with the same response – 'you would rather be over prepared for nothing then under prepared for something as big as the Olympics'.  That has been my philosophy through this whole thing.
You can't think about it not going ahead because then you'll never be prepared as well as you can be. We know how quickly things can change. The Hockeyroos played against Argentina in Perth in March 2020 and then we went straight into lockdown.
 One minute we were finishing a Test match  and then Hockey Australia told us 'you need to get home to your home States if you want to be with family during this period' and we all left within 48 hours. That was pretty shocking – we went from playing Pro League matches to nothing.
The girls responded really differently to it. I remember that my reaction was to keep up my running fitness because I didn't know what else to do. No one had an idea what was going to be happening during the early stages of lock-down until it started to become evident that the Tokyo Olympics in July 2020 wasn't going to go ahead.
Mentally we all took it very hard in general. It was such a weird thing especially not being together as a group which made it harder. We were all shell-shocked.
We had a few group Zoom calls where we tried to keep in touch. The coaches tried to do the best they could, but they didn't really know whether it was best to contact us or leave us alone. There was lots of baking going on.
As 2020 went on, I had to find other things to focus on to still feel like I was achieving something in my life. I threw myself into my Uni studies – a Bachelor of Nursing at Curtin University that I have now almost completed because with no Olympics, I've had the time to complete many Units.
Within the Hockeyroos, there is such a broad range of ages with girls in different parts of their careers. Some were towards the end of their hockey life and wanting to retire after the Olympics last year but with cancellation became a new question of 'should I go another year?'
 For example, my team-mate Jodie Kenny decided to retire. Then there are the newer girls in the squad who took it positively because they had another year to prepare and get better to push the older girls in the group.
It feels different now. It feels like we're getting there, with more people around the world getting vaccinated. I might be in my little bubble surrounded by friends and family and teammates who are all quite excited, but I do think there's still that question of how is it going to happen? How is it all going to work? What if everyone gets COVID in there and it goes rampant through the village?
We had our first vaccination jab early in May. The AOC hasn't insisted on vaccinations but we decided as a team that it was the right approach.
The crux was that if we went to the Olympics and got COVID it might rub us out or rub our team out. Taking a selfless attitude towards that made it really easy decision. 
We don't want to get COVID, we want to have the best chance at the Olympics so that means we're getting the jab and hopefully giving ourselves the best chance of avoiding it.
Returning to play 
In the first week of June I stepped out in an international for the first time since early March 2020, when we travelled to New Zealand for a four-match series.
In the past seven months, I have had to start running again from scratch, make a slow introduction back into hockey training before being allowed to play modified time in competitive games.
When I got to New Zealand ready to play my first match in 15 months, I suffered from gastro for the first time in my life and it kept me from participating in the first match.
It wasn't much fun but after everything else that's happened in the past year it wasn't going to hold me back for long. I was able to participate in some of the remaining matches and it was great to come away with a series win over the Black Sticks who we will play at the Olympics.
It feels like I've been training for these Olympics for a very long time. It will be the most amazing opportunity to play the best players in the world who exhibit a next level of skill.
My first game back after so long felt so fast. Players from both teams were like "Wow this is crazy" with the amount of running and the faster speed.
It was so good to get through these matches however and realise I could still play international hockey.
I am so excited to be wearing the green and gold in Tokyo and to perform for Australia The desire to win in Tokyo lights a fire in my gut and of course there's a medal over there ready to be claimed and brought back home and kept alongside that other Olympic medal in the safe.
More about: hockey | Hockeyroos | Kaitlin Nobbs | Olympic Games