Natalie Haythornthwaite - Contributor
Let's get married on FaceTime
When I was 10 and had just started playing netball, my mum took me to an England game at Manchester Arena.
I fell in love with it straightaway and ever since then I wanted to play for England.
When it finished I ran down to the court to get all the players' signatures on a netball. I'm sure mum's still got that ball somewhere at home in my memory box.
My mum Paula played netball and some of my first memories of the sport were of watching her.
We lived in a small village and there was a netball fun day at the local sports centre. Mum took us along and we were all excited and ready to go, but when we got there it was just me and my two sisters Lauren and Ashleigh. We didn't mind and the coach didn't seem to mind and I've never looked back since.
Lauren started playing first and I'd go to watch her. I wasn't old enough to be allowed to train with them. I'd wear my netball outfit, anyway, sit on the sidelines with mum, and think, 'I hope they ask me to train'.
Later we all played together in the same team, even mum. We'd do all the running.
Dad worked loads but he would usually come to my games on the weekends. If it was just mum at the game, then dad rang me straight after.
Me playing for the Swifts has been a challenge for them. They get up at all hours to watch our games on the app. At home they'd come to every single game; drive up and down the country to see me play.
Mum, especially, is finding it hard, saying, 'I can't just jump on a plane and come and see your game and then fly back.'
It's hard being away from home at times. I missed 10 games through a hamstring injury this season, and that's tough for any athlete, especially when your family and fiancé are on the other side of the world.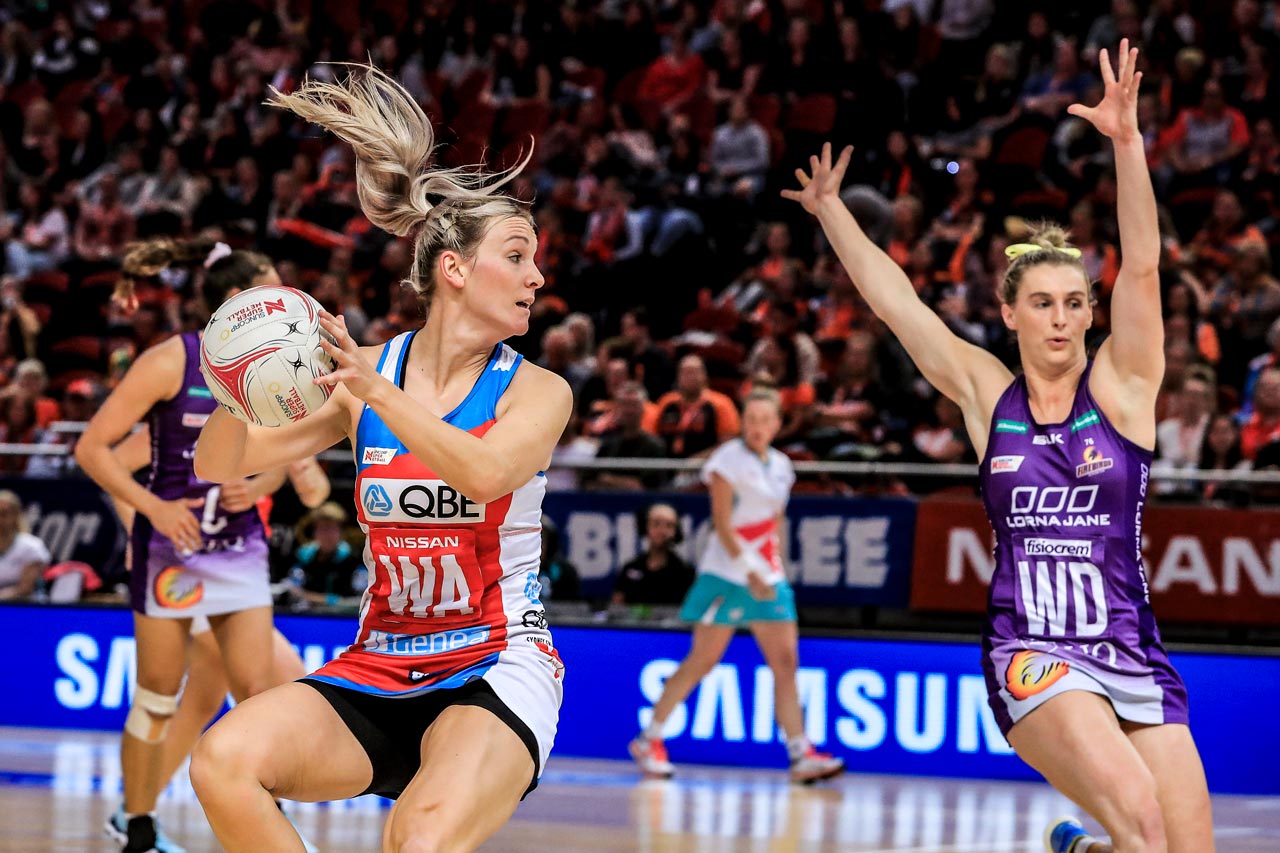 Both my sisters and I got engaged in the last year. They've already pretty much planned where and when they're getting married.
My fiancé Josh and I joke that we're going to have to get married on FaceTime. Get everyone to log in for our virtual wedding. Because we're so busy and on the other side of the world from each other, we know we'll get married, we just don't know the details yet.
We met at Uni and he's a basketballer, still plays and runs a team back in England, alongside his job coaching basketball fulltime in a school. We both enjoy the sporting life and that's awesome.
It's tough living apart but because we both come from a sports background we understand the situation.
Josh knows netball is my job and, even though we're living apart and engaged, he's so supportive and understands the dream won't last forever, so he's always said 'go for it'.
Josh was out here from England earlier in the season. He came out to watch me and two days later I did my hamstring. It was the worst timing ever. But I'm glad he was able to be there with me. He was the icing champion, making sure I was treating it properly and icing it every hour in the early stages.
I first came to the Swifts midway through last season, so this is my first full season and I was excited about contributing from the start.
I loved doing the pre-season, felt it was going really well and was still buzzing from winning the Commonwealth Games gold medal, then the hamstring went.
When it happened I realised straightaway I'd done something, but I didn't think it would be a three-month issue costing me 10 rounds. It's been a really testing time, especially being so far away from home, and on my first, proper full-year contract. It's the first time I've had an injury that's kept me out of a domestic season. 
So many emotions went through my mind. Firstly, I felt really bad, blaming myself, but also feeling like I'd let the Swifts down.
They've been so supportive and have gone above and beyond to try and get me back – sought all the opinions in the early stages, gave me all the support I needed. Absolutely incredible.
They helped keep my World Cup dreams alive, and got me back for the last few round games and finals over here. I'm grateful now that I am able to do my job for them.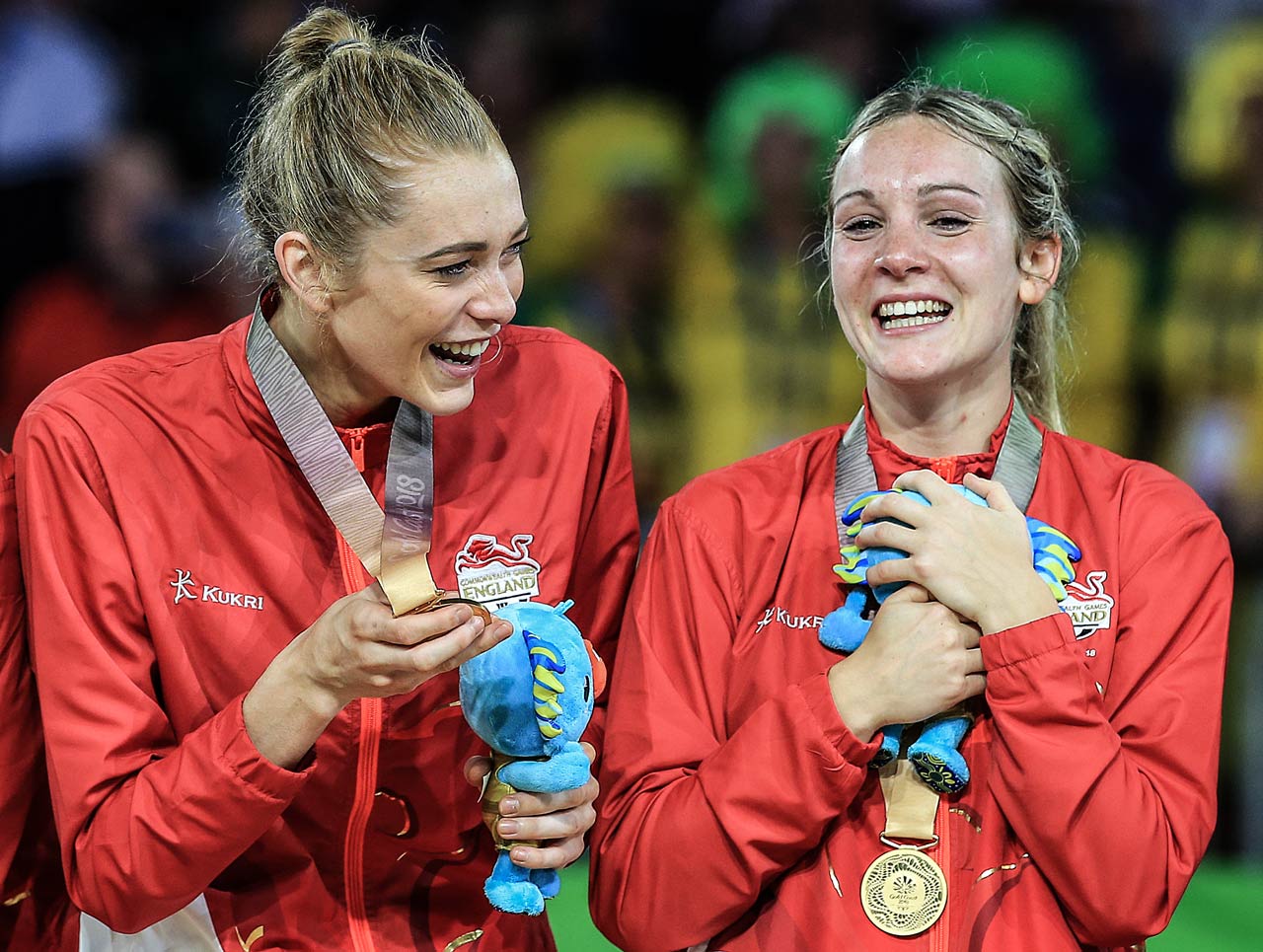 HELEN'S GOT THE TV REMOTE
I'm living with two of my teammates – Helen Housby and Sam Wallace.
Their support has been a huge help as well.
I knew Helen from back in England. When I got hurt I was crying and she was crying, 'I wonder if we'll get to play together'.
We balance each other out really well. They'll say I'm a worrier and they've made me less worried.
Sam's been teaching me how to cook Trinidadian meals, I've been teaching her how to cook some things as well.

We watch a lot of films and TV together. Sam's easygoing. Helen's usually got the TV remote in her hands, so she's picking the program.
We started watching American Horror Story a while back but I got too scared so we stopped that. We watched Love Island and Married at First Sight, and but lately it's a been a film every night.
I think Sam's absolutely incredible, how she is dealing with what happened with her dad. We were living together when he had his second stroke. It was a tough time for her and important for us to be there for her.
I don't know that I could do what she's doing right now. Staying here, playing some of the best netball of her life. It's so inspiring. We talk about her dad and she fills me in on his progression and I think it helps for her to be so open and talk about that with us at times.
More about: England | England Roses | Gold Coast 2018 | Netball World Cup | NSW Swifts | Super Netball | Women's Sport