'You're not getting any younger'
This is an edited extract from Leap: Making the jump to take netball to the top of the world by Geva Mentor (RRP $29.99, Hachette), out now.
Halfway through the season, there was talk about girls signing up for next year and who would be staying at the Lightning.
I made sure all the girls were getting things they'd been promised, that everyone was happy with what they were doing. I wanted to ensure we looked after each player. Then it came to me talking to my manager and the CEO. 
They said, 'You're not getting any younger. We were going to offer you a one-year contract but, after talking to your manager, we will give you two.' 
I was taken aback. I ask you, is that any way to make a player feel valued? Feel wanted? I'd captained the side to victory in their debut season and this season we were picking ourselves up nicely. I was pretty shocked and slightly sad.
I thought the conversation might go like this: 'We appreciate everything you've done for the club, Geva. You've performed well and, considering your age, we'd like to offer you a two-year deal.' Now to me, that's fair. 
I started to look around. I thought perhaps it was time to leave my comfort zone, to bring something else to my game, be around new people, push myself – these things were going through my mind as the season continued. I was genuinely knocked a bit after that conversation. 
I was probably a bit slower the first couple of games into the season, but I think we all were, particularly those who'd played in the Comm Games.
But as the season progressed, I found my rhythm and Karla and I ended up being a great defensive combination, with me getting the most deflections that year and ending high on the list for the most defensive rebounds and intercepts. It showed I'd found form and was still strong.
I put thoughts about a move to the back of my mind; no decisions had to be made until the end of the season and I wanted to focus.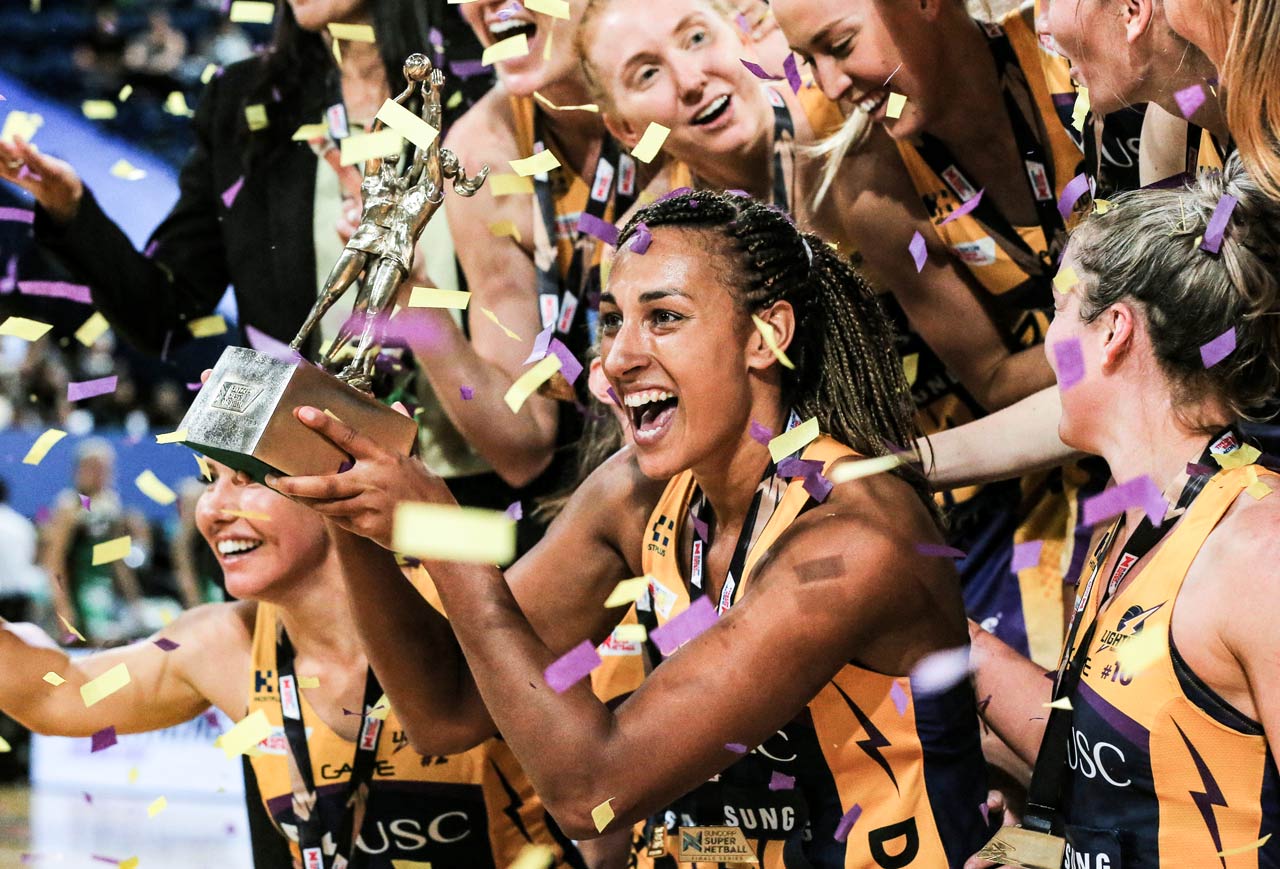 Firebirds didn't respect us
We beat Vixens in Melbourne, which secured us fourth spot, meaning we had to go to Brisbane and play the Firebirds in the knockout final.
Straight after the Vixens game, I was asked what I thought about our next game. I was quite honest. I said it would be a great contest, that the team had some real firepower and that there was a great state rivalry growing between us.
As the journalist quizzed me some more, I got a bit more heated and said I found it disrespectful that the Firebirds hadn't acknowledged us as another Queensland team. We'd been largely ignored. We were providing another pathway into elite netball … I think I started to rant.
These feelings had been building up all season; as captain I am privy to information and felt some of the decisions the Firebirds made were a deliberate dig at us, that they wanted us to play second fiddle. 
Their season launch was in Mooloolaba, our home town on the Sunshine Coast. They had clinics around our area and their slogan was, 'Queensland is a one-team state'. I found it so disrespectful and decided to speak fairly and honestly. Enough was enough.
Nothing like a bit of last minute proof reading! Excited to launch my book tomorrow!! Grab yours on Amazon or Booktopia now ?? https://t.co/DeSZUxPr3J OR https://t.co/Xk1TKhncxN pic.twitter.com/j8pJABZOR7

— Geva Mentor CBE (@GevaMentor) June 26, 2019
It got picked up massively in the media. They said I'd issued a 'war-cry!' The next day the CEO of Netball Queensland, Catherine Clark, felt she had to issue a public response, something meaningless like, 'If Geva wants to sit down and discuss things …' 
Our CEO was not happy. She said, 'This is not how we operate, Geva!' But I wasn't backing down. 'To be honest, Danielle,' I replied, 'I'm standing up for this team, something we should have done a long time ago.' I was on my soapbox, but I'd had some really nice messages from Melbourne Storm and our owners, and the University of the Sunshine Coast.
They backed me, they were happy to get people fired up, more bums on seats – although they also told me I had to back it up when we played Firebirds! I had support from the right people and that's what mattered.
I ask you, is that any way to make a player feel valued? Feel wanted? I'd captained the side to victory in their debut season …
The week before the match was tough. There were lots of reporters wanting me to fuel the fire even more. We travelled down to Brisbane and straightaway knew it was going to be a feisty atmosphere.
They had this beer tent right behind the posts with drunks shouting 'Queensland! Firebirds!' every time our shooters were nearby.
Yet, our fans, our minimal 20 per cent of the spectators, utterly blew away the whole stadium. Everyone was amazed at the noise. It was brilliant. Our fans were the eighth player and got us over the line. We won 57–56 and it was just crazy. 
I had 'talked the talk' and we showed the opposition they needed to show us respect.
Putting myself up the list
Next was the semi-final against the Giants. It was a tough game – they played with a lot of heart – but we felt unstoppable. We beat the Giants and earned the opportunity to defend our title. After a fairly slow start to the season, only our second as a club, we were in our second consecutive grand final.
Lightning were happy for me to delay my decision about signing a new contract until after the final and I appreciated the leeway. The final was a tough, well-fought battle with West Coast Fever and one hell of a win – for us!
We'd won back-to-back titles and it was a magical, crazy and exciting end to the season. I was physically and emotionally exhausted and I think I was ready for a change.
We had a week before our farewell gala dinner and I still hadn't decided where I was going. I told Lightning I'd take the weekend to think things over. We'd achieved something special as a team and a big part of me thought, 'Do I want to stay and keep that momentum going?' 

That weekend, knowing I had to give my decision on Monday, was full of honest conversations with Mum and my manager. I was sought after by other teams, which was nice. 
I started to put myself a little higher up the list now; I was starting to plan for life after my career. I wanted to make sure I finished my university degree.
I'm so passionate about teaching and want to give something back, to make a difference. I've seen how great coaches and teachers can make a difference.
I want to use what I've learned in my career and be the sort of teacher to ignite passion in a child. And, I guess from a personal point of view, I want to be able to be the first in my immediate family to get a university degree. 
I know I won't be playing elite netball for ever, so teaching will be my next challenge and, like with everything I do, I want to feel fulfilled and do that to the best of my ability.
More about: Collingwood | Collingwood Magpies Netball | Diamonds | Melbourne Storm | Melbourne Vixens | Queensland Firebirds | Sunshine Coast Lightning | Super Netball