Best prank we ever played
My life story's not too complicated. I don't have a hard luck story. About as hard as it got were the cricket battles with my brothers in the big park across the road from our place in Mona Vale, and the pranks we play on each other sometimes.
My mum Melissa and dad John had four boys – Jake, me, Ben and Luke.  We've been together for a long time so we've had a lot of fun together. We still joke around a lot, it probably annoys mum the most but it's good fun. It's great we do get along because there would be a very different feeling in the household if we didn't.
On Christmas morning a couple of years ago, mum was trying to get us to do some jobs – annoying us all – so we just got in the car and went to the golf course. There was no one there, so we just walked on. The little brothers don't play much golf so they're no good but Jake had given Ben a new golf ball to use – a brand new Pro V, so a top quality ball.
Jake told him not to lose it. Ben, with his first swing, would you believe, hit it straight into the lake. It just kind of trickled in. Jake's like 'you need to go get it'. Ben's like 'I'm not getting it, no way. I'm not going in the lake.'
Jake's filthy. He grabs a club to try and reach in and retrieve the ball and Ben tells me, 'I'm going to tip him in', because Jake was obviously being an idiot. I thought 'okay', so I got my camera out. I didn't think he was going to do it but he did it. Ben kicked Jake straight into the pond.
Jake was filthy initially but once he saw the footage and he calmed down a bit, he was all right. We take everything lightheartedly, so it's not like we hold grudges but that was definitely the best one I've seen.
I LOVED HIS MENTALITY
I've always loved sport. I played rugby league, AFL and cricket. I've always been a big cricket fan and last summer I was on the Fox Cricket channel all the time. I watched so much. Now the footy season's on, and I'm injured, which means even more time to watch sport.
We've got two TVs in the house, usually playing sport, but we've all got Kayo, of course, so if we're not using that to watch it on the big screens we head off to our rooms and watch what we want on our iPads. That's a big help when you want to lie in bed and watch sport late at night or first thing in the morning.
I played cricket until I was about 12 and then I gave it up. Jake was much better – he used to score hundreds every now and again but I preferred to watch the game.
We played a lot of cricket over school holidays but I probably wasn't the best brother. I was that kid who would only play when I batted first. Jake would bowl, he'd get me out and I'd leave in a huff.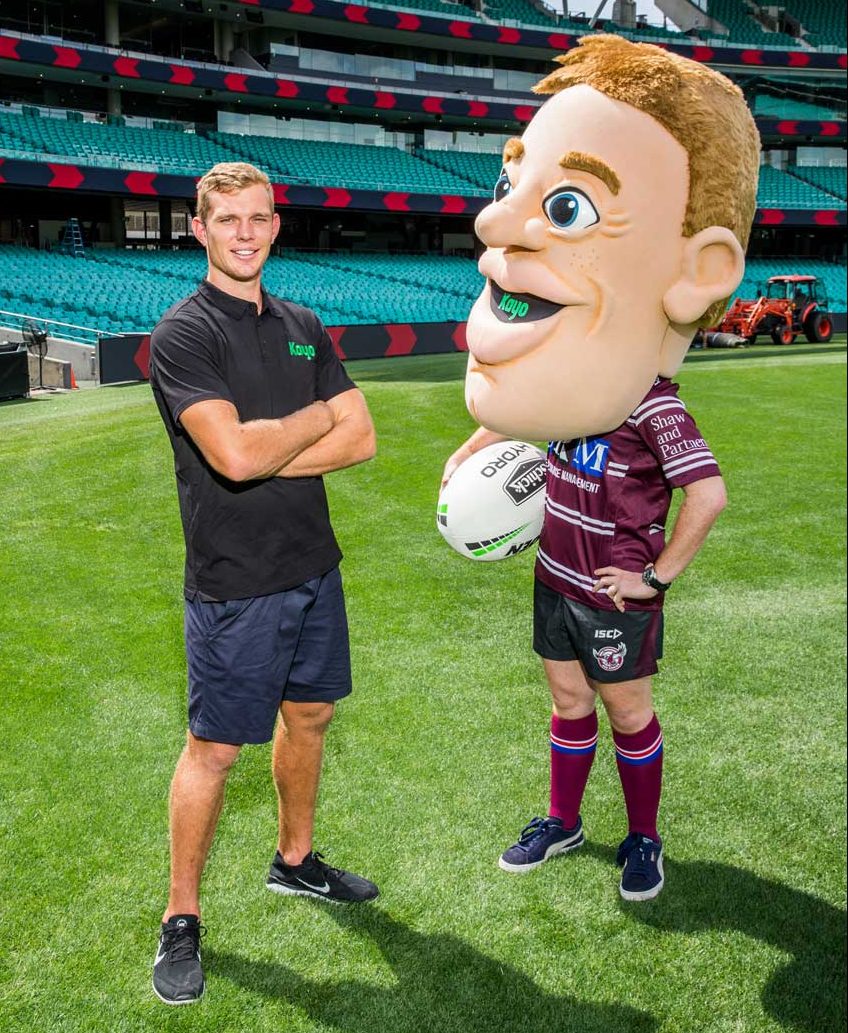 It was okay for him though because we had the younger brothers and we lived on a cul-de-sac, so there were a lot of kids we used to play with, and a lot of our mates would come over as well.
My favourite player was Ricky Ponting. He was the captain at the time and I loved the way he fought.
I loved his mentality. When we needed runs, he'd dig in and come through for us and that's why we were so successful during that era. When it was tough we always knew that he would deliver.
Golf is the sport, after footy, that I like the most. If I was to meet Tiger Woods or Jordan Spieth, that would be a life highlight.
Tiger's victory at the Masters has had a massive impact on me. You hear stories about how tough it is to be a sportsman, and that just sums it all up. What he's had to endure in the last 10 years, no one in their right should be expected to come back from that. He's had dramas, he's had injuries, he's had this and that. To win a Masters, and another major, it's incredible and I don't think he's going to stop there. He's going to keep going, keep winning more and more. It's a credit to the athlete he is.

WATCHING JAKE WAS SPECIAL
While I was into lots of sports, rugby league was always my No.1.  It was what I enjoyed playing most and it's pretty special now that it's what my brother and I get to do for a living. Our parents, for what they've had to do for us, through all our coaches at junior level, I just really thank them all and it's paid off in dividends.
You can't underestimate what it takes for parents like ours. There was a time there were four of us playing at our local club, Mona Vale Raiders, and they had to find a way to get us around to training twice a week and get us to four different games on Sunday that were off at different fields.
Mum wasn't much of a rugby league fan growing up, she didn't know too much about the game but she's obviously come to be a big fan now. She's at every game she can get to. Dad was more of an AFL fan so he didn't really support anyone in NRL, but he definitely goes for Manly now or there would be issues.
I got my camera out. I didn't think he was going to do it but he did it. Ben kicked Jake straight into the pond.
Jake is a couple of years older than me and who knows what would have happened if he wasn't out there first. It definitely egged me on. I remember the moment he made his NRL debut in 2013. I was sitting on the hill at Brookie and just watching him do that, it was just so special. When I grew up that's what I wanted to do and then getting to watch him do it, it just gives you that bit of motivation, that 'look it's possible'. It's  there – you've just got to work hard to achieve it and I was lucky enough to do that two years later.
I've always been very competitive. I like competing, I like winning and I don't like losing – it's as simple as that. I grew up just watching it and loving it, and I got to understand the game and it just made me love it more. I've been playing it for just under 20 years, so it's been very good to me.
With Kayo Sports you can watch every game of every round of the NRL Telstra Premiership live. Claim your 14-day free trial now to start streaming.
More about: Brad Fittler | David Klemmer | James Tedesco | Luke Keary | Manly Sea Eagles | MCG | NSW Blues | Ricky Ponting | State of Origin | Tiger Woods