THEN THEY BOOED ME
The funny thing was that we'd been having frost delays, so it actually happened on a Saturday morning, despite being in the second round. I'd had to come back out to finish my second round, then later that afternoon I played the first nine of the third round – and I began on the 10th tee again.
I got around to 16 and the tee position was in a similar spot, but the flag was now back left, which is a bit harder to get to than the front left. I hit it to 12 feet and I was thinking, Jeez, that's a bloody good shot! Obviously, no-one else agreed.
Every single person in that whole crowd booed me! Most of them were still there from the morning, it wouldn't have even been four hours since they were chanting my name, and I was getting drilled because I didn't have another hole-in-one!
So I went off a bit sheepishly after my two-putt par because a couple of blokes yelled out, 'Hey dude, what's wrong? You had one this morning and now you've had three.'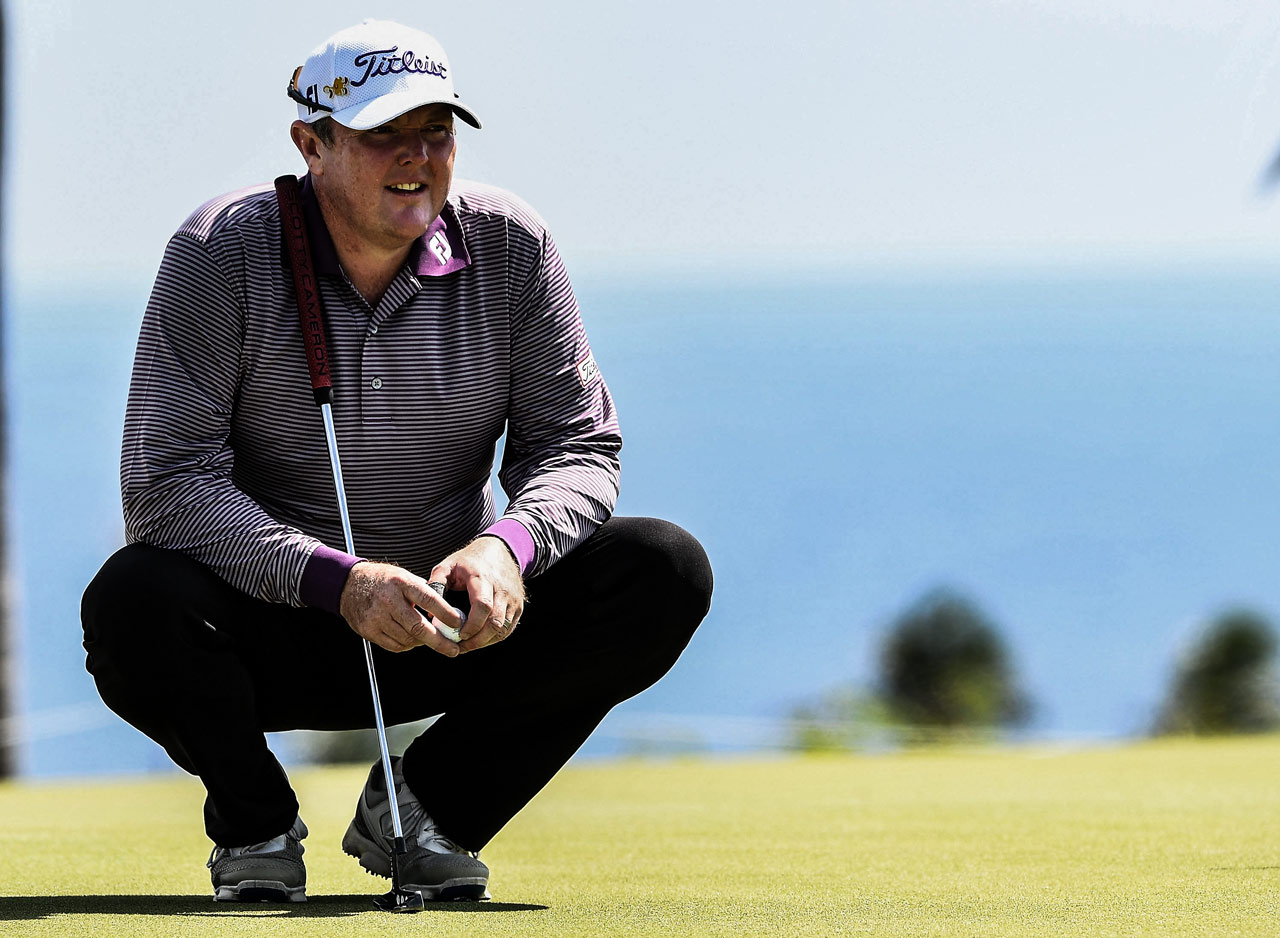 FOR MY SIX ACES I GOT TWO FLAGS
I decided afterwards that I needed a memento, more than just a golf ball. I went to the merchandise tent, wanting to get myself a flag with the big '16' on it. A couple of guys were in there chatting away, saying they were there behind the green and saw it. I was there with my PGA credentials hanging around my neck, patiently waiting in line with my two 16 flags.
I got up there to pay and the guy said it would be fifty-two dollars, so I got out my credit card. Then the guy looking after the tent comes rushing over and says, 'Mr Lyle, Mr Lyle, I saw your shot today and it was awesome. I'll refund your credit card, I saw you have a hole-in-one and you shouldn't have to pay for those two flags – I'll take care of it.'
That was very nice. For all of my six holes-in-one, I've got two free flags. So in some weird way, I probably won fifty-two dollars for my holes-in-one.
Arriving at the golf course on Sunday morning, the locker room attendant just happened to be outside and said, 'Jarrod, come and check this out!' He took me to the honour board and there was my name, already up in gold letters in the clubhouse – that was a pretty cool thing to have happen overnight. I'm proud of that one.

For the record, no, I did not get a PGA Tour rules breach for my famous line to the camera! There was no way I would have paid it anyway. My breach would have been doubled because I would have told them where to go, so I would have been done again for using more inappropriate language towards an official.
I was a bit concerned when I watched the video replay and realised the camera was right there, because the Tour has breached people for much less. Maybe they gave me some slack, but maybe not.
Not many Americans had understood what I'd said. I remember having an interview with Melbourne radio station SEN on the Monday morning, talking to Andy Maher, Andrew Gaze and Tim Watson. Before we went on air, Gazey gets on the phone and says, 'Please tell me that I've lip-read correctly. Tell me you screamed out "You fuckin' beauty".'
'Yep,' I said. He says, 'Oh my God – that is the best thing ever!'
I got a text message from the US golfer Sam Saunders a few days later. He wrote, 'Did you say, "let's go party"?' 'No mate, far from it,' was my reply.
But that was a typical American reaction … I heard a few different things people thought I'd said, but Andrew Gaze picked it in a heartbeat, as did just about every other Australian, except my nan, maybe!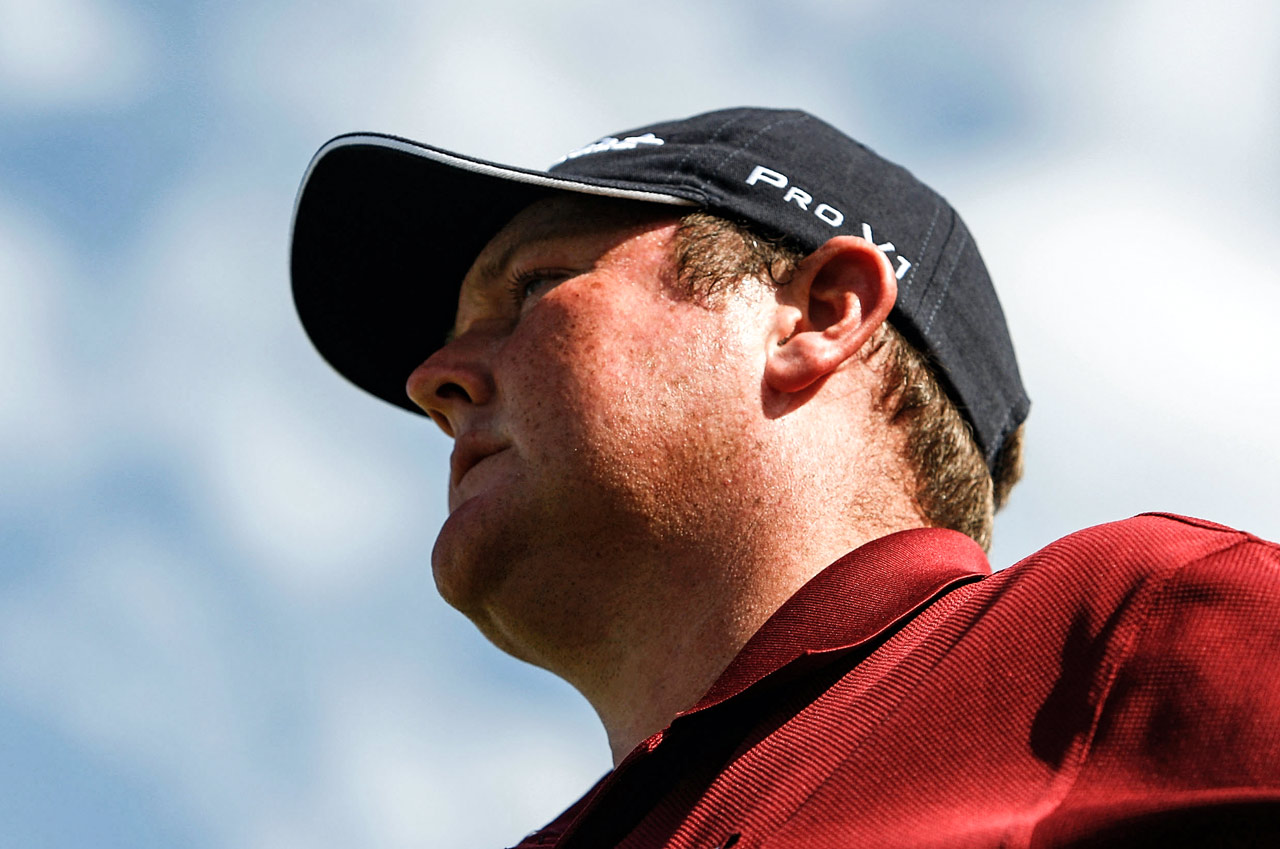 'I'VE WON A CAR!'
On the day it went in, we had to wait a bit on the next tee because it's a driveable par four, so there was a bit of a bank-up. Chris Riley, who I've known for ages and who'd played Ryder Cup, came up from one of the groups behind us and said, 'Who had the one?' He hadn't seen it, but he could tell by the crowd reaction.
I said, 'That's me.' He came over and said excitedly, 'Dude, you win a car!' He said there was a thing in the players' lounge that said any hole-in-one on Saturday wins a car.
I thought, 'how cool is this? I've won a car!' But for some stupid reason, the car was up the right side of 17. It was one of those fancy gull-wing cars, a Mercedes I think, that I wouldn't even fit in. I thought maybe there just wasn't the room for it on 16. Riley assured me I'd won a car and stupid me trusted him, even though a grown man with half a brain wouldn't (kidding, Chris!).
I finished my round and the Golf Channel came to pick me up. Steve Sands wanted me up in the booth to talk through the shot. Up I went. As we were walking up the stairs to the booth, I asked him if I'd won the car and he said flat out, 'No, you haven't.'
I explained what Riles had said and Steve said, 'Why would you trust what Riley says? It's for the third round and it's on for the 17th.' We had the wrong hole in the wrong round. Not even close.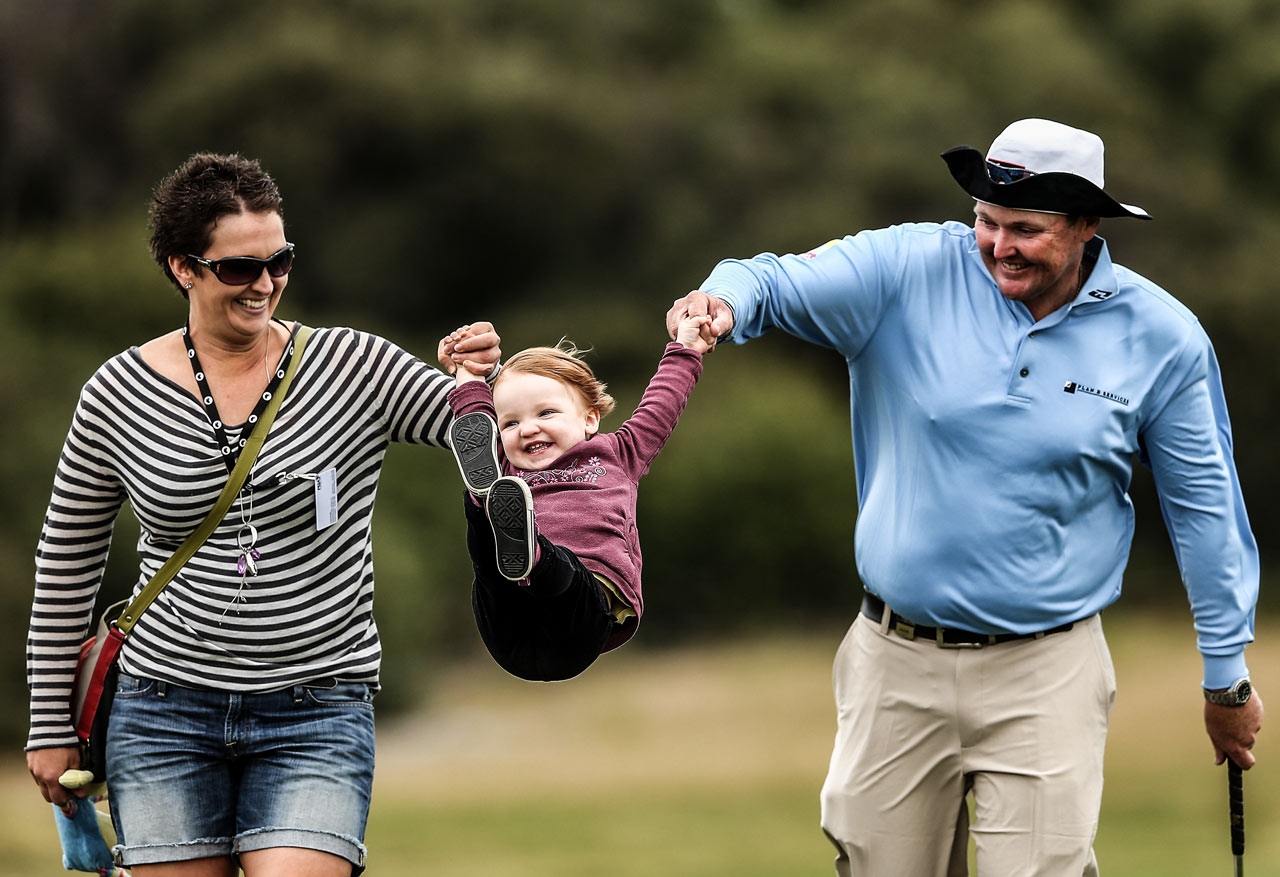 After the event, one of my great mates at Titleist, Aaron Dill, said he wanted a flag off me and he wanted me to write on it 'exactly what you said', because he wanted to hang that in his office.
So he's got one of the flags from the 16th hole on the wall in his office that says, 'You fuckin' beauty'. Signed by me with the date on it. I love that.
There are a couple of other signed flags floating around, but I don't have any. I gave them away. I've got pictures of the various stages of the shot – arms up, picking the ball out of the hole, that sort of thing – but I don't need that stuff.
I've got the best memory of it in my head. I've had two albatrosses, I don't know how many hole-outs from the fairway, chip shots and bunker shots, but that's the one I'll never forget. I've kept the actual ball that I hit. That's enough for me.
I can't tell you how many people have asked me about that one shot. Every time I do a corporate gig or a speaking engagement, people ask me about it. It's what they associate with me, I think.
About two weeks after Phoenix, I had a week off and went and bought a new car. I decided, bugger it, I'm going to get the car I've always wanted, a BMW X5. I walked into the dealership in Orlando knowing exactly what I wanted, so I gave the dealer a list and he said, 'That's easy – we'll have it ready for you in two weeks.' I went to do the finance and the guy saw my name and said, 'Are you the golfer?'
'Yeah,' I said. He said, 'You had a hole-in-one a couple of weeks ago, in Phoenix, right?'
'Yeah.' He took me to a TV that the salesman, Michael, who was a golf fan, was watching. He hadn't recognised me but next thing I know, they've thrown the video of me up on YouTube and it's playing in the middle of the dealership.
We played it four or five times before we even started doing the paperwork for the car! And yes, I did get a little discount for it, which was nice. So now maybe I'm fifty-two dollars and a few bucks off my new car for my holes-in-one.
I hung on to the mantle of being the last bloke to have a hole-in-one on the 16th at Phoenix until European pro Francesco Molinari came along and aced it in 2015. I sent him a tweet right after it went in, saying, 'Mate, you are off the Christmas list. Good shot, but thanks for stealing the only thing I had left on the PGA Tour.'
He responded with, 'Sorry mate, I couldn't help it,' or something like that.
The same thing happened with the guy who had it before me, Mike Sposa. He'd had it for nine years. I'd been friendly with him for quite a while and he came up behind me quietly on the range at Pebble Beach the week after I got it and swore at me.
I turned and said, 'Morning. What have I done?'
He says, 'Nine years. Nine years I'd held on to that, Jarrod.'
'Hung on to what?'
He said, 'I was the last guy to have a hole-in-one on 16, until you came and dethroned me.' And then he just turned away and walked off.
That was it.
Jarrod Lyle died of acute myeloid leukaemia in August 2018. He was 36. This is a chapter from his autobiography released this year, reproduced with permission.
You can buy My Story via this link from Challenge, an organisation supporting children with cancer.
More about: Cancer | Jarrod Lyle | PGA Tour | Tiger Woods