The big time
It was a pretty big deal when she won junior Wimbledon when she was just 15.
Going with Mum and Dad to pick her up at the airport, it was unbelievable how many people were waiting there to see her as she arrived back in Brisbane.
It was crazy. We were obviously very proud, but more just excited that she was back home.
It was hard for her to have so much attention when she was still so young. It would be hard for anybody because there was a heap of pressure, just from the fact that she achieved things so early.
It's perceived pressure rather than actual pressure, but she definitely felt that. 
It's probably done her a service now, later in life, that she's learnt to deal with it. But, at the time, it was really difficult for her and it probably contributed to why she was slightly more withdrawn and quiet than some of the other juniors, who were a bit more emotional and extroverted on court.
It's just because she was dealing with that pressure and she tends to internalise. So it's been to her benefit now that she had that attention and expectation when she was so young – but she didn't like it at the time. 
It definitely forced her to mature at a young age, but that's part of the life of an athlete, as well. 
And as soon as she started doing so well, everyone wanted a piece of her.
Smile for the camera
Back then, and now, people would recognise her in the street, and she's really good about it and so gracious.
She'll take a photo with anyone and speak to anyone who talks to her. Despite where we're going or what we're doing, she makes the time.
It's always nice when she's home, but she's still really busy. People think she's got time off, but she doesn't. She's training and having meetings and doing sponsor stuff, so the amount of time it takes us just to organise getting our nails done together is actually outrageous.
We generally do Friday night dinners when we can and family means so much to her. In April, it's her niece Lucy's birthday, it's our mum's birthday and it's Ash's birthday, all in the space of a week. So we plan about two or three months ahead of time when we're going to do the April birthdays, so we can make sure everyone keeps a day free.
She's got four dogs. Two live at Mum and Dad's and two live at her house. We always had dogs growing up – and cats and birds – there's always been lots of animals at Mum and Dad's house, but now there's just the dogs.
Ash does spoil us. She's generous to a fault – and particularly with the kids – and she doesn't take no for answer. Ash bought Lucy, who's three, one of those electric Jeep cars for Christmas when she was 18 months old. Lucy had no idea what it was but Ash didn't want to wait until Lucy was older, she just wanted Lucy to have it. So Lucy got it.
Last year, she said she wanted to buy the kids a trampoline for Christmas. She asked if that was OK and then said, 'To be honest, if you say no, I'm still gonna do it, but just thought I'd give you the heads-up'. 
So, yes, they got a trampoline for Christmas.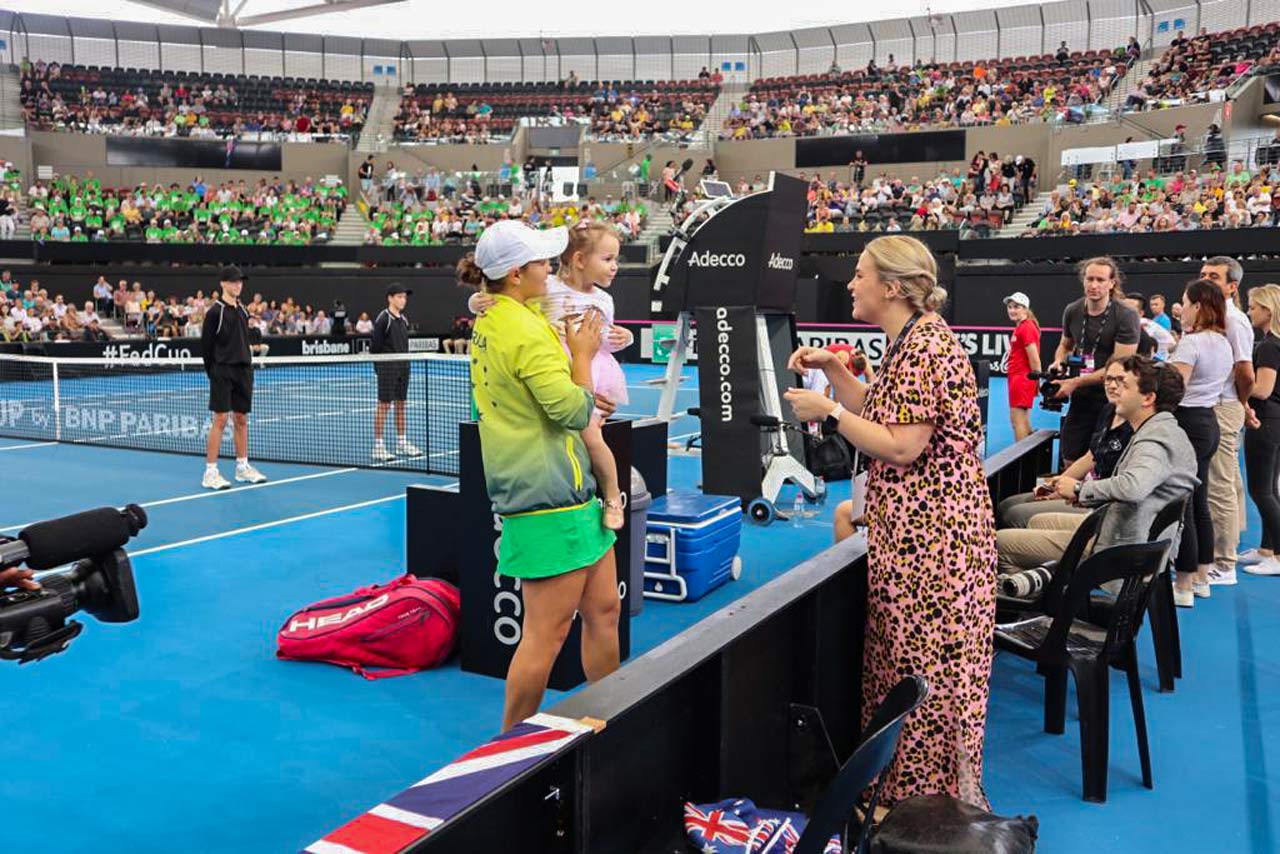 The rest of us? We get presents, consistently. When Ash travels anywhere we get perfume, candles, jewellery.
She's Auntie Ash to all of Lucy's little friends. They claim her as Auntie Ash and tell people that they watch their Auntie Ash on the television.
Lucy doesn't quite understand that not everybody's auntie plays tennis. She just thinks that's the norm, so she doesn't realise that she's special yet. She will when she's older, but to her she's like, 'Well, of course we're watching Auntie Ash on the TV, why wouldn't we be doing that?'
Our Dad's office has got the trophy cabinet in it. If Ash any has trophies at her house, there'd only be a couple. The ones we can use as vases, they're always popular among the women of the family.
Trophies have never meant anything to Ash. Particularly as a junior, she was just playing because she loved it. So they would actually donate her trophies to her tennis club to be recycled; they would take the plaques off and reuse them for their juniors, which was really nice.
She's so passionate about her tennis. She had the time away to think about what she wanted to do and decided, 'Yep this is it', and she's come back and she's put her all into it – and she's getting the results.
She was about four, saw kids playing hockey and said to Dad, 'I want to play hockey instead of netball'. He said, 'Why is that?', and she said, 'Because you get to use sticks'.
She's creative, which makes such a big difference in women's tennis. A lot of the girls just hit really hard. But her creativity is very handy, and that's all Jim.
Coming home from Miami was no different to coming home from any other trip. You just carry on as normal and then head off to the next thing. So she's excited but very humble.
We've been known as Ashleigh's sisters for a long time, rather than Ali and Sara … and that is OK with us. 
We couldn't be prouder of our little sister and feel lucky to be sitting on the sidelines watching her achieve such incredible things.
Through tennis, she has already brought so much joy to our family. But, at the end of the day, whether she's playing tennis or not, she's the same generous, cheeky, determined little sister we grew up with.
We hope she never changes. 
More about: Ash Barty | Australian Open | Fed Cup | US Open Tennis | Wimbledon | Women's Sport