Sara Coppolecchia and Ali Egstorf - Contributors
The special one: 'Our sister Ash'
On a scale of one to 10, our pride in our sister Ash is a 12.
What we're most proud of is the way she carries herself, the person she's become through everything she's experienced and the fact that none of it has changed her.
It's a huge amount of pressure to deal with and it's so important when you're a role model for kids, which all these athletes are. But she carries herself with such humility and she's so gracious and generous all the time.
She's top 10 in the world, winning big tournaments like the Miami Open and the US Open doubles, representing her country, but she's no different at all. 
She's still the same homebody. She's still the same Auntie Ash who comes and pushes the kids on the swings. We still just catch up for coffees when we can or all get our nails done together.
Ash might say that we bring her back down to earth if she ever thinks of getting ahead of herself; in jest, we might tell her to pull her head in, but she's really never been that sort of person.
Her idea of a good time would still be sitting at home on the couch with her puppy dogs and a coffee.
But we see a young woman now. All of a sudden she has grown up into a young woman who handles herself so well, versus being a kid who plays tennis.
And her own pride in everything she's done is showing a little bit more now. She's got more of an understanding of what she's achieved and her confidence and self-belief have really blossomed in the past 18 to 24 months.
It always amazes us how well Ash speaks – because she doesn't speak to us like that! She speaks to us like a sister. Of course, she does. She likes to stir the pot whenever she can.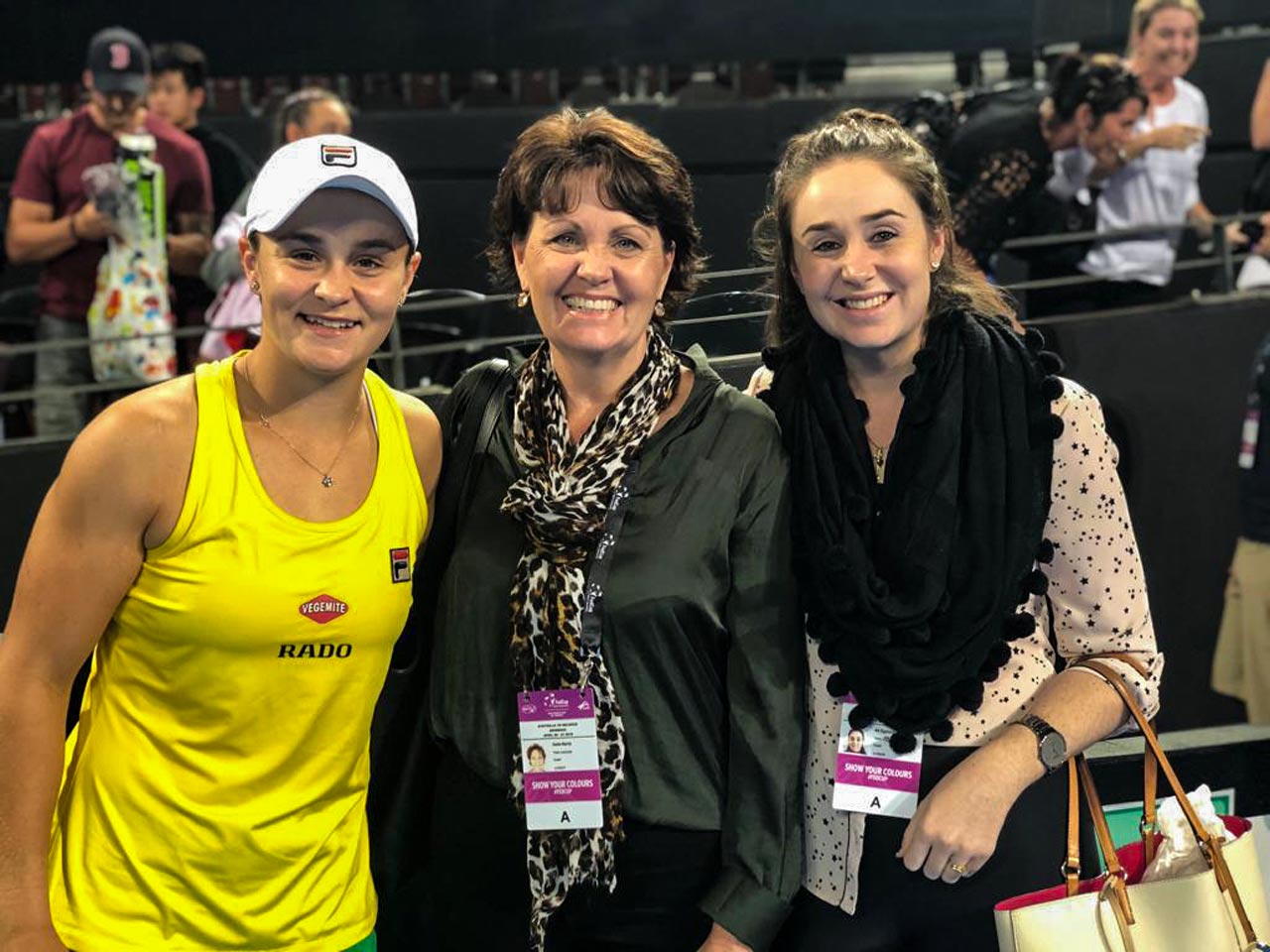 Baby Barty
Ash was a real tomboy. She absolutely refused to wear dresses despite how hard Mum tried. Her outfit of choice was board shorts, a T-shirt and a cap backwards.
She's always been assertive. She's always known what she wanted and, if she decided she was going to do something, she just did it, in every facet of her life. That's definitely helped her.
Ash wasn't so big on domestic chores. Most of the time she was outside doing whatever she could.
She used to share a bedroom with Ali and, when they were told to clean their room, she would stick her head under the bed, stay there for half an hour and say she was cleaning when she was actually playing on her Game Boy. Ali did the cleaning.
That room did have to have a purple wall, though. Ali wanted a pink wall and Ash wanted a blue wall, so mum made them compromise and it was painted purple.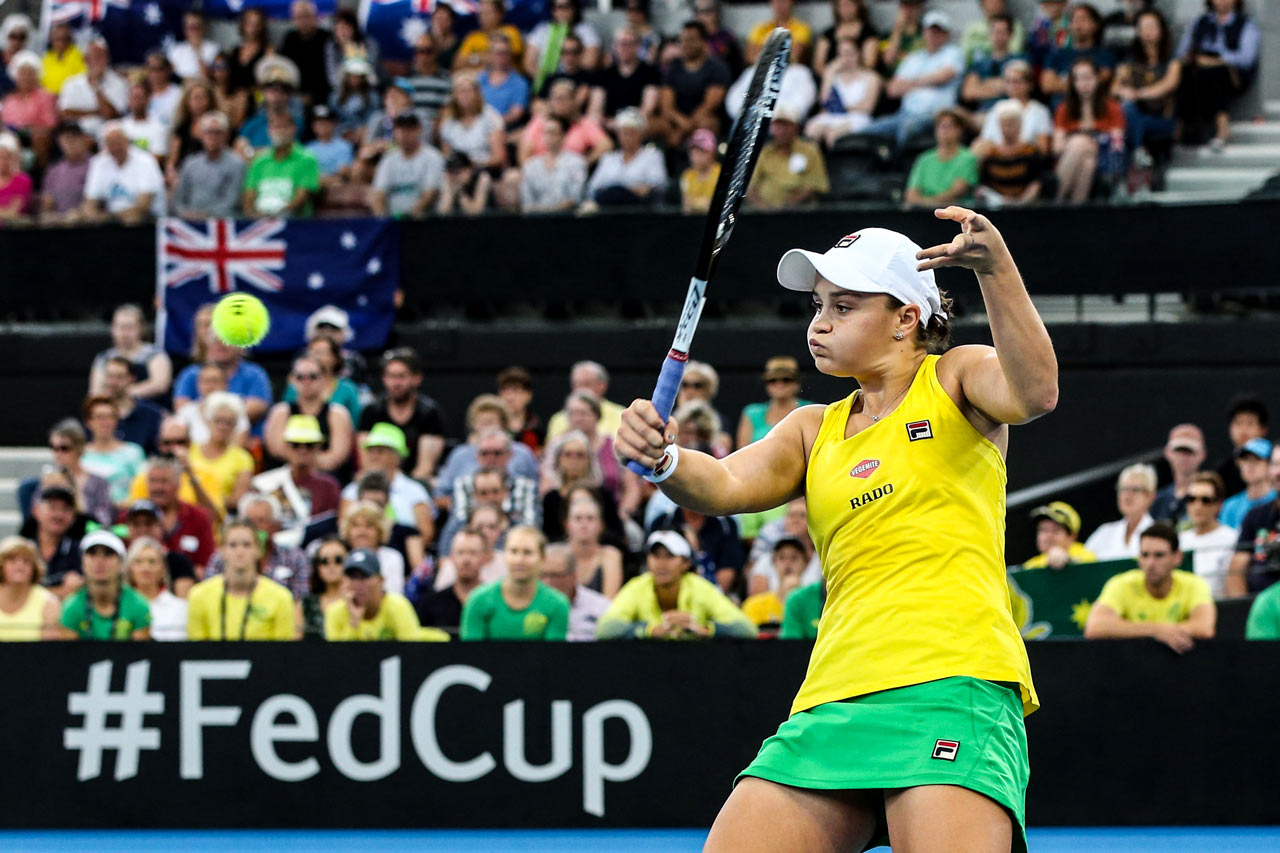 Her favourite meal was Mum's chicken curry. It was like a staple: every time she'd walk in, she'd say, 'Are we having chicken curry tonight?' Which we hated! But we usually had to eat it because she would request it whenever she was home.
When Ash first started playing tennis, we were playing netball. But it got to the point where Mum and Dad said, 'You guys get to play tennis or nothing because we can't get to all the places with three children and two sports'.
So we started playing tennis as well, which was fine. We were actually quite happy going to tennis and ended up really loving it. We're a close family and there was never any resentment; that's never been something that's ever crossed our minds.
It wasn't so much that Ash was the spoilt youngest child; it was more that she needed more than we did. She needed people to take her to tennis and buy her equipment – bits and pieces like that. They were just necessities of her sport.
And the fact that she was doing so well in it meant she needed more support than we did to get her to where she is.
It was obviously worth it when you look at it now.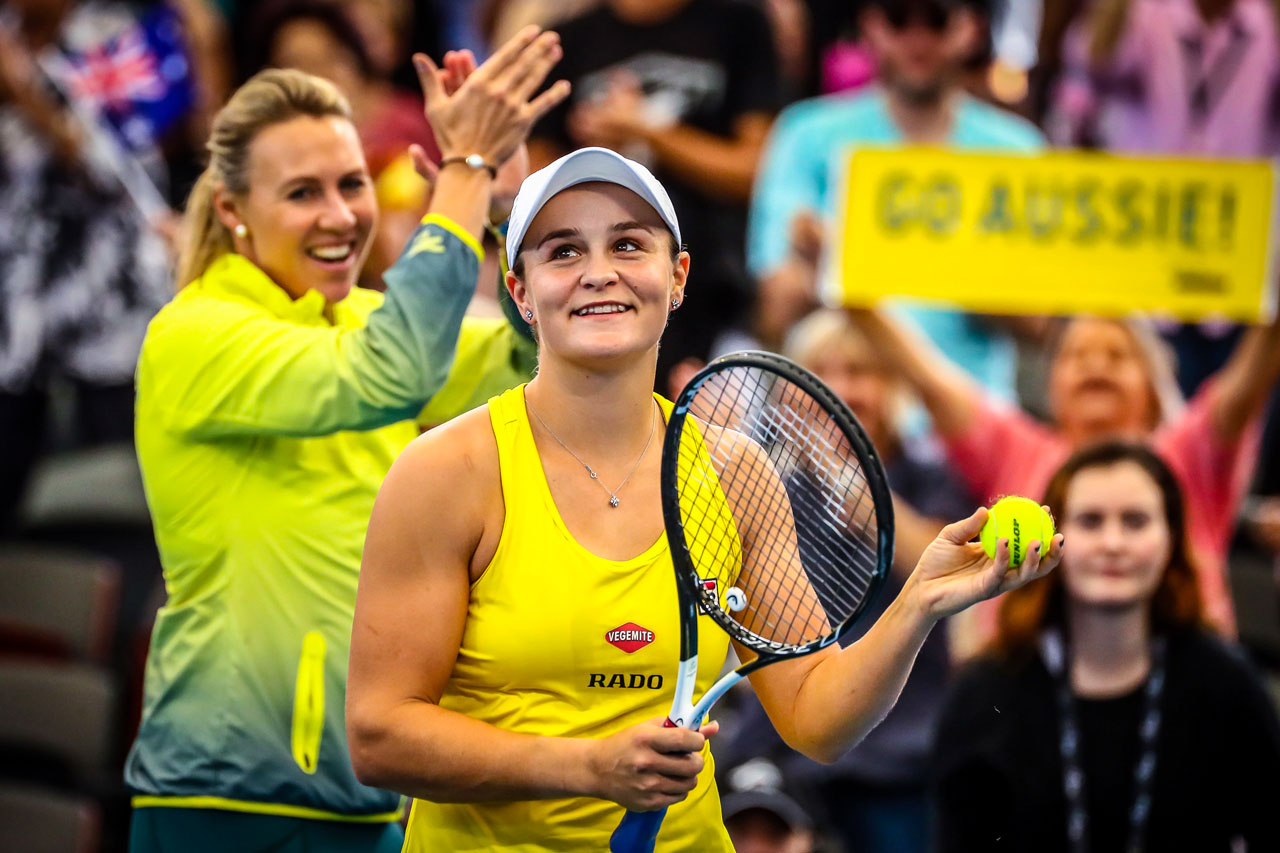 The sporting prodigy
We used to drive past hockey fields on the way to our netball games. Ash didn't like netball. She thought it was a 'girls' sport'!
She was quite young, maybe about four, and when she saw kids playing hockey she'd say to Dad, 'I want to play hockey instead of netball'. He said, 'Why is that?', and she said, 'Because you get to use sticks'.
Then she found an old squash racquet and a tennis ball at home – because Mum and Dad played squash when they were much younger  – and she used to just bash it against the garage wall. She'd just hit balls for hours.
So our parents thought they'd take her to tennis and get her the proper equipment, rather than using a squash racquet with a tennis ball.
She's top 10 in the world … but she's no different at all. She's still the same homebody, still Auntie Ash who comes and pushes the kids on the swings.
Ash had her first lesson with Jim Joyce just before she turned five and she was already very, very co-ordinated. She was able to hit balls over the net and with somewhat of an aim.
For a long time I don't think we realised she was something special. To us, she was just our little sister who was beating us!
The realisation probably came when she was playing competition and they had to keep moving her up. First it was up with the high school kids, then she played against adults in super league fixtures.
She was still a young teenager and she was doing so well. That's when we realised she had a bit more talent than the average person.
She was just always one of those kids who could literally just pick up anything. It wouldn't matter what sport it was, she could do it. She just plays golf as a hobby, but if she really decided she wanted to, she could probably make a go of that as a career, as well.
More about: Ash Barty | Australian Open | Fed Cup | US Open Tennis | Wimbledon | Women's Sport