Levi Greenwood's ACL injury has been really difficult for a lot of us, not too dissimilar to Matt Scharenberg or Lynden Dunn.
I just know how much work he's put in, how hard it is to do this. To get so close to qualify for a prelim and then do your knee and have no chance, is heartbreaking.
It was tough on our playing group losing one of our warriors who had given his heart and soul for the last four years.
It's going to be a tough journey for Levi over the next 10 months to get himself back to playing footy but, if anyone can do it, with his positive mindset, it's him.
Support is massive in that aspect of footy. Once you're injured you can slip to the back of the mind for everyone outside the club. It's important that injured players feel they're still contributing to our on-field success, still feel valued, and that their season isn't necessarily over just because they can't play.
It's something that Lynden has done a great job of enforcing over the past 18 months since suffering his two ACL injuries. He sits in the coach's box every week, never misses a meeting, never takes a day off.
Levi is going to have weeks that are really crappy. Painful weeks where he's sore or has setbacks, and it's our job as teammates and friends of his to make sure he's okay and gets through.
The mask a footballer wears
We've seen that embrace of emotion in the way we deal with mental illness too. The openness of players now, probably across the whole AFL, in the health and wellbeing space has been so noticeable.
The old mantra that it was a sign of toughness to keep things in has now evolved to it being a sign of toughness to speak up.
Mental illness is now beginning to be seen as something like a hamstring tear. If you have it you need professional treatment, and that is perfectly fine.
Being involved in such a pressurised environment means footy players are susceptible to experiencing anxiety, depression and all forms of mental health issues.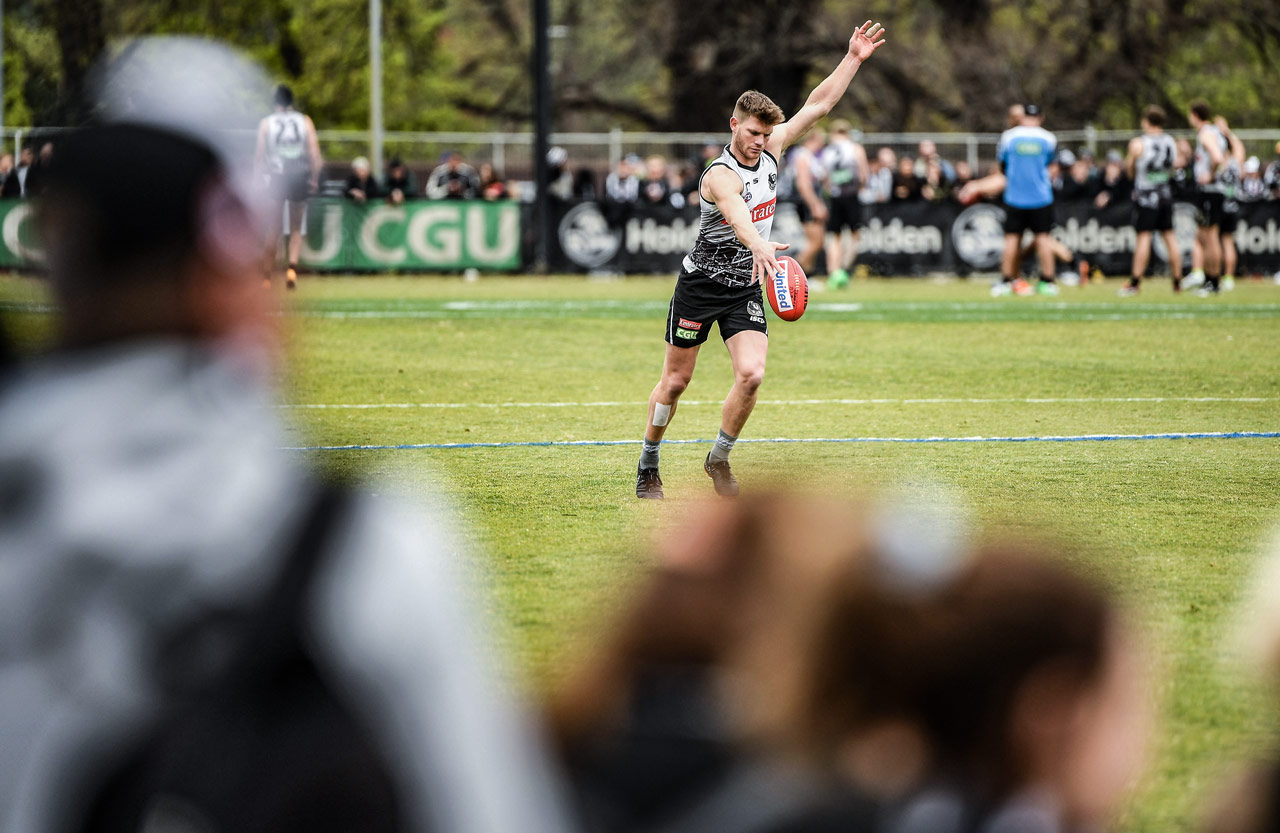 There is no stigma attached to mental illness at our footy club. We've had Adam Treloar and Dayne Beams come out and be really open and honest about it and we now celebrate that honesty.
The way the AFL has developed in this area in the past few years has been very positive for players and other young men in society who look at players as role models. It's important that we show that being open and honest is brave.
There's more to each player than you see on the MCG. Most of them are wearing a bit of a mask to shield some of the stuff that may be happening in their private life. Everyone in society deals with that, it's not something that's confined to footballers.
The power of what we do
A lot of credit has to go to Nathan Buckley and GM of Football Geoff Walsh for encouraging players to explore their emotions and what they represent.
Earlier this season they invited Kyron, a six-year-old with terminal cancer, in to meet all the players before a game. He was chaired off the ground by Adam Treloar and Scott Pendlebury after we beat Port Adelaide, his old man in tears as Bucks consoled him.
That's the power of what we do. To be able to put a smile on a young kid's face like that, and on his family's faces, warms the heart and brings us all closer.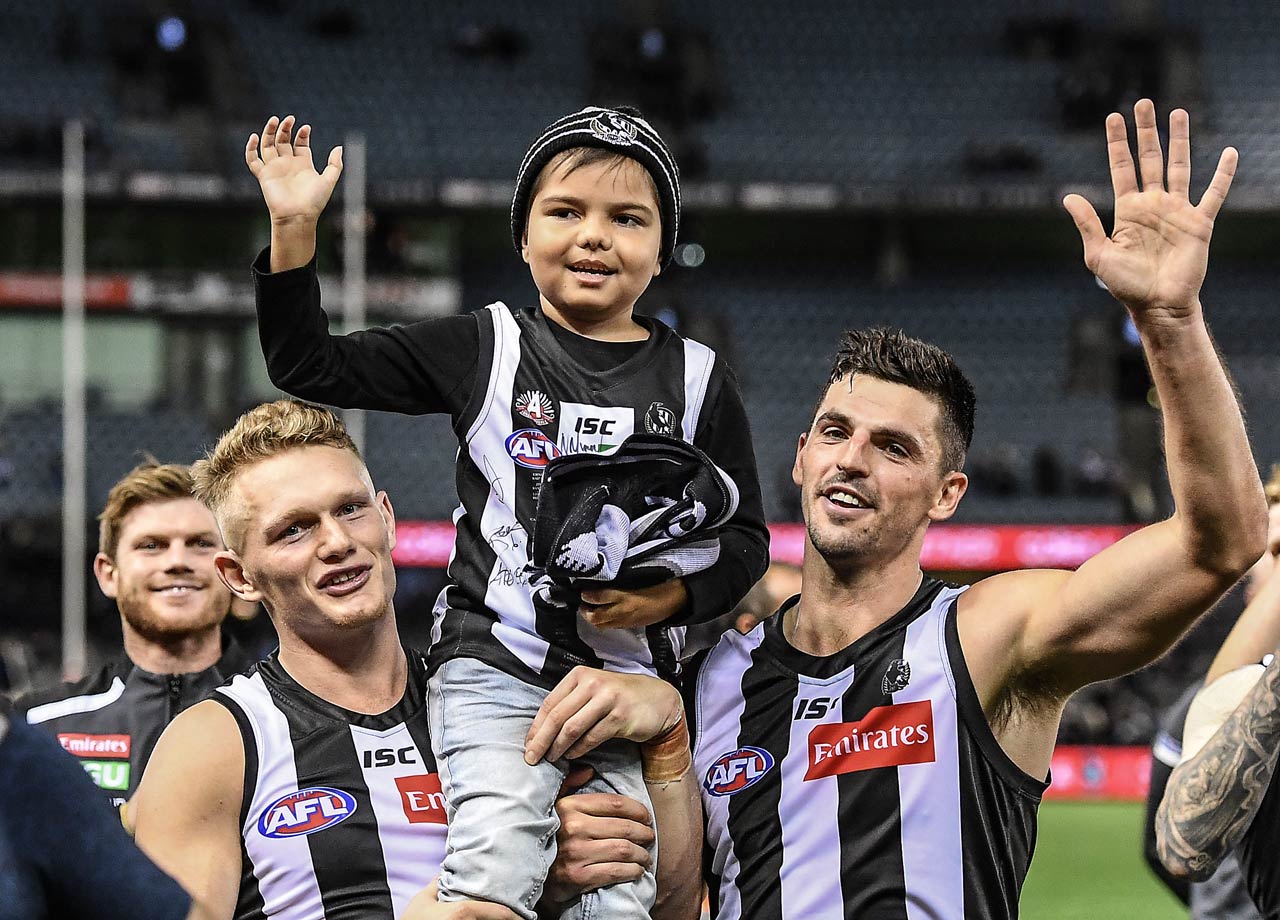 The message after that game wasn't anything about the win or how we played. It was what we did for that young boy and his family, a part of our community, and how we made them feel loved. 
That human connection has been a strength of Nathan's for as long as I've known him, but I think more people are starting to see it now as well.
I met Bucks when he coached me at under-16s level. I would say our relationship is more of a friends' basis than player-coach. We're very close.
I couldn't have any more respect for the man and am lucky to be able to learn off him daily.
Without speaking on behalf of him, I believe he has continued to grow over the past six years. It's nothing major, but I see him focused on things that matter to him and our club, and that's creating an environment where everyone feels loved and cared about and our players feel like they can express their true selves.
He makes people feel safe. Like they belong and are at a place where they can maximise their potential.
He's more than a footy coach for me. And we talk a lot about pressure on players – he had it ten-fold. Being a favourite son of Collingwood, missing finals for four years in a row, he was dragged through the mud.
Thankfully, it feels like an eternity since his players have had to defend Bucks as a coach. Now there's no more respected coach in the AFL.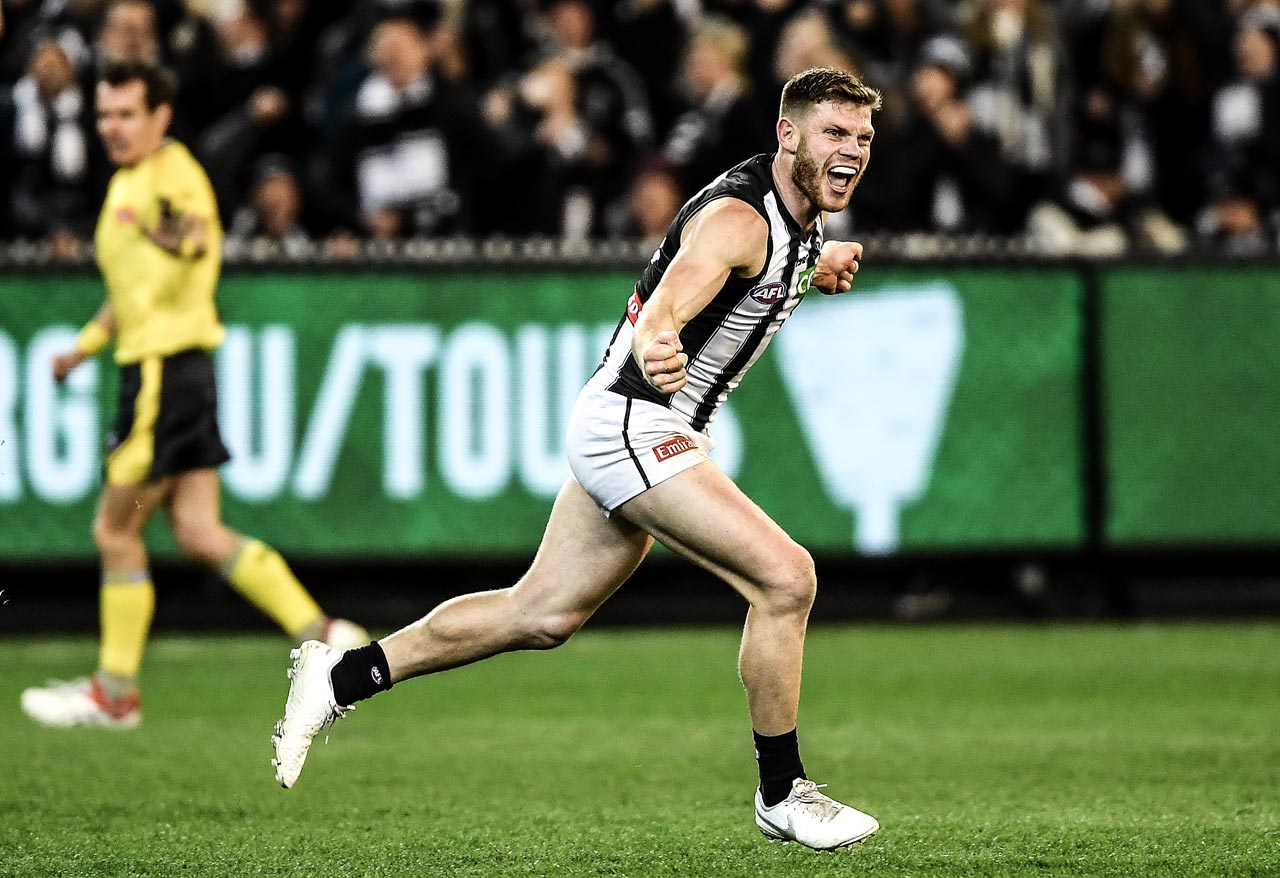 What's most important
Last year's grand final is still a bit of blur. Probably because I've subconsciously neglected it.
The whole month leading up to it was a buzz. Flying to Perth, being so close to winning that game, coming back here to play the Giants and getting over the line, and the prelim win over the Tigers. There was an incredible vibe around the club.
I felt as prepared as I could be going into that grand final. The main emotion I was feeling apart from being nervous was just excitement.
It felt like a great opportunity to be out there on the last day of the season. The season before that I didn't think that would happen. We finished 13th in 2017 and I thought we were probably a couple of years away from a finals side.
Initially I found it really difficult to get over losing by less than a kick. It probably took six months. About halfway through this season, I was able to let it go a bit and start to focus on this year's finals series.
I've had injuries this year and missed a lot of footy so, of course, it was there in the back of my mind: 'Am I going to get back? Am I going to be able to experience finals again this season?'
Last year might be hurting a lot more if I wasn't able to run out there this weekend for another prelim.
This year has been frustrating and I've had to sit out and watch a little more than I'd like to. But I've been building, I've timed my run well, my body is feeling good and when you've had this much time off you feel your mind is generally fresh too. I'm in a great place.
I would love to hold up a premiership cup with my teammates this year, with my mum and dad watching on. But it isn't the main motivation to be completely honest.
Don't get me wrong: I'll be foot to the floor Saturday, and Saturday week if we get there.
But right now the most important thing to me is building relationships with people I really care about, growing as a person and performing to the maximum of my ability in anything I do.
If a premiership cup is product of that, then fine. But if we bow out before that I wouldn't say this year has been a failure. This year has been a hell of a learning experience. I feel like I've grown a lot.
More about: Coaching | Collingwood | Grand Final | GWS Giants | Injuries | MCG | Mental health