It makes me wonder how many other young girls in the late 1990s and early 2000s were lost to cricket due to lack of exposure.
The next step was not so easy. I was 24 or 25 and on the fringes of the national team. I'd been picked on a Shooting Stars tour but, if I'm honest, I didn't train as hard or as well as I could've during that period. I dropped away from everyone else within that squad. It was my own fault and, looking back now, the only thing about my career I would change.
I had taken things for granted. I'd worked hard to get to that level and I thought that was all you needed to do. I now know that at no point can you stop working hard. You have to keep going and have a desire to improve and challenge yourself every day.
I put in the hard yards with NSW and the Sixers. The WBBL gave me – and all the other female players – a platform we hadn't previously had to showcase our skills. It stands to reason that if you're performing well in a nationally televised competition, more people will take notice than if you're playing on suburban grounds.
It took me eight years but I finally made it into the Aussie squad. I almost didn't make it onto the field for my first and only one-dayer against Pakistan at the 2017 World Cup in England. I'd done my hamstring before we went to the UK and made it worse while over there.
In the training session before the Pakistan game I made it a little bit worse. My first thoughts were, 'Shit, this probably isn't going to happen now.'
But the physio was pretty good about it. She reassured me it would be OK and I would get through the match. She strapped me up and put me through a fitness test in the morning.
In the end, it was probably more of a relief than anything else. I'd worked so hard for so long and at times had been within touching distance of my dream. To get that opportunity meant everything.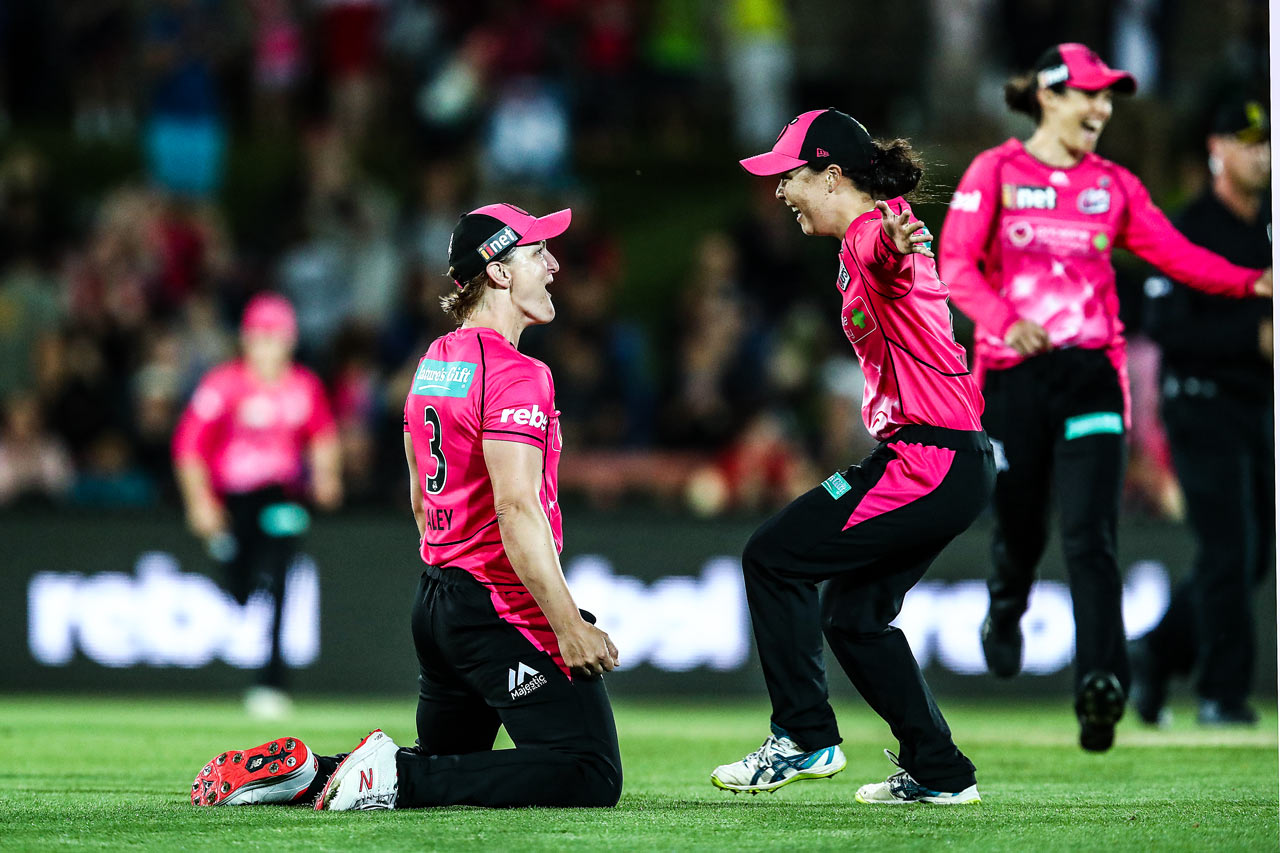 BUILDING A LEGACY
The thing that most fills me with pride – and makes me hopeful for the future – is how players like Ellyse and Alyssa and Meg Lanning have become genuine household names across the country.
That wouldn't have happened 15 years ago.
It was all the Waugh brothers and Mark Taylor and so on.
When I was six or seven and playing in the backyard with my brothers, we were all pretending to be male players. I was Craig McDermott. It wasn't until the 1997 World Cup that I heard about elite women's cricket and that was only because I stumbled across it on ABC radio. I'd later go on to learn about Lisa Keightley and Belinda Clark and all the amazing trailblazers of the women's game. I wished I'd known about them from the beginning.
I'd love to think our Sixers team can play a part in inspiring the next generation of girls.
Attack. Inspire. Succeed. That's our team motto. It's something that's important to all of us and reinforced by our coach, Ben Sawyer.
Ben is a big reason behind the Sixers' success. He genuinely loves this team and the people in it. That's helped us develop a strong culture. We've had a talented core group of players from the first season, but we've also been able to add people like Dane van Niekerk and Erin Burns because they'd heard great things about us.
We've also been able to retain most of the players who have been there from that opening season. It might not sound like much, but it makes so much difference when you know, at a deep and personal level, the personalities of the players around you. Knowing when to steer clear of someone, or when they need a hug, can make a massive difference.
There's still plenty of work to do, but the goal has always been to win a third straight WBBL title this season. That would be an amazing achievement. And then I'd love to think that in 10 or 11 years time you'll be seeing our games on replay.
You know when Fox Sports show classic matches through the day? They're usually great teams of the past, big dynasties, like the Aussie men's teams that won World Cups through the late 1990s and early 2000s.
With any luck, that'll be the Sixers WBBL team on repeat one day.
More about: Alyssa Healy | Ellyse Perry | Meg Lanning | Southern Stars | Sydney Sixers | T20 | WBBL | Women's Cricket | Women's Sport