Crawling along like a prawn cutlet
It was my fourth birthday and I was hiding under my doona in tears. Mum came into the bedroom and asked what was wrong. 
'I wished for legs for my birthday,' I said. 'But I still don't have any'. 
Mum says it was the first time I showed an awareness that I was different. I was born without legs and there was no webbing on my hands. An operation left me with four fingers.
I wasn't the only one who cried. When I was born, my parents and grandparents were shocked. Ultrasounds had shown that I was a perfectly normal boy.
My nan, the sweetest thing ever, said recently that, in a way, she didn't know how to love me. It must have been hard for them. No one knew how to raise me. 
They cried for a few weeks, apparently, worried I wouldn't be able to do anything in life. Then they made a decision to raise me as a normal boy and that, I think, is what set me on the path to where I am today. 
It wasn't an easy process. I remember, as a kid, Dad would take me down to the beach, he'd throw me on his back, put me in the car and then, at the beach, he'd throw me onto the soft sand and make me crawl down to the surf. 
There would be all these families there watching Dad saying, 'Go on, get yourself down to the water', and I'd be chucking a tantrum, crawling along looking like a prawn cutlet.
It might seem like Dad was cruel. But he was a very good sportsman, a triathlete who did Ironman and played squash and did everything really well. He was always very competitive and he believed the best thing was to push me and treat me like every other little boy. 
That meant we'd do things like play classic catches in the backyard. We played footy. Dad would kick the ball to me and here I am crawling around trying to jump up and take a mark.
Mum and my grandparents were right behind Dad with that approach, especially my Pop, who was a huge influence on me.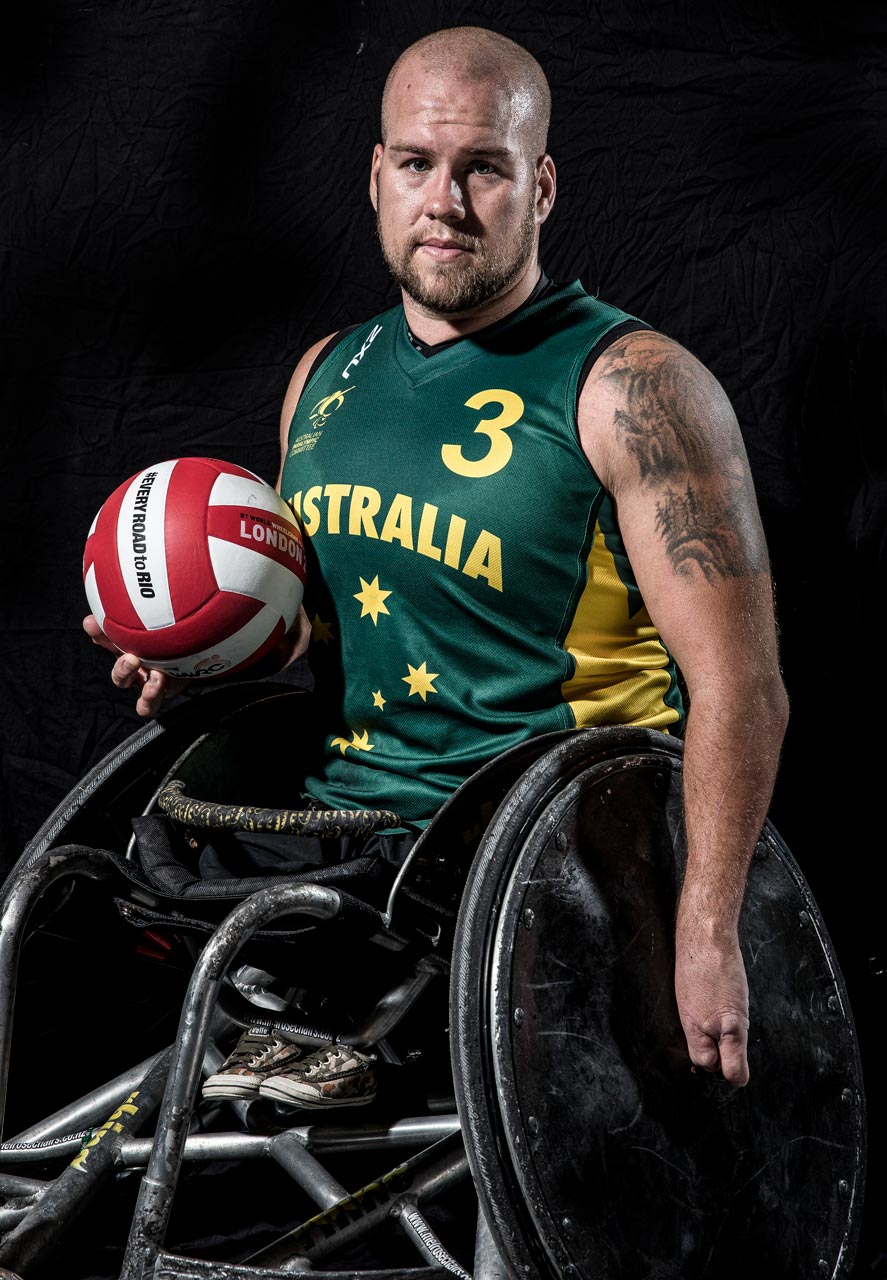 Pop bought me my first quad bike because he wanted to give me something to do with my friends. I loved riding it. I wet my pants on it because I was so young.
I'd ride past the house and ask for my sandwiches with the crust cut off and chew them while I was riding the bike. It was a huge thing for me, being treated like an average kid.
It really worked, at least when I was young. Once, I was in the car with Dad and saw a three-legged dog on the roadside. I said to Dad, 'Look at that poor dog with only three legs'. Dad said, 'Take a look at yourself, mate'.
There were so many times when I was a kid that I forgot about my disability and a large reason for that was the people I had around me.
I feel massive gratitude towards my parents and grandparents for taking the approach they did. 
Skateboard was my barrier
I had a great group of friends and we'd go camping, to the beach, play golf … I never sat around thinking 'poor me' or worried about things I couldn't do.
Once I got into high school, things started to change. It's around that age that it becomes a lot more about your looks and what other people think of you, and I went through a hard couple of years feeling ashamed of who I was. 
It wasn't until my early twenties that I finally felt OK about myself. I even began to embrace my disability, a feeling that's continued through to today.
If I hadn't started to feel that way, I doubt I would have achieved anywhere near what I have – I've won two Paralympic gold medals, travelled the world, met my beautiful wife Crystal and help raise two beautiful step-daughters.
I've been working in CTP insurance for Suncorp for six or seven years and we now live in a house we built at King Creek, near Port Macquarie where I grew up. Life is good, but it was challenging to reach this point. 
It was a huge disappointment. I felt I'd let everyone down, especially my Pop, and it really hurt. I almost wanted to give away the sport and there were a few tense moments in the aftermath.
Part of that shame I felt throughout high school played out with my refusal to use a wheelchair. Wheelchairs were my kryptonite. I hated them. I didn't want to be in one because I thought people would look at me funny and because it felt like admitting defeat. 
I wanted to play sport, but wouldn't do anything in a chair. I'd crawl around the soccer field at school, but every time I'd get the ball people would kick me or something would go wrong. I'd go goalie and they'd kick the ball over my head.
The bike Pop got for me led to me competing in motocross, which became a real passion. But, riding a four-wheeler against kids on two-wheelers was seen as dangerous. It was fun but it had to end. 

My parents had first tried to get me in a wheelchair when I was eight. They took me down to Sydney to get one and I remember saying to them at the shop, 'You can put me in a wheelchair but there's no way I'm going to use it'. 
In grade six, I think, I got stuck going to the PCYC for school sport. The sports were table tennis, squash and wheelchair rugby.
I didn't want to do wheelchair rugby at all but a bloke named Tom Kennedy, who'd won a medal at the Sydney Paralympics, was hosting a wheelchair rugby clinic for able-bodied kids and all my friends jumped in the chairs and had a great time. Still, no one could get me into one. 
Instead, I used a skateboard to get around. The skateboard was sort of my barrier and gave me a feeling of being like every other young person.
About two weeks after I first saw wheelchair rugby, I was with my dad and a couple of friends on a weekend away and we skateboarded down to the beach at Crowdy Head, I think it was.
I threw my skateboard into the bushes to hide it while I went down to the surf, went for a swim for two hours and then went back up but some bugger had stolen it.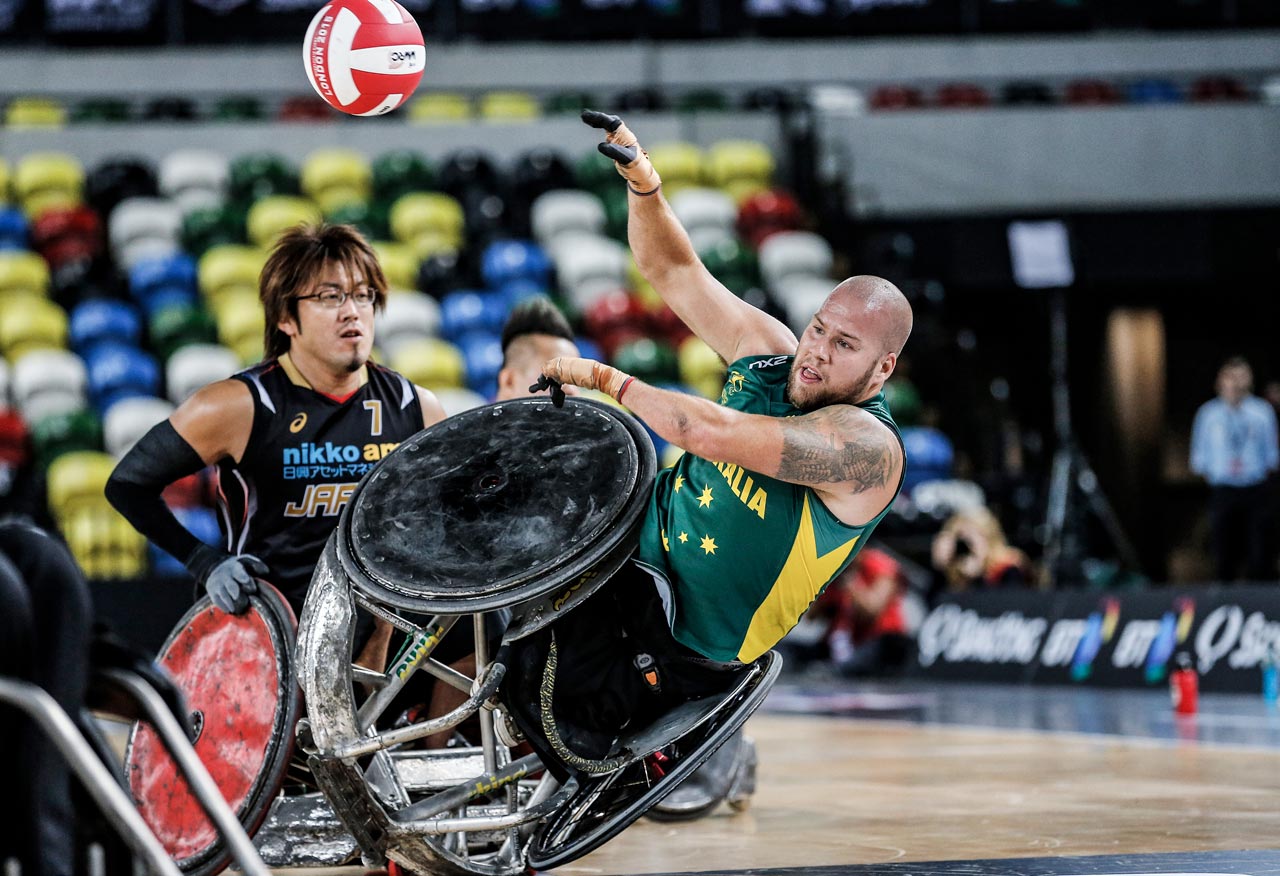 I had no mode of transport and something clicked in my head that I should give the wheelchair a go. The next time at school sport I jumped in a chair and loved playing wheelchair rugby.
I got to beat up my friends in the game and, all of a sudden, I felt I was on the same level as everyone else. I had a pretty strong upper body from skateboarding and it felt really good to use those muscles and compete.
From that moment, I was hooked. I started training with a local team, got selected for NSW and a short time later was invited to a national training camp.
I was only 13, but impressed the coach and was selected for the first time for the Australian team as a 14-year-old for a competition in Japan in 2003. 
More about: AIS | Disability | Para Sport | Paralympics | Resilience | Rio 2016 | Tokyo 2020