Best of athlete storytelling worldwide
Not a legend, a human being
It starts with a nervous giggle. Tension grows as unknown people greet Dwyane Wade on a dimly-lit basketball court.
Peace. Mystery. Some words of introduction. Then it begins.
Over the next three-or-so minutes, Wade is confronted by five people whose gratitude towards the retiring Miami Heat basketball star is hard to measure.
The piece, published by Miami Heat, has gone viral – and rightly so. It's amazing.
Also in this week's edition of PV Clips, Uninterrupted has the story of another NBA player who did something great for other people, a Port Adelaide veteran gives his early verdict on the kid he's mentoring at AFL Players' Association and an English football coach keeps an open mind as he learns his craft, in a piece for The Coaches' Voice.
Jason Taumalolo declares at Fox Sports why he will never play State of Origin and NSW Swifts coach Briony Akle gives some emerging women's sports a reality check.
These are our favourite stories this week about elite sportspeople, as told by elite sportspeople, from our favourite athlete platforms around the world. Just like you get on AthletesVoice everyday.
Lives you changed
Do. Not. Miss. This. It is simply one of the most beautiful and magical ways to recognise the ability an athlete has to change lives.
This video, posted by Miami Heat, through Budweiser, to mark Dwyane Wade's 'One Last Dance' – his retirement – shows five people surprising the basketball superstar with touching stories about how their journeys were impacted by him.
After watching this piece, we just love Dwyane Wade. And would also consider drinking a Budweiser. Maybe.
.@DwyaneWade has been collecting jerseys all season in honor of his #OneLastDance

Ahead of his final regular-season game in Miami, he was surprised with a few other meaningful mementos to add to the collection. pic.twitter.com/zUaROZsLoC

— Religion of Sports (@religionofsport) April 9, 2019
TONGA FIRST
Barnstorming North Queensland forward Jason Taumalolo puts State of Origin somewhat in its place in this piece at Fox Sports.
Apart from discussing his injury and his thoughts on Tevita Pangai Jr, Taumalolo re-affirms his intention to remain available for Tonga.
'Origin is one of the greatest spectacles in rugby league, but playing for your country is still the greatest honour our game has to offer,' Taumalolo writes.

'Every year we have a new generation come through the ranks who are split between playing Origin and for their country of heritage.
'Money is a big factor for some people, but that's their choice. The game must find a way to make sure people are paid equally. If Origin payments were level to international ones, I think that you would see a lot of players go back and represent their families.'
EXCLUSIVE COLUMN@nthqldcowboys star Jason Taumalolo talks injury, Tevita Pangai Jnr and why he would never play for Queensland.

READ MORE: https://t.co/L9RYGmeoNR pic.twitter.com/yZQVvVbKoZ

— FOX LEAGUE (@FOXNRL) April 8, 2019
SAVING SCHOOL
Another NBA player stepping up to the plate is Brooklyn Nets' Allen Crabbe.
In this piece to camera, published at Uninterrupted, Crabbe talks about the Price School, founded by his grandparents and aunt, in South Central Los Angeles.
Crabbe attended the school, which he described as "an oasis that was created in an undeserved part of LA".
When the school hit financial troubles last year, Crabbe made "a significant donation".
Crabbe then explains what his donation means to the students and staff.
A hat tip to you, Sir.
.@allencrabbe stepped up to save the Price School in South Central Los Angeles from closing down. Here's what that means for his family and the community, in his own words. ??✏️#SincerelyYours #MoreThanAnAthlete pic.twitter.com/J9L7hl1QU8

— UNINTERRUPTED (@uninterrupted) April 5, 2019
Rozee's future
Brad Ebert was concerned about Connor Rozee's slight frame, but the number five draft pick has allayed his mentor's fears, compensating with speed and agility.
The Port Adelaide veteran writes about young Rozee – who was born in 2000 – making an apparently seamless transition into the big time and earning the round three Rising Star nomination.
'When you enter the AFL system as a high draft pick there is a level of expectation about how you're going to perform and from day one that never really fazed him,' Ebert writes.
'Connor was confident but never arrogant. You could tell he was going to be a good player.'
From day one at @PAFC, Rising Star Connor Rozee has been a standout. https://t.co/WdmlXdksnB

Brad Ebert pens a column on his teammate after his Round 3 Rising Star nomination. pic.twitter.com/0TxswR6G2V

— AFL Players (@AFLPlayers) April 10, 2019
WORKING HIS WAY UP
Gary Rowett was a journeyman as a player and has had something of a similar experience as a manager.
But, in this story for The Coaches' Voice, titled 'Quick Learner', Rowett reveals a humble philosophy, a fine work ethic and a healthy respect for the kings of the trade.
'I made a conscious decision that I didn't want to go into a job without learning from the bottom up. I'd seen a lot of ex-players take a job on the back of their name, without actually having taken the steps in coaching first. For me, that always looked very difficult.
'So I set about trying to learn as much as I could – and that started with me walking into Derby's academy and asking if they had any openings.
'The under-14s job was available. It was peanuts for three or four days a week, but it was about putting in the hours, trying things and making mistakes.'
"Even if you doubt yourself, you have to get up the next day and be positive – to have the resilience to keep moving forward."

Former @burtonalbionfc, @BCFC and @dcfcofficial manager Gary Rowett on his coaching journey so far… #BAFC #KRO #DCFChttps://t.co/BEyFlMDEpU

— The Coaches' Voice (@CoachesVoice) April 7, 2019
STAND Proud, NETBALL
Briony Akle doesn't miss. The NSW Swifts coach has had enough of other sports claiming the moral high ground on promotion of women's sport.
That's netball's territory, Akle says. Thousands of players and administrators have created opportunities for women in sport for a much longer time than, for instance, the AFL.
'It's simply wrong for the likes of the AFL, cricket or the rugby codes to be described as the pacesetters for women's sport, as I've heard quite a bit lately," Akle writes.
'The truth is, netball has been the pacesetter – and it's come about through a pioneering movement that's been in action for nearly a century.'
Read the story here.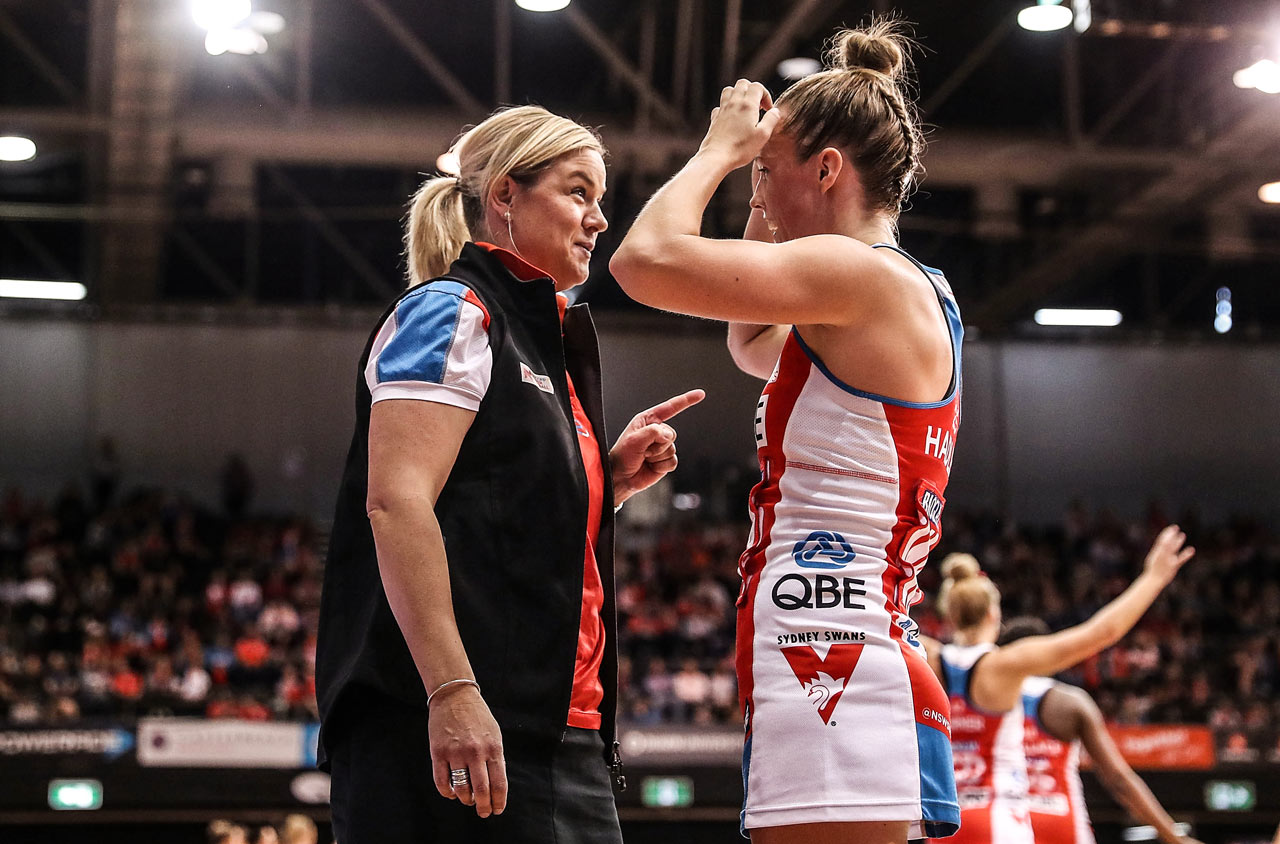 More about: English football | International rugby league | Jason Taumalolo | NBA | North Queensland Cowboys | NSW Swifts | Port Adelaide | State of Origin | Super Netball