If the mind doesn't want it, the body won't follow
The physical side of footy isn't the hardest part of playing in the NRL. The mental side can be far tougher. You can only do so much physically, but everything comes back to your mindset. 
There's so much more involved than just getting in shape, getting through training and games. You've got to deal with the off-field stuff, whether you're making the team or not, whether you're going to be re-signed, how you respond to injuries. 
It doesn't matter if the body can take it; if the mind doesn't want it, then the body won't follow.
That realisation didn't hit me until early in my career, just after my debut when I wasn't getting picked to play.
When you're young and make it into the NRL, you just assume that you're going to be playing first grade all the time. Getting dropped back to reserve grade from the top level when I was developing as a young player coming through the ranks was huge – and not in a good way. I started doubting myself, thinking that maybe I wasn't good enough, second-guessing what parts of my game needed to change. 
But ultimately it all came down to my mindset.
I was a kid from New Zealand who didn't know much about mental wellbeing. I figured doing all the physical stuff would be enough, but that all changed at that tricky part of my career.
Having someone to talk to
Moving to Australia when I was 13, from a big city like Auckland to Townsville, and doing that just with a few other guys who I'd played club footy with, without my parents, was a huge change for me.
The move had a big impact on my mental wellbeing. There was a lot of nervousness after leaving my family behind and moving to a different country. I left the place I'd lived most of my life up until then, so spent a lot of time feeling homesick. Without any immediate family in touching distance, it got to the point where I was asking myself whether it was worth it or not.
I needed some reassurance to keep going, and part of that came from my parents. I called them most nights to keep in touch.
There was one night, about a year or two after the move to Townsville, which I still remember today. I rang home and got quite emotional. I told Mum and Dad that I wanted to come home, that I wasn't sure I wanted to be here anymore.
They were awesome, they told me how much they believe in me, and reminded me how much hard work had gone into getting to that stage. That really reminded me why I was doing all this, and inspired me to keep going.
Mum and Dad made a huge decision later on, around 2009, to move over to Townsville to be with me. They left behind their jobs in New Zealand because they wanted to be closer to me, a massive sacrifice I'll never forget.
Being so family-oriented, having them close by meant the world to me. Seeing them at the ground provided motivation to work harder and play the best football possible.
Having someone hold you accountable
One guy at the Cowboys who helped me a lot – and not just back then but still to this day – is John Asiata. He's been one of my biggest influences.
As a young kid, I was turning up to training late, and not doing the little things like weighing in and staying on top of my diet. Sometimes you need some help with that, and he did just that for me.
John and I moved in together, and he set a really high standard of how to be a professional athlete. He hammered home how important the one-percenters are: staying on schedule was one, diet was another. I started eating healthier, and that had a flow-on effect to my mental wellbeing – I felt much better for that change.
Being away from my home in Auckland, my friends and family weren't around as much, so there weren't many people who I could go back and talk to, but with John I was able to really open up, whether it was about what was happening on the field or off it. Having someone to talk to was great and it often helped me to clear my head and straighten things out. 
Men sometimes don't open up about their problems or how they're feeling, but having a good friend and mentor like him to talk to was incredibly beneficial for my mental wellbeing.
To be completely honest, without John I probably would have left the club. There were a few moments when I could have easily lost my contract because of repeatedly not doing the little things our coaching staff were asking for.
Mentally, that was a challenge because I knew I was costing not just myself but the team as well. I needed some support and he was able to provide it.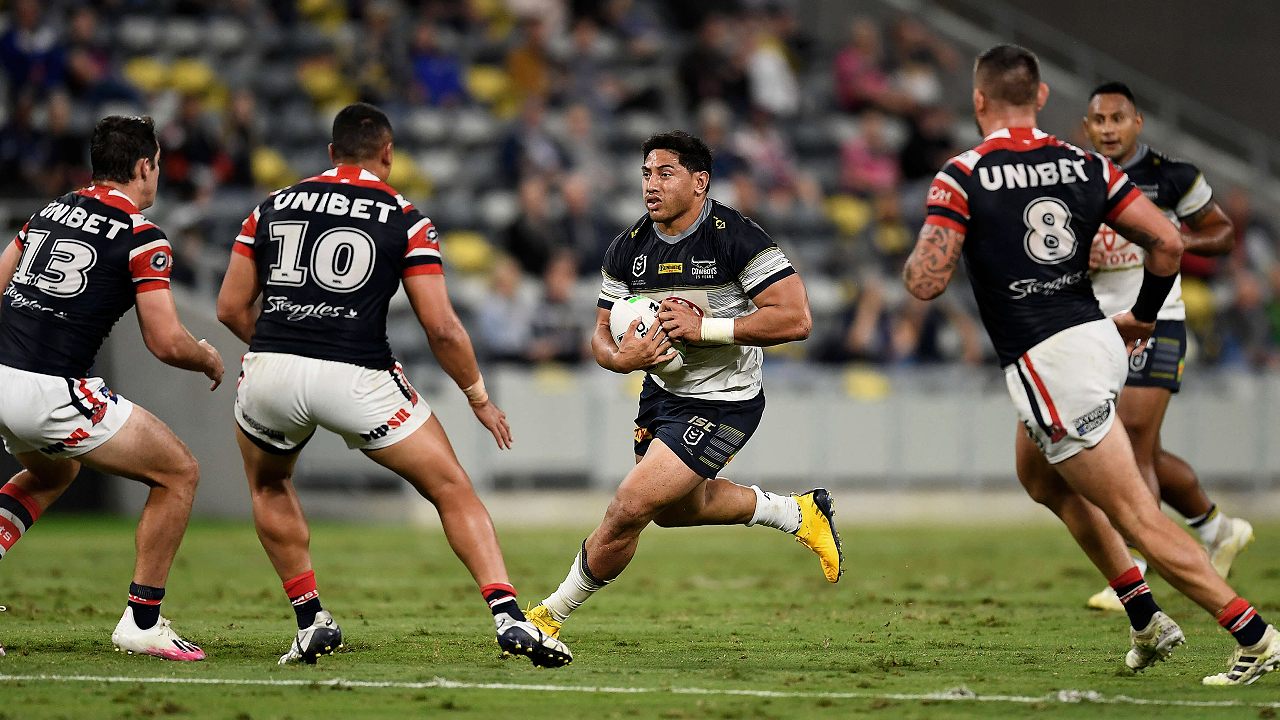 Feeling at home
Moving over from Auckland to Townsville so young, I didn't think I'd last this long. I certainly didn't think I'd end up signing a deal to stay here for another ten years.
The move was a massive eye-opener because the lifestyle was so different, from the weather to co-ed schooling. But I love the people here – I have from day one. They've made me feel welcome from the very first day, and I want to make sure I show my thanks for that.
Getting out in North Queensland and helping the kids here – we go out to local schools to help out teachers then run around with students in their lunch breaks – it's so rewarding. The kids are the next generation, so if we can influence them to be good people or leaders or have an otherwise positive impact on their lives, then I'll be more than satisfied with myself.
Having that kind of a connection to the community is a big help for me mentally. Losses and injuries are part of the game, but they can be really draining.
Even something as simple as going around the town, meeting new people and having them ask you how you're going, whether you're alright, or wishing you a speedy recovery, it shows your community has your back. It happens so often in Townsville, it's such a truly friendly community. And that makes a massive difference.
Having the right people around you is crucial. It can provide a confidence boost and help you stay in the right headspace.
More about: Jason Taumalolo | NRL | rugby league