It's probably too soon to be writing this. It's too raw.
But let me say this: if Andy Murray retires after Wimbledon, the tour will be losing one of the greatest players of this generation and I'll be losing a great friend on the road.
I hope there's still a way through for him. He's one of the game's great fighters. Anyone who watched that press conference would understand the agony he has put himself through to return to fitness. If anyone can punch through this, it's him. But the reality is that in a sport like tennis, which is all about lateral movement, hip injuries can be difficult to contend with.
Andy's tennis IQ is off the charts. He can figure out an opponent's weaknesses like few players can and he has an amazing ability to work his way through a match. He's also one of the great movers on court, which comes down to his dedication to fitness.
But as good a player as he is – he's 4-0 against me in grand slams! – he's an even better person. Our relationship goes back to my very early days on the tour. He offered me mentorship and, over the years, that has turned into genuine friendship.
You won't find many more genuine, funny people in tennis than Andy.
We didn't know each other all that well when he sent that tweet around after my win in Nottingham in 2014. Having one of the greats of the game recognising something you've done on the Challenger circuit is really exciting for a young player. To be honest, I couldn't believe someone at his level was even watching the tournament!
You'd have to ask Andy why he took me under his wing. It might've been because he saw some things in me that he saw in himself. He went through difficult times early in his career and had issues with how the media perceived him. There was always a lot of pressure and expectation on him. Did he see me struggling with those same things? Maybe. Again, you'd have to ask him.
All I know is that I'll be forever grateful for his friendship. From bantering in the locker rooms, to mucking around at the IPTL, to Facetime-ing while rehabbing on the opposite sides of the world, Andy has been there for me when he didn't have to and stuck up for me when others wouldn't. I'd like to think we're two of the better friends on tour.
Our teams have become good friends, too. Andy's mum, Judy, gave my mum some advice when she saw I was doing it tough early on. There's no manual for mothers on tour. They have a hard time when their kids are copping it from the press or on social media. It was nice of Judy to talk Mum through it all and it shows the kind of people the Murrays are.
If Wimbledon does happen to be Andy's last tournament, I doubt it will be the last time we see him on tour. If he wants to be a coach, a commentator or something else entirely, there'll be people queuing up to get him on board.
Tennis needs people like him involved.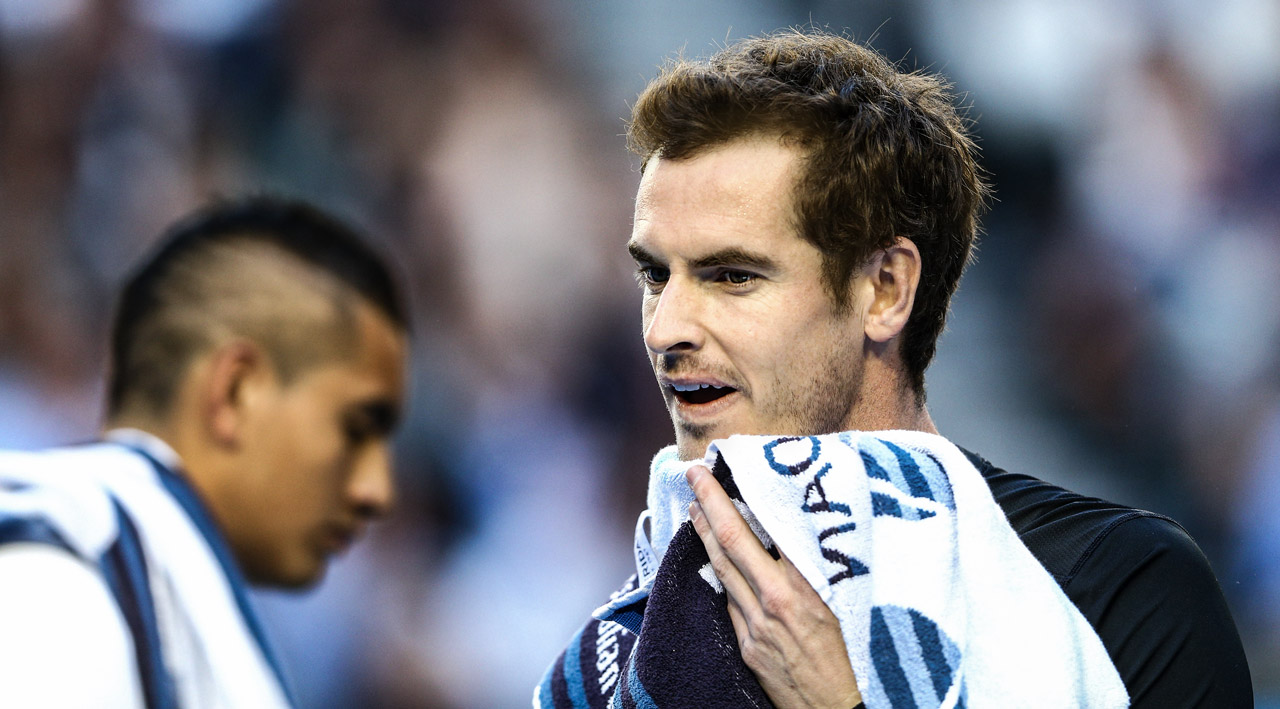 THE OPEN
Over the years I have been accused of not caring. That's not the case. I know I'm doing something not many people have the chance to do.
But I am also aware that tennis is not the only thing in the world and that the universe does not revolve around how I play or whether I win or lose.
Have I managed to articulate that as best as I could? No. Does that mean that I don't care or give a shit? No.
I just have a bit more perspective on life than some people my age and in my position. Sometimes I feel burdened by that and wonder why all the fuss over a little yellow ball.
Of course, I want to win. I've given my whole life to tennis to this point. But sometimes it's not possible, or it's not your day, or the opponent is just better. It's life. No matter who you are, somewhere, somehow there is someone coming along or training to be better than you. That's evolution.
This summer, dreams will be made and broken. That's the brutal nature of sport and tennis in particular. I mean, what other sport can you play for over five hours in conditions hotter than hell, win more points than your opponent, win more games than your opponent but still lose the match?
It really comes down not to how many points you win but which points you win.
As I'm getting older, I'm understanding that more.
Legends like Roger Federer and Rafa Nadal are experts at that and have been showing their class on the big points and big moments on the biggest stages forever. It's something I'm looking to emulate.
I've lost points at times that haven't really meant much but I have let that bother me and affect me on the most important points which, to be honest, drives me nuts. That's when my emotions have got the better of me. I want to change that, but it's not an easy overnight fix.
It's something I am still dealing with and learning how to do better.
More about: Andy Murray | ATP Tour | Australian Open | Davis Cup | Lleyton Hewitt | Nick Kyrgios | Rafael Nadal | Retirement | Roger Federer | Wimbledon