I've fractured the C7 vertebrae in my neck, torn my ACL, broken bones and needed 40 odd stitches in my face. Once, I was hit so hard in the leg that part of my femur splintered off and I had to get the bone shaved down.
I love hockey.
Sure, there have been a few setbacks but I never doubted that I could come back and become the first Australian to make it to the NHL.
I chose hockey over rugby league in my teens. My old man got me involved with league and signed me up to play as a junior in Cronulla. I played a bit of everything – second row, lock, five-eighth, centre. Growing up my favourite player was Danny Nutley. He was my hero.
At the age of 15, I was playing the hockey season in the Czech Republic (more on that later) and turning out for the Cronulla Sharks' development team in the off-season. My coaches wanted me to make a decision, so I had a chat with the family and chose hockey, which has always been my first love. I made the right call. I've got no regrets, especially when I see how big the footy players are now.
Then again, there are some big hockey players as well…
NEVER FIGHT YOUR BIG BROTHER
My brother Ryan played when we were kids, growing up near Cronulla. As the little brother, I just wanted to beat him at whatever he did, so one day I put on his skates and gave it a go. I fell in love with it the moment I stepped on the ice.
Obviously, there aren't many facilities in Australia but we had rollerblades and some nets in the garage downstairs. As you can imagine, we broke a lot of windows. My brother and I would head down to the car park outside the house and play one on one. It was on bitumen, so if you went down it would hurt a lot. We would imitate the pros but there was one aspect of the sport I never tried with him – there was no way I was going to start a hockey fight with my brother. Maybe now I would but back then it wouldn't have been pretty. He was a lot bigger than me.
When I was 13 I was playing for a team in Blacktown, but it wasn't enough. When it rained I'd be upset I couldn't travel to training and I couldn't play in the carpark. I wanted to be on the ice more and I had this dream of playing in the NHL. I had a Slovakian coach at the time, Ivan Manco – he didn't have many contacts in the USA but he was able to set up some try-outs with clubs in the Czech Republic. I sat down with the family and we decided I should give it a go.
We flew over for the trial and I was offered a place on Vítkovice Steel's under-18 team. Next thing I knew, I was moving to Europe.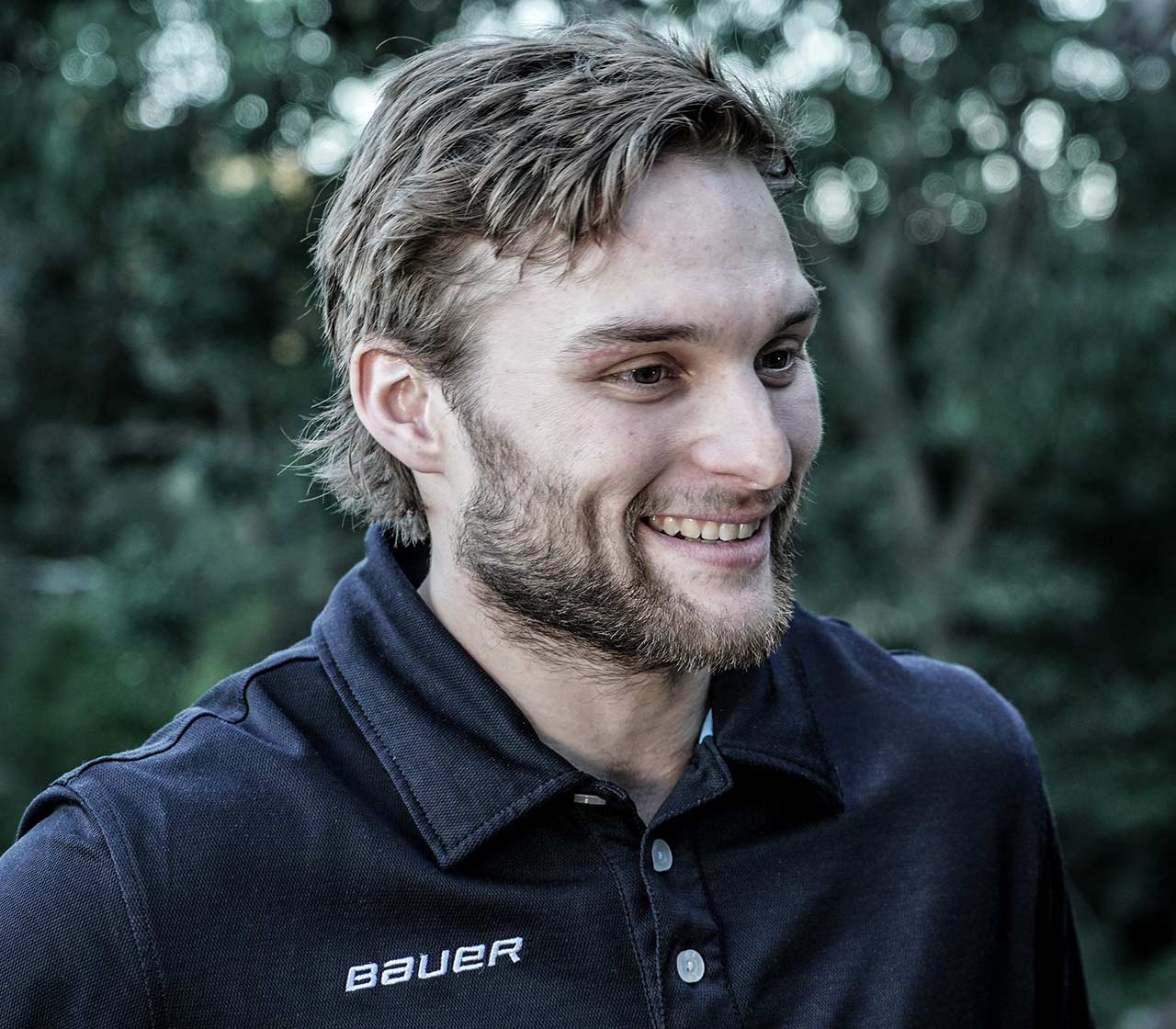 A KID IN THE CZECH REPUBLIC
As a 13-year old, the culture shock was huge. I went from sunny Australia to the cold and grey Czech Republic. I was living in a city called Ostrava with a family that didn't speak any English. I didn't speak Czech and I didn't know anyone, so the first year was really hard. It would take me ages to do simple things like travel five minutes down the road for practice.
It was tough being away from my friends and family – missing birthdays and holidays.
There were so many times I wanted to throw in the towel. I remember calling my family some nights and being so homesick. They'd comfort me and tell me to wait and see how I felt the next morning. I always feel better the next day. I wanted to be over there so badly.
I focused on my hockey and playing well for my club. At first, I couldn't communicate with my coach or teammates but I learnt to speak Czech and Slovakian. I also picked up a bit of Russian. I made friends and found my feet.
I realised that if I gave up on my dreams, I'd definitely regret it. I think living in the Czech Republic made me stronger mentally. I've been doing this for 12 years now, heading overseas. It gets easier.
BREAKING MY NECK
I was moving through the junior ranks with Vítkovice and eventually I got the call to play a game for their men's team. I impressed them enough to keep my place in the side for the rest of the season. I played the next year for them as well, but things weren't feeling right. I knew I needed a change.
I'd taken things as far as I could in the Czech Republic. The whole reason I moved overseas was to get drafted and play in the NHL and I never lost sight of that goal. It was time for me to try and make it in the States.
There were so many times I wanted to throw in the towel. I remember calling my family some nights and being so homesick. They'd comfort me and tell me to wait and see how I felt the next morning.
My agent had contacts over there and I got the opportunity to join a camp with the Washington Capitals, which got me on their radar. I joined a USHL side, the Youngstown Phantoms, but unfortunately my season was brought to an early end. I broke my neck.
I was playing for the Phantoms when it happened. I was just a few feet away from the boards and I had my back turned towards the play. I got hit from behind and hit my head on the boards. As soon as it happened I knew something was wrong; I didn't feel right. Thankfully enough, I could move my fingers and my toes but it was scary. For a split second I thought, 'this could be ugly'.
The doc said one inch to the left and it wouldn't have looked good for me. At the end of the day though, that's hockey – it's a quick game and that stuff happens. I wouldn't hold a grudge against anyone if things had turned out differently. Thankfully enough, it didn't.
I was at the gym in a neck brace just a couple of days later, riding the exercise bike and doing leg workouts. I got some weird looks from a lot of people but the doctor advised me that it was all good, so I focused on keeping up the cardio even though my season was done.
I was in the neck brace for six weeks.
FIRST AUSSIE PICKED IN THE NHL DRAFT
I was invited back to Capitals camp and they took the opportunity to sign me up to their minor team. I joined the Hershey Bears and after that first year the Capitals decided to draft me in 2014.
It was crazy. I was back home in Australia and it was 3am when I got the call. It was years in the making and it felt amazing. The significance of being the first Aussie drafted in the NHL still hasn't sunk in. At the end of the day I just think of myself as a guy that loves playing hockey.
It's unbelievable, though, to think I'm contracted to the same team as Alex Ovechkin, who is one of the greatest NHL players of the era. All the older pros are great. They try to help the young guys because they all went through the same things.
I get chipped every now and then about being Aussie – all that good stuff. It doesn't bother me. I just smile and laugh along. I tell my teammates we all grow up riding kangaroos and they believe me, which is pretty funny. I like to bring a bit of the Australian culture into the locker room as well. If it's Australia Day, I'll wear my Aussie singlet under my big winter jacket.
The next challenge was to become the first Aussie to play in the NHL but, after getting drafted, things didn't exactly go to plan.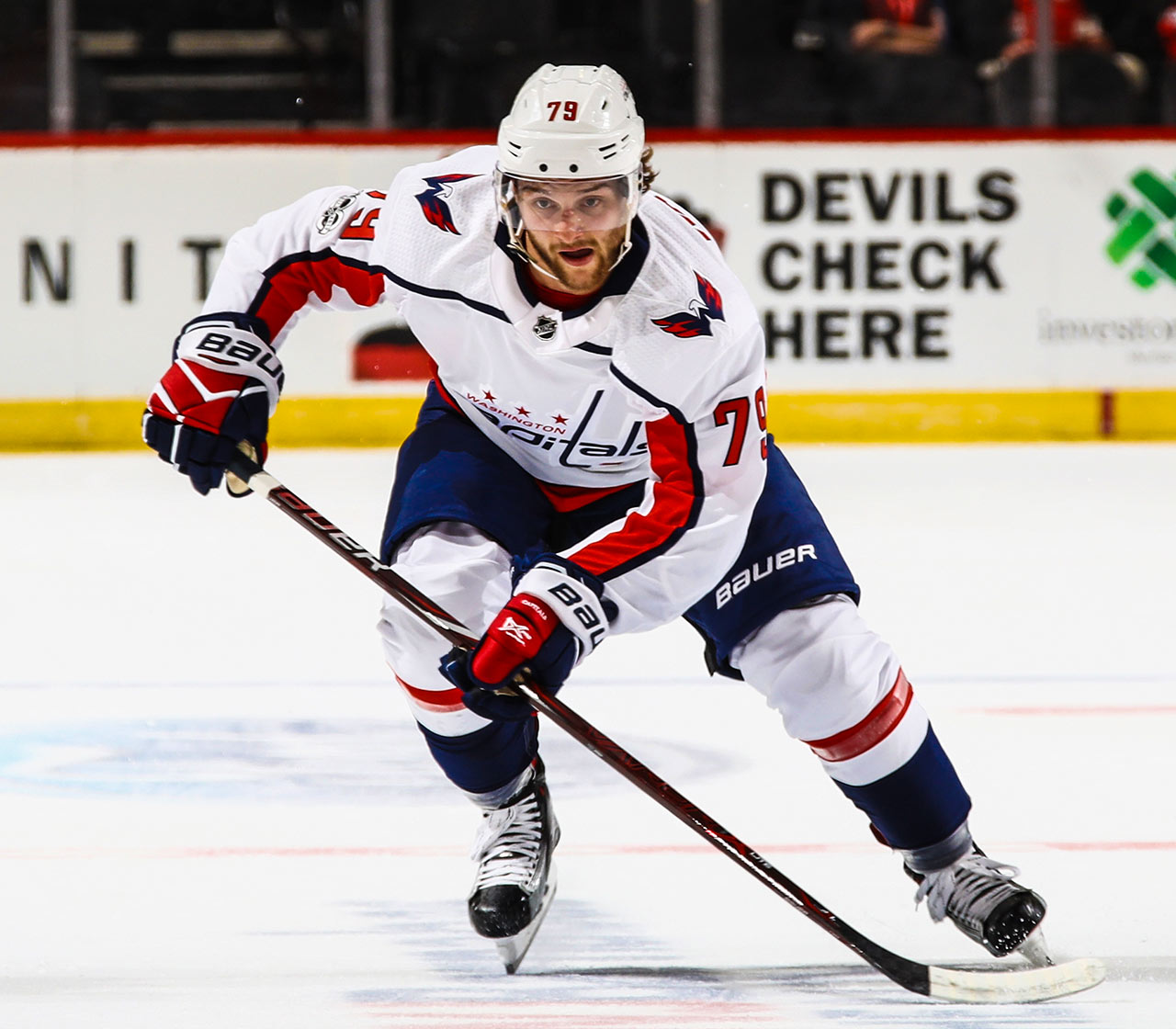 SLUGGING IT OUT IN THE MINOR LEAGUES
I suffered a big setback at the start of 2015. I tore my ACL while playing in the minor leagues. It was devastating. I remember calling home and talking to my parents for hours. Going over the injury, going over what happened. My fiancé was staying with me in America at the time and she looked after me while I couldn't walk around much. We're a really positive family and they all thought I'd come back stronger than before.
The Capitals told me I was done for the season but they wanted me to return afterwards. They helped me every step of way but said it was up to me to make the sacrifices and put in the hard work.
The season after I did my knee was make or break. I knew if I had a dud season then I'd probably be heading back to Europe and trying to find a job over there.
When I made my return, I started playing my best hockey for Hershey. That's when I knew I could make it in America. The coaches told me that they liked me and the way I played – they liked how I could come back from a serious knee injury and be so strong. It was really motivating to hear that feedback. I was back in the mix.
It's a tough sport. The average height is around six foot and I'm a lot shorter than that. I think I've got to play a certain style and use my height to my advantage. I like being a little pest out there. Putting the other players off their game, and hopefully getting on top that way.
You have some nights where you seem to be getting hit left, right and centre. But we've got great medical staff, physios and trainers – they make sure you're ready to go the next night. Mum still worries about me a lot. It breaks her heart every time I get injured. Dad just tells me to get up and stop being a girl.
It's unbelievable, though, to think I'm contracted to the same team as Alex Ovechkin, who is one of the greatest NHL players of the era.
One thing about hockey is that if you get angry and want to fight someone, you're more than welcome. There's more to it than guys just dropping their gloves and punching on, though. It's about momentum swings, it changes the game. If your opponent is on top you need to stop that momentum, so you might send out your fighter to change things up.
I've never been asked to be the fighter. I'm too small. I've been in a few fights though – when your teammate takes a bad hit you've got to step in and try to defend them. I think I've done alright. I've won a few, maybe lost a few more.
I finished off last season playing some of my best hockey yet. In game one of the playoffs for the Bears it was 0-0 heading into overtime but seven minutes into OT I scored the game-winning goal to put us up 1-0 in the series. It was huge moment for me and it was great to finish the season on such a high.
Meet Nathan Walker. He's from Australia. And he's really good at hockey. #ALLCAPS #CapsDevils pic.twitter.com/bwMRapLZZp

— Washington Capitals (@Capitals) September 18, 2017
THE NHL DREAM 
The Capitals re-signed me on a two-year deal, which showed the faith they had in me. 
When I returned to the States this time, I wasn't going back to Hershey. I was going straight to DC to work out for a month before the start of training camp. It was a case of impressing or being sent back to the minor leagues. 
I didn't get sent back. The dream is on.
Regardless of any success I have on the ice, I just love playing the game – that's what keeps me going. It's such a unique sport. You're playing on thin ice, with thin metal blades underneath your feet. The danger of it excites me.
More about: Cronulla Sharks | Nathan Walker