If you asked a random kid in Perth if they'd prefer a career in the AFL or sailing, you could be pretty confident they'd say footy.
The city's mad about the game and so was I when I was growing up in Woodvale just north of the city. I remember going to games at Subiaco with the family or watching on TV and barracking for Port Adelaide. The Power wore the same colours as my old Auskick team and won the flag in 2004, and I was rusted on forever more.
Like most people who grew up in Perth – or Melbourne or Adelaide or Hobart – I spent a big chunk of my childhood down at the local oval, punting a footy, pretending to be Warren Tredrea and wondering if one day I might get the chance to run out onto the big stage to play the national footy code.
At the age of 15, after being selected in the West Perth Development Squad, a feeder into the West Australian Football League and, ultimately, the AFL, it seemed that fantasy might come true. Yet, it was there and then that I decided to walk away from that journey and put all my energy into forging another sporting pathway, in sailing.
I would never downplay the talent and huge effort needed to create a career in the AFL. But I've been told by a enough people in the know that I probably would have made it had I put all my focus on going in that direction and left sailing behind.
There are times that I wonder what might have been. But the fact that I chose sailing, a fringe sport in Australia compared to AFL, is a decision I've never regretted.
After the 2018 I just had, winning some major international Olympic class regattas and being named Australia's male sailor of the year – ahead of some of our gold medal-winning team members – I'm more confident than ever that I made the right call.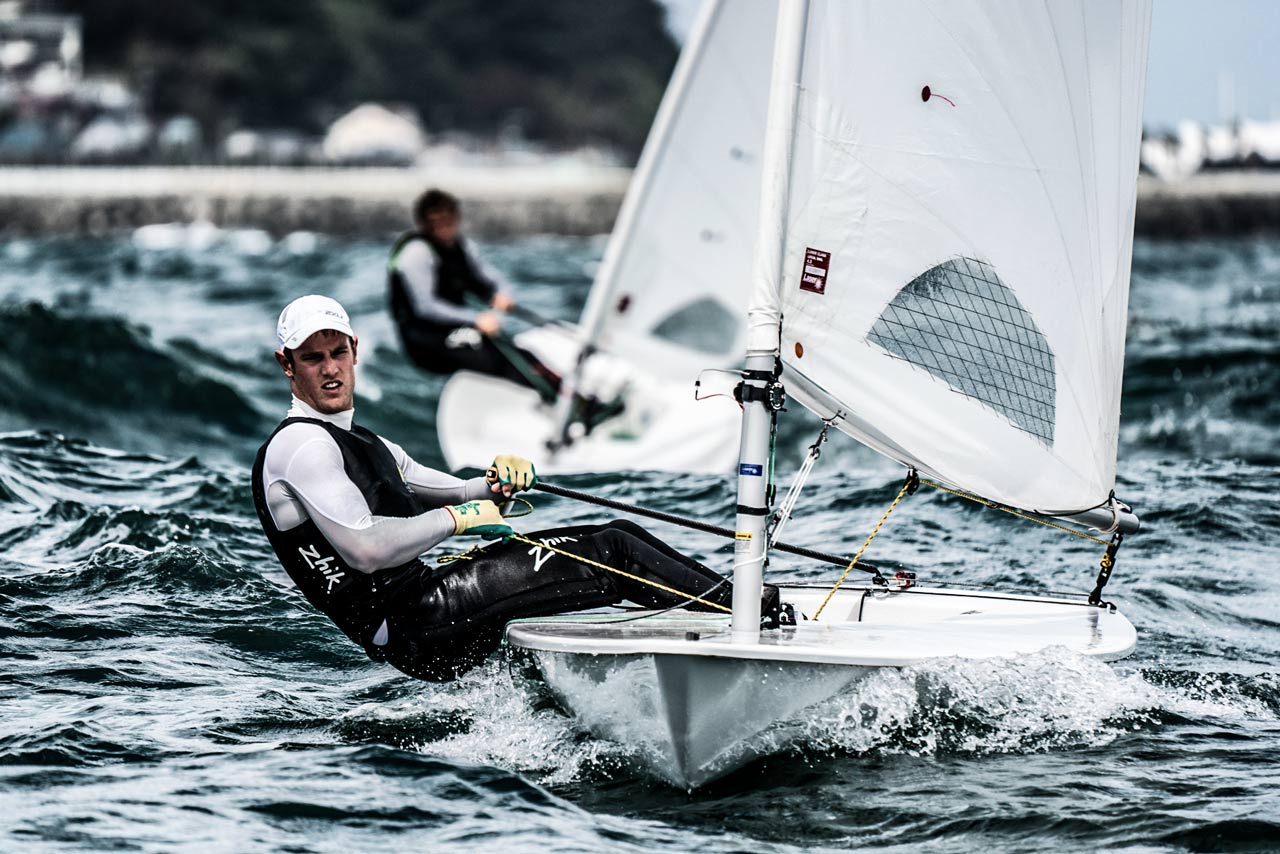 Young Age, Mature Choice
Having to choose between a promising career in two sports is a blessing but it's also challenging, especially when you're in your mid-teens, which is about the age these sorts of dilemmas tend to come up.
There are teammates to consider, coaches, parents and peer pressure. It's hard at that age to think about things like earning capacity, lifestyle choices, starting a family, and the likelihood of success.  
Those considerations are the last thing on your mind when you're really young, as they should be. As a little kid I happily spent my winters playing Aussie Rules and summers sailing at Royal Perth Yacht Club, where my parents were members.
However, once I started moving up the ranks in sailing fleets, things became progressively more complicated and, eventually, there was no escaping the reality that a choice had to be made.
I started going to junior representative championships, mainly in Europe, and felt I was letting my footy teammates down by not being available. Year upon year I'd miss more games. In the Under-15s, we managed to make the grand final, but I'd already realised something had to give. I'd only played six or seven games in the season.
As it turned out, our team got quite a touch-up on the big day, yet somehow I was picked in that West Perth Development Squad. It was a good thing in the end, as it basically forced my hand into picking a sport to go with. I declined the offer after some advice from people at WAIS about the kind of life sailing could offer and that was that.
There are times that I wonder what might have been. But the fact that I chose sailing, a fringe sport in Australia compared to AFL, is a decision I've never regretted.
The journey since then has been a whirlwind. Most Australians only take a passing interest in sailing, above all when the Olympics is on and we have a shot at winning medals, which we have done plenty of at the past three Games.
But sailing, just like AFL, takes an enormous amount of dedication and training if you want any chance of success. It's technical, physical and, like a lot of modern sports, relies heavily on every tiny advantage that can be gained through sports science and technology.
Apart from that – unlike AFL – if you're good enough, you get funded to travel to some of the world's most beautiful places to compete.
In the past year alone, I won at Mallorca in Spain, claimed Australia's first Laser European Championship since Tom Slingsby in 2008 at La Rochelle in France, and won a silver medal at the World Championships at Aarhus in Denmark. I've also competed at the 2020 Olympic venue in Japan and in Miami, Florida.
To top it all off, competing in sailing allowed me to meet my lovely girlfriend Emma Plasschaert, who is from Belgium and I'm proud to say became World Champion in the Laser Radial in Denmark.
More about: AIS | Grand Final | Olympic Games | Port Adelaide | Rio 2016 | Tokyo 2020 | West Coast Eagles