Flair, raw talent and togetherness
The Matildas enter the Women's World Cup as frontline contenders. Here, in their own words, every squad member looks ahead to the tournament.
Aivi Luik (Midfielder – 1st World Cup)
Age is just a number for Aivi Luik, who will make her FIFA Women's World Cup debut in France at 34.
"I had a bit more of an unusual path to be here than a lot of the other girls. I played college football in America after high school because there was no W-League, and I wanted to play at any cost, and that seemed like a good option – to get an education and be able to play.
"I've had two disappointments for the Germany and Canada World Cups. That was really, really hard to take. I've also struggled with a long-term hamstring injury, but here I am. Never give up.
"Pulling the jersey on for the first game of the World Cup will be pretty emotional. Right now just thinking about it I'm getting emotional. I'm excited but I can also feel a little bit teary because I think of my path here and what my family have gone through and sacrificed for me. It will be a huge moment but I'll be focused on the game as well. Really excited, and honoured."
Australia's campaign at the 2019 FIFA Women's World Cup starts on Optus Sport on Sunday when the Matildas play Italy from 9pm AEST. Optus Sport's coverage includes all 52 games live.
Alanna Kennedy (Defender – 2nd World Cup)
Alanna Kennedy was one of the Matildas' youngest players at the 2015 FIFA Women's World Cup. Four years later she returns in green and gold as one of the veterans – despite being only 24.
"This will be my second World Cup and I'm definitely looking forward to it. Comparing it to the last one… [I was] a lot less experienced, so going into this one, personally I feel a lot more experienced and prepared.
"I love the flair that we bring. I love the raw talent that we have. Our togetherness as a team is evident on the field – what we feel off the field, we bring it onto the field."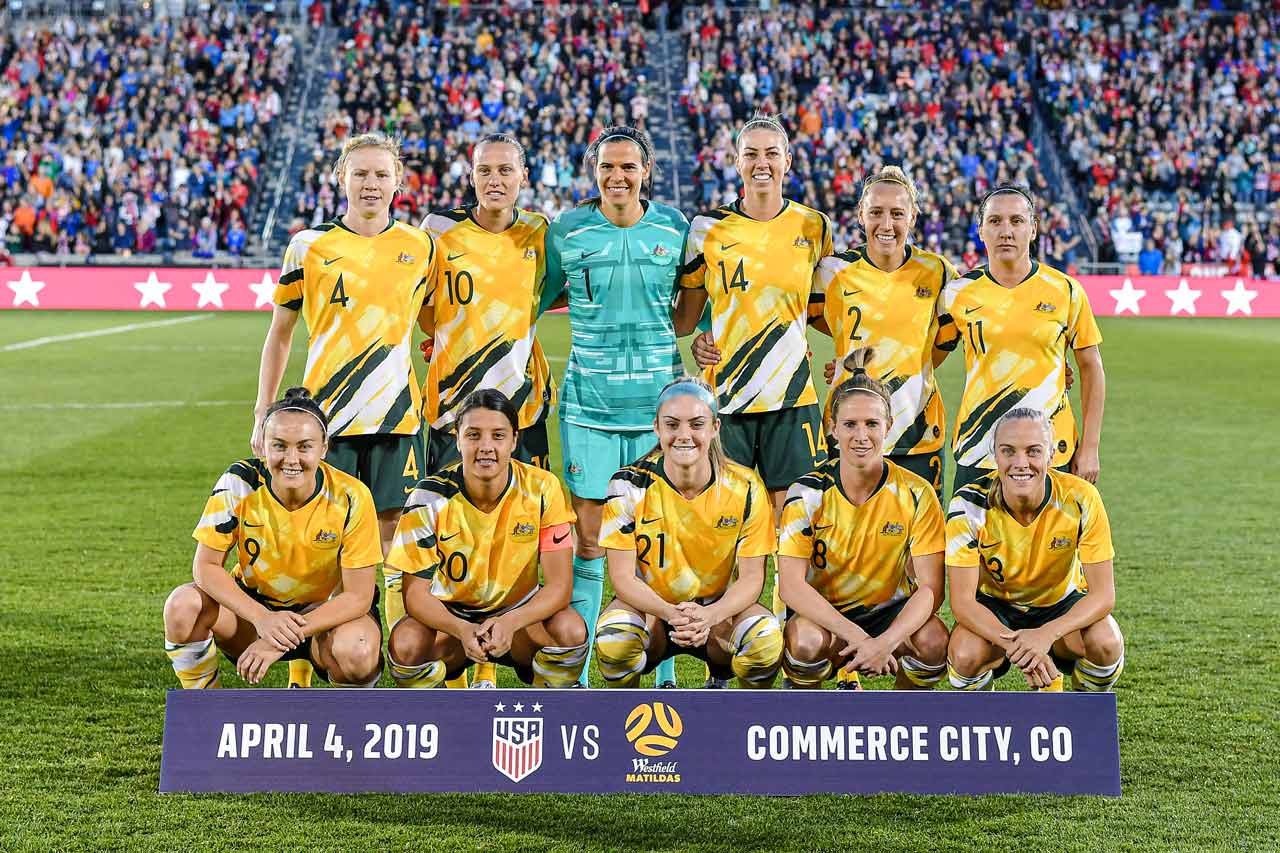 Amy Harrison (Defender – 1st World Cup)
A World Cup debut beckons for Amy Harrison, after two knee reconstructions.
"There were times where the World Cup wasn't even in my mind. Just walking, running and trying to kick a ball again was the forefront of what I wanted to do.
"I was ready to throw the towel in [on] those days of rehab… you hate every second of it. Physically it's horrible, what you have to go through, but mentally no-one will ever know the demand it has on you every single day."
Caitlin Foord (Forward – 3rd World Cup)
Foord has long been recognised as one of the most gifted players in the game.
"The bar for me has kept getting higher because I was in the shift of the movement with the Matildas. The dream keeps changing, the goal keeps getting bigger and bigger.
"You wait for years for this one moment. It's what we play the game for – to be on the world stage and have the whole world watching."
Chloe Logarzo (Midfielder – 1st World Cup)
Chloe Logarzo will make her FIFA Women's World Cup debut in 2019 and if there's pressure to succeed, Logarzo's not feeling it.
"In the last three years the amount of media attention that the Matildas have had has definitely led to a lot of hype, and there's a lot of pressure put on us for this World Cup. But I don't feel it, to be honest.
"I think it's our time, we've trained really hard. The last three years have been amazing for us – there's something about it, so we're feeling really confident going in [to the tournament].
"I'm really proud to be wearing this jersey, especially after missing out on the last World Cup. For me, there's no pressure. I just want to go out there and play my game and be with the girls again."
Clare Polkinghorne (Defender – 4th World Cup)
Representing your country is a huge achievement in any sport, but to play at four World Cups is monumental.
"It's always special to represent my country, but to do it at a World Cup is even more special. It's going to be my fourth World Cup, which is kind of crazy to think about. Each of my World Cups has been a different experience, but one that's always been exciting. I'm really proud to be part of it.
"People are going to see a team who likes to play possession-based football. We're attacking minded. We've got pace to burn up front. No matter how the game's going we're going to continue to play in our way and our style."
Elise Kellond-Knight (Midfielder – 3rd World Cup)
Two World Cups, two All-Star teams. That's Elise Kellond-Knight's record at the showpiece of women's football.
"I remember the first time coming up against Marta. It's hard to not be awestruck, so moving into this World Cup, having that experience and composure will be really important.
"We went Round of 16, quarter-finals [in the last two World Cups], so in theory we should make at least the semi-final in this coming World Cup. That would be my expectation, then once you put the team in that position anything can happen."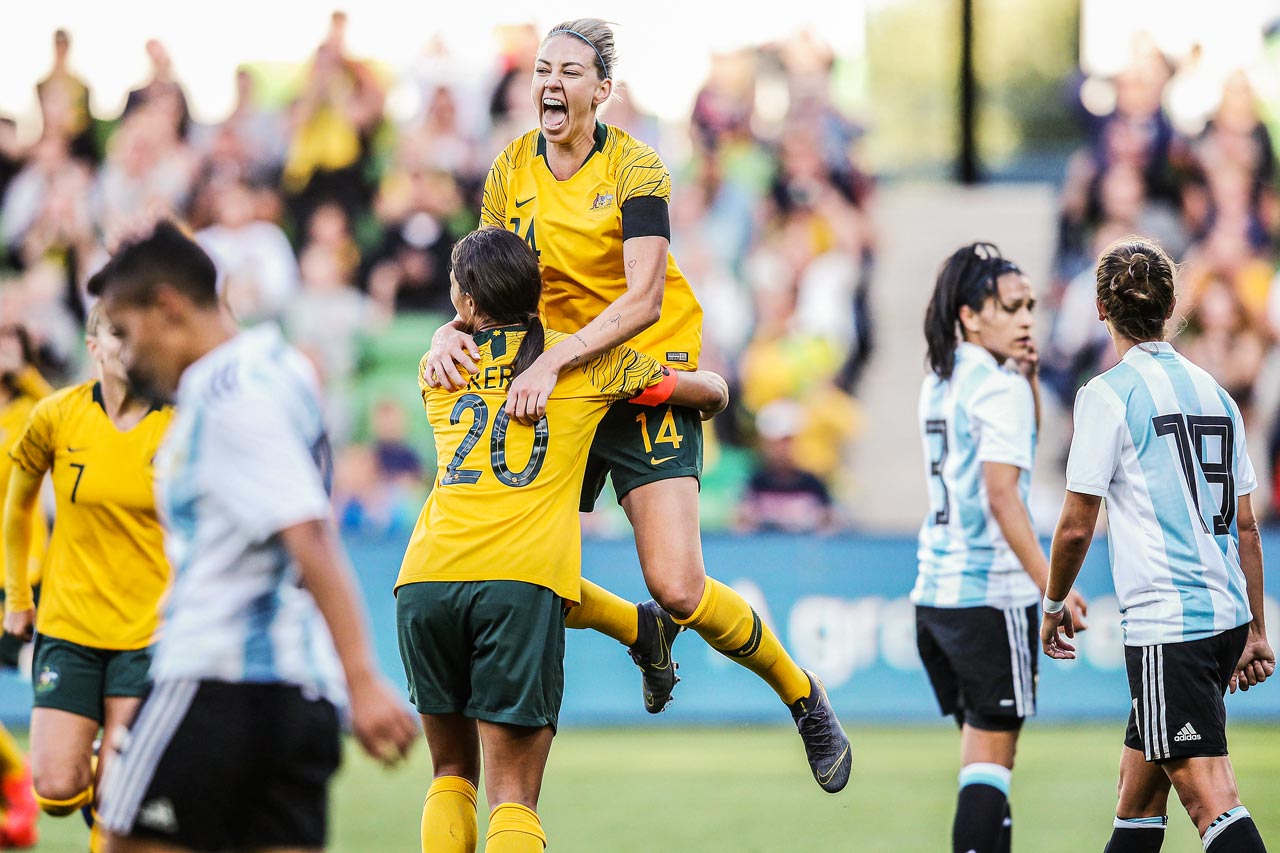 Ellie Carpenter (Defender – 1st World Cup)
Just 19, Carpenter comes into the 2019 FIFA Women's World Cup with the weight of expectation on her shoulders.
"I love to put on the green and gold. It's one [jersey] that I feel so proud to play in every game I step on the pitch. Playing for your country is everything, and I have to keep one [Matildas jersey] to remind me of what I'm playing for.
"I always dreamt of playing for Australia, my country. If you put your mind to it, if you work hard, it all pays off. And that's why I'm standing here today."
Emily Gielnik (Forward – 1st World Cup)
Four years ago, Emily Gielnik just missed selection for the 2015 FIFA Women's World Cup and she was left shattered again in 2016 when she missed out on selection for the Olympic Games.
"It's been a rollercoaster. It's been a long time coming… I'm so happy, relieved and satisfied that finally all the hard work has paid off. The gut-wrenching feeling that I had of that 1-on-1 chat when I got delivered that news [of missing out on the 2015 FIFA Women's World Cup], I just remember I don't want that again.
"I made sure I was doing everything I could at training, but then I took it a little bit further and made sure I had that extra training and those extra components to my game."
Emily van Egmond (Midfielder – 3rd World Cup)
One of the Matildas' most experienced players with 85 caps, Van Egmond's midfield mastery will be crucial if the Aussies are to go deep in the tournament.
"My first World Cup, I definitely wasn't expecting to go, so being selected at such a young age I probably wasn't aware of how big the occasion was. It was a huge honour and I really enjoyed my time.
"Now, [this] being my third World Cup, with the group of players we have it's a time now where we can go out and show the world what we can do."
Gema Simon (Midfielder – 1st World Cup)
Gema Simon's road to the 2019 FIFA Women's World Cup hasn't been easy, with a knee injury the biggest hurdle.
"There's a lot of belief within the team, and if you look at the squad it's probably one of the strongest squads we've ever had. If Australia's to win a World Cup then we're in with a really good chance this time around."
Hayley Raso (Forward – 2nd World Cup)
Hayley Raso broke three vertebrae while playing in the USA in 2018, and feared that she may never walk again.
"I don't think any words would really explain it [playing at a World Cup]. Walking out at the World Cup, it was incredible to see all the fans and all of the people at this huge tournament. So to think that I could do that and step on the field and be playing and representing my country, there would just be an enormous amount of pride.
"We just want to show the rest of the world, and Australia, that we can compete and that we can come away winning a major tournament. Our team has a goal, and that's to win the World Cup."
Katrina Gorry (Midfielder – 2nd World Cup)
Back in the squad after suffering an ankle injury towards the end of 2018, Katrina Gorry's attacking flair and smarts will be invaluable.
"But in that time, I think I grew a lot as a person, which has helped me in football. So now, being able to play and train with a smile on my face… for a long time it wasn't like that.
"It's been really good to be back in this environment."
Lisa De Vanna (Forward – 4th World Cup)
Think Lisa De Vanna, think goals. She's scored them in abundance for years in the Matildas' green and gold, and is one of the game's ultimate competitors.
"I think about the 2007 team, and being so young and so raw. Just this ambitious kid that wanted to show the world who this person was, but mostly I just wanted the Matildas to get a name. That was a team where I learnt about heart and resilience, about loving your country and playing for your country.
"Now, going to my fourth World Cup, everyone's on board. Everyone wants to know about the Matildas. Matildas this, Matildas that. 'You inspire the nation, we love how you play, we love how you show a lot of passion'. All these things that I wanted 15 years ago have finally happened, and for me that's the joy I get out of it."
Lydia Williams (Goalkeeper – 4th World Cup)
A mainstay of the Matildas since making her debut in 2005, goalkeeper Lydia Williams is at her fourth Women's World Cup.
"I was just so excited to be part of the team and experience what a World Cup was about, never would I have dreamed that this would be my fourth one.
"Seeing the growth within the team and the growth of women's football, and as times change you have to be able to change your own style and learn. I think that's been one of my strengths, to be a little bit of a chameleon in how I play and what's needed for the team."
More about: Ante Milicic | FIFA Women's World Cup | Lisa De Vanna | Matildas | Sam Kerr | W-League | Women's Sport