'Team of thugs that kicked players'
I always wanted to chase something. Am I surprised I'm about to play in a fourth World Cup? I'm not. I live for it, and I sacrificed everything for those four World Cups. I appreciate every moment I play for my country.
I've been consistent for a very long time. There are ups and downs, but I've always been a reliable player and a dangerous player, still at this age, and that's everything: to be someone who's important to my team.
About my age, I used to think, 'I'm too old, people are going to judge me', all these question marks, but you know what? I've been around for so long and I know what I bring.
I'm 34 now and this is probably the first time in my career I've actually felt great in my body. I've been working hard, going to the gym a lot more, and my conditioning is great.
With long distance running, I struggle a little bit, but in terms of short sprints, the young ones still can't beat me.
Look, there are going to be shit days and there are going to be good days and there are going to be shit people and there are going to be good people.
But one day I won't be able to run and chase and enjoy moments that not many people get to experience. There's not much excitement that can match when you score a goal or win a game or qualify for something, it's a rare feeling. Only athletes experience that.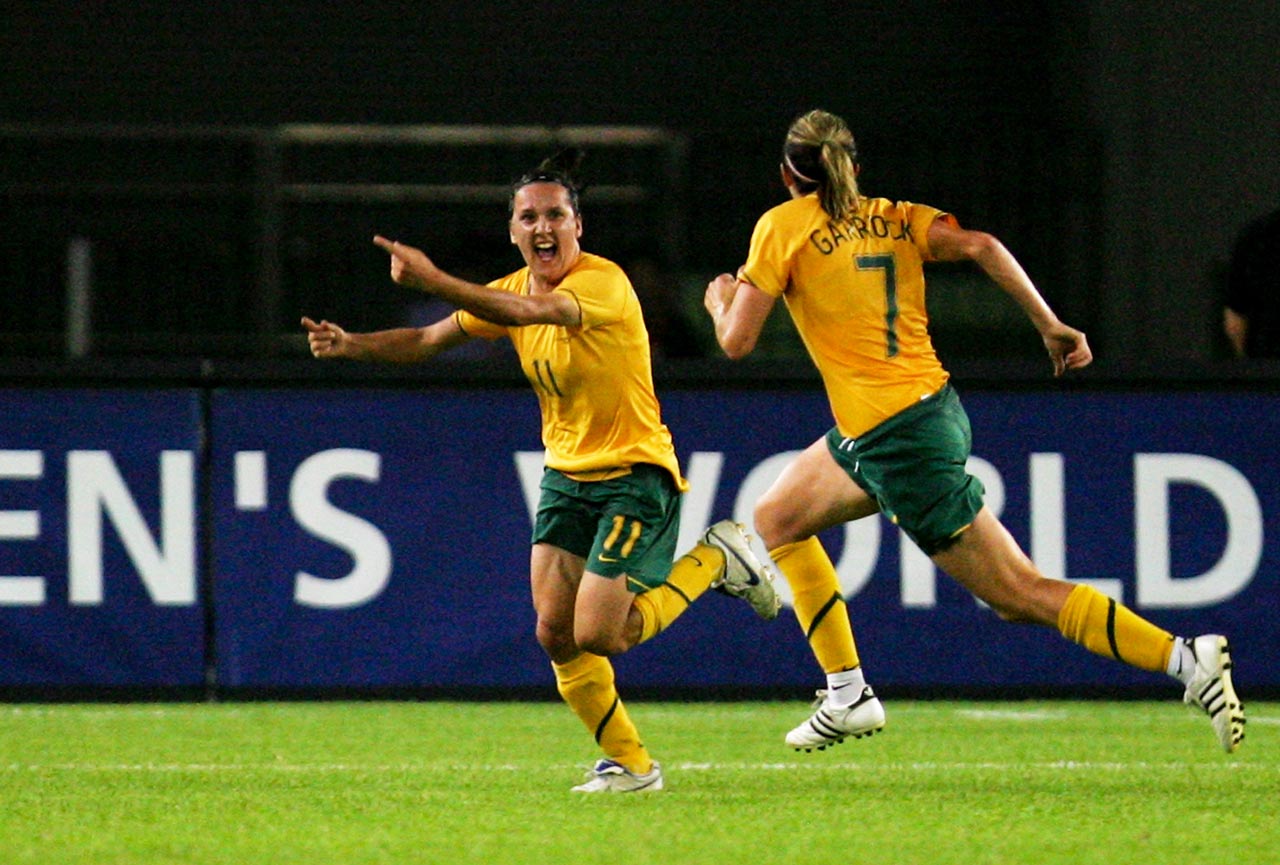 It was bitter, sad and hard
My first World Cup was 12 years ago – 2007. Back then, no one really gave a shit about women's sport.
The tournament was bitter, sad and hard, but it also changed women's football. We got a little bit of attention and we became a brand.
We had a group of girls with that never-say-die Matildas attitude, led by Cheryl Salisbury. We just weren't as technically gifted as the group that we have now.
I wanted to go to that World Cup and make a change, whatever that was. I was so ambitious, so young, I just wanted to take on the world and put the Matildas on the map.
We got a little bit of media attention because we won our first-ever game at a World Cup and we reached the quarterfinals against the runners-up, Brazil.
They'd scored 10 and didn't concede in their three group games. Then, I scored the first as we came from 2-0 down to level at 2-2. They scored again to knock us out and I still believe that we could have beaten them. It was so close, but I walked off that field miserable and upset like I do every single time I lose.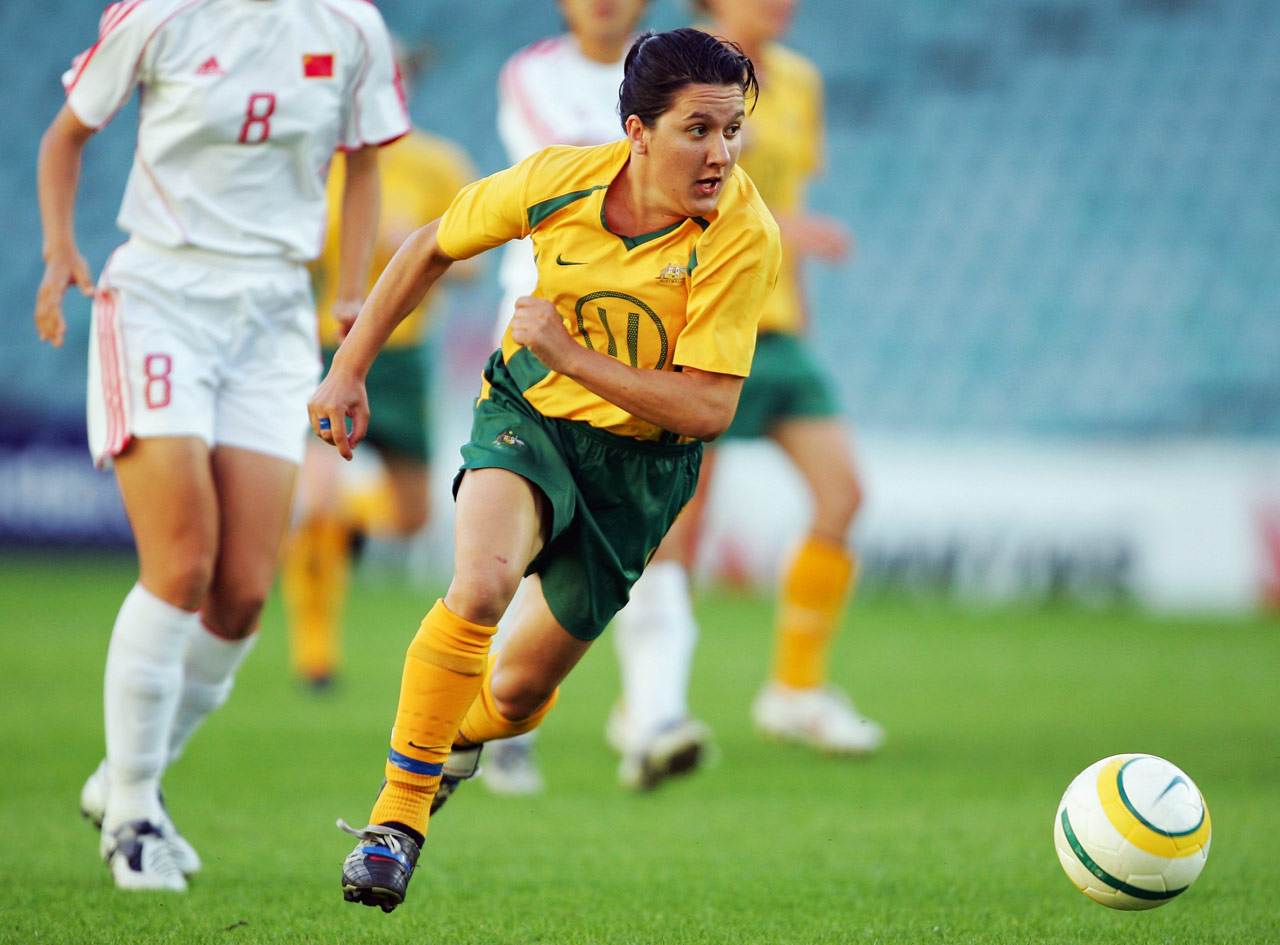 We were big underdogs then, we weren't expected to beat them. We were pretty much a team of thugs that just kicked players. A great core but based on heart, because all we were playing for was pride in the jersey, because we got nothing else from it.
The profile of our team, and women's sport, is moving forward. That's a positive. While it's great, it does bother me a little that a lot of people now think they have a right to have an input on what's best and what's not.
There are people who have been in the game for so many years and made so many sacrifices, and then there are people who just jump on board because now we have a kind of status, and they think they've earned an opinion.
You read comments about the team and the game and you think, 'when did you jump on board?'
We need to win things
Heading into this World Cup we're a very good, tight-knit group. There were obviously a few individuals who were a bit hurt over the departure of Alen Stajcic as coach. I've known him for a long time and he's close to my heart. He's been a big influence, and he's someone who loves the game and has given his life to it.
But in terms of moving forward, we're at a stage now that to be successful, we need to win things. We've started to grow that sort of mentality.
Ante Milicic has brought his own philosophy into the Matildas set up alongside his coaching staff. He's into the fine details. He's worked with coaches like Ange Postecoglou and Tony Popovic and you can see the similar styles and the kind of demeanour that he wants to bring.
Our training camps ahead of the World Cup will be very interesting. It's always been, 'see how the players play', because he's picking a World Cup squad. Now the squad is picked, I'm excited to see him in full coach mode and 100 per cent focused on what we're going to do. I feel that he's the type of coach that would go over every sort of detail in gameplay.
More about: Alen Stajcic | Ange Postecoglou | Ante Milicic | Coaching | FIFA Women's World Cup | Lisa De Vanna | Matildas | Sam Kerr | Sydney FC | Tony Popovic | W-League | Women's Sport