Keeping Things stable
It might sound like I'm humble. But it's more just that I'm realistic. I know that, especially in T20, you can have a really good game and then the next game you can bowl the same way but things turn out very differently. It's the kind of game where there's probably more downs than ups. I just try to keep a level head.
Part of my approach comes from watching my brother Eli. We played at the same club and he's someone who's always been very committed and worked hard at his cricket. I've tried to be like him and go about things in a steady sort of way.
Senior players at all levels of the game seem to go about their cricket like that. They keep things stable. I'm a pretty quiet person naturally and try not to stick my head out too much. For me, I think, it's about trying to be confident in the skill rather than how you look or talk.
My brother was a good role model. So was my dad, Kevin. In fact, both my parents were amazing, taking the time to drive me all around the state for representative cricket when I was younger. That was a really big thing for me. But, watching Dad play cricket and seeing how much passion he had for the game had a big impact on the way I go about things now.
Dad was a right-handed leg spinner and, as a kid, I'd watch him most Saturdays and would often bowl my left-arm wrist spinners in the nets on the side. Dad was a pretty handy bowler and his love of the game meant he bowled and bowled and bowled until he basically couldn't anymore.
I'm a pretty quiet person naturally and try not to stick my head out too much. For me, I think, it's about trying to be confident in the skill rather than how you look or talk.
When I started playing at Sandhurst in Bendigo, I didn't want to be a fast bowler and was never much of a batsman, so I kept up the wrist spin. I had a good coach in James Egan, who was really big on teaching me consistency and developing a stock ball and stable action.
When I was 14 or 15, I was given a chance in first grade for the last three games of the season because the team had no chance of making the finals. It was a great feeling to get my first wicket at that level. It came against Golden Square, a half-tracker that the batsman smashed and was caught on the fence.
I didn't celebrate all that much. Not only was it a pretty bad delivery, the wicket finally gave me an average – of 350.
I'd been whacked but I think the opportunities I gained at Sandhurst, such as playing alongside older players, helped me develop quicker. I'm thankful to the club and our senior coach there, Craig Howard, for their help before I moved to Melbourne and started playing for Essendon and, a short time later, for the Stars.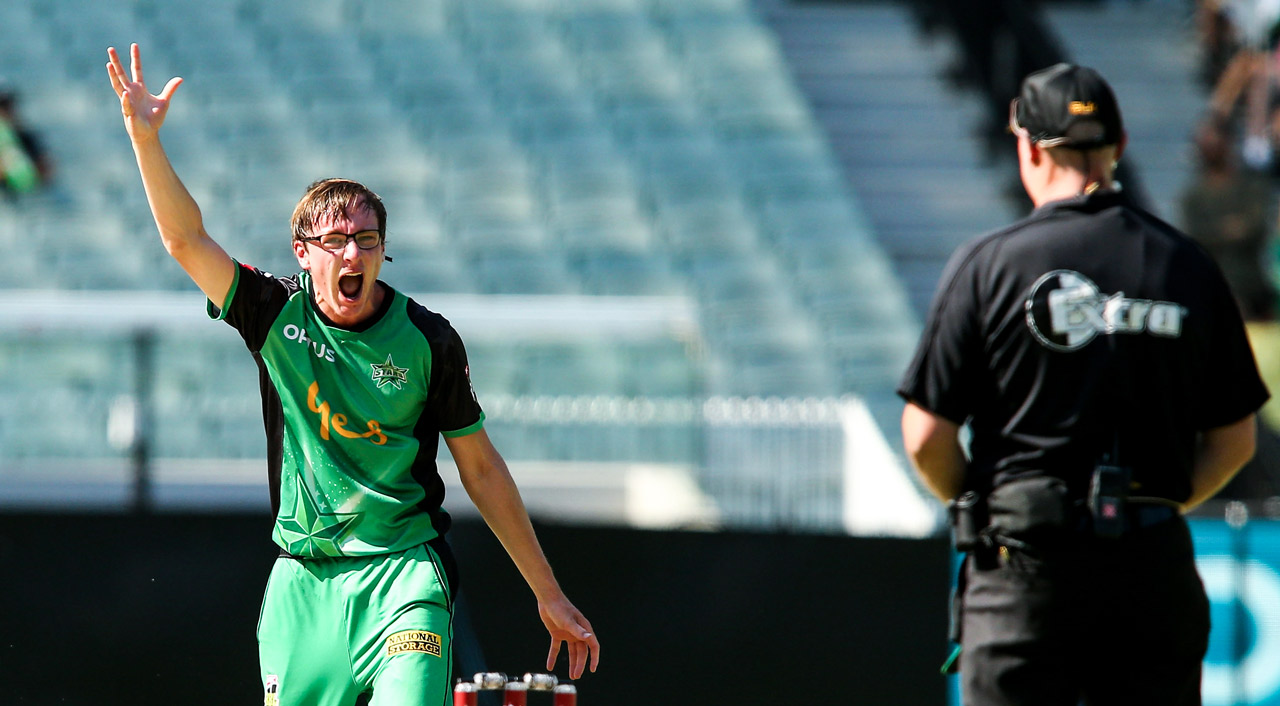 Seize the day
I'm not sure how long this ride will last, but I'm definitely enjoying it. It's a great thing to focus on, apart from my studies in Biomed at Deakin University. I've just finished my second year and feel confident I've chosen the right academic path for life beyond cricket.
There's a lot of work in pathology (blood work) and genetic testing. There an opportunity to do medicine, if you get the marks, but that would have to be fulltime, which I couldn't do right now. If something changed, I'd definitely go into it, I think.
For the moment, however, my goal is to put together a consistent season, which I'm yet to do, nail a stock ball and take my chance in the BBL for what it is. There's no point looking too far ahead because it can do your head in.
For the moment, I'm just really thankful to have great support from many friends and family, supporting from home and at the games. I'm so thankful to have been provided an awesome opportunity.
More about: Adelaide Strikers | Big Bash League | Essendon | MCG | Melbourne Stars | T20