I played 39 games in my first season with Atlanta in 2015-16, including four in the playoffs. Then I got waived by Atlanta, picked up by Sacramento Kings, waived by them and ended up at Reno Bighorns in the NBA D-League.
When I first got drafted people told me, 'It's not a sprint, it's a marathon'. When you hear stuff like that it doesn't necessarily go in one ear and out the other, but you say, 'OK, I'll try to keep that in mind, but I don't exactly know what you're talking about'.
But I knew exactly what they meant after these experiences. This is life for a big percentage of pro basketballers. You've got to be able to adapt to it or you won't survive.
I ended up back at Atlanta before the end of the 2016-17 season and that scenario – Atlanta, waived, Sacramento, waived, Reno, back to Atlanta – told me, 'OK, anything can happen at any time in this game'.
There's a saying, 'It's better to stay ready than have to get ready'. I started living by that and it's one of the best decisions I've ever made, because the ball never stops bouncing in this sport. Stay fit, stay sharp, because you never know when the phone might ring.
After signing two 10-day contracts at Atlanta I signed a long-term contract there in February 2017, but two days later I had to leave. The Hawks and I agreed on a release so I could address a personal matter that came up. I won't go into that. I'll just say it was a family issue.
There can be times when you need to pull away from the game, even if it's only momentarily. I had stuff I needed to take care of that was going to take me away from Atlanta for a while. I had to make it a priority. We're people first. Everyone at Atlanta understood.
It cost me that contract, but life and sport are unpredictable and I try to stay optimistic. I look at it like, 'Maybe that change of direction stopped an injury that was about to come my way,' or something like that.
I'm grateful to Atlanta and Mike Budenholzer, who was the coach then, for giving me the opportunity – not once, but twice. Coach Bud is one of my favourite people.
THE LONG ROAD TO BRISBANE
The next 12 months were a whirlwind: Puerto Rico, Italy and China.
After very briefly going back to Reno, I went to Puerto Rico on a short-term deal to help Santeros de Aguada in the finals. The team was going well and the coach, Eddie Casiano, just wanted someone who could be more of a playmaker and increase pressure on the rim. It was a good, tough league that doesn't get as much credit as it should. Plenty of guys go down there and keep coming back. It was a great experience.
Italy was a move I made to prepare myself to try to get back to the NBA. It was a chess move, sort of, and it didn't work out. My team, Fiat Torino, were going well, but then the owners and the coach fell out and the coach quit.
It made a lot of the players question what the owners were doing and I ended up parting ways with the club. But the good times were great and I grew as a leader there because I was one of the more experienced guys.
Defence was the key in Europe, but then China came around and at my club, Lhasa Pure Land, it was like, 'Hey, take the ball and shoot'. It was great for my offensive skills. You're expected to shoot so much, you'd better be good at it.
But it took a lot out of me physically, playing three games a week, 48 minutes a game at a fast clip and not being able to get the recovery I was used to. By the time I got back home, I was spent.
The ball never stops bouncing in this sport. Stay fit, stay sharp, because you never know when the phone might ring.
I got something out of each of those stints and I was still coming down from my China experience when my agent rang me and said, 'There's a team in Australia called Brisbane Bullets that's interested'.
I was hearing Alonzo Gee may or may not be sticking around. I thought, 'Another NBA guy who's probably trying to get back there as well, we can push each other'. I knew Stephen Holt because we'd played Summer League together at Atlanta.
I didn't know many of the Australian guys, but when I studied the roster it looked strong. I knew the coach, Andrej Lemanis, was also the Australian national team coach so I thought he had to be good. And it would be summer. No cold and snow like I was used to – shorts and sandals. 
It was a no-brainer to me. We got the deal done and everything so far has gone to plan. The guys embraced me and helped me pick up the offence, which wasn't easy. All the different schemes and different names – it was more like a football playbook.
Sometimes you join a new team and the guys already there think, 'He's only going to mess up what we've got going on'. These guys are a lot smarter than that. Everyone on the team is a high basketball-IQ player. They're unselfish and want to win.
I don't think I've ever played on a team like that, where everyone's on the same page when it comes to putting personal ambitions aside and just winning. It's very rare.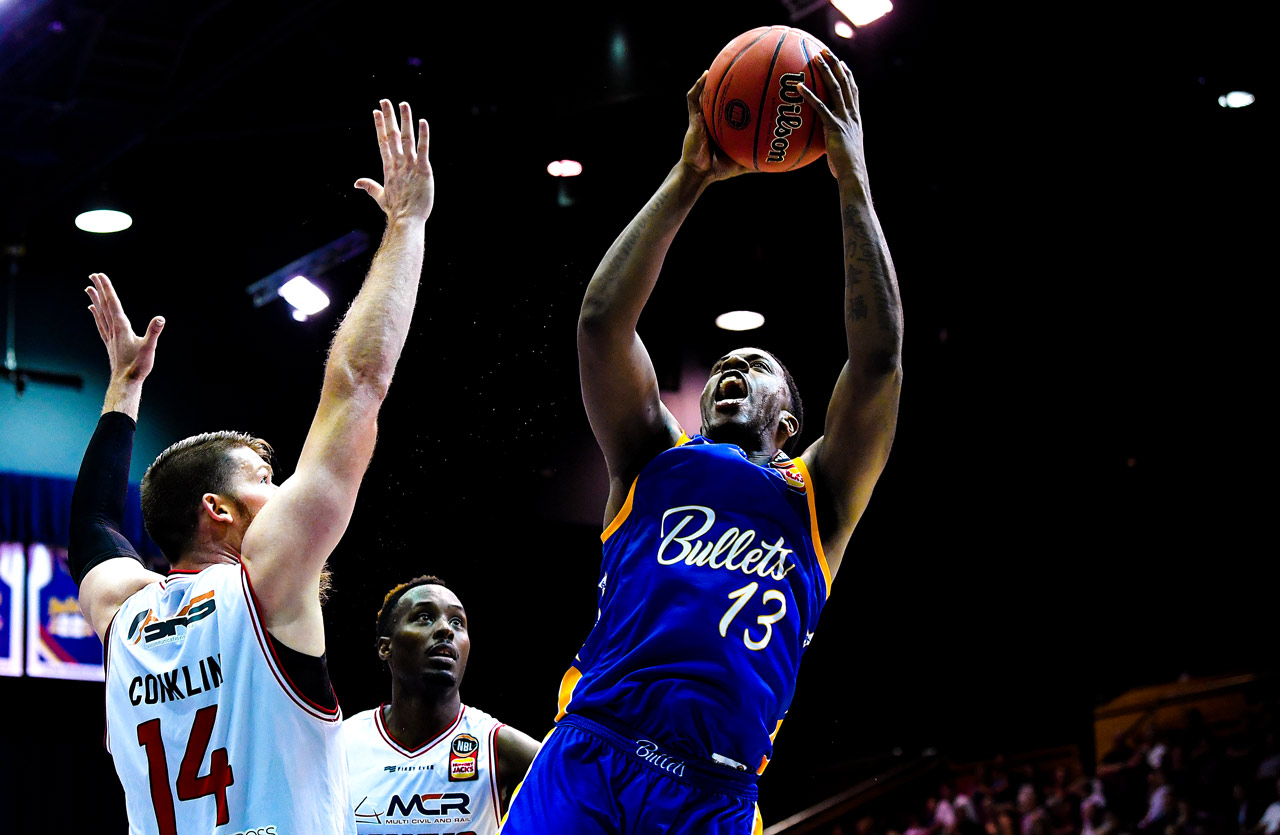 LIFE ON THE ROAD
I'm here until the end of the season. The NBL is a shorter season compared to the rest of the world, so I'm going to have to go somewhere when it's over. Going home and sitting on my butt isn't an option. I've got to make money. That's just the way it is.
I've got two sons, Zaiden and Elijah. They're with their mother in North Carolina. I haven't got a worry in the world when it comes to them being OK. I see them as often as I can. I live in Pennsylvania and have a girlfriend.
It's hard for the kids. 'Where's my dad?' There's definitely an adjustment period for them every time I have to leave. It's hard for me as well, to be away from them. But this is my job. It's how I feed them and keep a roof over their heads.
There have been times when I'm planning something, say a birthday party for one of my boys, and all of sudden I've got to up and go overseas. It's a sacrifice we're all making, but it's not going to last forever. When I'm done playing, I'll be home fulltime at a prime stage of their lives.
I don't know where the next few years are going to take me, but everything's on the table as far as I'm concerned. Wherever I play, I'll be the guy who makes sure he uses his ability and experience to improve the team.
I'd love to get back to the NBA, absolutely. I'm not too old where it's out of reach and not too young where I don't know what's expected of me. I've been there and had a taste of it, so I know if I got the opportunity again I'd hit the ground running. I know what it takes.
More about: Andrej Lemanis | Brisbane Bullets | NBA | NBA Summer League | NBL