I went to J.P. McCaskey High School in Lancaster, Pennsylvania. It was a good school, a big school, but it couldn't give me what I needed for my basketball. I felt like I wasn't being challenged.
I'd already committed to the University of Pittsburgh, so I knew I was going to be entering a top-level, NCAA Division I intercollegiate program when I finished school, and I needed to step it up in my final year. But if I was going to switch schools, I had to first get it past my mom.
She worked at the school as a nurse and my two older brothers had graduated from there. Our family was big at McCaskey High. Mom was proud of that. It was her legacy. She wanted me to stay.
Me, my brothers, my cousin, who was like a mentor to me, and Jamie Dixon, the coach at the university team, Pitt Panthers, all had to give our argument to Mom about why I should leave.
She took a lot of convincing, but eventually she relented.
We picked a school, Saint Benedict's Preparatory in Newark. It's one of the top basketball schools in the country. I went there for a workout and these guys absolutely destroyed me. I wasn't physically or mentally prepared for what they were doing there.
I talked to the head coach, Danny Hurley, who's coaching the Huskies at the University of Connecticut now, and he said, 'Guys who come in here and get their butts kicked the way you did usually don't come back'.
He did it on purpose so he could weed players out. It was a massive shock, going up against those guys for the first time.
But I wasn't leaving.
STRAY DOGS & ATLANTA HAWKS
Coach Hurley is old-school. He was in your face screaming, doing everything he could to make his players succeed. That was something I knew was going to transfer well to college because coach Dixon was similar.
My year at Saint Benedict's got me ready. My work ethic went to another level. There was a time when we couldn't even practice until we did a six-minute mile running around the court. It took me a good week to make that time and you had to do it before you could work out with the team.
Stuff like that, it shapes you.
'Guys who come in here and get their butts kicked the way you did usually don't come back'.
It continued at the University of Pittsburgh. I spent five years there and it was pretty much the same sort of challenges. I was 17 when I first stepped on the campus and I'm going against guys 21, 22 on the court.
That's a huge difference when it comes to physicality and mentality. They were bigger and stronger and knew so much more. But a lot of the older guys helped me with my game. I still had to earn stuff, but they gave me their knowledge.
I didn't play much my first two years – medical redshirted my first year and spot minutes in my second. My career took off in my third year. My stats shot up and when we won the College Invitational tournament in 2012 I was named MVP. We got back to NCAA Division I and when we moved to the Atlantic Coast Conference in my senior year I was named second-team All-ACC.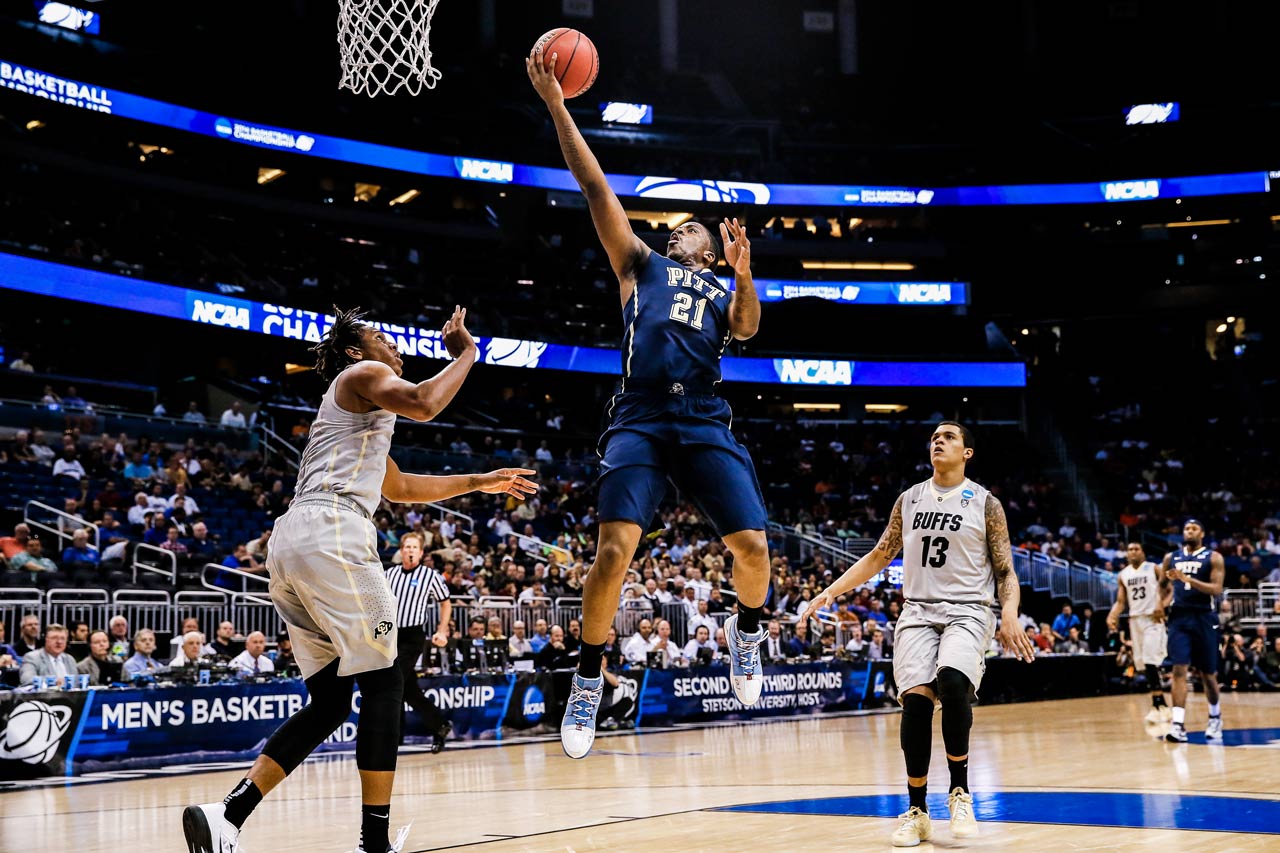 I was ready for the NBA draft.
When draft night came in 2014, I knew I was going to be picked by Milwaukee Bucks in the second round and straightaway traded to Atlanta Hawks. I'd had a call from my agent. He told me the deal was done.
I played Summer League for the Hawks and the plan was for me to go to Turkey for a year, play for Tofas, get some good experience and then come back and go to the NBA.
I was used to being away from home, but this was on a whole other level. I was in a foreign country where not many people spoke English. We were based in Bursa and my first night there it's three or four in the morning and the prayer bells are going off and you've got stray dogs barking out on the street. I'm like, 'Wow'. I couldn't sleep for a week until I got used to blocking that stuff out.
I was playing against 33, 34, 35-year-olds. Real smart, tough veterans. You'd have to be stupid not to pick up things from playing against them. It was great preparation for the NBA.
More about: Andrej Lemanis | Brisbane Bullets | NBA | NBA Summer League | NBL