All of this happened before I was chosen for Diamonds, and I remember having a three-hour conversation with Madison about whether I stayed with Lightning or came home.
She said to me 'if you come home, kiss Diamonds good-bye'. And I thought 'oh, that's tough to hear'. But that's how we operate, and I also didn't really know whether I was even close to being in the discussion around Diamonds.  
I just knew that I couldn't stay on the Sunshine Coast and be miserable in my outside life, because I play a very creative and expressive game, and if that was being stifled, or if I wasn't happy, how was I going to be able to express myself out on the court?
Madison told me straight up that I had to be prepared that I wouldn't get the same court-time back in Melbourne. She wasn't saying 'I'm going to be on before you', but 'there's four of us that can push for positions, you've got to be prepared for that'. And I was willing to take the risk.
I thought 'if I fall on my arse then I've got to live with that', but I would be kicking myself if in a couple of years time I wanted to come home and there was no opportunity. I also looked at Collingwood like this promised land.  They've got this amazing facility and this huge club, and it's something bigger than just a sporting organisation.
I feel like I've got some pretty cool things to add off the court; I've definitely learnt some of them through Lightning, and I thought if I could come in and have even a small impact in the way the netball department looked here, the sky would be the limit.
I just wanted to be involved with Collingwood. Even coming and hearing what they do in the community, it's something I'm so proud to be a part of.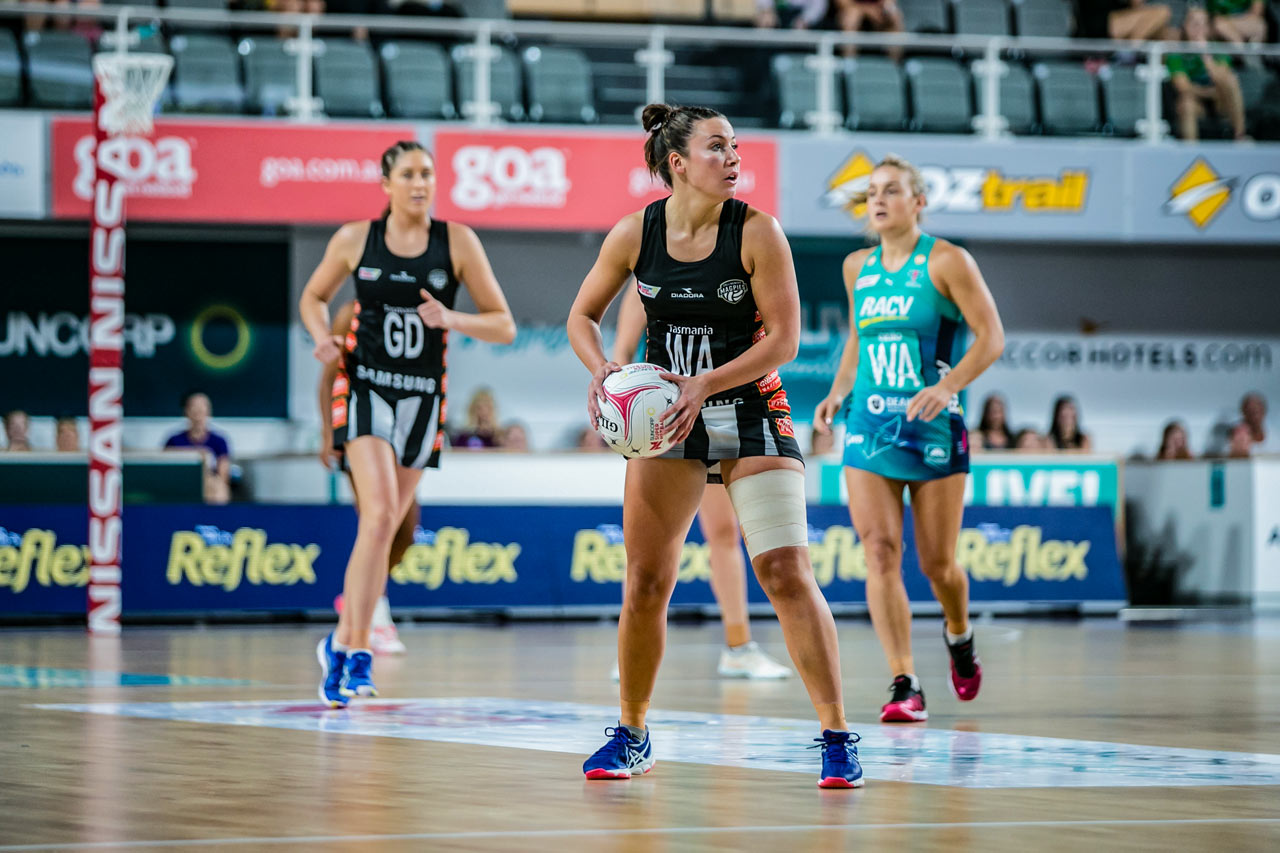 WE'RE MUCH TIGHTER NOW
It was pretty scary at the start. I'm not going to lie. I was coming into an established midcourt, they've run particular structures for the last two years, very different to the Lightning's, and I was having to slot into that. Having said that, I love coming here every day, and being at a high-performance club that's so professional.
It's been eye-opening at times, but I'm very excited with what we're doing, and excited to be around Madi. I said to her the other day, that she's like my little sidekick, and I feel like I'm hers. We're much tighter now, and I feel like I've got my person with me. This whole pre-season if I've struggled with anything she's had my back.
It's so different from when we played those five quarters together at Vixens in 2016. We do see apples and oranges when we're out on the court, but then sometimes there is that intuition that you can't find anywhere else.
The coaches have laughed about it, but we also have a different language. I might yell at her, or she might yell at me, and I would never speak to anybody else like that, but because she's my sister, she can handle it. She loves me at the end of the day.
Sometimes you have to check yourself but I think she's pulled out of me some of the best netball I've played, because she challenges me in the way I think or she'll pull me up if she thinks I'm out of line.
She'll give me 10 different options that I haven't thought of and I can do the same for her. It's past that point of 'it's a competition where we're both fighting for the same things'. It's like 'no, I just want you to be better, and you want me to be better, and if we can push each other to that point then we can be better for the team'.
If she's out there, and I'm not, I'm still happy. I didn't think I'd get to that, to be honest, considering the past that we've had, but it's so fulfilling now. Having that relationship is way bigger than any minutes on court.
It's interesting, too. Because I still view her sometimes through the lens of what she's achieved. So I can think of myself as equal, but her netball resume still trounces mine.

She's got four years' more life experience and netball experience and I'm always going to be her younger sister. It's just nice to feel equal, regardless that I'm involved in the Diamonds system now. She's been there and done it all before.
It's been nice to be here for her, given everything that Madi's been through in the last four months, with her marriage separation.
I look back on the Sunshine Coast and, yes, I have amazing memories, I also have some very sad ones, but being with Madi and going through everything that's challenging about sport and life outside, and to actually have her need me sometimes, has brought us much closer.
We have that real sister relationship now that I never expected us to have, but I'm so grateful. I watched other people have that with their siblings and thought 'why could we never get to that?' And it's unfortunate that we've both had to go through challenges to get there.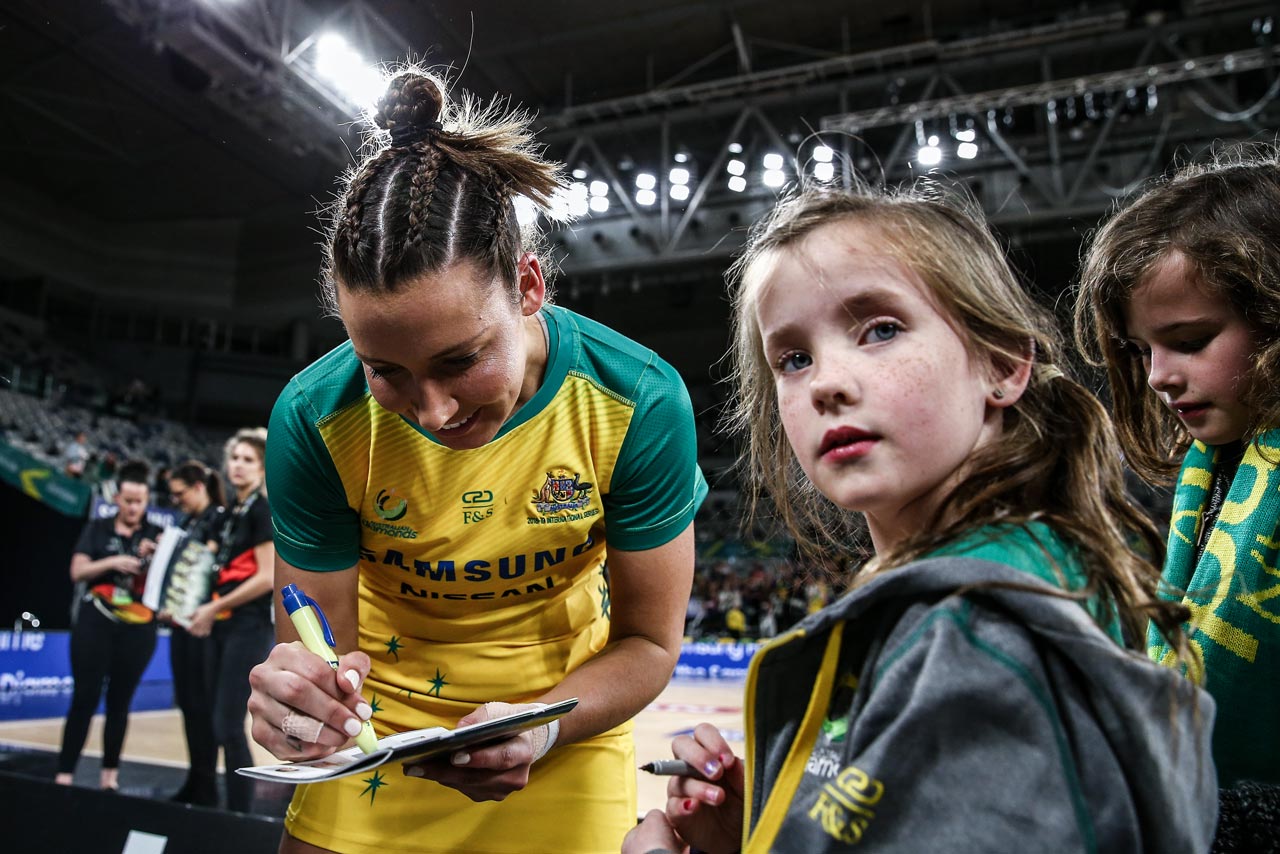 LOVE AT FIRST SIGHT
When I saw that we played the Lightning in the first round I was like 'oh God. Of course they would do that to Geva and I!'
I was a little bit shocked, honestly, and a little bit ripped off. I thought the Magpies were going to be facing Vixens in round one, and keep that healthy rivalry going from the first two years.
It's been tough at the start of the week. I've still got a close relationship with Noels (Noeline Taurua). She'll always have a special place in my heart as a person who gave me my opportunity and taught me things about myself that nobody else could.
It's definitely been hard to switch off the emotions, but I know I've got a job to do for Collingwood, they're my team now. The love I already have for this club is second to none. So on Saturday, I'll just see black and white.
More about: Collingwood Magpies Netball | Diamonds | Melbourne Vixens | Sunshine Coast Lightning | Super Netball | Women's Sport