Kelsey Browne - Contributor
'You ready to fight your sister?'
I copped a lot of flak for my decision to come home to Victoria. More than I thought I would.
And I know Collingwood copped it as well.
I'd been part of two Super Netball premierships in a row with the Sunshine Coast Lightning, and I'd made the Diamonds team. A lot of people were like 'You'll be sitting on the bench at Magpies. Sitting behind your sister. That's the stupidest decision you've ever made. Watch your career go down the drain'.
There was a lot of social media stuff, and I understand you're going to get that as an elite athlete. I just didn't think I'd get so much. People were asking me all these questions, and saying 'you've done so well, oh it'll be a shame to watch your career die at Collingwood'.
But I think that gave me a bit more fire in the belly. I had my reasons for wanting to come home, and I knew it was a good decision for me. Also, with the way the contracting periods work, I didn't know whether I'd ever get the opportunity to come home again, and I didn't think I could look into the future and say 'I want to be on the Sunshine Coast for another five years'.
I just had this weird intuition that I needed to be with my family. It was the right time.
SOME OF IT WAS PRETTY DARK
On reflection, I found my two years at the Lightning quite difficult. It was so rewarding for my netball, but I was up there living in a little bubble, and probably life outside of netball suffered a little bit. I went through a fair bit when I was up on the Sunshine Coast – mostly with external issues.  
I moved up there alone, then my partner Mitch followed, and we ended up building a house together. Four weeks before the house was finished we separated, but then we ended up living the second season in the house together, even though we were no longer a couple.
I missed my family a lot and felt I didn't really have a big support network up there, especially when Mitch and I separated, so 2018 was hard. Some of the things that happened were pretty dark. If I summarise it all, the Sunshine Coast has a lot of interesting memories for me. The people who know what I went through weren't surprised at my decision to head home.
I had the most amazing best friend up there in Erena Mikaere, my teammate. Her decision to go home to New Zealand left me wondering who would be my support, my person? Because Erena helped me through a lot in that time. But I'm so glad to have had those two years on the Sunshine Coast to get to where I am in netball.
I feel like I forged my way and became the player that I wanted to be. Someone who was respected in the competition, whereas before I was probably just a bench player who could come on and possibly do a job but you never really knew what you were going to get.
When I moved up there I wanted to be a particular person for that team, I wanted to be someone who the girls could rely on. I just wanted to be a good player and I knew that I could do that with the right group.
I had that at Lightning. So it definitely was really risky to leave, and I'm never going to say that it was an easy decision. I think it would have been much easier if I fell out of favour with Lightning or if there were some politics that happened – it's easier to part ways in anything when it's a bit bitter. But it's not at all.
Dayne Beams talked the other day about how he watches Brisbane AFL games and cheers as a fan; I'm playing for Magpies but I do really want Lightning to do well because I love them as a club, I love what they were able to give to me and what they did for me, so it's difficult. It's not a situation I've been in before.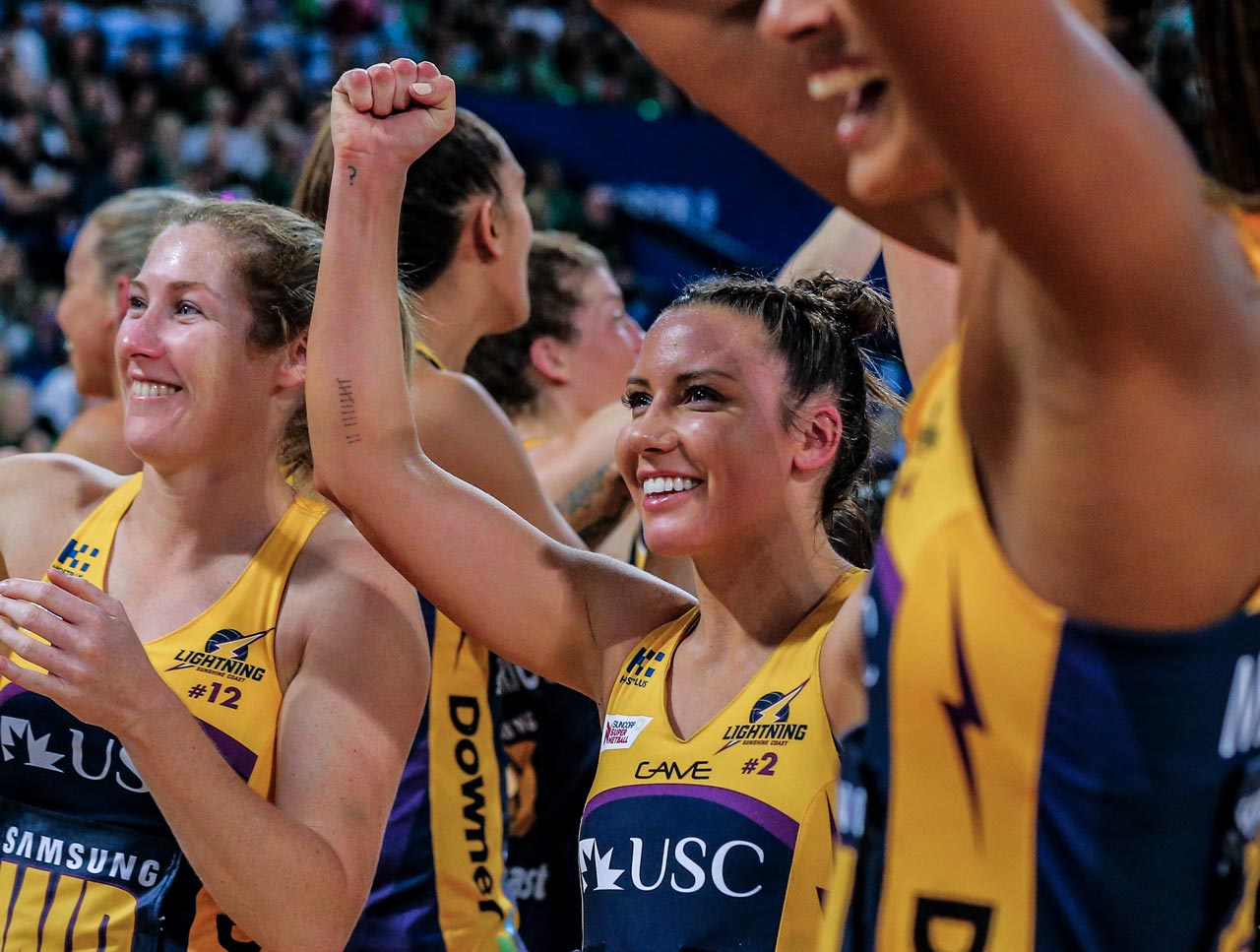 I'VE ALWAYS HAD TO GRIND AND BATTLE
When I asked my manager to put feelers out, I knew that I probably wasn't going to go back to Vixens. Both Victorian teams have quite a solid midcourt, so I was 90 per cent sure they were going to come back and be like 'well, maybe, but you'd be coming in and competing against x and y'. And that's the answer I got.
Lightning offered me a contract, but something was telling me to come home, and the biggest part of sport for me has always been the fight. I've never walked in and been in a starting position in any team or club that I've played in.  I've always had to grind and battle my way in.
It's same thing here at Collingwood, and I find that quite rewarding and challenging. I love that about sport. It's part of why I love doing it. The first thing Rob Wright said to me was 'are you willing to fight for your position against your sister?'  I turned straight around to him and said 'yeah, of course I am. It's gonna make her better, it's gonna make me better, it's gonna be tough, but that stuff's rewarding'.

It's also made my relationship with Madi so much stronger now.
We'd had a really challenging period when we were at Vixens, and with me being in her shadow, and I think my time at Lightning has helped me break out of that. I feel like we're a lot more equal now – whether it's in the way people externally are treating us or how we're both viewing our relationship, which is that we've both had different journeys, we've both achieved different things but neither is better than the other, we're just different, and accepting of that.
If I sit on the bench this year, I'll be okay, because I'm so proud of having her out there, and that's the special thing about our Magpies midcourt – it is challenging the status quo of the starting seven.
We've got four players who, in any other team, would probably all play games, but if my role at Collingwood is to come on for 10 minutes and provide spark or break a game open, then I will do that for the 10 minutes that I get the opportunity.  No-one owns a position and it's been quite liberating to break that cycle of 'you've got your starting seven, then you've got your bench players'. 
More about: Collingwood Magpies Netball | Diamonds | Melbourne Vixens | Sunshine Coast Lightning | Super Netball | Women's Sport