Harsh truth I needed to hear
You can trust Jimmy Maloney to bring the banter. He's been making father-and-son jokes ever since Ivan Cleary returned to the club.
'Nathan gets all the special privileges!', 'You can't mess up around Nathan!', 'Don't pick on Nathan or you'll get dropped!'. That sort of stuff. It's all good fun and everyone has a laugh, including Ivan and Nathan.
Jimmy's career went ahead in leaps and bounds from the time Ivan started coaching him at the Warriors. He played in a grand final with them and went on to win comps at the Roosters and Sharks and play for NSW and Australia.
Ivan put him in a position to realise his potential. He has never looked back.
Ivan knows what Jimmy brings as one of our generals in the team, along with Nathan, and as coach he'll use every bit of it. Nathan has had his deltoid ligament repaired. It's the ligament that absorbs force and weight in your ankle and when you're involved in pretty much all of your team's attacking plays – and it's your kicking foot as well – it was a huge effort by Nathan to keep going last season.
People want to know how it works between Ivan and Nathan on the training field, how their father-son relationship converts into the player-coach relationship. We'll see that in action when Nathan's rehab is complete. And when it is, I'm sure Jimmy will be providing us all with plenty of commentary!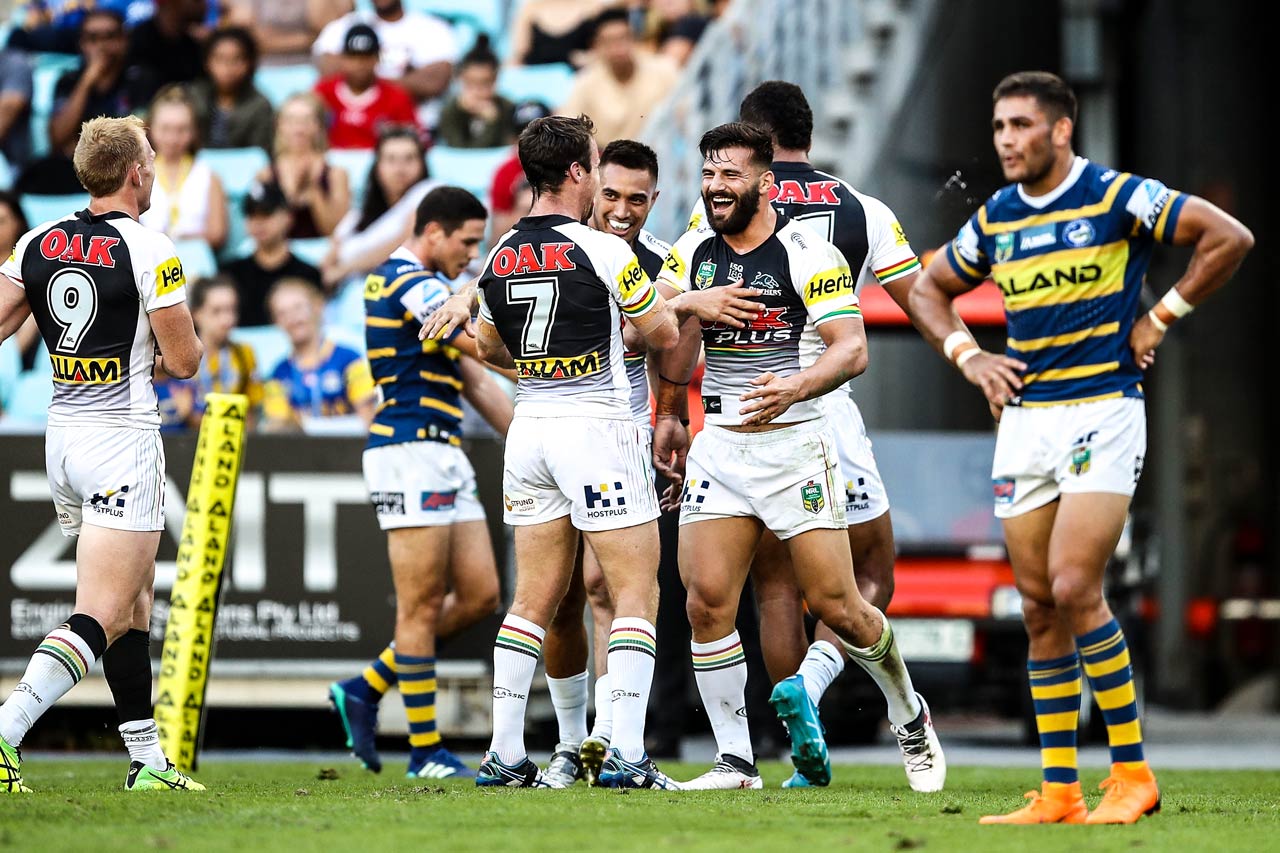 IVAN 2.0
Ivan has changed from the first time he was at the Panthers. There are only a few of us still here from back then – he presented me with my debut NRL jersey in 2012 – but we can see it. He'd just taken the Warriors to a grand final when he arrived here the first time and, while he had confidence in his methods, he was still learning, still developing.
There might've been days when you could come to training and just go through the motions. There's none of that now. It's all gone up a few notches. I always felt like Ivan had unfinished business at Penrith – and I'm sure he felt that way too.
Ivan's a big believer in attention to detail and he's good at communicating what he thinks is missing. Attack, defence, everything on the field, everything in the gym, diet, recovery and especially when we're doing our previews and reviews of training sessions. 'Perfectionist' is the best word I can use to describe him.
There were dark times after my face got smashed in, but I refused to let it break me. I didn't want my career to end that way.
We know we've got the talent in this squad, but there's no use having talent if you've got no direction and Ivan is leaving nothing to chance. We can't complain that we're not getting enough information.
People are competing at a level I've never seen before at the club. Ivan had a long and successful playing career himself, so he can put himself in the players' shoes. He knows what we go through – the groundhog days in pre-season, the ups and downs during the season proper.
He can relate to you better than a coach who hasn't played NRL. And he's so controlled. When things don't go your way on the field, you can't let frustration get the better of you or your game will unravel. Ivan, by his very nature, is teaching us how to cope better.
We've only set ourselves short-term goals at this stage, covering the period heading into our Christmas-New Year break from training. We haven't discussed the long term yet.
It would be silly of any player from any club to come out and say 'We're going to win the comp', but I've always had the utmost belief in the team's potential and now I think we're capable of turning that into silverware and long-term success. The feeling is very positive.
More about: Injuries | International rugby league | Ivan Cleary | Kangaroos | Nathan Cleary | Penrith Panthers | Resilience | South Sydney Rabbitohs