A little brother's pledge
I feel like I lost a part of myself in December.
A month earlier, I'd represented England in a three-Test series against New Zealand. We won the first Test at my old home ground in Hull and claimed the Baskerville Shield by winning the second Test at Anfield, where my Nanna used to take me as a kid. They were a great few weeks.
Then everything changed. Not long after I returned to Canberra from the UK, I received a call from back home. We had experienced a family tragedy. My brother Nathan had passed away.
It happened on December 21, just a few weeks after Nathan's 30th birthday. He had been diagnosed with clinical depression and unfortunately lost the battle against it. We all knew he had his troubles but nobody was aware he was that close to the edge.
I loved my brother more than he would ever know. I didn't get to see him as much as I would've liked these past few years, with me being here in Canberra and him back home, but he was always on my mind. 
Nathan was 11 months older than me and we were pretty much inseparable growing up in Longhill, then in Bilton. We were almost like twins. We were often getting into trouble, usually because we were fighting over a game we were playing, and we'd run to Nanna's place when Mum and Dad were mad at us.
We both fell in love with rugby league at a young age. We were waterboys for Dad's team on the weekends and we loved being in that environment. We'd do anything we could to be useful – picking up after the players, collecting cones, running water, you name it.
Nathan was an incredibly talented footballer as a kid. I wasn't close to being as good as him and it drove me to improve. He was right behind my career and was excited about my shift from Hull to Australia. He told everyone whenever he could how proud he was of me and my family. I didn't realise but he was my number one supporter. 
When we farewelled him, I made a plan.
I want to win the grand final with my wife and kids in the stands and Nathan looking down over his little brother, proud as ever. Then I'll take the trophy back to England where he is laid to rest, crack open a beer, sit there with him and say, 'I did it, mate.'
I promised myself I would do everything in my power to make it a reality.
THE BIG CHANGE
I don't mean for this to be a sad column. I'm blessed to have my wife Kirby and our kids George and Ivy. Kirby is superwoman – looking after the kids, working as a para-legal and about to start a law degree – and we have found a real home here in Canberra. The community has taken us in in ways we couldn't have predicted when we first made the move by ourselves from England.
There is also much to look forward to this season with the Raiders.
We all hate being written off here in Canberra and I'm sick of sitting at home watching the finals on the telly. The Raiders should consistently be in the finals, at the very least. We have everything needed to go all the way.
Things are a little different here this year and a lot of that is down to Ricky Stuart.
Throughout his career as a champion player and coach, Sticky has never been known to take a backward step. He was famous for it. But he has finally done it and it's all in the name of progress.
I loved my brother more than he would ever know. I didn't get to see him as much as I would've liked these past few years …but he was always on my mind.
Sticky been a lot calmer this season compared with previous years. He is actively seeking more input from the senior players. We have been encouraged to approach him and share our thoughts on just about everything – from team selections, to issues arising from training, to ideas regarding the games.
There's a good reason for this. When you have been at a club for a few years like he has, there has only been one main voice in the place: his voice. As all experienced coaches like Sticky know, hearing the same instructions from the same voice can turn into white noise for the players.
So, with his full backing, the senior players have been communicating more with the younger lads, allowing Sticky to take a small step back and taking some responsibility off his shoulders. We've been owning it as a group and he has liked how things have worked so far.
Of course, he still speaks up when he needs to. And when he does, everyone listens.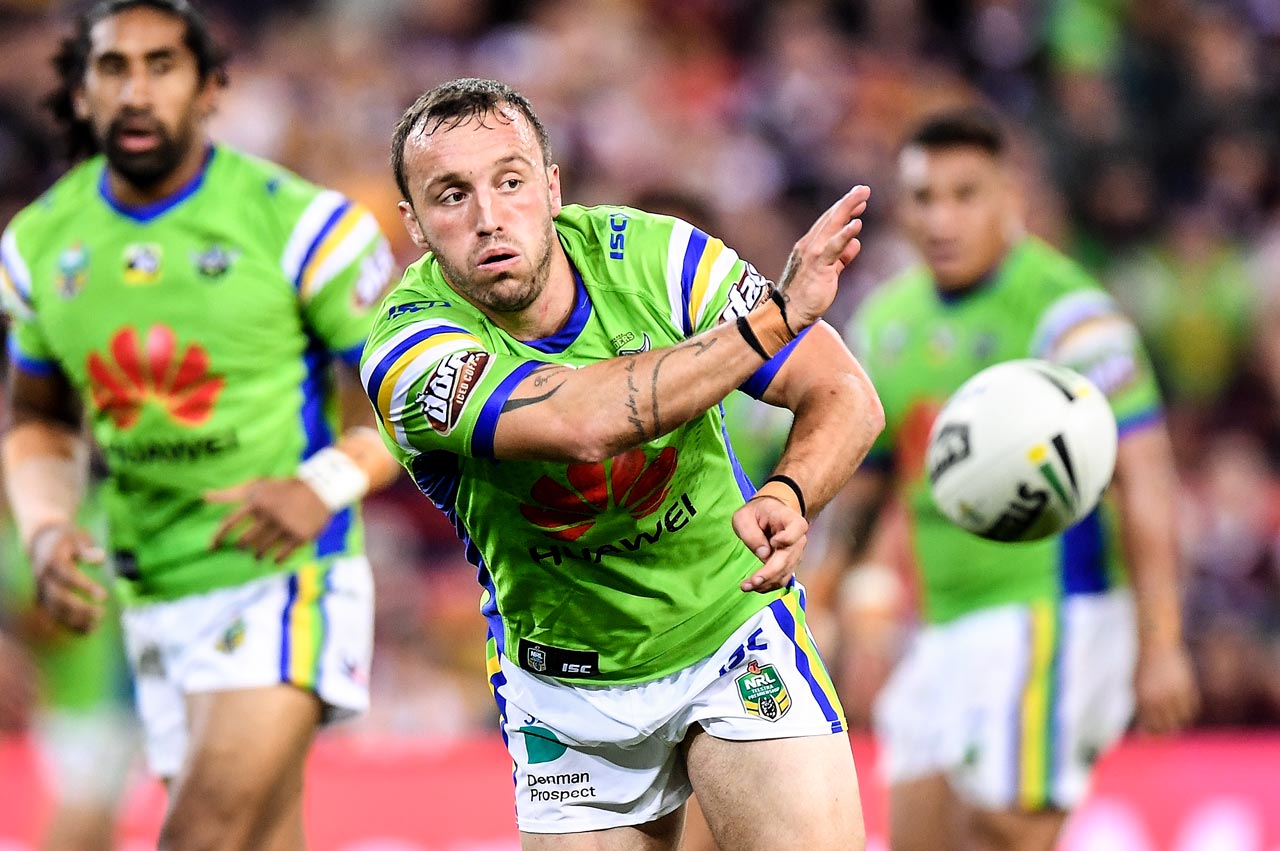 In my opinion, the biggest pressure on Ricky as a coach comes from himself. His love and passion for Canberra as a club and as a city gives him a personal drive that not many coaches in the game live by on a day-to-day basis. 
Coaching your home city, the club you played for and were very successful at, it can't be easy. I see it as a huge positive for us – you can see it and feel it. He loves the place to bits and wants the club to hit the heights he experienced as a player.
Ricky says it's great watching the old Canberra videos, winning those comps back in the day, but insists that now is the time to make memories of our own. This is the window for us to win our own premiership and make lifelong friends along the way, like he did.
Being co-captain this season is not a responsibility I take lightly. You've got to be completely accountable and do things the right way. You can't be chipping a player about something if you're doing it too. I like that aspect of the job.
I'm not the sort of bloke to get complacent. That's why I came to Australia. Playing in England for so long might have got a bit too comfortable and I wanted to be in an environment where I could continually improve my skills, my ability to read the game and adapt to its ever-changing styles.
This year is already off to a much better start than last season, which probably isn't saying much! I had a terrible opening to 2018, missing the first 14 games after a knee reconstruction. That long lay-off made me take stock of things.
I tried to be part of the team as much as possible but it just wasn't the same, doing rehab and not training with the boys. The absence made me realise how much I really love rugby league. Sure, it's my job but to me it's also a paid hobby.
It's my passion.
More about: Canberra Raiders | England | England rugby league | International rugby league | Mental health | Ricky Stuart | Super League