The Big smoke
I'd been to Sydney a few times for sports camps as a kid, but never spent much time here until I was playing footy for the Giants and cricket for the Sixers.
A lot of people from the country say they don't like the city. They say the traffic's horrendous and all that. But I like it up here. And, with the traffic, I say, 'You just have to accept that you're going to spend a few hours in the car'.
One thing I do miss about Hay is that everyone says hello when you pass them in the street. Up here, everyone just goes about their own business and it can get a bit lonely. But, yeah, there's no doubt traffic is the worst part about living in Sydney, people clogging up intersections and roundabouts.
If there's a country kid like me making the move to Sydney, I'd want to be in a position where I can lend a hand, be it a place to call home or just to lend them an ear.
The first time I was going to the SCG, for some reason I came around from the Bondi side. I was driving down and got stuck in a lane with parked cars. I was indicating but wasn't confident enough to hit the gap.
I was looking out pretty nervously and this tradie drove past and yelled out 'Welcome to the city!' He let me in and then he overtook me. I thought, 'Oh my God, am I that bad? Is it that obvious I'm not from Sydney?'.
At other times I've got lost in tunnels and ended up in the wrong part of the city. I got caught once by a red-light camera because I was trying to follow Google Maps. Yeah, it can be pretty hard!
House-sitting at Pez's
It hasn't been easy going between Hay and Sydney to play two sports. I'm pretty lucky Ellyse Perry and her husband Matt let me become part of the furniture at their place – even when they're not there!
In the first year of the WBBL, I lived with Maddie Collier, who's a teammate of mine now at GWS. Then the MOU went through, so they had to put up players from out of town and I was down at Coogee for two seasons. When that ended in the second of those years, training for footy started up and, instead of having to go back down to the Riverina, Ellyse just said I should stay at her place.
I missed out on a Big Bash contract in the season just gone, but Pez said I was still more than welcome to stay at hers. At the time, she was at the World Cup and Matt was playing rugby in England. Sara McGlashan, the Kiwi international, came to Sydney a bit before her accommodation was organised and she stayed at Ellyse's, too. So, I guess we became the house-sitters for a while.
Pez has been great to me and I don't think she even realises it. When she said I should stay at her place, I just thought, 'Oh my God, this is just, like, the best outcome that could ever happen'.
Apart from having somewhere to stay, it's so good that it's with someone who understands how hard it can be balancing two sports. We have chats about it sometimes and Pez's advice is always that, as long as you feel you can juggle two careers, you should do it and do as well as you can at both. Eventually, as sort of happened with her, you gravitate naturally towards one.
It's worked out pretty well for Pez – she finished up with soccer, put everything into cricket and now she's breaking records left, right and centre. She's shown that it only makes you better, sticking with it as long as you can.
The different environments and different mixes of people helps you become a better sportsperson and a better teammate.
That's not to say it's easy. Not at all. One of the biggest things, apart from the travel, is that you have to be really disciplined about training on your own. And, not everyone's cut out for that! Luckily, I'm someone who really likes training.
One time we were in Perth, playing at Lilac Hill and I was 12th man. I knew it was a good chance for me to tick some boxes with my pre-season training for AFL.
I found this old open velodrome and ran around it for five ks and did sprints through the middle. It was good enough for me. These are the things you have to do if you want to be good at both footy and cricket.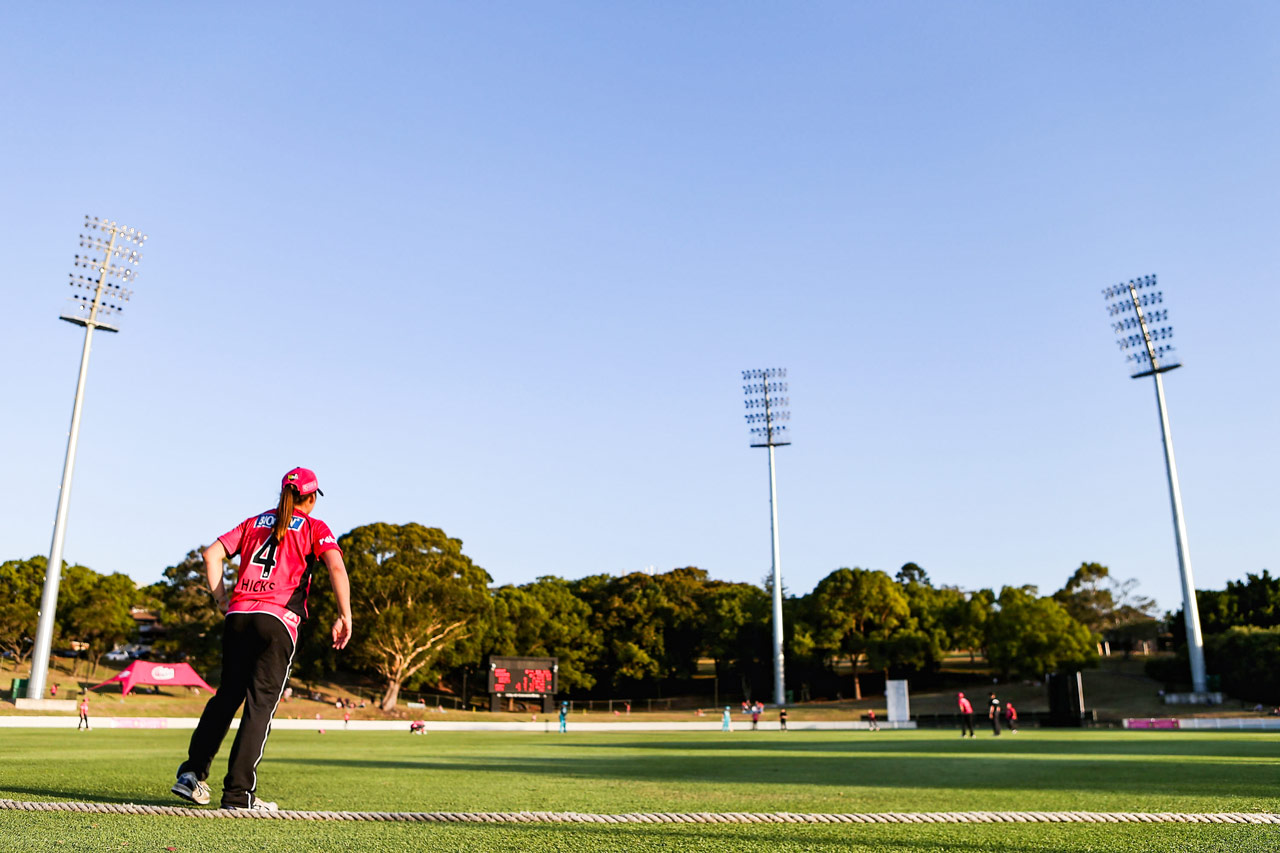 Like family
Pez's support has been unreal. And staying with her has made getting used to Sydney a lot easier.
Coming from the country would normally seem like an overwhelming experience but when you cross paths with amazing people it makes your time well worth it.
You may even come to see them as family members and when it comes to Ellyse and Sara I know I sure do. They're like sisters to me. They've taught me many life lessons and I know that in the future, I'd love to be able to pay it forward.
If there's a country kid like me making the move to Sydney, I'd want to be in a position where I can lend a hand, be it a place to call home or just to lend them an ear.
The transition from country living to city living has been tough, but it's been totally worth it. For any young country kids out there, who are about to make the move and are second-guessing themselves, I have one piece of advice: 'If in doubt, go forward'.
More about: Ellyse Perry | GWS Giants | Sydney Sixers | T20 | WBBL | Women's Cricket | Women's Sport