SHE WAS INSPIRING
My Indigenous role model growing up was Cathy Freeman. I thought she was incredible, plus she looked like me. I was also a runner – I did a lot of track, ran the 400m, 200m, did a lot of sprints. She was just inspiring.
I was born in Newcastle and so were my twin sisters. Because Dad was in the army, we moved around a lot: from Newcastle to Townsville, to Canungra in the Gold Coast hinterland, where my youngest sister was born, then to the north side of Brisbane, where I played my first season at Arana Hills Netball Club.
Mum was a netballer who'd represented the Queensland under-21s and she got me into it just to make new friends because I was quite shy.
Especially as I got older, it was tough to move schools so much. When we went from the north side of Brisbane to the south side, that was quite difficult. I was like, 'Why do we have to leave everyone? I've got all these friends here!'
Once the netball season finished I'd play touch football. When I trialled for my first rep netball team, the under-13s, I didn't make the A, B, or C team, which was devastating at the time! I just thought the world was against me.
My twin sisters were trialling for the under-12 team. They made it and I didn't and I remember just hugging my mum and having a bit of a cry.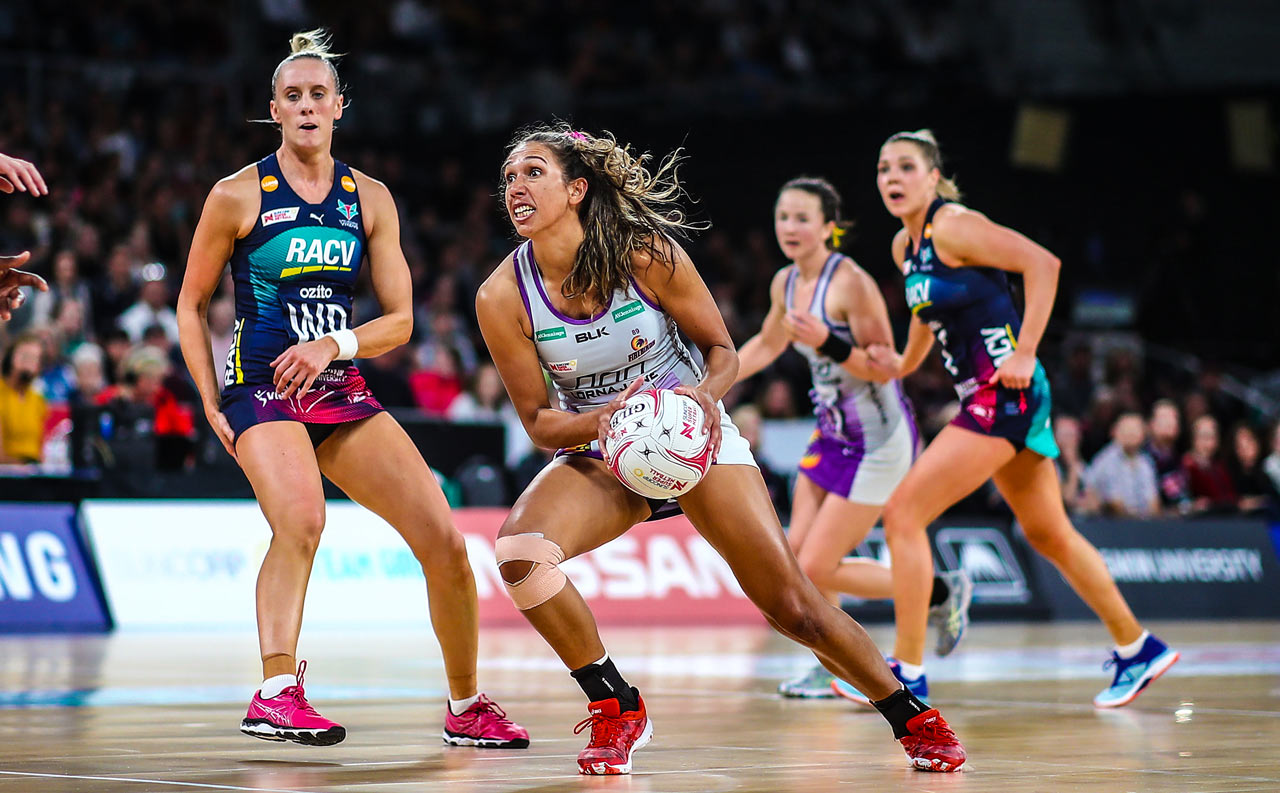 She just said, 'You've just got to keep going', and the next year I made the under-14 A team. Then, in under-15s, I was chosen for the Queensland schoolgirls and that was where I was like, 'OK, I'm quite good at this, I really want to keep making these teams', and I guess that's where I kind of got that competitiveness.
We went to nationals in Perth and I was lucky enough to make the Aussie schoolgirls team as well. I hadn't even been thinking about it; I was just there to have fun and do my best for Queensland, but it was really exciting to get nationally identified so young.
I was also in the Aussie schoolgirls netball team when Laura Geitz came to our school, Carmel College. At the time I was a GD/WD, so I really looked up to her. She came to do a clinic with all the netball girls and I got to do a photo shoot with her. I was very nervous but Geitzy was just so lovely.
I remember we were all sitting down having a Q & A after the clinic, and Geitzy asked, 'Who wants to be a Firebird?' A few girls put their hands up. I didn't.
I just knew how hard it is to get into a team like that and I thought it was never going to happen. It was funny because my sisters were there and the youngest one put her hand up, which was pretty cute.
I was the more reserved, quiet girl growing up. I didn't have that belief in myself. I honestly didn't think I was good enough.
I was lucky growing up that I'd never experienced any racism. It was something I didn't really need to know until I started figuring it out for myself. It wasn't like that for my dad.
I was still playing touch footy and being asked to be part of the Australian squad in 2016 while I was also trialling for the Queensland under-21s. With talk of the World Youth Cup team coming up, that was the point where I had to choose.
It was all happening at the same time and just too much. I decided that touch is one of those sports that you can go back to in your thirties but, with netball, I felt like this is my time.
That was when I transitioned out of defence into the centre-wing attack role I play for the Firebirds now. I am known for my speed but sometimes I go too fast and it's a bit crazy! I'm getting better at being able to control it.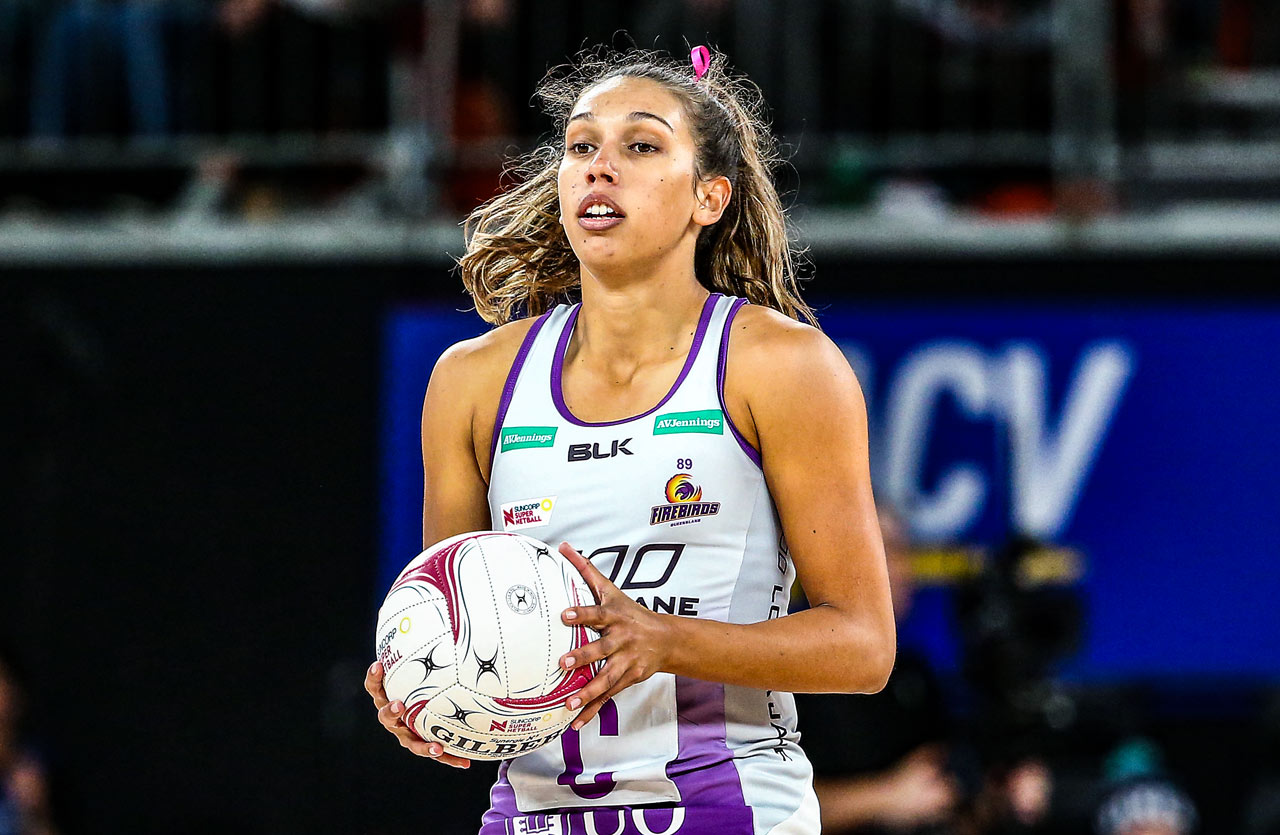 ONLY TWO INDIGENOUS DIAMONDS
Marcia Ella was the first Indigenous netballer to represent Australia. She still does so much to try and get more Indigenous women playing netball.
I'd love to meet Marcia, but I have met Sharon Finnan. I believe they're the only two Indigenous Diamonds and that was a long time ago, so there is motivation to maybe be the next.
But I just know that I want to improve my game and be the best I can be and, if the opportunity comes, then I'm going to take it with two hands. I'd love to get there.
I was injured for the first SSN Indigenous Round last year. Not to be able to play was very upsetting.
I was the only Indigenous player, so not to be able to wear the special dress and have the opportunity to get on the court was really hard and I felt like I let a lot of people down.
But I was still on the bench. I still had the uniform with the beautiful design, so I did feel part of it.
This weekend I think what I'm going to feel is a big sense of community, just knowing that we've all come together and we are doing our best to close the gap.
I know I'm going to be supported by the nine other Firebirds girls out there on court with me, wearing the same dress, and by our coaches and support staff. It's such a special time.
It means a lot to me to represent the Firebirds and netball, but also my people and my culture and all Aboriginal people.
I'm going to feel a lot of love, for sure, and we're just going to play our hearts out against the Vixens.
I just hope that young Indigenous girls who've seen me out there on the court can get that belief in their own capability and know that if they've got that love for it and they really want to do it, they can, knowing that there are pathways.
The hard thing is that the best way for them to get their face out there and get noticed is to move closer to city areas.
But hopefully there'll come a time when they don't have to and we can find a way to integrate all that talent from the communities.
That would be amazing and I'll be proud when it's a conversation we don't need to have.
More about: Diamonds | Indigenous Australians | Laura Geitz | Melbourne Vixens | Queensland Firebirds | Racism | Super Netball