April 15 was the last day of the Commonwealth Games. We marked it with an 87-47 win over Canada and a gold medal. It was also my 27th birthday.
That would've been a pretty decent day by anyone's standards.
But there was much, much more to come.
The team headed to the casino on the Gold Coast that night to celebrate at a function organised by Basketball Australia and the Comm Games folks. NBL free agency just happened to be beginning at midnight that same night. It's a very strict process. Clubs obviously put out feelers, but you're not allowed to engage in any negotiations until the period starts.
It was sometime between midnight and 1am when Andrej Lemanis approached me.
'Now's not the right time,' he said, 'but tomorrow I want to speak to you about your future'.
Drej is obviously the coach of the Boomers and the Brisbane Bullets. I have enjoyed playing under him with the national team. The Bullets had tried to sign me when they came back into the league in 2016 and I almost signed then. I had a feeling something might happen again.
I had played four straight years with the Sydney Kings but, after our season finished in February, they hadn't been in any hurry to offer me a new contract, and when they finally did, the terms were not anything to get excited about.
I've never been one to be unrealistic and ask for something I am not worth. There was a bit of back-and-forth but we couldn't come to an agreement,  I made it clear that I wanted to stay in Sydney, but as free agency approached and we had not come to terms I thought I may as well wait and see what else was out there.
Andrej rang me the day after we won the gold medal and told me he wanted me at the Bullets. He explained what my role would be if we could work out a deal. He said he thought it was time for me to challenge myself by taking on the responsibility of leading a team.
It sounded good to me. I had been willing to stay in Sydney and build something playing alongside Jerome Randle and Kevin Lisch, but what Drej said opened my eyes to how other people see my game and what they thought I could do.
The contract was done within a few days.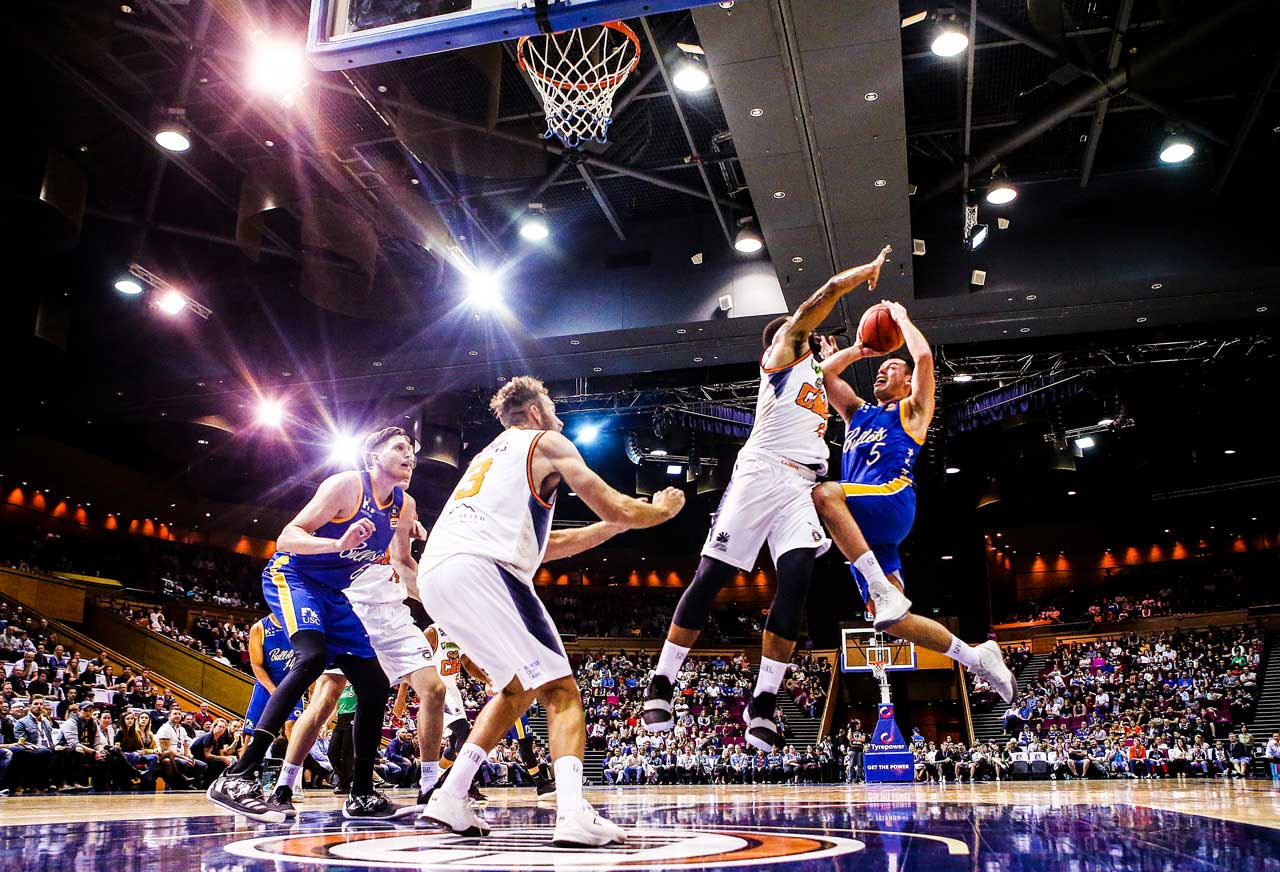 NEXT-LEVEL CRAZY
As it turns out, free agency was nowhere near the most eventful part of the NBL off-season.
The World Cup qualifier against the Philippines made sure of that.
I remember arriving back in Sydney on the Wednesday morning, 36 hours after the game in Bulacan, still sick to the stomach from some of the sights I had seen when the brawl erupted.
Chris Goulding pinned to the ground and being punched and kicked by what seemed like a dozen guys. Nathan Sobey being smashed in the face by a punch he didn't see coming.
I was doing whatever I could to try to help guys in gold jerseys get out of the middle of it.
The whole thing was a surreal experience. One minute you're in another country and all of this crazy stuff is happening and next thing you're back home and wondering, 'What the hell was that?'.
It was a whirlwind period. It seemed like a blur and it was so weird because you're not used to dealing with stuff like that. It was next-level crazy. The media was all over it, social media was full of it and everywhere you went people wanted to know what happened.
FIBA dealt with it and 10 of the Philippines players and two of their coaches were issued penalties, plus three of our players. That told you everything about who was at fault.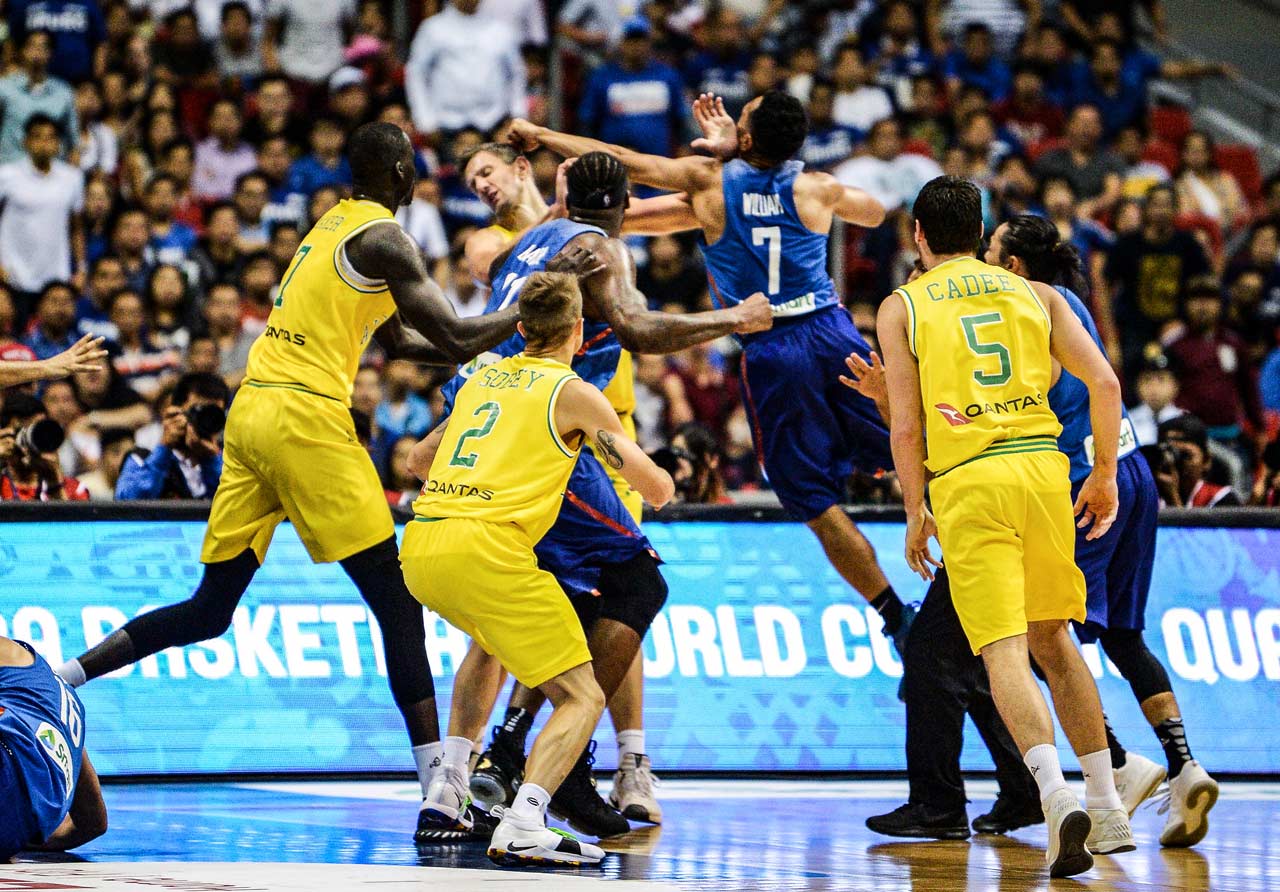 We were frustrated as players because we felt we were unfairly scrutinised over what happened. Some people wanted to blame us for what happened. The worst thing was when the Boomers were accused of making racial taunts. That was totally wrong and so disappointing to hear.
We had been asked to lie low a bit at the time because FIBA were investigating the incident and there were obviously going to be sanctions, so we couldn't say what we would have liked to have said about the racial thing. We were trying to do the right thing and let the process unfold.
It's not the Boomers' way to do anything like that. It never has been.
Chris Goulding pinned to the ground and being punched and kicked by what seemed like a dozen guys. Nathan Sobey being smashed in the face by a punch he didn't see coming.
We treat opposition teams with respect. Some people say that if you're winning by 30, 40, 50 points you should stop playing and ease off, but I think that would be almost disrespectful. Teams would rather you went flat out against them than start coasting.
FIBA looked into the accusation of racial slurs and dismissed it as baseless. We were always confident that would happen because the suggestions were rubbish.
It was good to get back together with the guys to play World Cup qualifiers again in September. The whole Philippines thing was a bizarre experience.
I've had my say. We're all trying to move on from it now.
More about: Andrej Lemanis | Boomers | Brisbane Bullets | NBL | Sydney Kings