'Wrong' Ashes celebration I regret
I had waited over five years for this moment. Ever since claiming Brian Lara as my 300th Test wicket at the WACA in December 2000, I had set myself a target far beyond that. I wanted 500.
No matter what else I achieved in my career, I knew if I fell short I would never be fulfilled. Something would be missing. For four months, I had been on 499 wickets and now the time had come.
At 4pm on Thursday, July 21, 2005, England were 0-10 in reply to our first innings total of 190 when I took the ball for the first over after tea. As I stood out in the middle, I took a brief moment to look around Lord's.
To my right, I could see my wife Jane in the Mound stand with our children, Holly and James, and also my mum Bev, and dad Kevin, on his first trip outside Australia.
In the previous Test against New Zealand at Eden Park, I had never felt completely comfortable. As I approached 500 wickets, I was consumed by a strange sense of dread.
It crossed my mind, 'Jeez, I'm taking these wickets for fun and Jane's not here to watch me. What if I got to 500 tonight and she missed it?'
I remember dismissing Craig Cumming and the Marshall twins and hearing Ricky Ponting shout to the rest of the team, 'I don't think he wants these wickets boys, he doesn't even look happy.'
Ricky was right in a funny way. There was part of me that wanted to wait until Lord's to get to my 500th wicket. I briefly thought I should hold back a bit. How ridiculous does that sound?
Now under the gaze of my family I felt at ease. There was a calmness about me. This was how it was meant to be: playing England in front of a packed house at Lord's.
All around me England fans were celebrating our poor first innings as if they had already won the Ashes. It was time to quieten them down.
I ran in from the Pavilion End and bowled at Marcus Trescothick, watching as the ball reached a good length and kept straight. I knew what would happen.
He tried to hit it through square leg but only succeeded in nicking it into the hands of Justin Langer at third slip. I had finally made it to 500.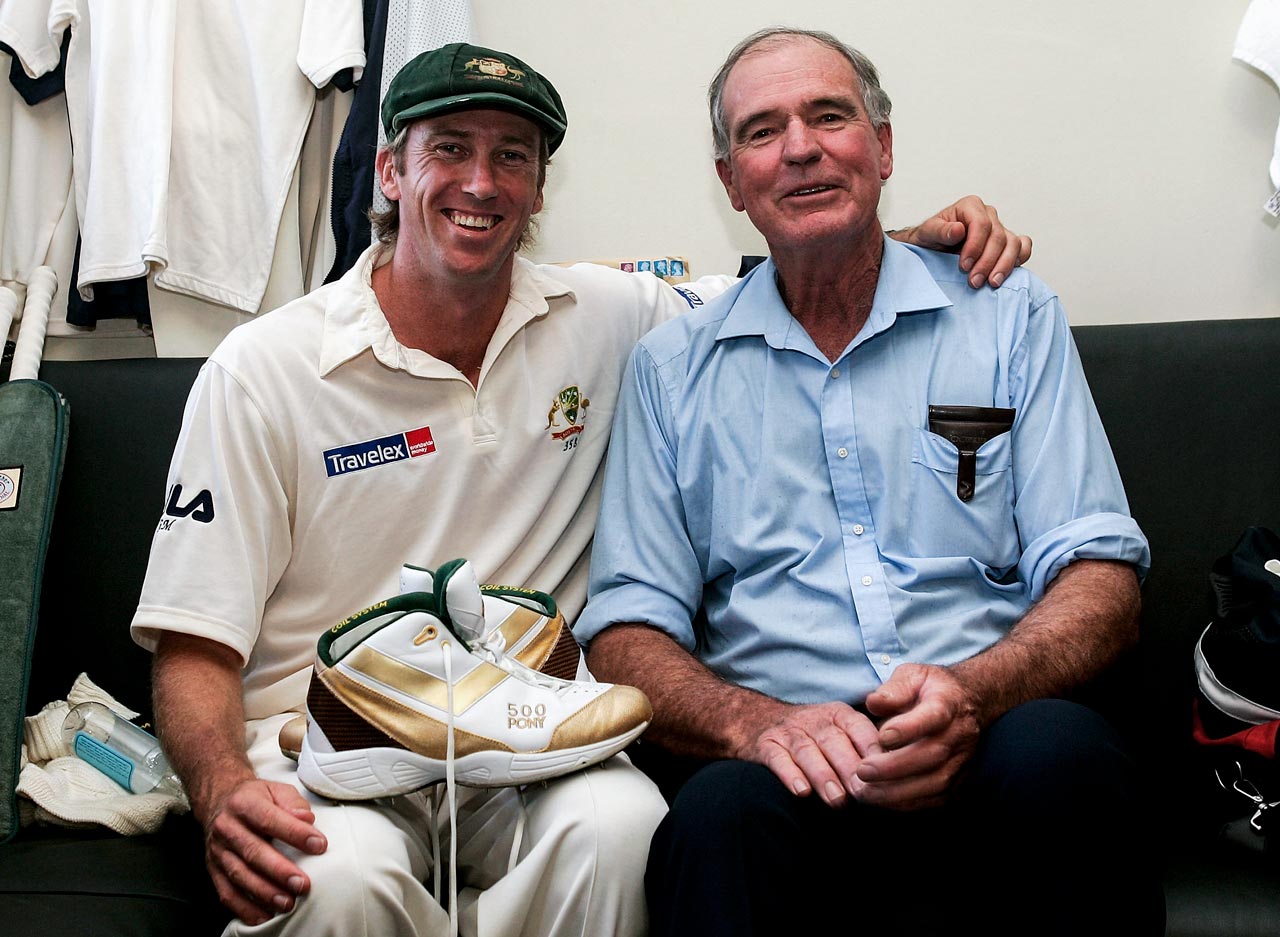 My overwhelming emotion was one of relief as the pressure of the previous five and a half years evaporated. I could not have scripted it any better.
I went on to take the next four wickets to reduce England to 5-21. I had rarely felt this powerful.  
At the end of play I spent time in the dressing room with my dad. That was a special moment. We had a beer and reflected on the day with our faces covered in beaming smiles before Jane and the kids joined us.
I just kept thinking this really was the perfect day.
THERE WAS STILL LIFE IN ME
Twelve months earlier, I feared my Test career might soon be over. In July 2004, I was at Marrara Cricket Ground in Darwin making my comeback against Sri Lanka in the Top End series.
I had been out of the side for a year after undergoing two operations on my left ankle and was fighting to save my place in the Test side.
The two-match Test series against Sri Lanka was being billed as my last chance to prove I still had a Test career. I was 34 and few fast bowlers keep going at that age.
I was told a leading Australian quick had not started a Test after his 35th birthday for more than four decades. Many assumed I had now seen my best years, but I took 10 wickets in the series to show there was still life in me.
The desire to go on another Ashes tour had kept me going during those 12 months out of the game. Nothing came close to beating the Poms.
My only regret is we went across to the England dressing room to continue our celebrations. It was empty by that time, they had all gone home, so we all piled in for Justin Langer to conduct our team song.
That was always the ultimate experience. By the start of 2005, I had never experienced losing the Ashes. I had played five series against England and won them all.
The hype about the 2005 series started earlier than ever before, mainly because the Poms thought they had a chance of finally beating us.
We knew retaining the Ashes would be more difficult this time. England had a formidable captain in Michael Vaughan and a team full of players not used to being done over by us.
But was I worried? Not in the least. Asked to predict the score of the series I said 5-0. This stirred things up in England, but I wasn't being brash, I really meant it.
We were the best team in the world, so there was no point in saying we would win 3-1.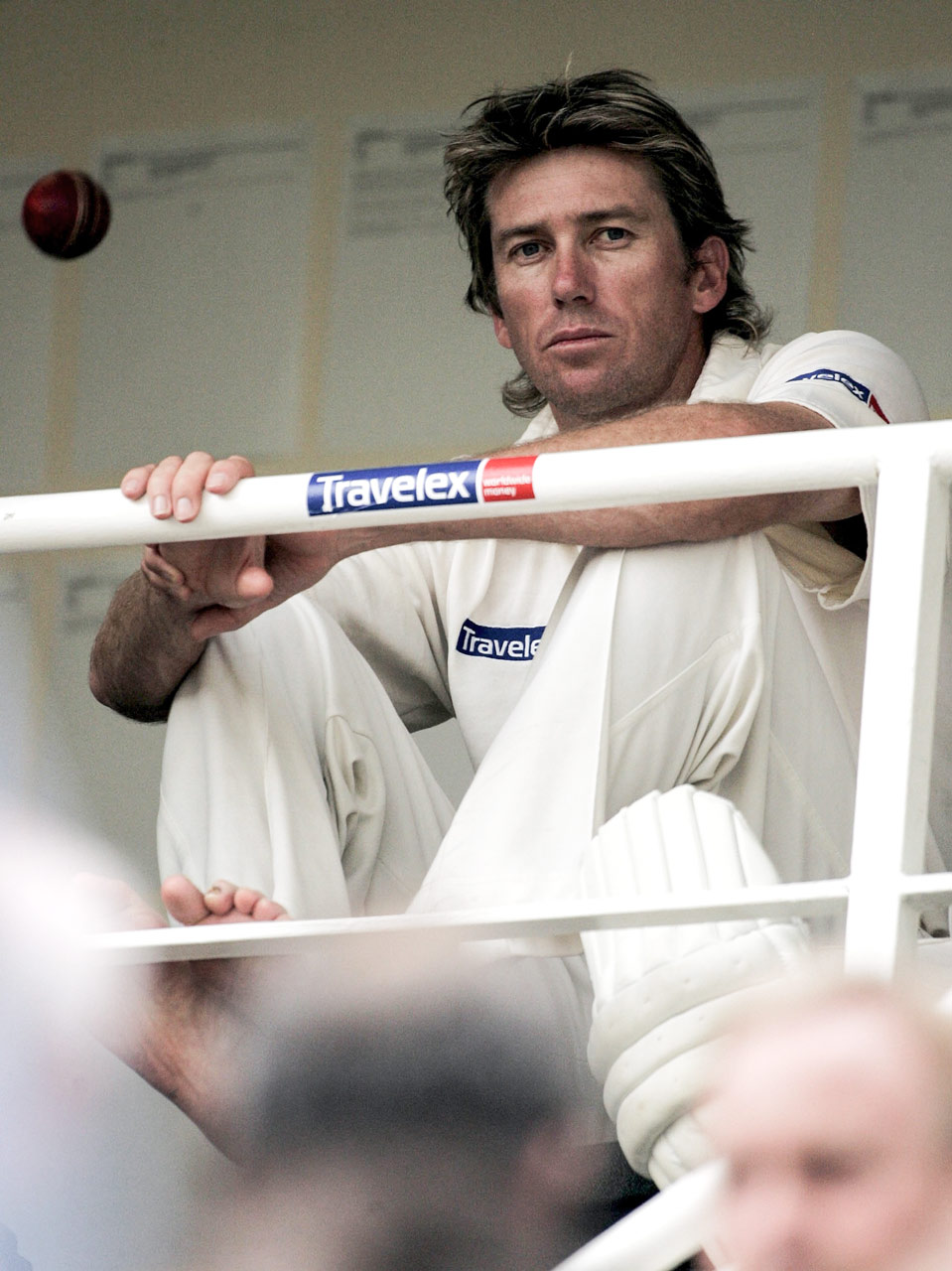 It all started on the morning of July 21, 2005 and, unusually for me, I had an attack of the butterflies. I was desperate to finally reach 500 wickets.
It had been frustrating to be on 499 for so long. I could have been hit by a bus and left one short forever.
Nerves were replaced by excitement on arrival at Lord's. This was my favourite overseas ground. I absolutely loved it.
As Steve Waugh once said, it feels like home for an Australian, and I wanted to do something special here on my final appearance.
Ricky won the toss and decided to bat, so naturally I expected to put my feet up for the next couple of days and watch our guys pile up the runs. But it didn't work out like that.
From the very first ball you could tell England were up for it. Steve Harmison tore in with genuine hostility and delivered several really quick balls.
He hit Ricky on his helmet with such force that the grill cut his cheek. That is fine, it is part of the game, but I was disappointed with blood coming from the cut, all the England guys stood rooted to the spot.
Not even a simple, 'You OK, mate?' They were making a statement, but I thought it was pathetic.
England bowled us all out for 190 in just over 40 overs. It was a bit of a shock, but I remained confident because I knew on that pitch we had scored more than we should have.
501 IN MARKER PEN
My sponsors Pony had given me a pair of boots with 500 stitched into the sides in gold.
They had wanted me to wear them at the start of the day, so if I got the 500th wicket I would have them on, but I thought I would look stupid if I didn't take a wicket all day.
Instead, Kasper came charging out with them after the wicket.
Four balls later, I claimed Andrew Strauss when he nicked it to Warney in the slips. England were 2-11. This was turning into a good day.
As a joke, Kasper ran back out with my original boots with 501 written in marker pen.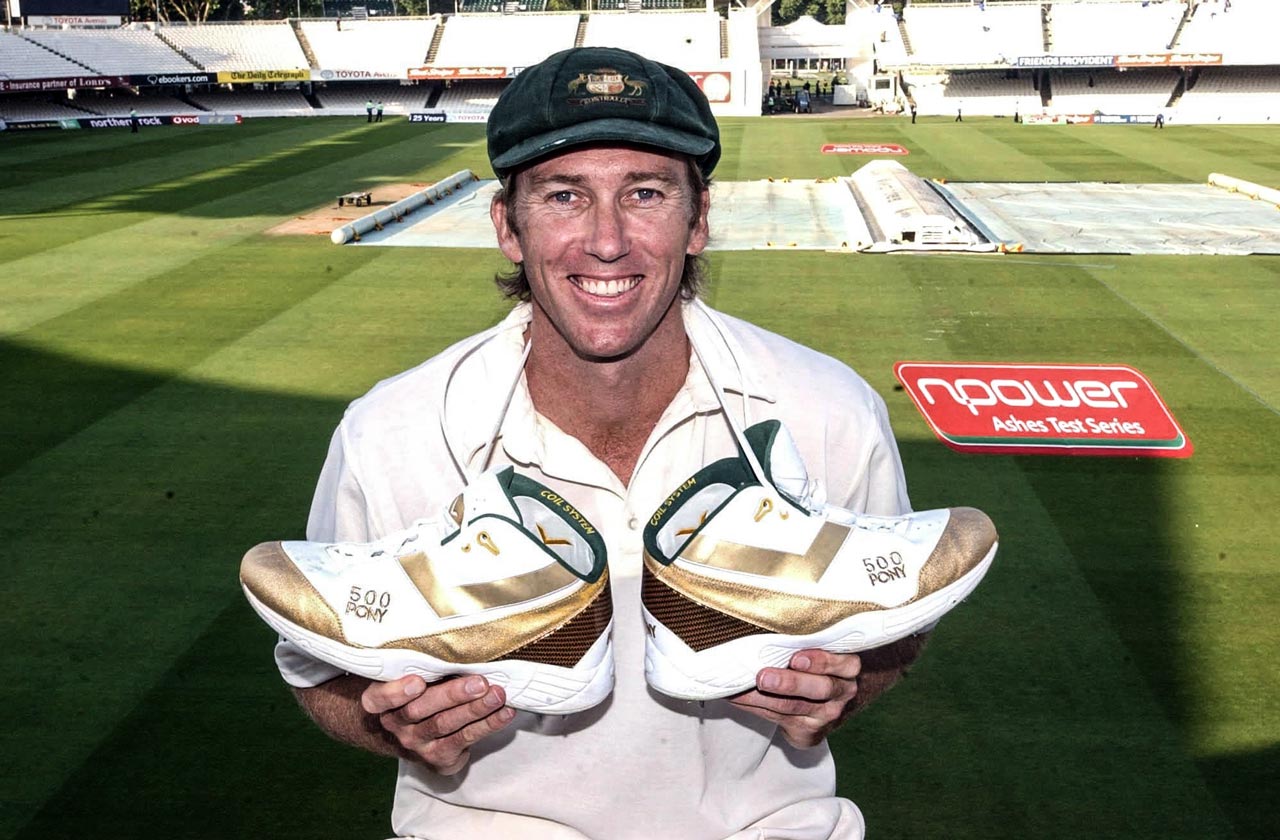 I was feeling good, as though I could take a wicket with every ball. Only seven more runs had been added when I uprooted Vaughan's off stump.
With the captain gone they looked vulnerable and I then got Ian Bell too.
I had never felt better bowling in an Ashes Test. I love coming in from the Pavilion End bowling down the slope. I had to simply put the ball in the right place. There really was no magic formula.
Batsmen like to think they are the intelligent ones, but you bowl in the right areas to them and they are always liable to do something stupid.
Poor Freddie Flintoff didn't stand a chance. He swiftly followed Bell back to the pavilion for a duck after I had sent down a ball that stayed low to hit his off stump. England were 5-21.
I had taken five wickets for two runs in the space of 31 balls. At the end of the day, England were 7-92 and we were back on top.
By the time I returned to the dressing room, our room attendant Peter Lowe had already put up my five-wicket haul on the Lord's honours board with some tape and a marker pen. Beating the engravers to it was a tradition we started back in 1997.

The following morning England were all out for 155 and, by the end of the third day, we had completely turned around the match, making 384 in our second innings before England had stumbled to 5-156 chasing 420 to win.
There was a party atmosphere in our dressing room that night, we shared a few beers with Hugh Jackman and all felt that the match was in the bag.
They needed a lot of runs with only five wickets left in the shed. The English euphoria of Thursday morning had gone.
England's only hope was for it to rain for the next two days, so they would have been delighted to draw back their curtains on Sunday morning and see the rain pounding down.
There were a few anxious looks when we arrived at Lord's, but the rain cleared by late afternoon and we needed less than an hour to win the Test.
England had only added two runs when I got Geraint Jones and then Ashley Giles was caught by Haydos in the gully. I sent Hoggard on his way lbw before wrapping up the Test when Simon Jones edged the ball to Warney in the slips.
I had taken four of the remaining five wickets for only three runs in the space of 23 balls to finish with match figures of 9-82.
As we strolled from the field, the sky was grey and overcast and the stands were half empty, but Lord's had never looked better.
I felt more emotional than usual knowing that this was my final appearance at the home of cricket.
They had wanted me to wear them at the start of the day, so if I got the 500th wicket I would have them on, but I thought I would look stupid if I didn't take a wicket all day.
The celebrations afterwards with my family made it the perfect moment, something I had imagined for years.
Everything had fallen into place. I had taken my 500th wicket, we had comprehensively won the Test by 239 runs and I was the man of the match.
My only regret is we went across to the England dressing room to continue our celebrations. It was empty by that time, they had all gone home, so we all piled in for Justin Langer to conduct our team song. I suppose it was symbolic; we were taking their territory: we owned them.
But I regret that, it wasn't necessary and, if I am honest, I thought it was disrespectful. No one at Lord's or any of the England players complained, but it was still wrong. 
That 5-0 prediction was looking good. We hadn't just beaten England, we had really turned them over and I thought it would be hard for them to come back. It promised to be a good tour.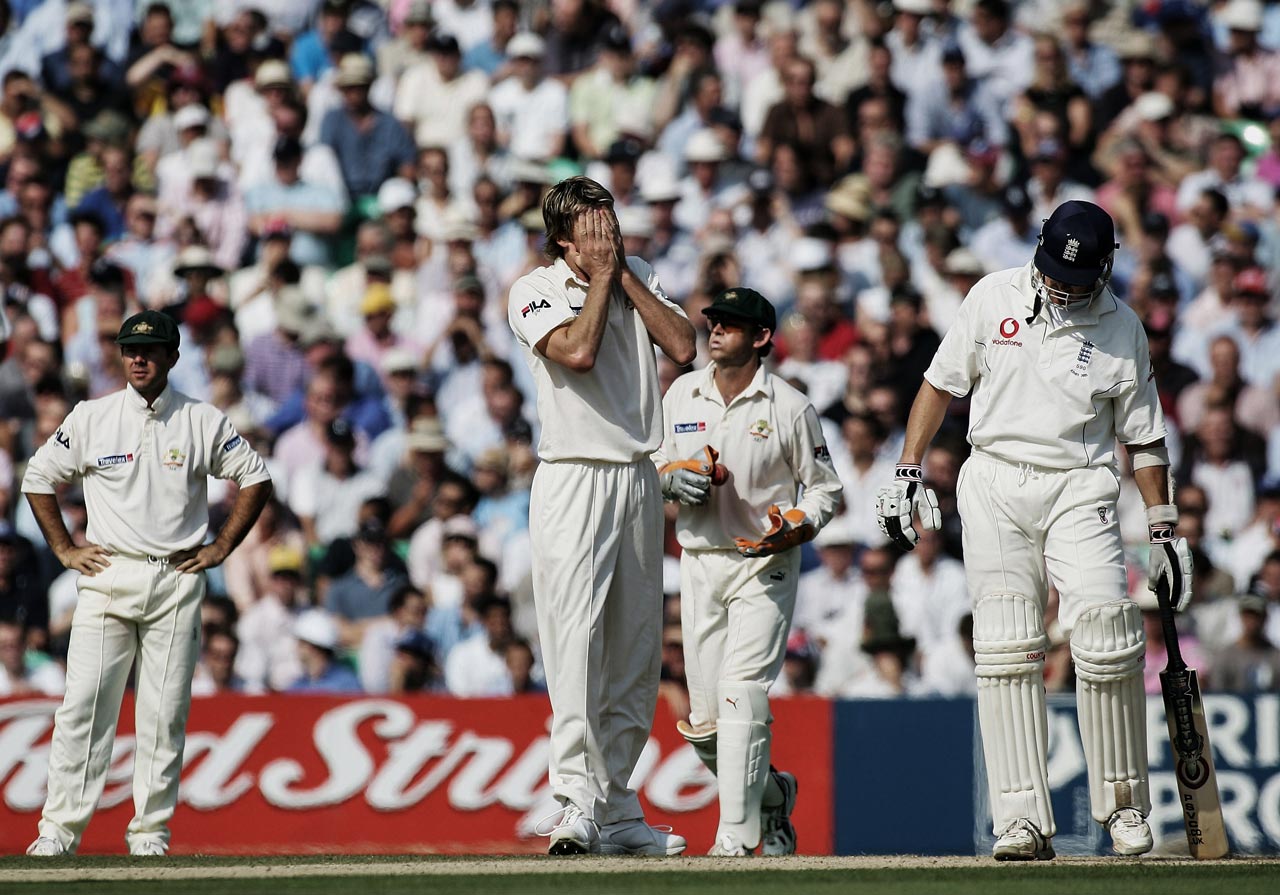 THEY FEARED ME
An hour before the start of the second Test at Edgbaston, we were warming up on the outfield with a game of touch rugby when Brad Haddin threw a terrible pass beyond me.
I turned to pick up the ball and trod on a cricket ball lined up for the bowling drills. Before I had even hit the ground, I knew I would miss the Test.
My ankle was in a lot of pain and I felt nauseous. I expected to see my team-mates rushing to me, but nothing.
The problem was I was a practical joker, so they took no notice until I shouted, 'Someone needs to get Hooter [our physiotherapist Errol Alcott] now!'
I was helped off the ground and squeezed into the back of a car and taken to a local hospital, where a scan showed I had ruptured two ligaments in my ankle.
I later learned when it was announced there was a change to the original line-ups and due to injury I would not be playing, the news was greeted by an almighty cheer from the crowd. I absolutely loved hearing that. They feared me.
I arrived back at Edgbaston after lunch on a pair of crutches and with my leg in an ankle brace to watch England's innings. It was dreadful.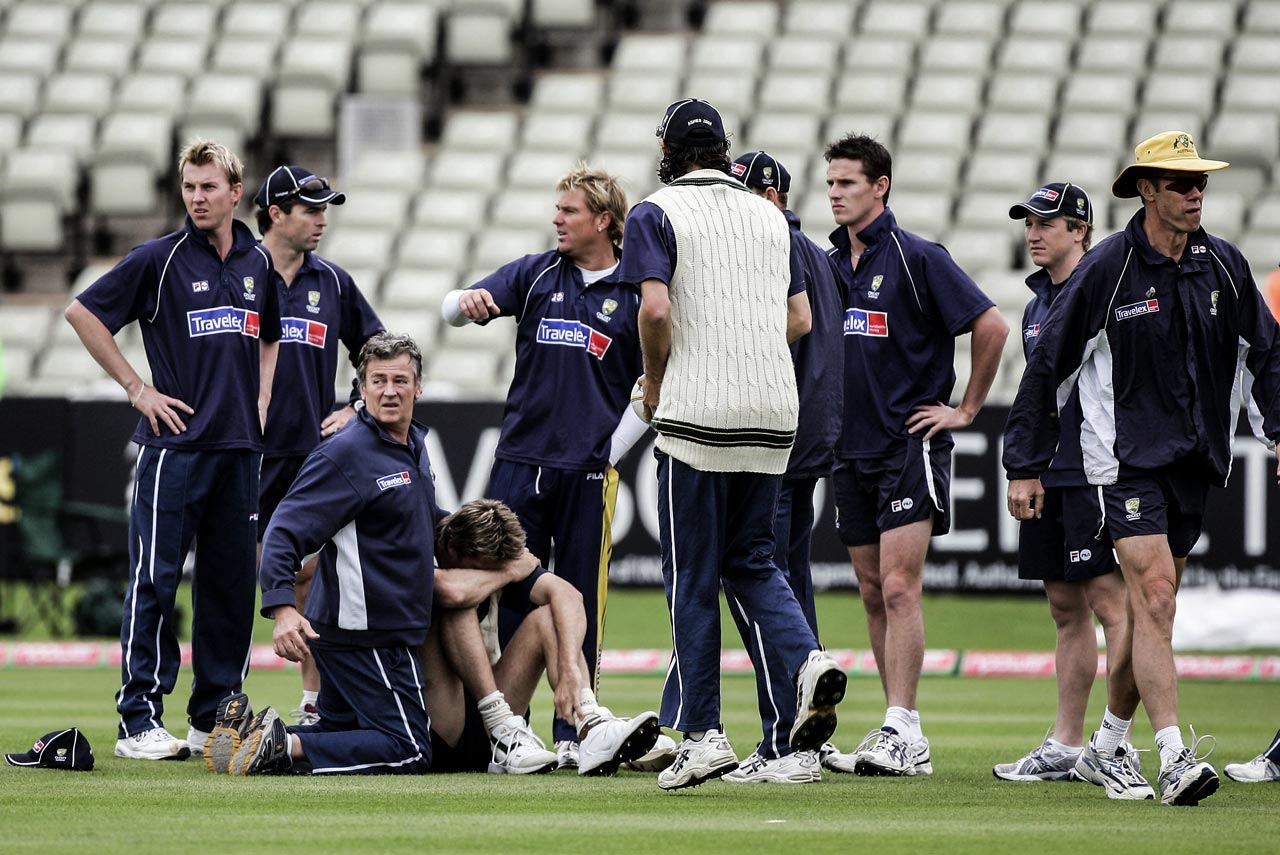 The England batsmen were hitting our guys all over the ground and by the end of the day had made 407 all out. It had been brutal stuff, they scored at 5.13 an over and managed 10 sixes. This was the day the whole series turned on its head.
This set the tone for the next two days and by the start of the fourth morning we were headed for defeat. We needed 107 to win with only two wickets remaining. When we left the hotel, I thought we would be back defeated before lunch.
The tension in our dressing room was unbearable as we approached our target of 282. With three runs needed, I thought we were going to do it.
We were getting ready to celebrate when a ball from Harmy brushed Kasper's glove and was taken by Geraint Jones. Edgbaston erupted around us.
We had been on the brink of winning 2-0, and we would not have been toppled from that position, but now it was instead 1-1 and we had lost a live Test to England for the first time for eight years.
More about: Ashes | Australian cricket team | England | Justin Langer | Pink Test | Ricky Ponting | Shane Warne | Test cricket