'YOU'RE SUPPOSED TO KNOW THIS STUFF'
My first year at the Roosters was very tough, Halfway through the year I was actually thinking about giving the game away just because of the pressure, the dislocation.
Eventually, I found my feet and started to play well.
There were expectations but it partly came down to the poor off season I had with the Rabbitohs just before it, being strung along all the way up to Christmas. I finished the 1999 year with a AC injury in my shoulder. That took a while to settle down and I couldn't do any upper body weights, our training program was average at best – we weren't even training fulltime and I didn't move to the Roosters until the 3rd or 4th of January.
That was the year we had the Olympics. So the season started earlier, in the start of February. I was only 77 or 78 kilos then and I was underweight because I hadn't done any upper body weights. I didn't know anyone in the team. They chucked me in at fullback, which is the loneliest position in the world when you don't know anyone and you're underweight, and I remember getting pumped my first few games. That was pretty tough.
This is where I draw back to having a coach that knows you. I was asking Graham Murray, 'what do I need to do? How do I need to improve? Can you help me?' And he basically said, 'look you're supposed to know this stuff when you come to first grade and I've got a team to worry about.'
I'll never forget that.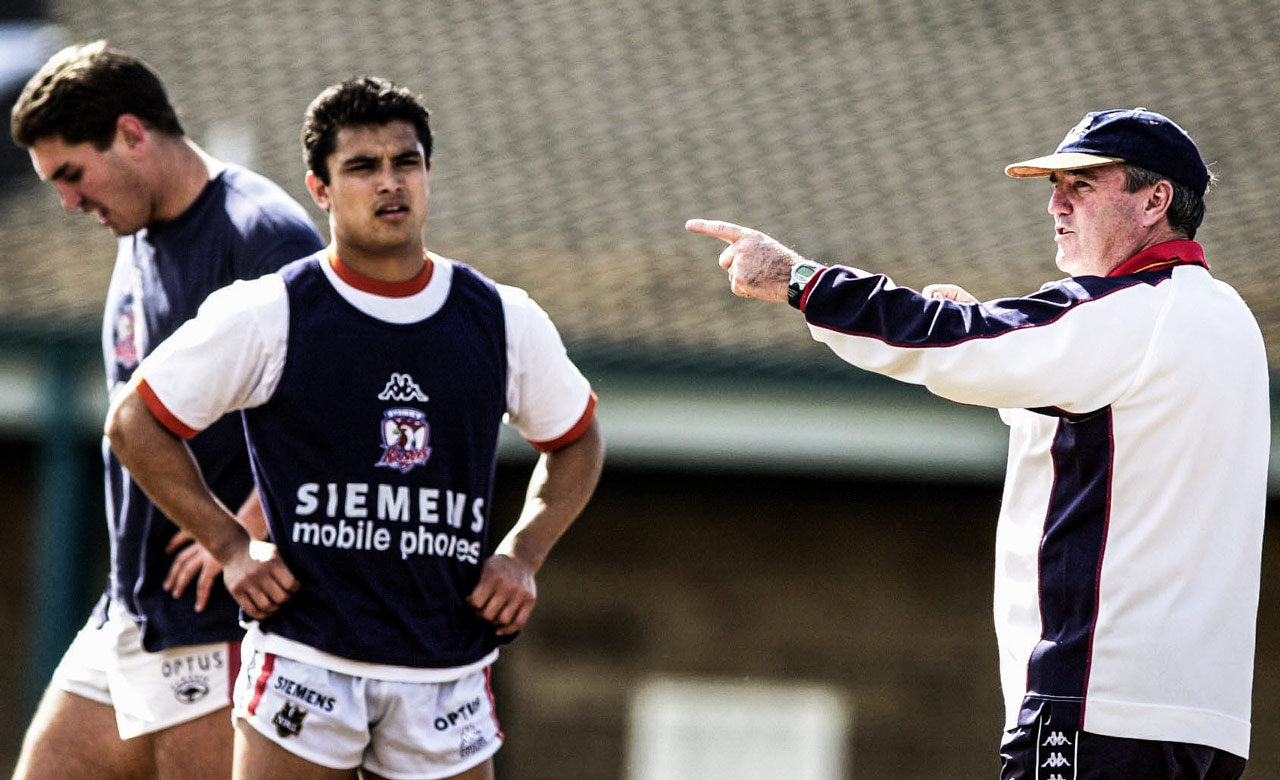 What also happened was in that preseason I got asked to do Cleo Bachelor of the Year. They took photos but no one really knew about it. And then they announced it around the same time as the start of the competition, and then they announced that I won so it was all over the magazines and everything. The newspapers jumped on board because the weekend they announced I won, I got dropped to reserve grade. The media was, 'here's Craig Wing, too busy doing all this social stuff and his footy's suffering as a result.'
The actual truth was I blocked everything else out in my life because I was trying to get my footy on track. I wasn't doing anything. I wasn't seeing any friends, which was probably the biggest mistake out of anything because it made me hate my football.
I'd go into training. It was so tense. You're not playing that well, and then I'd go home and be speaking to my dad about football from 6 o'clock at night until 9 o'clock, and it was just the worst. Around the middle of the year I thought, 'this is not worth it. I'd rather quit, go to university and play park footy that's more fun'.
I was thinking of doing that when they brought me back into first grade and they stuck me on the bench. I'm pretty sure they had no idea where they were going to play me. I was thinking of giving it up and I thought if I'm going to go down, I'd rather go down on my own terms rather than listen to a coach who doesn't know me and try and do what he tells me to do.

I'm just going to go out and do whatever I want to do on the field, when I want to do it. They subbed me on and I had 20 minutes on the field and I made up in my mind everyone is focusing on Freddie and Adrian Lam and all the stars. Every time they call the ball and I see an opportunity, I'm just going to dummy and go the other way.
I started to do that and I was scoring two tries in 20 minutes in a game, and that's how I got the super sub tag. It wasn't until then that I started to earn the respect of my teammates, which was the biggest thing for me. I was having a go.
I was making a difference for the team and I was training hard. There was a lot of publicity about me going to the Roosters in the off season and about the money I was getting paid.
When you're a young kid going into a new team, all you want is respect from your teammates. You just want them to want you to be there. I didn't feel that at the start and rightfully so. I hadn't really earned my stripes. But I got to a stage where the bigger names in the side started to talk to me and acknowledge me, and then everything turned around.
And I ended up playing in a grand final at the end of that year.
Click below to hear the full podcast as Wing talks about Origin, his Rugby World Cup experience with Japan, and the moment he thought Ricky Stuart had lost the plot.
More about: Brad Fittler | Brisbane Broncos | Eddie Jones | NSW Blues | South Sydney Rabbitohs | State of Origin | Sydney Roosters | Wayne Bennett