Call that almost killed my career
I didn't know Souths were kicked out of the competition until the day they got kicked out. The writing was on the wall, but I couldn't see it because I was so blindly in love with the Rabbitohs. I even signed a three-year deal after the 1999 season. I just couldn't fathom that they could get rid of a club.
A foundation club with so much history. And so much support as well. I was a fan too. I was one of the ones who marched on the steps of Town Hall.
The pre-season before the 2000 season, there were eight of us training because everyone else had left and found new clubs.
I didn't find out until it was announced. I remember sitting in the Channel Nine studio expecting them to say Souths are sweet, and they said Souths are out. And they crossed to me and I was speechless.
This is an extract from the Talking With TK podcast, reproduced with permission.
'YOU'RE GOING TO LEARN OFF LOCKYER'
Eddie Jones, the Broncos and Roosters were the top three options.
Canterbury was another one. I went out and saw them and their facilities but I could never have played for them. I grew up hating Canterbury.
Eddie Jones was pretty convincing. I went and met him. He was coaching the Brumbies at the time and he said, 'we've got a plan for you.' I'd played in Canberra heaps of times with league and probably the only reason I didn't go there is because I couldn't live in Canberra.
Also, I was just starting to make it in rugby league and I thought, 'I've got a start in something here and I want to see it through'.
That was a tough decision, not to go with Eddie and then it came down to league. And it was Roosters and Broncos.
I flew up to meet Wayne Bennett. Wayne said, 'I saw you play at Ballymore (for the Australian schoolboys rugby team) when you beat the junior All Blacks. I love the way you play. These are your skills. I know you've got natural ability. This is where you're weak. This is who we're going to sit you behind.
'You're going to learn off Darren Lockyer and the Walters brothers. We're not going to rush you into it but we're going to bring you through slowly. You're going to grow and develop under me.'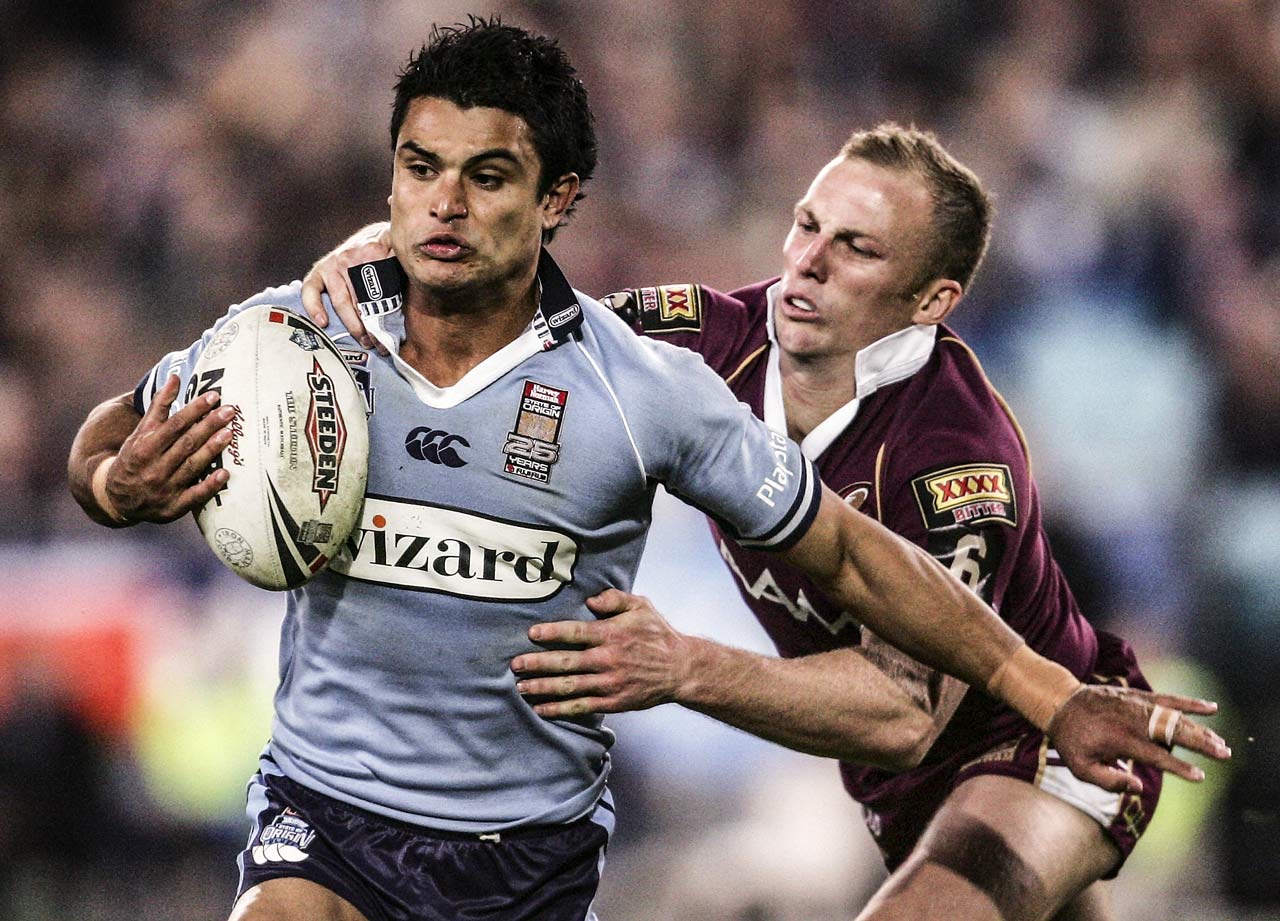 I remember getting on the plane with my dad just thinking, 'wow, that was just everything that anyone wants to hear'. Any young player – the great Wayne Bennett says he knows who I am, he knows where I need to improve, he knows how to help me. That's pretty amazing.
Then I went and met up with Graham Murray at the Roosters shortly after. Murray sat there and said, 'so I've never really seen you play, don't really know who you are, but they tell me you're a good player.
'Nick Politis wants you, so if Nick Politis wants you I want you too.'
That was the biggest contrast ever. I remember sitting there with my dad and my dad was saying 'look, Wayne Bennett is a pretty good coach … '
I knew my dad felt I should have probably gone to the Broncos but it came back to university. I was going to University of New South Wales, I was still living at home, I was still just a kid. I probably didn't back myself and I thought moving to Queensland by myself was probably too big a step.

I was a beach boy as well and I just thought 'no, I've got to do my uni.'
I ended up going with the Roosters for the stability and to be close to my family. I have no regrets about that and I love the Roosters, and I had a great time with them.
But, I guess, faced with a similar situation, if I was a parent, knowing what I know about what it takes to be a professional athlete and the ups and downs you go through along the way, to have someone, a coach or mentor that knows your strengths and weaknesses and has a plan for you and your development, I'd recommend my son go with the coach who said the things Wayne Bennett said, every day of the week.
More about: Brad Fittler | Brisbane Broncos | Eddie Jones | NSW Blues | South Sydney Rabbitohs | State of Origin | Sydney Roosters | Wayne Bennett