Wooden spoon to the grand final
I never thought I'd be playing in an AFLW grand final in my debut season. 
To have the opportunity to do it alongside these Carlton girls, to see where they've come from, and the character they've shown to go from wooden spooners to where we are now is absolutely amazing. 
To win it would be incredible.
The opening round loss to the Kangaroos was tough. Spirits were pretty low after that one, but there wasn't any moment where we gave up hope. Each week we just went out with the intention of trying to build on what we'd done the week before, and I think we've done a pretty good job of that.
When I first arrived at Carlton for the 2018 VFL season, the one thing that really stood out to me was how welcoming the girls were. They each went out of their way to come up and introduce themselves and have a chat. The fact that they were so willing to embrace someone who was coming from a different code and thinking they could have a go at at a new sport was something I really appreciated, and was a big part of my decision to play for Carlton.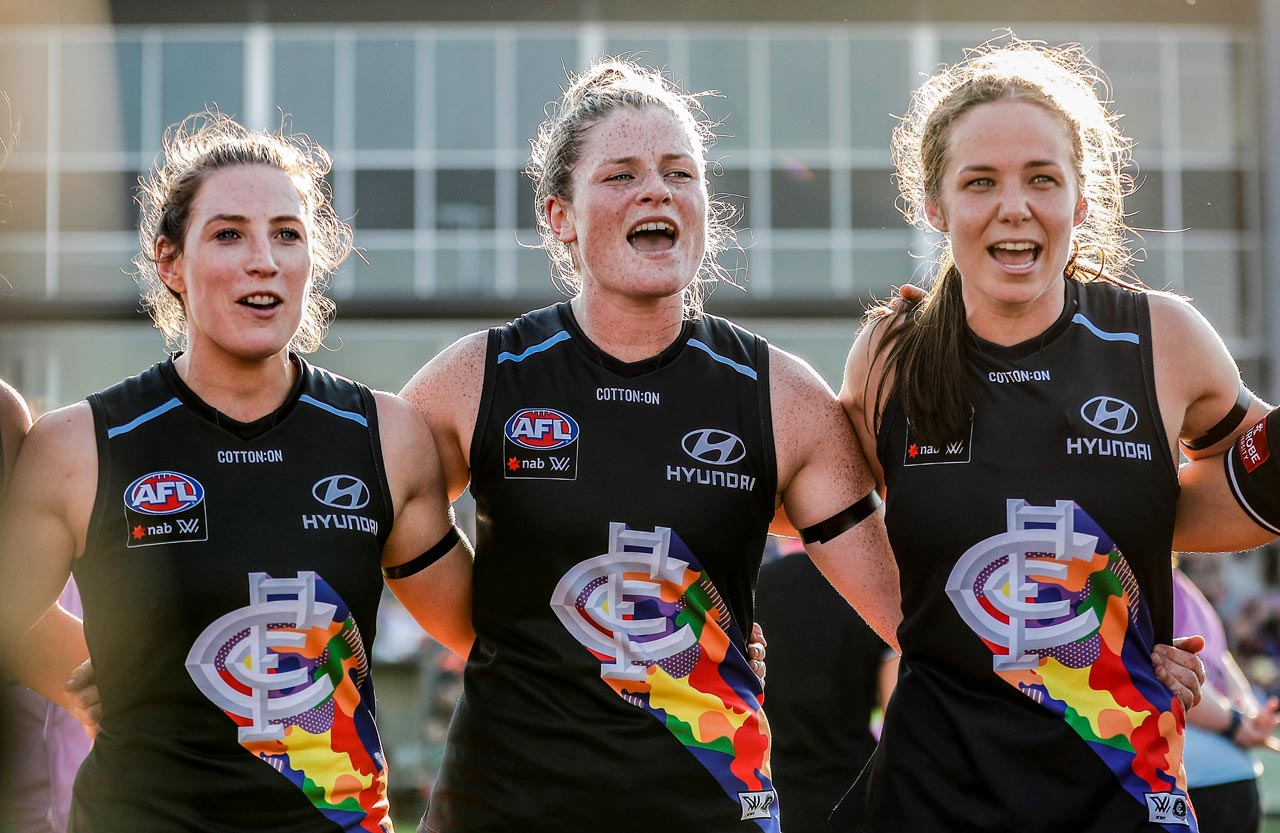 AFTER THE (GOLD) RUSH 
What happened after we won Rugby Sevens gold in Rio was really quite strange.
I guess it's pretty hard to come down from that, and when we arrived back it was amazing to come home and have the support that we did, but it was probably a little different to what I expected.
It was a bit of a 'back to reality' situation. It was 'finish your uni degree, get back into fulltime training, prepare for the next World Series for Sevens'. I was also starting my career as a physio.
It wasn't until I decided to take a bit of a break from the Sevens program that I started to think about AFL. A few people had made comments that I could have a good body type for footy and be able to transition a few of my skills across.
But I didn't really think it would be happening this soon.
A massive part of my decision was just watching the first two seasons of AFLW, seeing how skilful the girls were, how much they loved being out there and how much they continued to improve in what was still a very part-time sport.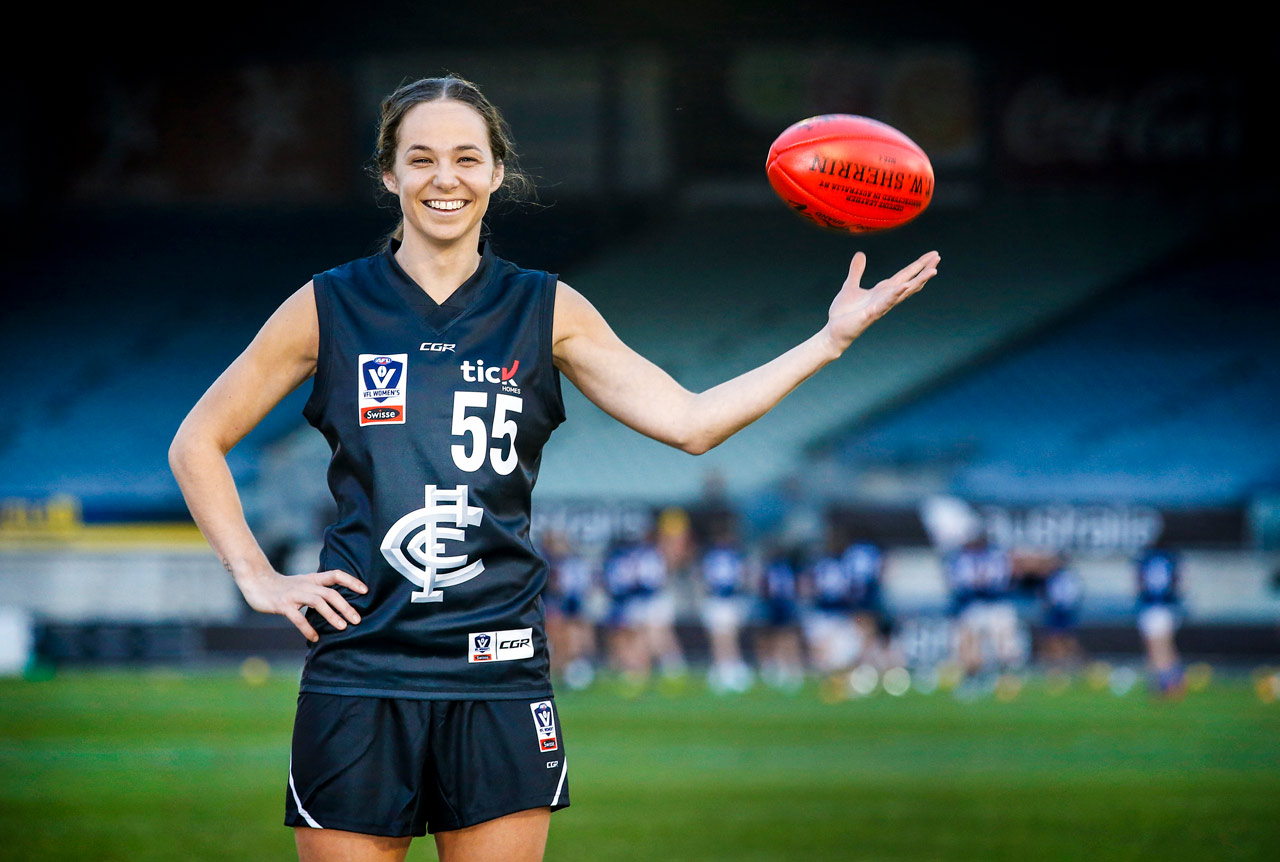 HOW STEEP?
It was definitely harder switching codes than I expected.
Not that I walked into it thinking it was going to be easy, by any stretch, but there's so many different aspects of the game that are tough to pick up. 
I guess the transition from basketball to Sevens for me was a lot easier because I'd grown up in a rugby family and watched so much rugby. I hadn't necessarily played, but I sat on the hill at my local club for years and years watching my brothers, running out at halftime to try and kick a few conversions over the posts.
So that adjustment was more about learning skills and putting those into practice, whereas this has been a combination of having to learn the skills and developing a real understanding of the game at the same time. 
I'm sure they've got some really good pathways in place that they are developing now in Sydney, but AFL just wasn't on the radar when I was younger.
Do I wish I'd started earlier? I've actually had that thought a few times throughout the season. Mostly because I've absolutely loved playing it. They're such a great bunch of girls down at Carlton, but just the sport in general – I've had so much fun picking it up, and I've really liked the combination of skills that are required.
Not that I'd ever change the experience of winning gold in Rio with my Sevens teammates. I don't have any regrets about the way that I've done things. It's just really different, and AFL has been such a steep learning curve. 
I remember that first game against North Melbourne being a big jump for me. We didn't perform overly well as a team, and they were a quality side with what people would argue are some of the league's best players, so that was a pretty tough introduction.
Since then I've just tried to improve my game every time I get out there. And because I'm so new, each week I've been finding myself in certain scenarios that I really haven't faced before. Whether I make a mistake or end up doing the right thing, I make sure I go over it and ask questions of my coaches and teammates … if I could do something differently next time.
Do I wish I'd started earlier? I've actually had that thought a few times throughout the season. Mostly because I've absolutely loved playing it.
The kicking technique's been a challenging thing for me, as I had a consistent technique that I used for my dropkicking in Rugby Sevens. I naturally turn my foot out like I would in a dropkick, so that's something I'm continually working on during training.
I can kind of use a few of my basketball dribbling skills when I'm bouncing the ball, but bouncing a footy while running at full speed? I had a crack at that in the GWS game and it didn't work out so well! I managed to regather it, but it wasn't the prettiest thing.
Otherwise, it's just general game-awareness, tactics and strategies. And it's a 360-degree game, so that was pretty strange at first. Obviously, rugby is so oppositional, you always know where the defence is going to be, and the only time they would be behind you is if you make a break and you know they're coming, anyway.
So in my VFL career that was something that I definitely had to adapt to and will keep learning. I watch the really experienced players who just look like they've got so much time when they've got the ball, they're very calm and they don't necessarily just run towards the goal; they're happy to run the opposite way if there's space there, so that's something I'm continuing to work on. 
But, in general, I'm feeling a lot more confident. In the prelim final against Freo, I felt much more comfortable out there; not running around wasting energy like I would have been in my early days.
More about: Adelaide Crows | Carlton | Fremantle Dockers | Grand Final | Rio 2016 | Rugby Sevens | Tayla Harris | Tokyo 2020 | VFL | Women's Sport