Among the many others who struck me as having played a key role in getting the Giants to this point is Craig Lambert, the player welfare manager, and his wife Mel. The level of support they offered me and others was something I hadn't experienced before at a footy club. 
They'd go and get you breakfast and make sure your dinners were sorted for the week, whether it was at their house or around the area. They really wanted you to get out and enjoy Sydney because they knew they had to make sure the boys felt comfortable and proud to be playing in Sydney. They created a really good balance of fun and hard work, which was exactly the right path to take. 
The respect and thoughtfulness they showed me extended right until after I retired and Dave Matthews and 'Gubby' Allen took me out for one of the best lunches I've ever had, on Sydney Harbour.
The Giants, as an organisation and on a personal level, went the extra mile to say thank you to me and the other players who were there at the start. 
It's that sort of attitude that's enabled them to keep the majority of the players they wanted to keep over the years since then. It says a lot about the club they've built. They treat people really well and people want to play there.
Holding onto players, including some who were there from the beginning, is no small achievement. You had a group of young really talented footy players who knew they could possibly be playing in Melbourne in front of 80,000 or 90,000 people. But that's where I think a lot of credit needs to go to the people working behind the scenes to make them feel comfortable and positive about the club's future.
There was never a time when I thought that the club wouldn't be successful on the field. But there were times when we were playing at Skoda Stadium, as it was then, and the crowd was very small, no one knew the players and we weren't getting talked about much in the newspapers or anything.
Having gone through that and then, this week, seeing vision of the Giants' training session and all the supporters that came along, made me feel pretty good. There were some pretty dark times but everyone really stuck at it and they should feel really proud that they did.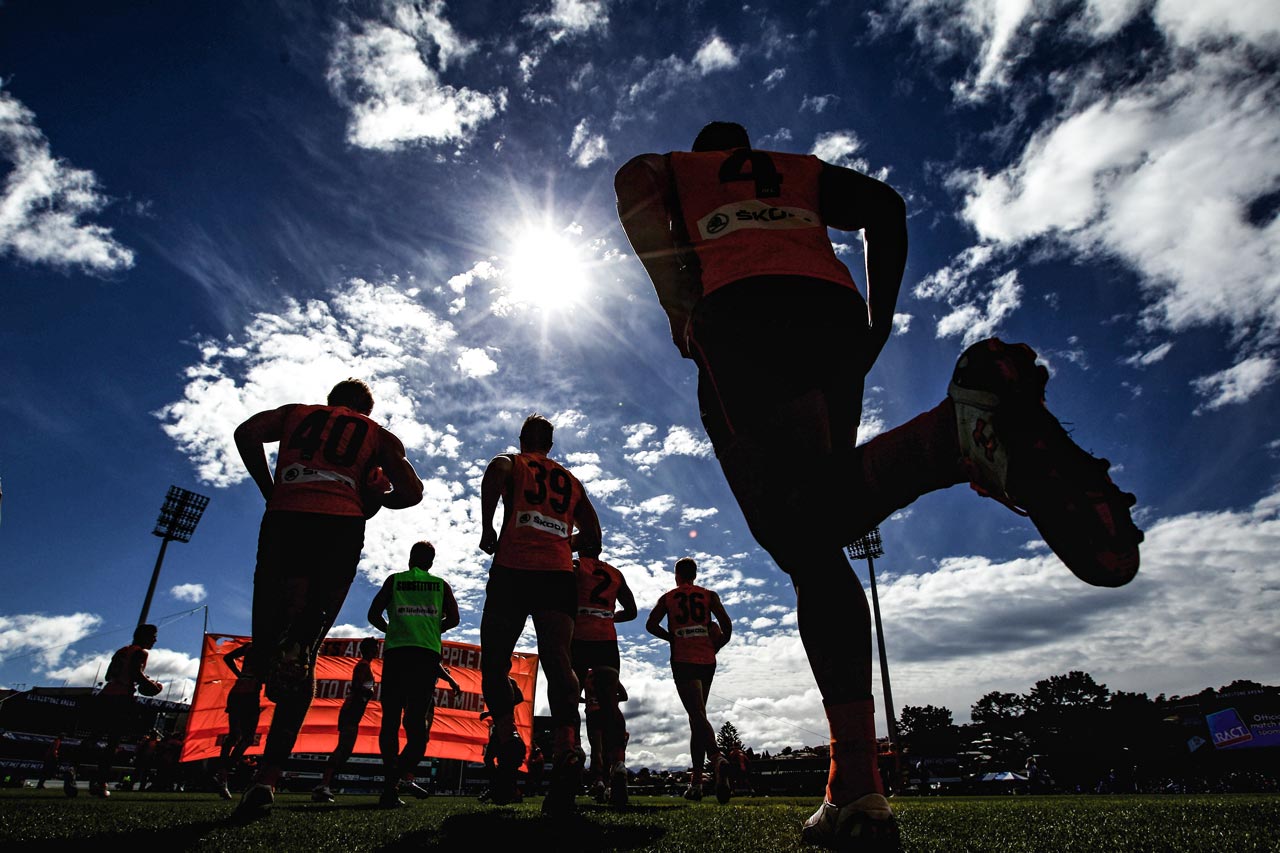 'One win would have been a bonus'
The tough times the Giants endured have been well documented. From a personal perspective, that first year was as challenging as any I'd gone through in the game, but it also gave me some really memorable times.
I thought if we could win one game in 2012 it would be a bonus. To win two games was among the most satisfying experiences I had in football. Just to see the excitement on the boys' faces was something I'll never forget. We won against Gold Coast and then beat my old club, which was really special for me, particularly. 

Still, there were some big losses. Our approach in the reviews each week was to always focus on the small wins we had, the things that the guys executed well. Choco, in particular, was really good at highlighting the positives. He knew there was no point going off at a group of 18-year-olds after a big loss.
It was always about looking for the little improvements and showing the guys that if we kept improving we'd eventually get where we wanted to be.
That moment when Jezza hit the ball into my face in the change room was one learning experience for me, but the privilege of sitting in on coaches' meetings and getting a great feel for how that side of the game works is something I'll always be grateful for. It's what got me into the coaching side of the game. If I didn't get the invitation to play at the Giants, I wouldn't be where I am today.
I was yelling from the couch
Probably the thing I'm most proud of is just having set that example to the boys of what it takes to get into the kind of shape you need to be, getting your body right, to be able to play AFL footy. 
In terms of wins, the club started to come good the year after I left. But you could see in my last year there, we won a few games and I could tell that things were starting to come together. Watching from afar in the couple of years after that, they kept progressing in the right direction and it's been enjoyable to see.
It meant something very special to me when the Giants got up last weekend against Collingwood. When the siren went I was yelling from the couch, which I don't often do!
Broges rang me straight after the siren and we quickly organised tickets and accommodation in Melbourne for the big game. I'm pumped for everyone at the club.
One of the best things that ever happened to me as a footballer was getting the invite to come up and play at GWS and my time there was brilliant. Having seen it first-hand, seeing how much work went into them getting to this point, I've got a huge amount of respect for their achievement in reaching the grand final this season. A very special piece of history could be made.
More about: Coaching | Collingwood | Grand Final | GWS Giants | Israel Folau | Jeremy Cameron | Kevin Sheedy | Leadership | MCG | Port Adelaide