KEEPING MY TEAMMATES WAITING
It was special moment for me to surpass Hazem El Masri as the highest points scorer in the NRL last weekend. Given the stature he had in the game, and given he was a guy I really enjoyed watching as a young man, when I had aspirations of playing in first grade. To top it off by having my wife Barbara and children Jada, Jasper and Matilda at the ground – and Jada and Jasper on the field at the actual moment – was very cool.
Jada and Jasper brought out the kicking tee for the record-breaking goal and I've seen a couple of photos where I'm lining up the kick and they're in the background, and they look more nervous than I am.
After it went over, they were stoked and we got a hug. It was amazing to share that moment on the field.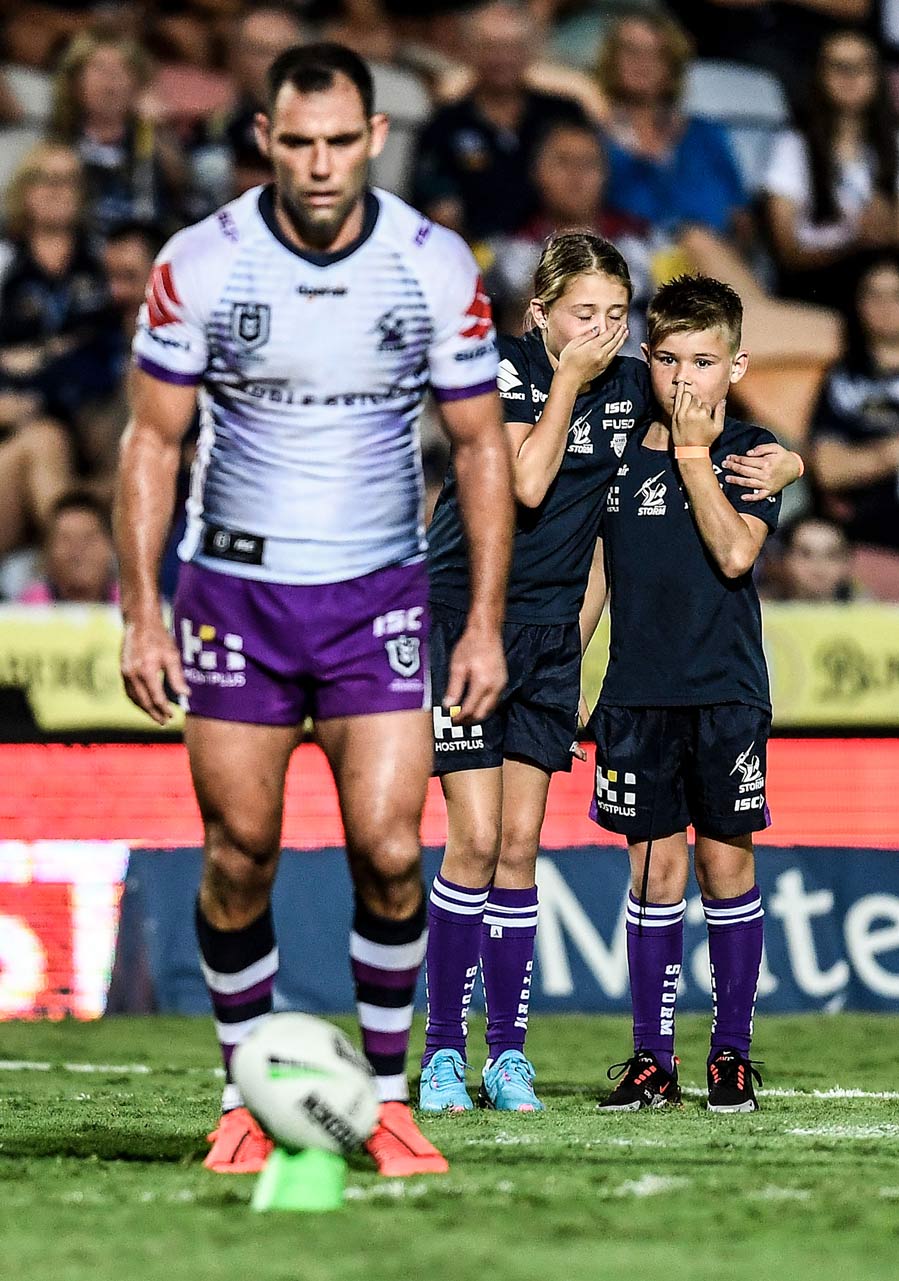 I understand how important this record is. It's quite a milestone to be the all-time leading scorer in our game – it's been going for more than 100 years – but while I'm still playing it's hard to get a handle on the enormity of it. We're daily looking for ways to improve, looking at the opposition, so there's not much time for reflection.
The first half of my career, my percentages weren't great compared to the second half. That's due to continual practice and dedicating time to practice. When I started my career at the Storm I wasn't the first choice goal kicker. It was Matt Orford and it wasn't until he left that I got given the job by Craig Bellamy. We didn't have anyone else and I'd done a little bit of goal kicking in my junior days.
But it wasn't until quite a bit later I had the realisation that being a goal kicker is a role that you need to perfect, it's not have a kick and hopefully it goes over. You've got to nail most of the kicks you have. Once I got that understanding, I started putting a lot more time into preparation. It's the same with most things, the more you practice the better that skill becomes. That hasn't changed, no matter how many kicks I've made.

It hasn't always been popular with my teammates, notably on a Kangaroos tour. When you're on tour you're always in a hotel somewhere and you travel to training on a team bus together. Typically in a session, the team trains together for a certain amount of time. At the end, it's five or 10 minutes to work on individual skill work. Once that's done, the majority of the team leave the field and it's generally the goal kicker and the general play kickers left out there.
I'd have my set routine where it may take me 20 minutes to complete. By then the rest of the players have done their ice baths, got dressed and are all sitting on the bus waiting to go back and have lunch and get on with the rest of the day, sightseeing, shopping, anything but sitting on a bus at a training ground.
Sometimes they'd get a little bit annoyed. Deep down they knew I wasn't holding everyone up on purpose. They knew I was there because it was my job. I won't lie, there were some times that I'd enjoy taking the mickey a little bit and string a few more minutes out to stir them up. In the end, it became a running joke – 'how long?' – even the coaches were in on it, they'd offer me money to catch a cab home.
More about: Cameron Smith | Greg Inglis | Kangaroos | Melbourne Storm | NSW Blues | Queensland Maroons | Retirement | South Sydney Rabbitohs | Sponsored | State of Origin