The raw version of ourselves
Not long before we broke from training for Christmas, Wayne Bennett took us on an army camp near Jervis Bay. It was run by a few ex-military people.
I'd never experienced anything like it.
The point of it was to take you so far out of your comfort zone you couldn't remember what your comfort zone was. It was about putting yourself under duress and seeing how you'd respond. And it was an exercise in building trust with the teammate beside you.
We learned a lot about what makes each other tick.
We formed teams and trekked for hours while carrying full water tanks on stretchers. They woke us up in the middle of the first night for a run through the dark. At other times, they'd have us hiking more than 10 kilometres up and down hills, where it was all about teamwork and keeping spirits high among the group.
Physically, you push yourself so hard you're constantly aching. Mentally, you try to convince yourself you can keep going. It reminds you of those desperate times in games, like when you're hanging on to a narrow lead and defending your line with a couple of minutes to go.
You either find something extra or you lose.
At the camp I learned I could handle levels of stress, fatigue and pain that I hadn't had to before. I saw my teammates rise under extreme pressure. I witnessed people employing different strategies to encourage others when it looked like their gauges were on empty. We talked honestly about how difficult it was and leaned on each other for support.
We were all exposed to the raw version of each other.
It was an important few days and I have no doubt we'll all draw on those experiences through the season.
FROM MADGE TO SEIBS
Every coach is different. They each bring their own style and their own philosophy.
I'm barely 21 and entering my third year of first grade and I feel blessed to have had Michael Maguire and Anthony Seibold coach me, and now Wayne Bennett.
Madge helped me build my confidence and mental toughness. He made me believe I was a first grader before I'd started thinking that way myself. He used to say, 'It doesn't matter how old you are, if you're ready for first grade you're ready'. There were no limits according to age, according to Madge. It wasn't good enough to play within yourself and try to survive just because you were a kid. You had to push yourself at every training session, every game, or you'd never reach your potential.
Madge is a sincere guy and I had no doubt what he said to me wasn't just talk. He had plenty of other young players he could've concentrated just as heavily on. He put me in first grade off the bench against the Broncos in round eight of the 2017 season and I never looked back.
Another thing Madge used to say was that, if he had his time again as a young player, he'd learn more from the experienced players around him. He said that would've made him better prepared to face challenges, not just in his career but life in general.
That has always stayed with me.
After I'd spent a year under Madge, Seibs came along. It was a good time for me.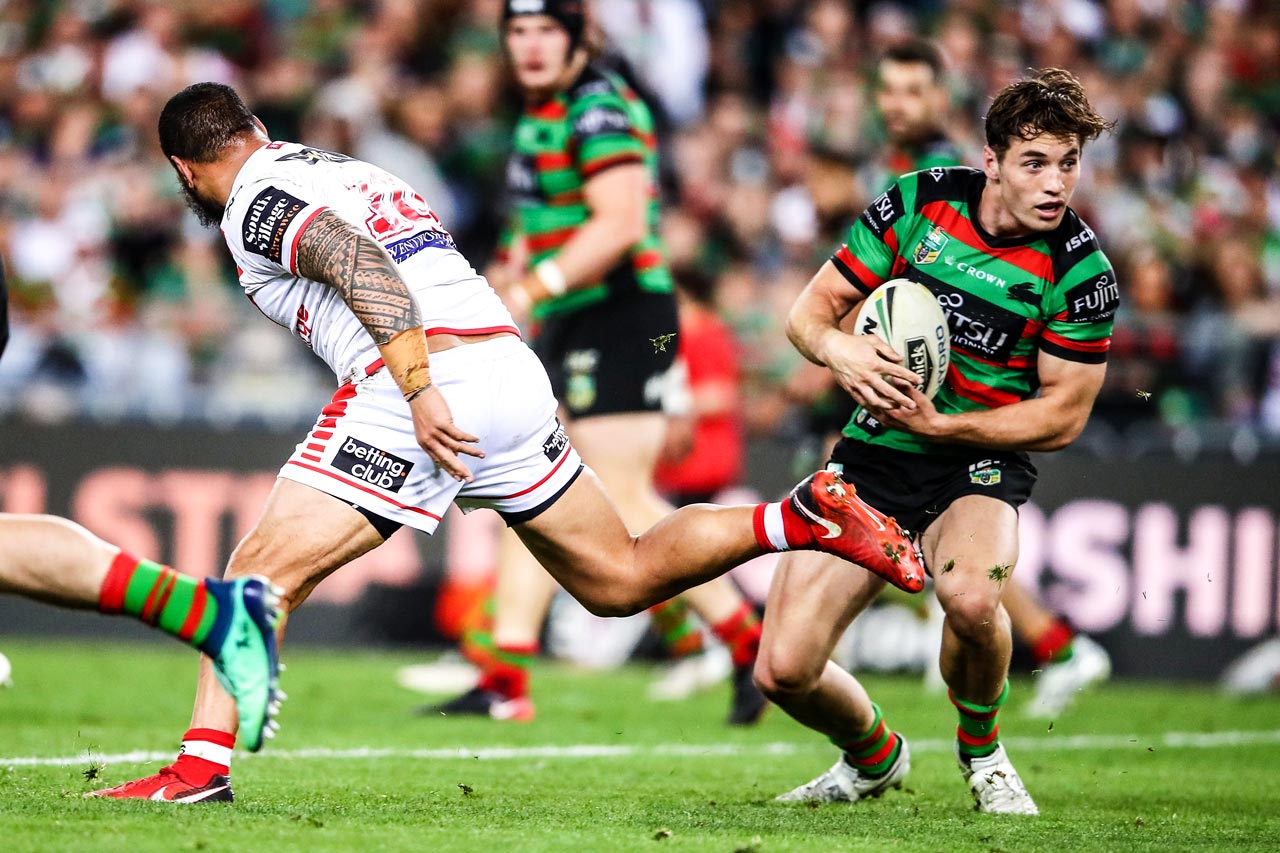 Like Madge, Seibs provided me with a great stepping stone in my career, just in a different way. I liked his routines, his structure. He was great for me in terms of learning how to build up each new week from scratch for the particular challenge we faced and being thoroughly prepared by the time we reached game day.
He implemented a style of training that made me excited to come in every day. I felt competitive and determined to improve as a player and a team. The work we did was always very specific to that week's match. It was called tactical periodisation. Every block of work was timed to the second and concentrated on a particular aspect of our game.
We would go through a four-minute game, and then another four-minute game, and so on, focusing on our high-speed metres and change of intensity in one block. Then our inside approach in the next. Then maybe our kick-chase.
By the time we went back to the sheds, I felt like I was across all the high-level detail I needed to know and, at the same time, that my focus had been narrowed to understand my specific role in it all.
The Seibs approach really suited me as a second-year first grader. I felt like I learned something new at every training session. It was a game-changer for me when it came to understanding processes and becoming specific about what I needed to do in the key areas.
I kept improving. I really enjoyed what Seibs brought as a coach.
More about: Anthony Seibold | Coaching | Michael Maguire | South Sydney Rabbitohs | Sponsored | Wayne Bennett