My role to date has been to manage the team: setting KPIs and keeping people accountable. We have a meeting once a week where we go through a sales report and a leasing report and track how we're going against our targets and goals. It's pretty small at this stage, but we're growing.
The amount of stuff I've learned about real estate and business has been unbelievable.
Every day is different. No property is the same – different locations, different streets, different people, different expectations. When I attend a listing appraisal, I learn something new every time. At the start, I was tagging along with the sales guys and observing a lot of the time. I'll be running them now. I'm looking forward to taking that step up.
The growth opportunities have been incredible. And it's a great feeling when people want to be involved in you. Nobody wants to join a business with someone who isn't business-savvy and doesn't know their stuff.
If I'm honest, I've found that every bit as humbling as what people have said about my footy.
Michael Hibberd didn't make it any easier. He was crying in the front row the whole time I was addressing the boys. I was looking at him thinking, 'Mate, are you walking away as well?'

Footy has been my last 13 years. Real estate will be my next few decades. Like footy, it's something I aspire to be really good at.
It's an exciting time of life. In an addition to the career change, Abbie and I recently got the news that our first baby is on the way. It's not like I'm finishing footy with nothing to look forward to. There's plenty on!
I feel like the people who finish footy without a lot to do can create bad habits for themselves. Fortunately for me, footy wasn't everything. It wasn't like, 'Shit, I've got to play another year or else I've got nothing.' It's a big world out there.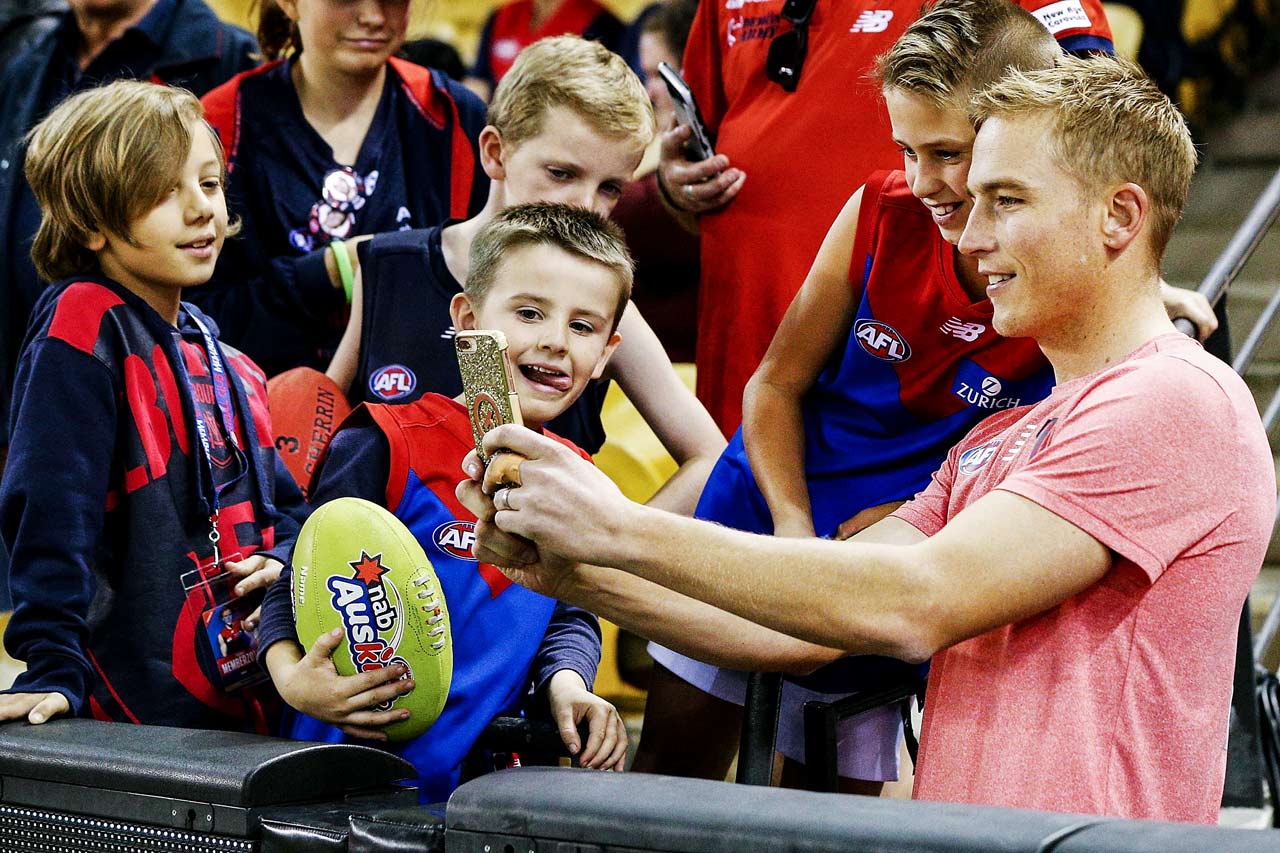 RISE OF THE DEES
I walk away from the game proud of the evolution of our footy club.
The early days with Melbourne were challenging. There's no sugar-coating it. It was a team full of players who wanted to be good but didn't know how. Before Roosy arrived in 2014, Dean Bailey, Todd Viney, Mark Neeld and Neil Craig had all served as head coaches in the preceding three seasons. The playing group had been getting different directions from different coaches for too long. They needed stability. Signing Roosy was a massive coup.
He arrived at the club about a month before I did. He set about introducing that real Sydney style – contested ball, hard-tackling, uncompromising. As a footy club, we were so far behind. We had to learn defence to start with. The year before, the team leaked a heap of big scores. Some of the guys didn't know defence at all.
We weren't scoring much at all that season. It wasn't our focus. We won a few games and we were keeping good teams to low scores. It probably wasn't a great brand of footy to watch but it was something we needed to learn.
It was always going to take time. You can't click your fingers and become a good team in two weeks.
The next season we focused a little more on ball movement and the ability to score. We kept a real closeness in defence and, after a while, we were able to score off the back of it. That took a couple of years to evolve. We were one of the highest scoring teams in 2018.
We cashed in this year. We played some excellent footy and beat some good teams. Now I truly believe we are set up for sustained success. We're not a club that relies on high scoring all the time. We feel like the brand of footy we play holds up in bigger games.
We've got some really good players at a young age. They're going to be around for a long time. And, crucially, they're getting coached the right way.
I'm confident this won't be the last run at the finals the Dees make over the next few seasons.
It was an honour to have played a small part in it all.
More about: Business | Melbourne Demons | Paul Roos | Retirement | Sponsored | Sydney Swans