'It was always the chokers tag'
Ben Creagh played 11 State of Origin games for NSW and 270 times for St George Illawarra. In this extract from the Talking With TK podcast, he talks about the Dragons' 2010 Grand Final win and his rep career.
It was 2003, I had just turned 18, and one day at the back end of the year I was at work at Jamberoo Action Park and I got a call from Nathan Brown, the first grade coach at my club, St George Illawarra.
He said, 'I want you to play first grade this weekend'. And I said, 'Bullshit'. I could not believe it. It was a total shock to me.
The first person I spoke to was my dad and I said, 'You're not going to believe this.'
The rest of the week was a whirlwind; I had to tell my boss I'm out. He understood my passion was rugby league. It was my first year out of school.
The step up from (underage) football had been huge in terms of the speed, but also the men you're playing against. My first-grade debut was a shocker. I was a scared kid and it showed. I was playing another level.
I remember vividly what happened. People come up to me and talk about games and you don't mean to be rude but I struggle to remember them. It's hard when you've played 270 games. But there are some games like that, your debut for example, I remember vividly the things that happened.
My first carry was off a scrum. Nathan Blacklock, the other winger said, 'You have it'. We're 20 metres out from our try line. And I dropped the ball on my first carry. Second half there was a voluntary tackle.
Bill Harrigan got me good. I went up for a bomb, juggled it, came down, felt a hand on my back and got up and played the ball. Inexperienced, rookie error. I wasn't tackled, so bang a voluntary tackle. I probably didn't understand the game enough to know I'd down the wrong thing.
I was devastated. It was round 21, 2003. Browny didn't have to keep me in the side after that but he showed a sense of loyalty to me. He brought a young kid into the team and he stuck with me, kept playing me.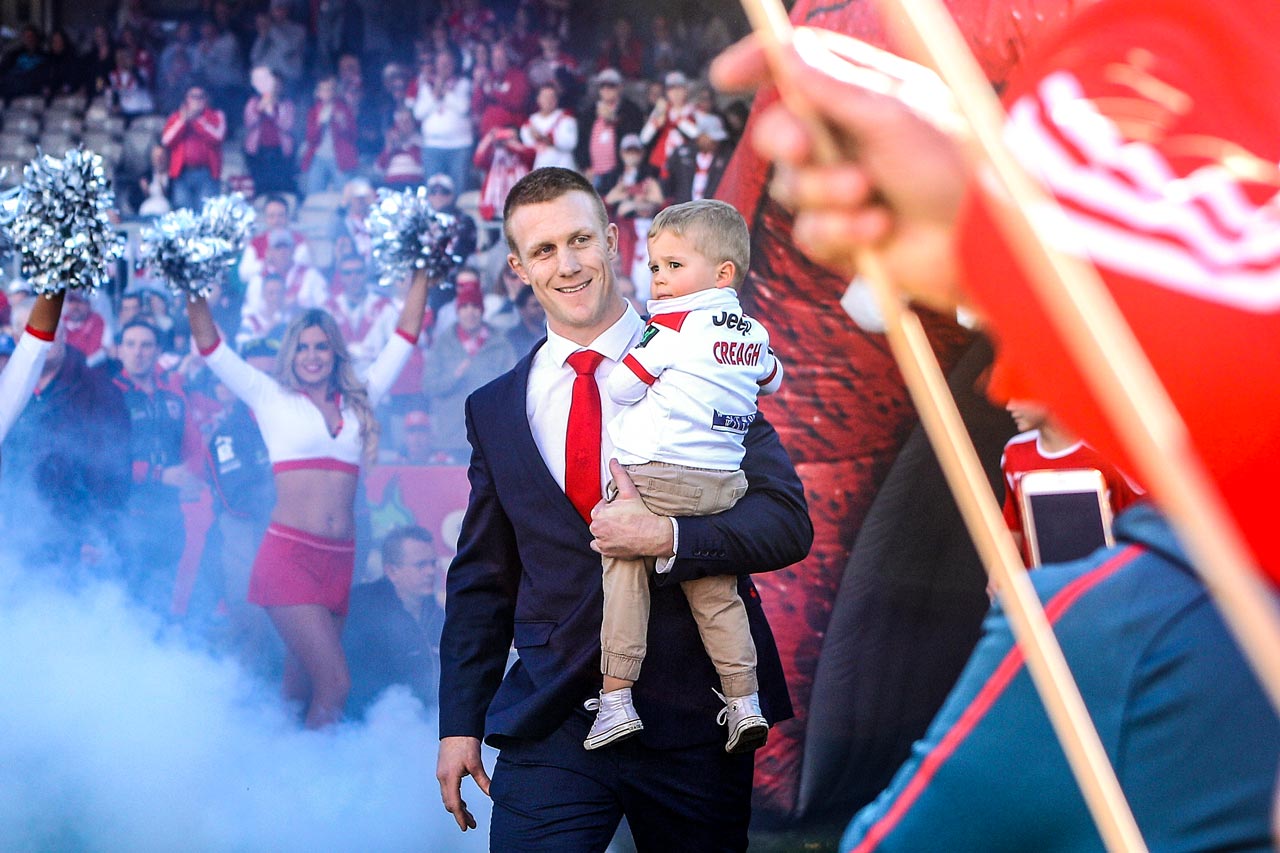 A few weeks later I was playing against Newcastle and Matt Gidley and Timana Tahu gave me an absolute bath. I went from right wing on debut to left wing against Newcastle and they scored three tries on me.
Looking back, he threw me in the deep end but you learn so much from mistakes like that and you can go one way or the other. You either put your head down and have a sook or put your hand up and go, 'Can someone help me?'.
After round 26, I didn't know if I'd ever play first grade again.
Max Ninnes, an assistant coach and recruitment manager, was huge for me as a young guy in the club. He was very detailed, coaching intricate skills such as holding the ball in contact, off-loading. He spent a lot of time with me teaching me how to be an edge back rower.
He must have seen something in me and he would be pulling me aside after training going, 'We're doing this'. Then later, I was pulling him aside saying, 'We're doing this'. He took a lot of time off me at the start when I didn't think I needed it and I took a lot of time off him at the end.
He was so giving of his time but he was so honest as well. There was no bullshitting. He told me if I had a good game. Told me if I had a bad game.
I didn't play footy since I was four years old – I was more into basketball as a kid – so there were a lot of skills I was deficient at and I had to learn quickly.
Huge motivation
Everything moved so fast. Those years, 17, 18, I play my first first-grade game and by age 20 I'm on my first Kangaroo tour. It's mind-boggling how quickly that happened for me.
Nathan Brown was never really a friend to me then. I was 18 and he was 30-odd, so he was just my coach.
Looking back, there might have been some older players in the group who played with Browny and there might have been some mateship there that might have caused issues in the team. I never saw that. And I don't believe that was a problem or an issue.
I can imagine if I now went back to coach the Dragons, as a an example. That would be difficult because I played alongside a lot of guys. It would have possibly complicated matters for Browny, but as a young player I never thought there was an issue between senior players and coach.
It's a big regret that, when Browny was there, the finals we made we didn't go further.
My first carry was off a scrum. Nathan Blacklock, the other winger said, 'You have it'. We're 20 metres out from our try line. And I dropped the ball on my first carry.
We had some tough losses through those years and, being a young player, I probably didn't appreciate the quality of team we had and understand how devastating those losses were. Because of my youth, I didn't quite understand how limited your time in the game is and how few of those opportunities come along.
I would say those teams between 2003 and 2008 had some of the best players of that time in the game, all in one team.
Wayne Bennett came in and I think some factors changed in 2009-10-11, which is why we won the comp and were so successful in that period.
There was still a core group of players at that time that had experienced the disappointment in those earlier 2000 years with those finals losses.
There was a huge motivation and drive there to get the chokers tag away. It was always the chokers tag. We were known as the chokers because of those losses and that hung over our heads for a long time.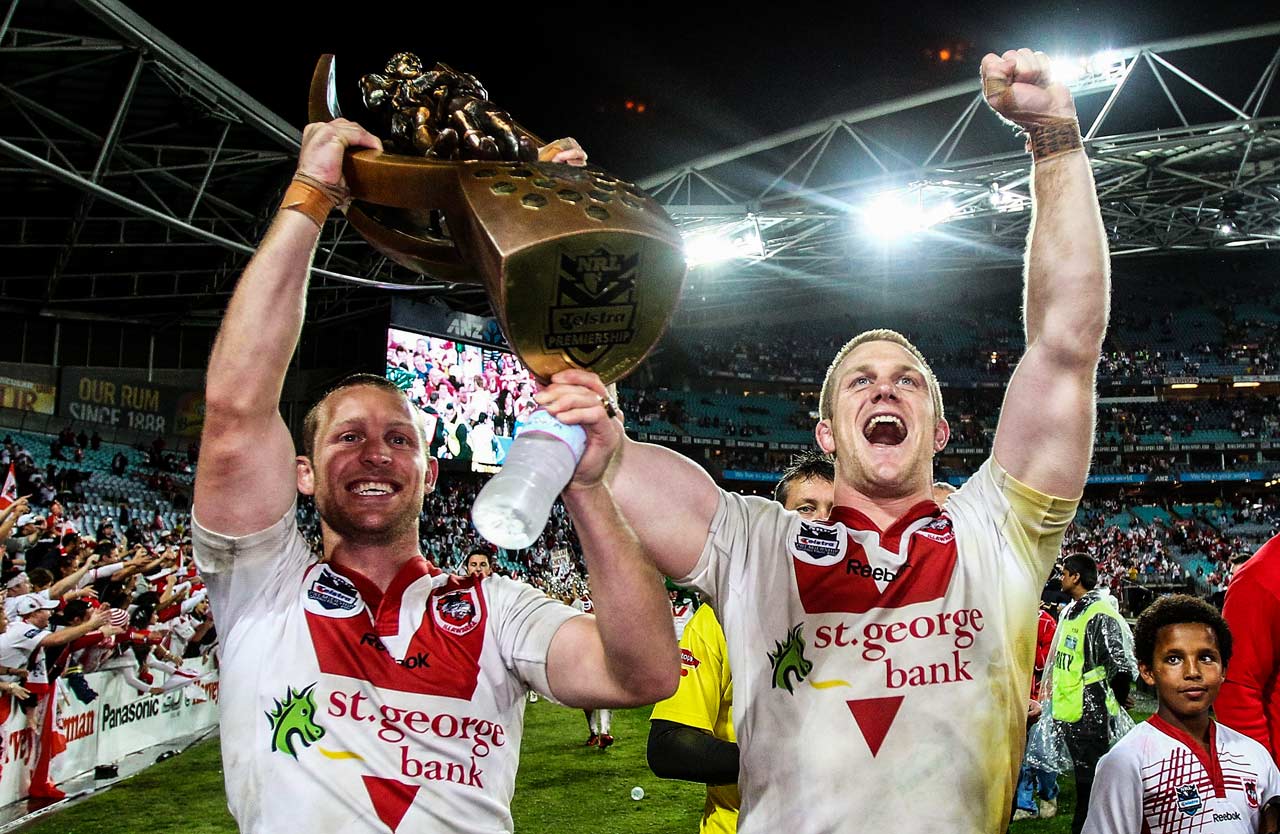 If you remember 2009, we headed into the finals and we were the most dominant team in the comp. It didn't matter we were the most dominant team, the chokers tag was still there.
It affected us in that finals series in 2009. We lost to Parra at Kogarah and then played against Darren Lockyer's Brisbane side in Brisbane and lost by 14 points.
It was embarrassing. Looking back, that was a big driver for 2010 ‒ unfinished business. After all the work we put in, going back to 2008 with Wayne coming in and how big a difference that was, the intensity with which we trained at the wake-up call, compared to what we were used to, was huge.
Then, how well we played in 2009, just to throw it away like that it was, 'You know what, fuck that, we can't do that again'. I believe that was a huge reason behind 2010, the experience and disappointment from 2009.
We were dominant again, winning the minor premiership, and we had learnt from our mistakes. Heading into week one humble but with confidence, winning in week one, having the week off.
More about: Brisbane Broncos | Grand Final | Manly Sea Eagles | Nathan Brown | Newcastle Knights | Parramatta Eels | St George Illawarra Dragons | Wayne Bennett | Wests Tigers