How did he do that?
The best came in 2016, when I was part of the Australian wheelchair rugby team – the Steelers – that won the gold medal at the Paralympics in Rio.
It's probably little surprise I ended up playing wheelchair rugby for Australia, given my background, even if the first time I saw it I hated it.
I grew up in a huge sporting family. Everything we did revolved around being outdoors and being active. Mum's family owned a property out at Narrabri, so we were always up there running around.
As a kid, I played lots of sports, but rugby was my main passion and I played for Randwick as a junior. I was a flanker and enjoyed the physicality of the game.
Going to Scots College was great for my rugby. Around the start of Year 8, I began to take it seriously, doing extra training sessions and so on. Dad would take me to Bledisloe Cup matches and I dreamt of playing for the Wallabies.
Wheelchair rugby might have appealed after my accident, but I wasn't ready. When I first was shown a video, at rehab one day, I thought, 'What the hell is this?'
These guys were all smashing into each other and falling out of their chairs. I thought it was stupid and didn't want a bar of it. Besides, I didn't want to be associated with disability. I still wanted to beat my injury.
One day, when I was really low, Mum cracked the whip and said, 'Keep your head up and be proud of yourself, regardless of your situation'.
About six months after my accident, an amazing experience happened. I had a visit at rehab from a winter Paralympian, a sit-skier, who was a quadriplegic just like me.
We met in the car park and I remember he pulled up in his car, jumped out, got his chair together, threw it over himself, and got in. He wheeled up to me and shook my hand. I just thought, 'How the hell did you do that?'
It was really a breakthrough moment for me. It was the first time I felt a proper sense of motivation. Straightaway I thought, 'One day I'll be able to do that'. This guy was so independent and driven, it was mindblowing. It was awesome.
I went back to rehab and said to the guy who'd shown me the video, 'Tell me more about wheelchair rugby'. A few weeks later, they took me out to see a game and some of the players asked if I wanted to have a go.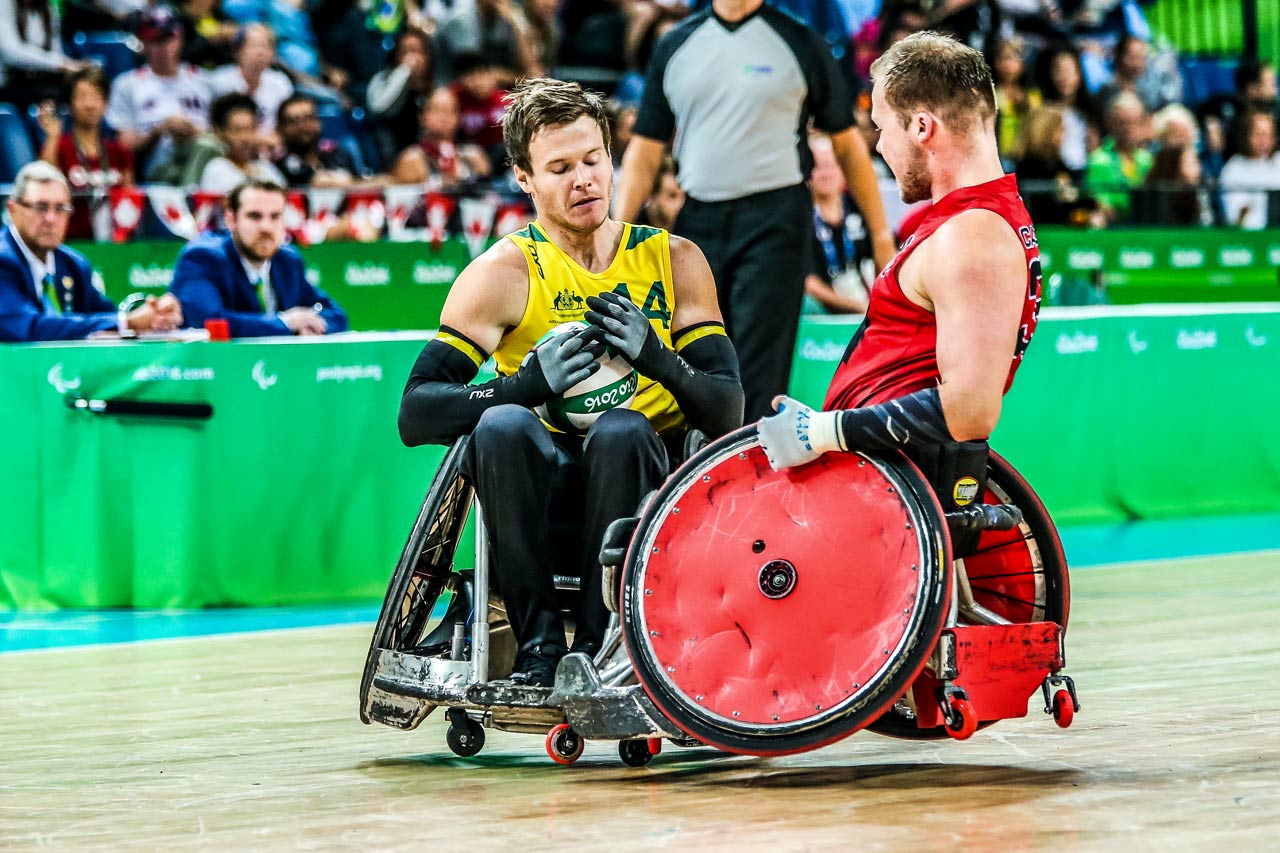 At this stage, I could only push a chair about 20 metres, but they chucked me in a rugby chair, put some gloves on my hands and said, 'Off you go'.
I was pushing really slowly and wasn't sure what I was doing. Then I looked up, saw one of the guys I'd been in rehab with come roaring over in his rugby chair and smash into me. It was probably the first time in eight months that I'd smiled. It felt great.
Back at rehab, I said I wanted to build up my arms so I could play rugby. My priorities were to get back to school and get healthy. But, this new thing in my life was amazing to have alongside that.
They knew I could 
Wheelchair rugby started off as a social thing for me. But it transformed the way I felt about myself. Having a disability can feel so isolating. But the things you gain from being part of a team are amazing.
I progressed quite quickly and was playing for NSW at the age of 15, in a team with people who'd been in wheelchairs longer than I'd been alive. They taught me so much, not just about the game, but about life.
Back then, my mum would help me put tape on, strap up and help me get in and out of the chair. But here were all these guys, some with very limited function, doing all that themselves. They'd just find ways. I started finding ways, too.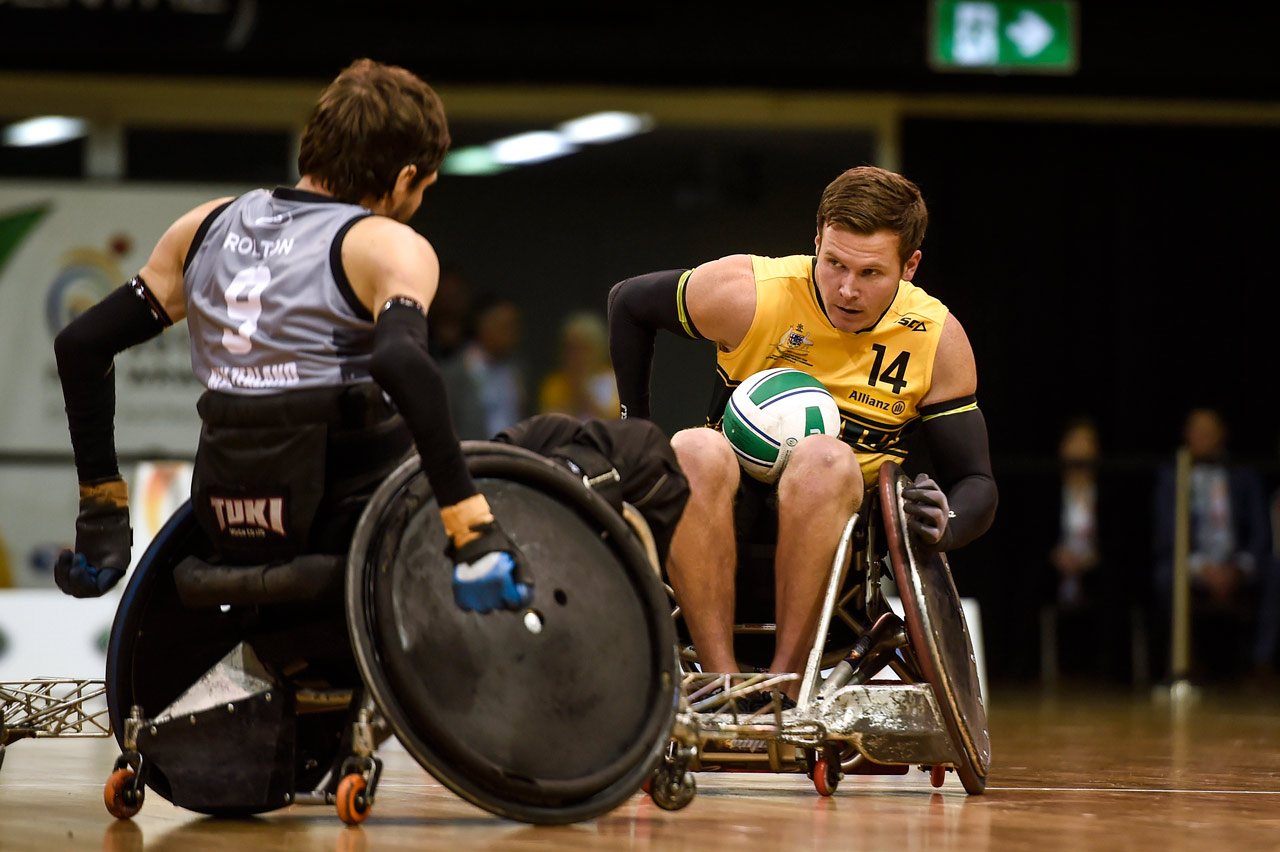 That confidence transferred to my desire to continue my education. After high school, I completed a sports business degree at the Australian College of Physical Education. 
There were a few challenges getting through that course. When I signed up, they had no lifts in their facility. But they changed all my classes to be on a level I could access.
Studying was as positive for me as discovering wheelchair rugby. I found some good mates and enjoyed learning new skills as a normal student. I had some co-students ask me about my accident and my life, which I thought was pretty cool.
Once I finished my studies, I set my mind to doing whatever I could to get into the Australian team. The pinnacle of our sport is the Paralympics and I wanted to be there one day.

Wheelchair rugby started off as a social thing for me. But it transformed the way I felt about myself.
It was no small challenge. Most people have little idea just how competitive it is to get to the top. They don't quite grasp what's involved, how much work goes into it, our travel, our training, the commitment. It's basically a fulltime job for us.
After breaking into the national squad in 2014, I realised my dream of playing for Australia in Rio. Wheeling out in front of 16,000 people and winning the final was the experience of a lifetime.
It was a great personal triumph. But the best thing about it was seeing the reactions of the people around me, especially my parents and my 86-year-old grandmother, who left Australia for the first time to see me play.
I'd made them happy. They knew I could do it. And, I did do it.
Despite the obvious, I see my story as fortunate. There are many people in wheelchairs who really struggle.
For me, there are days that suck, for sure. I might have a flat tyre on my chair. I might drop something and it rolls under the car. But, I'm at a stage where I just find a way around it, even if that means asking for help.
Often, people see me wheeling down the street and think my situation is terrible. But, to have had the accident I did and to have the function I have, to play the sport I do – to own a house and a car, to do things in my life independently – it's a blessing.
I'm proud that I've worked for everything I've got. Over the years, I've gone from a job doing data entry at a real estate company to doing HR and admin at a gym. I did an internship at the NSW Waratahs, before securing a job with the Australian Rugby Union.
After spending seven months in the US playing wheelchair rugby, I returned and started working at the Cauliflower Club rugby charity until mid-last year, doing all sorts of things, including events management and marketing.
When my rugby career's over, I'd like to get back into something like what I did at Cauliflower Club. The future, I believe, looks bright.
When I give talks, some people say, 'Oh, you're such an inspiration'. But I prefer to be an educational speaker than an emotional speaker.
People in wheelchairs are not necessarily condemned to a life of isolation. There are options. There are things to do. There are goals to achieve.
More about: AIS | Disability | Paralympics | Resilience | Rio 2016 | Wheelchair rugby