Allan Border - Contributor
'After midnight is cricket's time'
Mike Gatting, the England captain, was batting extremely well, heading towards a run-a-ball 50 and taking the game away from us. He was getting into Tim May, our off-spinner. It was one of those moments when I started looking around, thinking, 'What am I going to do?'
It was towards the business end of the final of the 1987 World Cup, at Eden Gardens in Kolkata. Australia had made the final of the first World Cup, in 1975, but in my experiences, at the 1979 and 1983 tournaments, we hadn't progressed out of the group stages.
This time around, things felt different. We had good bunch of players, a good mix of skills and characters, and a coach in Bob Simpson who, I believe, implemented the plans and professionalism that set us up for years to come.
In that moment, however, it looked like our run at the World Cup was going to come to an unfortunate end. I can't remember who it was – I'm sure I was cajoled into it – but the decision was made that I'd come on for a bowl.
Gatts was a very good off-side player and an especially good cutter, so I set a strong on-side field, five on the on-side and four on the off, and thought to myself, 'Geez, I'd better keep it tight'. To give Mike Gatting width would have been playing right to his strength.
I'm not sure what Gatts was thinking but I guess he knew, given the way the field that was set, that I'd try to crowd him for space. Perhaps he thought he could try a reverse sweep to get it away on the off-side.
I came in to bowl and it was one of those ones where you let out a groan as your body stretches and you let that first ball go. It was a shocker, a mile outside leg stump, which made playing a reverse sweep that much more problematic for him.
He went for it anyway … it catches the glove, comes off his shoulder and is caught by Greg Dyer, our wicketkeeper. One for none, you bloody beauty. It was a crucial moment in the match, no doubt.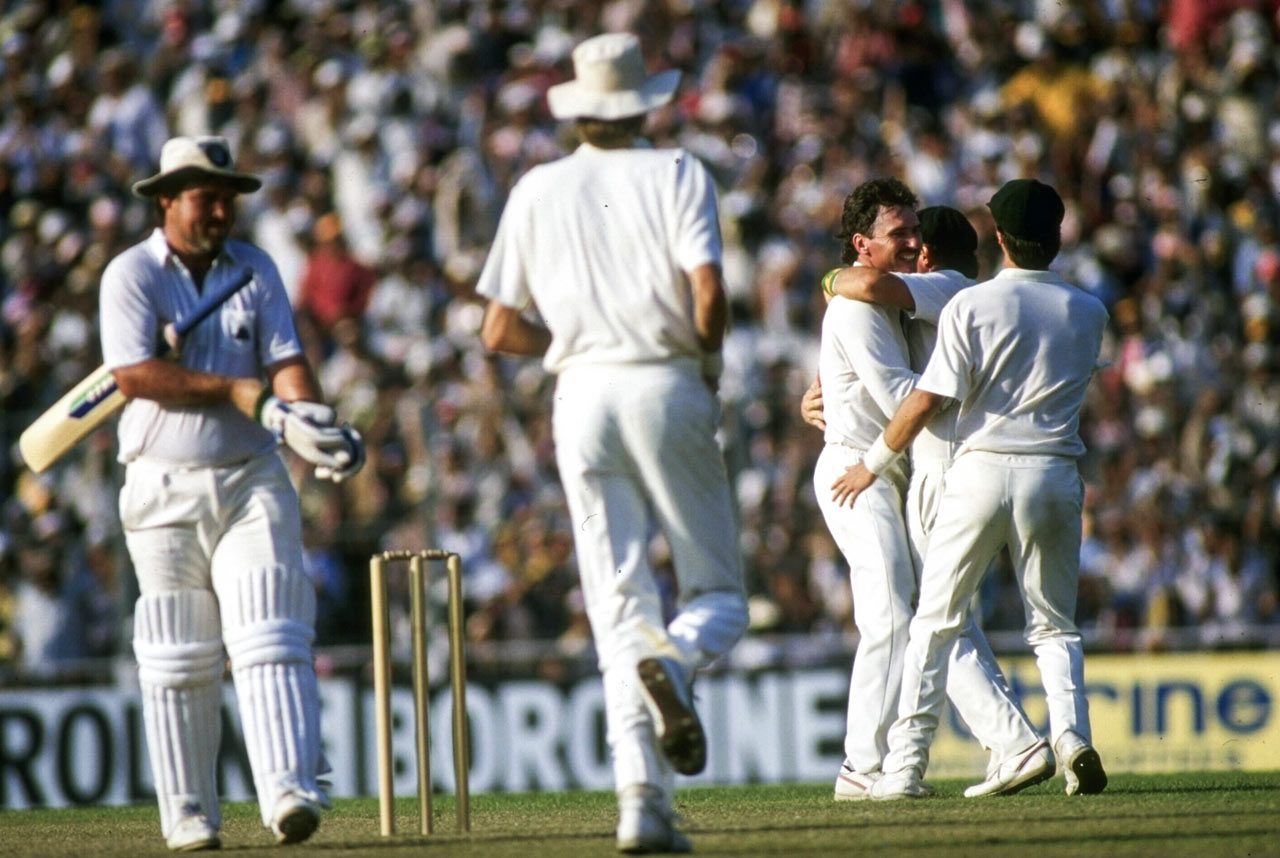 Quirky little things
We ended up beating England by seven runs. Five of our seven wins in the tournament were by fewer than 20 runs.
It was that sort of tournament for us, one in which little things went our way, almost as though there was a sense of destiny about it.
That first game, I think, really set that scene for us. It was a great atmosphere. The Indians are such great supporters of their own team but also of cricket overall, and this was the first game for their national team at their home World Cup.
We'd been in Chennai for quite a while, I think close to two weeks before the tournament, getting prepared. The first two games for us were there and it was also familiar to the boys from the '86 tour, as it's where we'd played the tied Test match. So there was a good feel going into that game and some good memories of the place.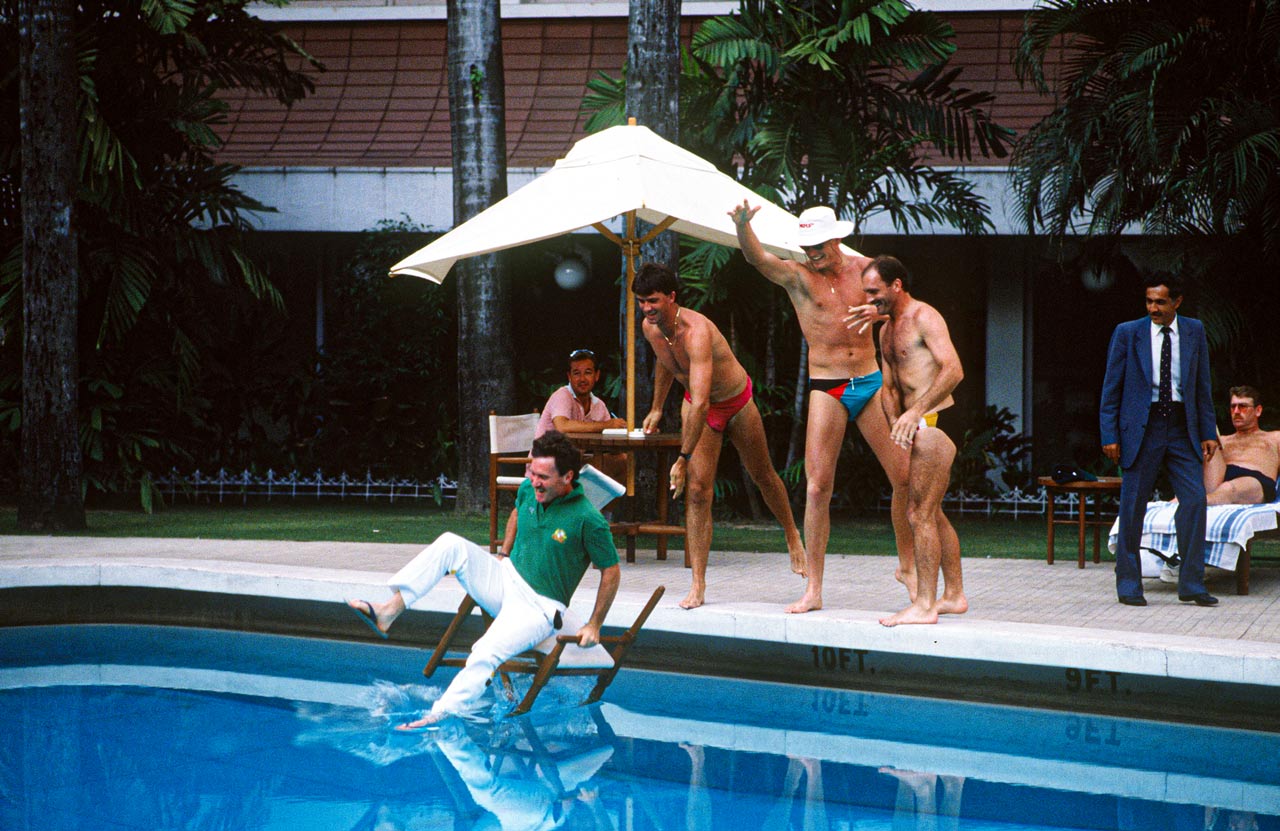 The story of that game was a little thing that made a huge difference. We won the toss, batted first and made – on the scoreboard – 268. However, right at the end of our innings, Jonesy was batting and hit a shot over Ravi Shastri's head.
The ball was hit in the direction where we were sitting, outside our change rooms, and we could see that the ball cleared the boundary. It was clearly a six, by a bit over a metre.
Ravi gets up off the ground, signals four and it's given four by the umpire, despite our howls of protest. At the time, we didn't carry on about it. The innings finished and we'd made a really good score. As captain, I was very happy and didn't think much of that incident.
Our manager Alan Crompton said, 'That's rubbish'. He went up to the match referee to make him aware of what had happened. The match referee agreed with Alan. He said, 'I did see that. It did cross the boundary. I'll get your score adjusted'. So he gets our score adjusted from 268 to 270 – and India make 269.
You talk about quirky little things that make a huge difference… If we'd lost that game, our confidence would have got knocked around and it could have been really hard to come back from.
But we won – and we celebrated like we'd won the tournament. It's amazing how you can get momentum out of something like that.
More about: Australian cricket team | Coaching | Cricket World Cup | England | Indian cricket team