Escaping Castro & fighting The Reaper
So, they're giving me another opportunity to defeat Robert 'The Reaper' Whittaker?
Let me tell you the most definitive thing I can reveal about myself: I know what to do with a second chance.
So, after Whittaker wore me down a bit in the later rounds and found a way eight months ago in Las Vegas to survive a knee injury and edge me by decision to claim the UFC's interim middleweight belt, we're fighting again in Chicago this weekend for the full version of the title.
I plan to take it.
How can I say that? At age 41, with a loss to this same man in the not-so-distant rear-view mirror?
Well, I feel outstanding, although confident is not the word I would use. I just feel good, positive. I'm not nervous, I have no apprehension. But there's danger when you say you're confident. I just feel I'll win the fight. Leave it at that.
Jeff Horn v Terence Crawford Pay Per View will be broadcast on Foxtel Channel 507. To order the Pay Per View go to www.mainevent.com.au
The first fight is something I won't forget. I remember everything that happened. Yet, I have to forget it, too. How I felt and what happened at the moment I lost – that's what I've forgotten.
Because if you give a second to the thought of losing, you'll lose again. What you think about are the mistakes you made, the ones you don't want to repeat. So, if you address that, you win. Got it?
I had early success in my takedowns. I know it looked like I tired a bit as the fight laboured on, but I'll tell you this: I no longer care about that because I've addressed it. I'll be good for the entire five rounds this time. They could make it six rounds! I'm fully prepared.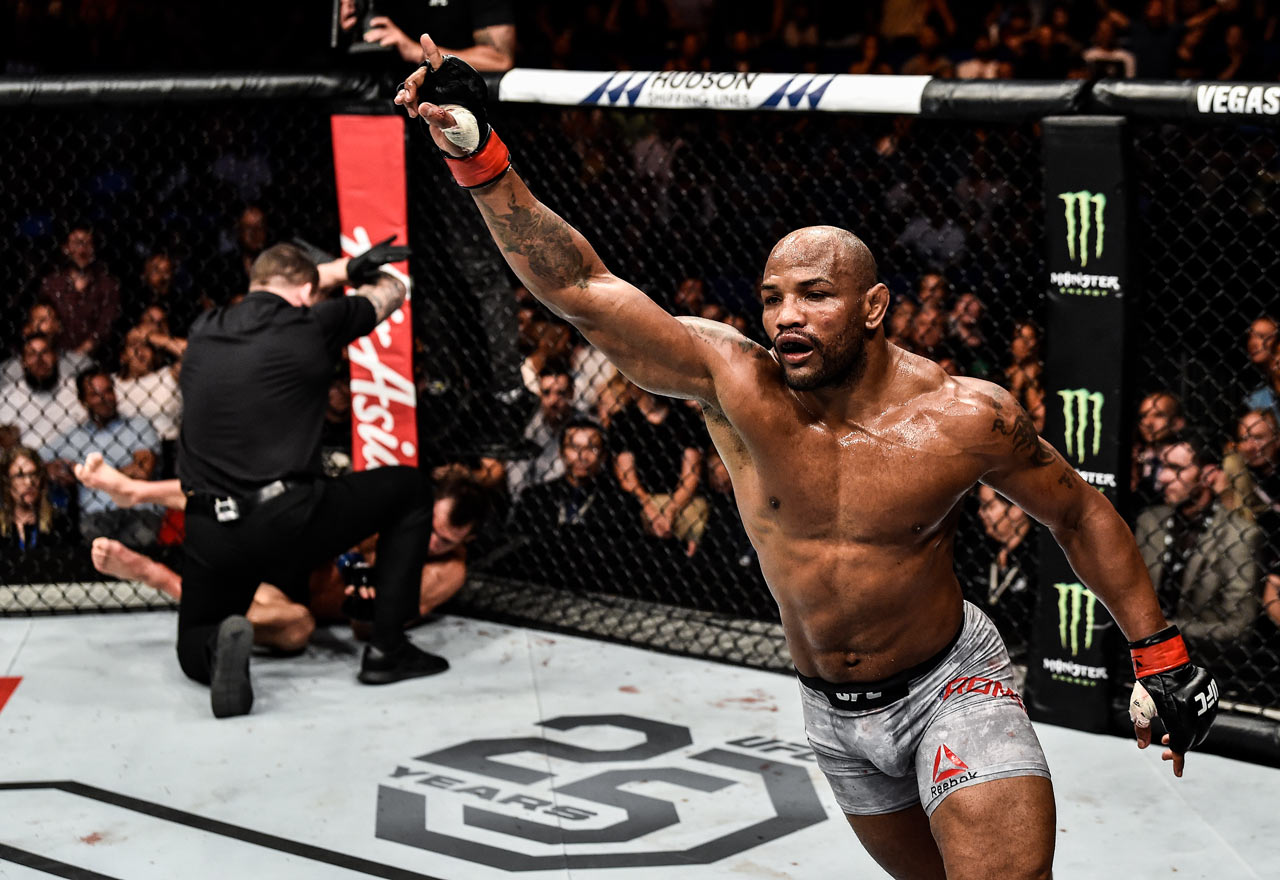 DEPRESSION IN DEFEAT
And I was thinking the same thing when I came to Perth in February to fight Luke Rockhold.
I know I was preparing for another guy and I know Rockhold is not Whittaker, but after losing the last fight there was a depression that accompanied the defeat.
It's my belief that you have to take a sober look at why you fail. The only way to conquer that depression as you prepare for that next fight is to work on what you did wrong, to the point you've assured yourself it won't happen again.
Experience, which I have plenty of, has taught me that's what I need to think about: confront all the little missteps. Don't consider that feeling I had when the scorecards were read.
What you witnessed in me knocking out Rockhold in the third round was me fully recognising my vulnerability, fixing it, capitalising again on another chance.
Let me tell you the most definitive thing I can reveal about myself: I know what to do with a second chance.
I've endured so much in my life, adversity no man should ever have to speak of, and now I'm finding myself questioned so frequently about what winning the UFC belt would feel like to me. How triumphant would it be for this Cuban defector to stand as a champion?
Brothers, you need to ask me that question after the fight. Not right now. I can't bring myself to consider it. And whatever words may leave my mouth on this subject are wasted before I step into that octagon. I just don't know how I'll feel. I very well may feel like I'm touching the stars in the Chicago sky that night. I don't know! First, I need to win the fight.
Back to what I was saying about making the most of life's extra opportunities … I seize the opportunity that I'm given. Nobody gives it to me. I take it.
Okay, Whittaker, you won. But now I've worked my rear end off to get him back in there while he doesn't have to prove anything to anyone anymore. He's the champion, someone saying, "I'll just do it again … this is my time. This older guy will make the same mistakes as last time."
But I believe you can remedy what happened. That's why I'm here.
This attitude is rooted in me from Cuba, where I began wrestling as a young child.
ESCAPING MY HOMELAND
In Cuba, the environment is perfect to develop wrestlers. The sport is incredibly popular there. It's very easy to find your way into the sport, with plenty of competition in clubs to sharpen your skills and become the wrestler I did, winning a 2000 Olympic silver medal.
All along, I felt God blessed me with the gift of talent. It was up to me to work hard and believe. What made me work so hard? The love of the sport. Love can push you through hard work.
Being such a distinguished wrestler allowed me to get some things … not a whole lot, but when I'd win, the government from Cuba took care of me better than the average person in the country. You do something special, you get a little something extra. I felt it was like the word of God.
You work hard, you earn it, you take it.
I've endured so much in my life, adversity no man should ever have to speak of. How triumphant would it be for this Cuban defector to stand as a champion?
We've all heard the frightening accounts of those who've fled Cuba by sea. The rickety, over-packed boats. Those who heartbreakingly perished in the pursuit of freedom.
While I left on land, during a wrestling competition in Germany in 2007, it was nonetheless harrowing, departing my known life for the wild unknown of a world I only imagined.
Leaving my loved ones behind. All my family. My mom, dad, my son, my sister, other sisters, brothers, friends. My country. You understand?
What I miss most is my mother's cooking. She used to make me a beef tamale, so delicious.
At the time, I was departing my people for a great mystery yet to be unlocked. I was not scared, because I wanted to go. I believed everything would be okay with my family, and everything is okay. I took the hand of God and believed.
I'm so concentrated on the rematch with Whittaker it's difficult for me to delve into the politics that shaped my decision to flee, or to elaborate on my thoughts on life in the new Cuba now.
I am mentally guarded about this subject. I do plan to return to Cuba. Not to fight. Just for my life. Right now, I can't.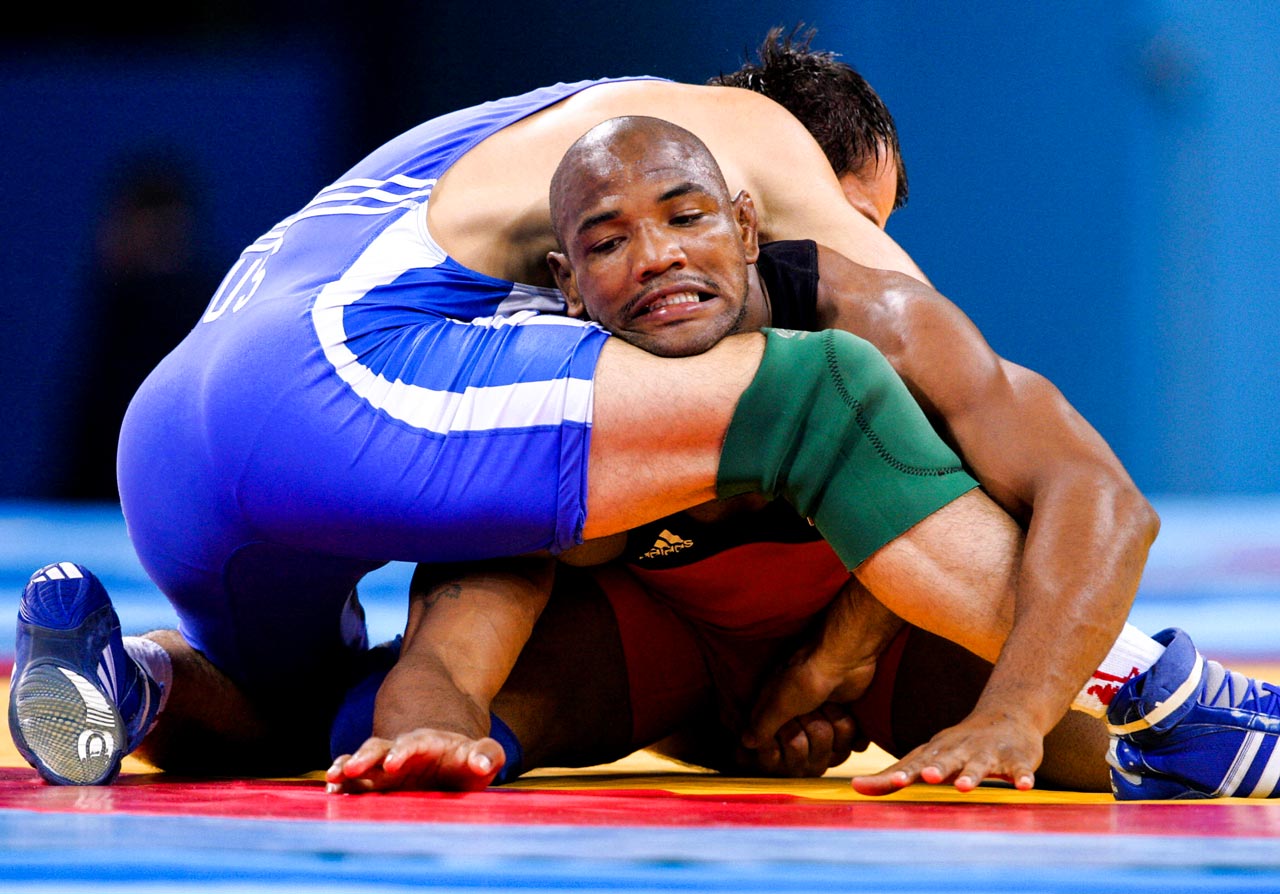 MY DREAM, MY GOD
Beyond making it out of Cuba to realise my dream of fighting at this elite professional level, I have continued to be tested. In 2011, I suffered a neck injury that required surgery and kept me sidelined until my UFC debut in 2013.
I have what I call a "condition." I know what I want, and when I set my mind to it, nothing will stop me from achieving it. People call me the "God man" because of my religious beliefs, but I truly am committed to the thought that when you stay with God, everything is possible. I know I had a dangerous surgery, but I've said, 'God, if you stay with me, I can walk through this.'
I'm human. I experience doubt. But when you're in command of the spirit of your body, everything is possible and easy. God can help you. He's omnipotent.
And help is always needed. The UFC is not just about fighting. Sometimes, in selling fights, opponents say cruel things, like when former middleweight champion Michael Bisping sought to paint me as a cheater for a positive drug test I gave that was ultimately judged to be an accidental ingestion of a tainted supplement.
I sweated profusely often in my years of training, grinded through the injuries, developed my body naturally, accepted rugged fights – left my country! — all in the name of testing myself, seeking to become the best.
This guy, Bisping, from the first time I heard him, I knew he was talking bull… now, he's retired. I say good luck to him. He was just saying that to bring interest to a fight with me. He didn't believe those words. He's a show guy, not really a bad guy.
While I left on land, during a wrestling competition in Germany in 2007, it was nonetheless harrowing, departing my known life for the wild unknown of a world I only imagined.
I can't do the showman stuff. I check it out, the people who are good at it, but I can only put on a show with my hands. Talking like that is not for me. It's not Yoel Romero. It can work for other guys. But I rely on selling my fights by showing people what I can do in the octagon. Everything I have to say can be seen in the octagon.
Australia saw it. When I confronted Rockhold, he was a former champion speaking boldly about how his own self-confidence drives him to greatness, how he was prepared to effectively finish me off after my prior loss to Whittaker.
When I missed weight, I didn't even have an opportunity to win the interim belt that was on the line due to the knee injury Whittaker suffered in our fight, when he rallied to win by unanimous decision.
I was seeking redemption from the Whittaker loss, but the world seemed stacked against me. They told me to go to Australia for the fight, to take the fight against this former champion. They promised if I won, I'd fight for the belt. So that's what I did.
I didn't need a pre-fight ritual. It wasn't necessary to travel to the ocean or to seek quiet and meditate about my hopes in beautiful Perth. For 32 years, what I do is treat my fights like another day at work. That's what I do. Go and fight, come back home.
I hammered Rockhold in the head with a heavy overhand, then followed it with a massive punch on the ground that left him unconscious.
At the end of the day, I'm the one writing my book. It doesn't matter what Rockhold said. Everything he said … who won? I won.
Now my focus is on to this new story. I've taken incredible risks to get here, gambled on myself, convinced I'd make it. This is an important fight, but it doesn't stop here. I will take that belt and continue my life because I've always believed I could make a difference.
I feel blessed and all I'm thinking about is the win.
How much longer will I fight? I don't know. I'll have to ask God. He gave me this power.
More about: MMA | Robert Whittaker | Yoel Romero