Emergency 1100 miles off Seattle
I'd been awake for 24 hours and one of my good steerers told me it was time to get some sleep. The wind was finally abating and we were sailing downwind, which lessens the danger somewhat. It was daytime. Bad things only happen at night. Or, so the saying goes.
I headed down to my bunk and listened to the water rushing past the hull. When you go down a wave, the boat makes an eerie squealing noise, which tells you you're really powering along. It's very different to heading upwind, when all you can hear is walls of water bashing into the bow.
We were heading east across the North Pacific, from Qingdao in China to Seattle. It was the sixth of eight legs in my first Clipper Round The World Race, an epic 11-month examination of the human condition contested by crews with a mix of experienced and novice sailors.
We were still 1100 miles from Seattle, a long way north, but below the ice line, as stipulated by the organisers. It had been a shocking crossing. Weather front after weather front had pounded the fleet. Fifty knots of wind is bearable to deal with, but the sea never had the chance to calm. The swell was huge and relentless. It was exhausting.
Sleep was precious. But my long-awaited time-out was suddenly broken when a large wave struck us from an unexpected direction and knocked the boat flat. I went flying out of my bunk and was knocked unconscious for a brief time. When I regained my senses, I realised I had a quite nasty head wound. I later discovered I had a broken rib. But I had to get up on deck to sort things out.
There was substantial damage. We lost a life raft and a radar dome, the steering was broken and, most seriously, one of our female crew had been washed down behind the leeward helm station. It had collapsed and pinned her, there was white water everywhere and she was in danger of drowning.
The team was great. We split into three groups. One was busy getting the mainsail down. One attended to the crew member who was trapped. The other was down below getting the first aid and triage ready. We all clicked into gear and did what we had to do.
When we arrived in Seattle I thought to myself, 'I'm never crossing that bloody ocean ever again'. But I did the very next year, as part of the 2017-2018 Clipper Round The World. In fact, our crew aboard Sanya Serenity Coast won the race, making me the first woman to skipper a boat to victory in the Clipper.
It's changed my life in some ways. Some great things have happened. I was nominated for World Sailor of the Year and named Australia's Female Sailor of the Year and Offshore Sailor of the Year. I've been offered an Honorary Fellowship at the University of Western Sydney.
Different things are happening all the time, including some which are quite bizarre. The city of Sanya in China is hosting the Miss World contest and I've been asked to be a judge. How random! I just think of myself as a little old lady who likes sailing.
That's the real prize – being able to sail so much. To me, there's nothing like being out on the ocean. Knowing you're not going to see anyone else for a week or more – even another ship – is amazing.
There is always an element of apprehension. Any offshore sailor will tell you that the ocean is not something to be conquered. It's impossible. Our episode in the North Pacific was just one such example. The ocean is a thing of great beauty and immense power. It's to be respected and viewed with awe.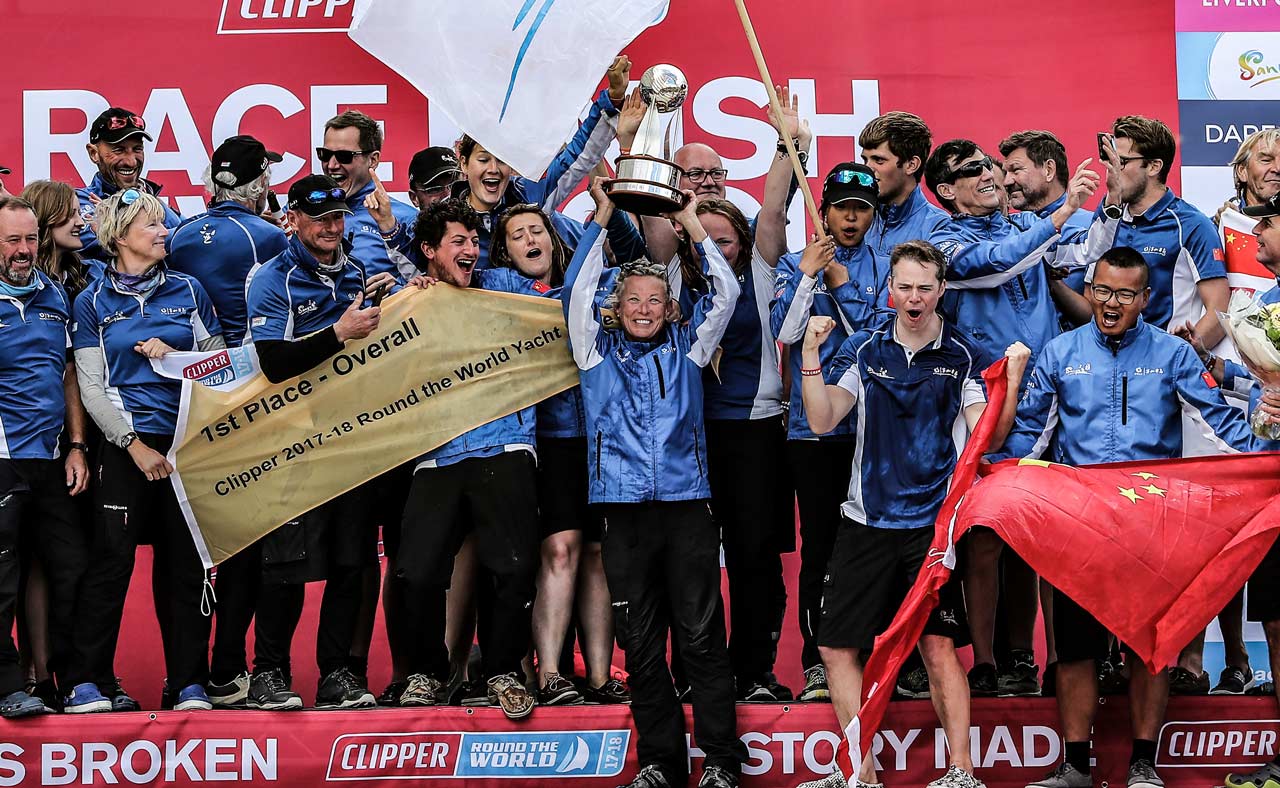 love of the deep blue
I didn't start sailing until I was in my mid-20s. It was chance introduction, occurring in the waters between the Costa del Sol in the south of Spain and the island of Gibraltar at the mouth of the Mediterranean. It was a very different environment to where I grew up, at Blackett, near Mount Druitt in western Sydney.

I was always a bit of a tomboy back at Plumpton High School and played sports women didn't play much back then, like soccer. My parents never told me stick to women's sport, which was quite unusual in the early 1980s.

Surfing was one such sport. Despite living a fair way from the beach, I'd wake up early in the morning, before the buses started running, walk nearly an hour to the train station and head to either Manly Beach or Cronulla. I'd spend literally all day in the water and turn up to school on the Monday incredibly sunburnt.

My big marine influence was my dad, Neil. He loved the sea. He was a bit of character, my dad. He told me how, when the weather was bad, he'd wag school and go and ride the ferries back and forth across the harbour. He'd always catch the last ferry before they got cancelled because it was too rough.

Dad was a fisherman and he and mum belonged to some fishing clubs. I'd always get a lift with them when they were off for a fish and spend the day surfing while they were out on a boat.

Sometimes Dad took me offshore fishing with him and he'd always say that if I got seasick few others would stay out on the water. I wanted to stay out there as long as possible, so I refused to let myself get seasick. I guess that came in handy later on!

One of our female crew had been washed down behind the leeward helm station. It had collapsed and pinned her, there was white water everywhere and she was in danger of drowning.

Our Christmas holidays every year were spent down at Kiama. Dad had a caravan and a little trailer boat. Kiama is a beautiful spot and it was always lovely to see the yachts go past on their way to Hobart. They were great times.

I loved Kiama so much that when I was 17 I moved down there. Dad said I could only leave if I got a job first, so the next day I got a job at Woolies. I worked there for about six months and then, on our next trip down there, I stayed and never came home. For the next few years my days became split between working in a fish and chips shop and, later, the local 'bowlo', and surfing as much as I could.

From that point, I was almost always near the ocean. I moved up to Hamilton Island for a time, to South Stradbroke Island, and then went overseas when I was 22.

A few mates I was travelling with decided to move to Gibraltar when the weather started turning in the UK. I began working in a bar there, met my future ex-husband, Michael, and we got married after knowing each other for six weeks. I guess I've always been a bit impulsive!

Michael and I lived in an apartment along the Costa del Sol and he would commute to Gibraltar to work as a quantity surveyor. I couldn't get an English passport so I would just do dodgy cash-in-hand work.

Life was good, but we were open to new opportunities. When we came across a couple of guys who were selling a boat, we decided to buy it and teach ourselves to sail. It was before those 'For Dummies' books, so Michael and I bought a children's learn-to-sail book and followed the directions. We couldn't quite believe it when the boat actually started moving!

There was something magical about those days, maybe some signs of what lay ahead for me. There was a beautiful old clock on board which had never worked and, when we took the boat out the first time, all of a sudden it started ticking.

We had so many laughs and good times living aboard for 18 months. The toilet got blocked once, we took the hose off to clean it out and realised it let water into the boat. We had no idea! But it was fun learning.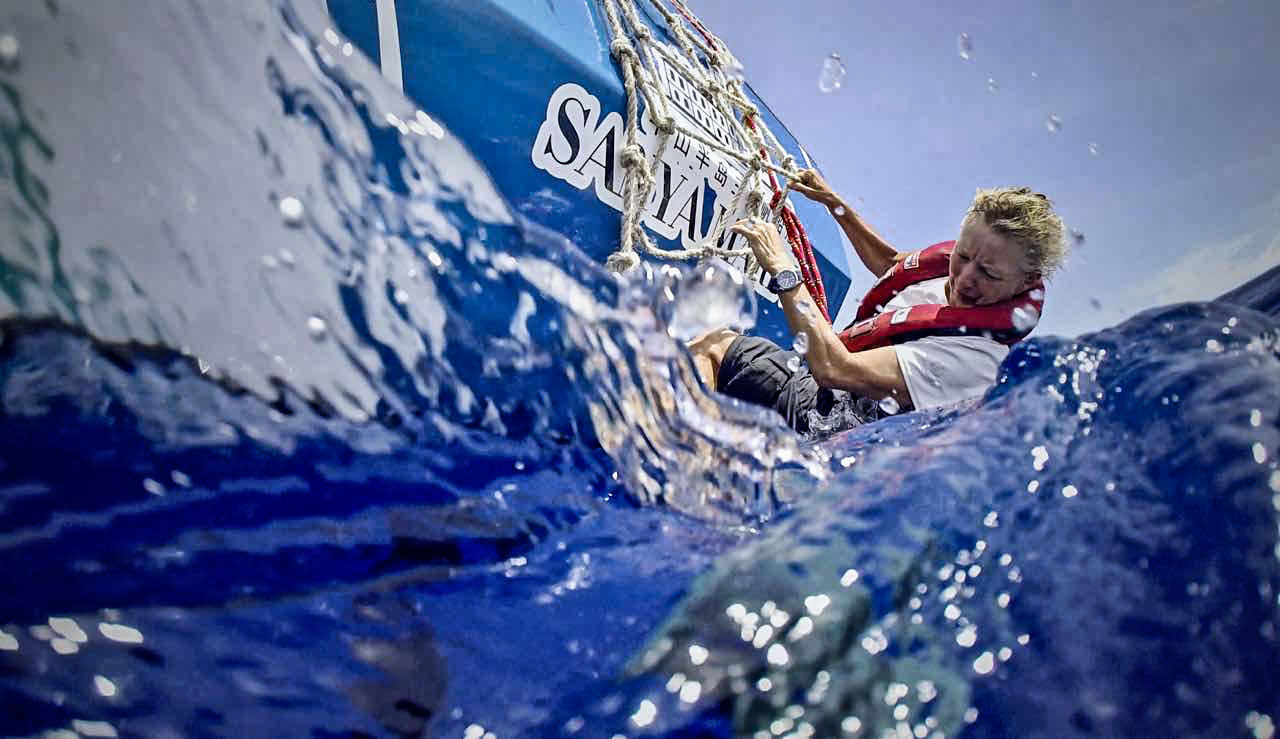 Upon returning to Australia, Michael and I parted ways and I moved to Paddington. I was down at the Cruising Yacht Club one day and started talking to Owen Thomas, a sailor who had moved from Wales 30 or so years earlier. He invited me sailing with him on his beautiful old wooden boat, which was similar to the one I'd lived on in Spain.
It was such a lovely old boat. There was basically no instrumentation, just a depth sounder, so it was a great way to really learn. We sailed a lot, Owen and I, and that was really the time I gained much of my seamanship skills, just looking at the sails and sailing by feel.
Eventually, we did some twilight races and short ocean races. I wasn't all that interested in racing at the time, but I soon got hooked and decided I wanted to make a living out of sailing.
I was working as a travel agent at the time but, perhaps fortuitously, the company I worked for was owned by Ansett. When they went under, it was the push I needed to go and do my coxswain course. I then got a job with EastSail, which kept me around boats and sailing basically all day everyday.
Sydney to Hobart
I was working for EastSail aboard a boat on Boxing Day 2005 as the Sydney to Hobart Yacht Race got underway. 'That's it,' I said to myself. 'Next time I'm going to be in that race'. So, I quit my job, moved up to the Whitsundays and started working on the old Maxis that go up there to die.
I kept telling people I wanted a ride to Hobart in the big race and, eventually, was offered one. I returned to Sydney, got some part-time work doing sailing teaching and skippering, and started preparing.
This year will be my 12th Sydney to Hobart, but no one forgets their first. After a rough opening couple of days, living on chips and chocolate because we couldn't use the stove, we crossed Storm Bay, not far from the home stretch on the Derwent. It was one of those moments that only sailing can offer.
It was early morning, the sun was just appearing, it was freezing cold. I felt such an invigorating closeness to nature as the sound of wind and waves filled the air. We were smoking across the bay, there were dolphins swimming next to us, it was just gorgeous.
When we got in, because it was so early, there was just a lone man sitting there with his dog, watching us sail by. We got in and popped open the champagne, as you do at 6am. It was just awesome. I spent the next few years working and sailing in regattas around Australia. There was nothing else I wanted to do more.
More about: Resilience | Women's Sport