The hardest decision of my life
Sometimes, the hardest decisions in your life turn out to be your best.
You can't know it at the time. You're in the moment, racked with doubt, and your mind is taking you in a thousand different directions all at once. But, over time, you get perspective. And the very thing you dreaded becomes the thing that makes you.
I see that very clearly in my decision to move from NSW to Queensland in 2012.
I didn't want to leave Sydney at the time. Since we arrived as a family from Islamabad when I was five, Sydney had been home. All my friends, family and teammates were there. It was pretty much all I knew.
But I'd reached a point in my life where I wasn't particularly happy. And I certainly wasn't enjoying my cricket. It wasn't specifically because of NSW or my teammates, it was me. I owe Cricket NSW a lot. They developed me, brought me through the first-class system and ultimately into the Test side.
But for whatever reason it just wasn't happening for me, and I needed a change. I knew if I was to grow as a cricketer, I had to leave. Boof Lehmann was the Queensland coach at the time and I liked his laidback approach to life.
One of my good mates from NSW, Peter Forrest, was also up here and so was another good friend, Ben Cutting. They really talked up the place and made me feel like I could play the way I wanted under Boof.
I made the decision to make the move. It was quite a late call so it meant taking a fairly hefty pay cut. But this move had nothing to do with money. It was about rediscovering my love for cricket. I loaded up my car with all my belongings and drove up to Brissie.
It was quite lonely at the start. I spent my first three months on my own in an apartment in Kangaroo Point. I would pretty much go to training, come home and then wait for someone to be free to hang out with me.
It was like, 'Does anyone want to do anything? Guys. Guys?' But, bit by bit, things got better. Ben bought a house with an extra room in it, which I took over. I started enjoying my cricket again. The runs followed and so did the opportunities, like the Queensland captaincy and Aussie recalls.
And then one day I invited over Jack Wildermuth and Josh Dascombe to play FIFA. I was recovering from surgery to my ACL at the time. Little did I know Josh double-parked his Saturday night with another group of friends. One of them he was pretty good mates with.
She was coming over to say g'day and we were all going to play some lame game called Monopoly Cards that all three of them were addicted to. That's how I met Rach.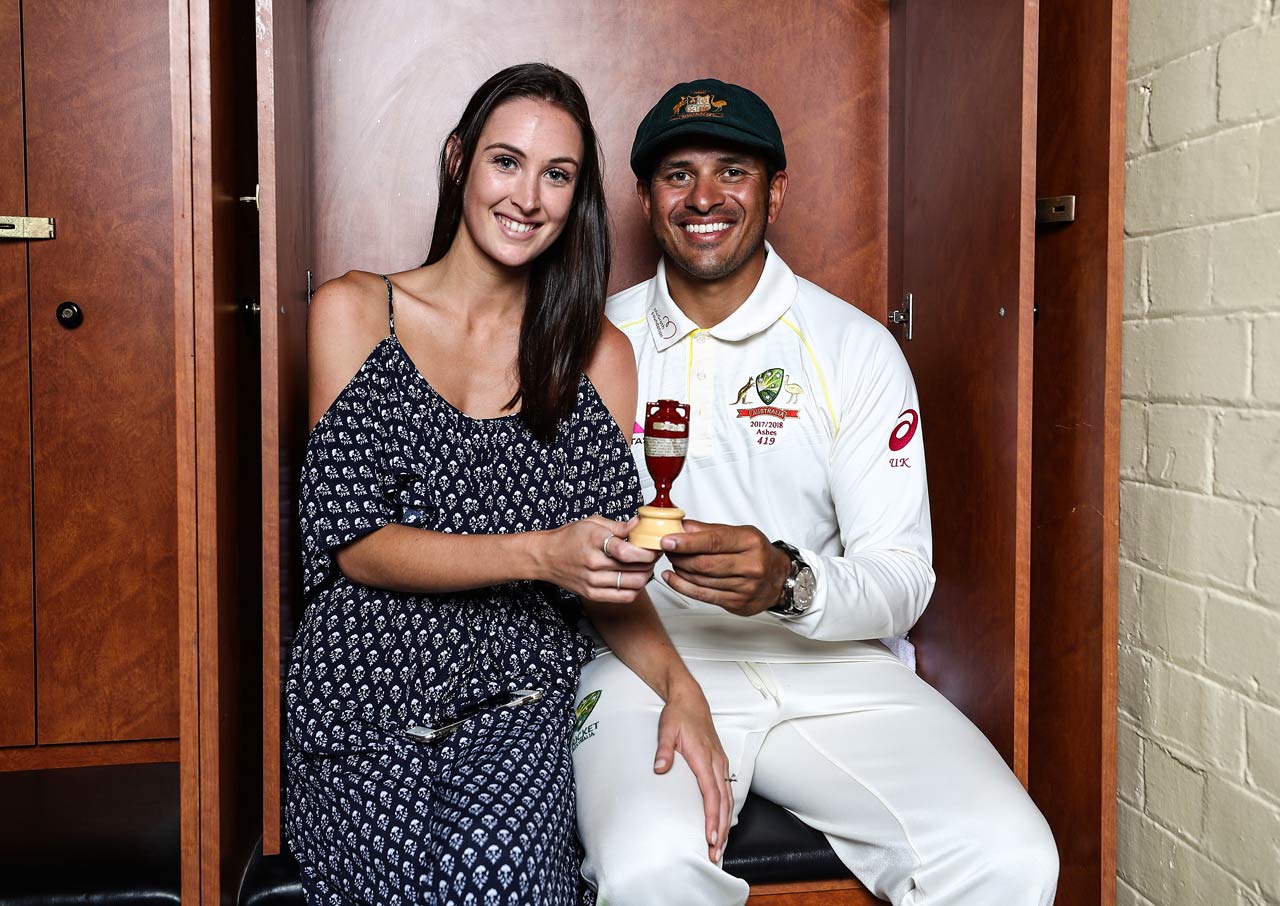 'BLOODY CHRISTMAS HAMS!'
I made the mistake of underestimating her at first. I pigeon-holed her as a 'typical Brissie girl' – 
whatever that means. Maybe I thought because she had a white, Catholic upbringing she wouldn't 
understand me or my family's culture or, most importantly, my religion. 
I couldn't have been more wrong if I'd tried.
After we'd been dating for a little while, I told her about my faith. It wasn't the hard sell. I never said, 'You have convert to Islam or I can't be with you.' It was more like, 'I want to be totally open from the start of our relationship. My religion is very close to my heart. Would you be interested in learning more about it?'
I knew the importance of being honest and open really early from past experiences and how other people had dealt with it. I was expecting a bit of, 'Ummmmm, I'm not sure about this.'
Instead, Rach told me, 'I've already started reading about it.' She explained how her mum had bought her a book on Islam not long after we'd met. She knew how important my religion was to me and she wanted to develop a deeper understanding.
I was pretty shocked. It was the first time I thought, 'Wow, this could be it.'
We had many, many conversations before she made the decision to convert. I was probably more nervous than she was. I was constantly asking, 'Are you sure you're ready? Don't do it if you're not!  There's no timeline, no rush!'
I'd also ask, 'If something happens to me, would you still be Muslim?' That's an important question to me because if the answer is no, then it would've meant she was only converting for me, not for her. That's not the way it should be.
So much has happened since then. We got married earlier in the year, we've travelled around the world and we've grown closer together in faith. And throughout the whole journey, she's never lost her sense of humour.
Around Christmas time each year she'll bring up the 'bloody Christmas hams!' and how she doesn't eat pork anymore. And I'm like, 'They're not that good anyway, don't worry about it.' It's always good for a laugh.
Rach also likes to remind me that every one of my Test centuries has come since I met her. She says it as a joke, but there's probably something to it. My family and Rachel are the most important people in terms of helping me get to where I am, staying grounded and being grateful for everything I have achieved.
After we'd been dating for a little while, I told her about my faith. It wasn't the hard sell. I never said, 'You have convert to Islam or I can't be with you.'
I'm a pretty closed-off personality. I don't chat to a lot of people in my life. I have to really trust someone to open up to them and for a lot of years I would just kind of let things snowball until they came a bigger deal than they should've been.
Rach understands more than anyone that cricket is just a game. A lot of times she can be quite blasé about it – when I'm batting she's usually chatting away somewhere in the box – so when I saw her crying in the stands after my century in Dubai it was kind of funny.
I've been calling her a big cry baby ever since! But I know where she was coming from.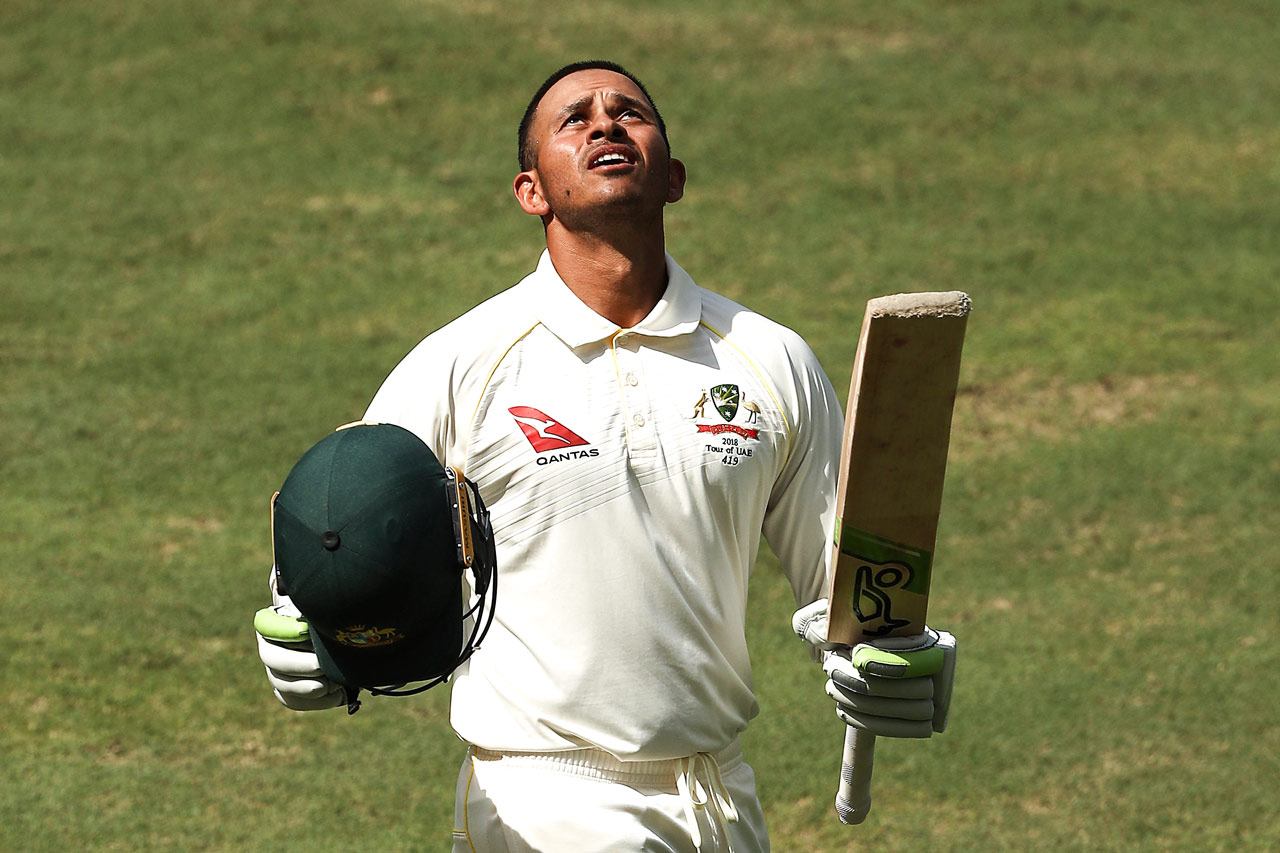 Rach has been through on a rollercoaster with me. She's been with me through some of the bad times and this was one of the good times. Not all that long ago on the Sri Lanka tour, I played two Test matches and was dropped. That wasn't much fun. It's always a tough time. I don't think people realise how difficult it is going in and out of a team.
A few years earlier, that would've really thrown me. But Rach reiterated what we'd been talking about previously, about not worrying about things that are out of your control, about trusting God's plan.
It helped me a lot. There will always be ups and downs. I'd be naïve to think there won't be any more downs. But the key is to play the game and enjoy it while it lasts. You never know when your time's up. And after that, there's life after cricket. God willing, we will spend a lot more time together outside of cricket than inside it.
The other people who I lean on have always been my mum and dad. I have never met anyone more devoted to their son than mum. She prays every ball when I bat. Seriously. Every ball! I tell her to relax and accept whatever is meant to be will be. But she can't.
More about: Australian cricket team | Justin Langer | Sheffield Shield | Test cricket | Usman Khawaja