The nicknames I can't stand
I was born in Wellington, a fairly remote town in the Central West of NSW where everyone knows everyone.
And if you're a little kid out there, everyone plays footy and aspires to be an NRL player.
It almost wasn't the case for me. My mum, Annette, didn't want me to play despite the Peacheys being a big footy family. So one day when I was four or five, my dad told mum he was taking me down to the shops, then went and signed me up for footy instead.
Mum blew up … but that was the beginning. I was a footy player.
I was also Wellington's first-grade ball boy. I grew up around footy from as early as I can remember.
My old man, Martin, played for the Wellington Cowboys when I was young. He was a front-rower and I think he also did some captain-coaching. I've heard stories about what a big player he was back in the day. He knew what he was doing.
The Cowboys back then were a successful team with a lot of Peacheys in the line-up.
They tell me that my uncle and godfather, Mick, was a freak in his prime. He was a big fella who played five-eighth and centre. Having him around when I was growing up and just starting in footy myself was awesome.
Dad and Uncle Mick came down to Sydney for a first-grade trial, but I think they got homesick and just wanted to come home to Wellington. They didn't know anyone in Sydney and there was no family there.
It would have been tough. They were a big family of 11 brothers and sisters; there were used to having family around and they were always close. I'm glad it was different when our family moved to Cronulla, when I was 10.
At first, we moved into my Uncle David's house.
UNCLE DAVE & CRONULLA
David Peachey played for Dubbo's Macquarie Raiders as a junior before going on to play for Cronulla, NSW and Australia. Uncle Dave was always a big, tall, gangly thing and he was pretty fast. You could see why he made it as far as he did.
Growing up around footy, seeing my dad, uncles and cousins playing, I just learnt on the go. Having become a utility, I suppose I picked up a little bit from everybody.
And seeing all the things that Uncle Dave had after making a career in first-grade made me realise that I wanted to be a professional footballer.
Uncle Dave was a big deal around Cronulla at the time we moved into his place. He was a freak back in the day. He was a fan favourite, always doing something special with the ball.
I was that proud to be his nephew – proud to be a Peachey.
People recognised me, called me a little Peachey and it always put a smile on my face. Though I guess from day dot, it gave you a reputation and you had to be a good footy player, so there was a bit of pressure on me, too.
I met some great friends through football there, including the godfather to my daughter, Jackson Plummer. I started footy in under-10s and Jackson was the best player (before I got there!). We made a connection straightaway.
Living in Cronulla was a massive, eye-opening lifestyle change. I don't think I'd seen the beach before then.
I went down to the beach and just stared at it. I think I asked my mum, 'Is that a massive bath?'. I had no idea – I was just used to rivers and creeks.
I got used to it. I was actually a pretty good bodyboarder when I was younger; I even took days off school to go surfing, I did comps and thought I might pursue it. But then I started SG Ball with the Sharks and it was time to commit to footy.
That was OK. I loved footy. It was all I'd ever known and what I'd always wanted to do. It was time for me to have a crack of my own at making a first-grade career.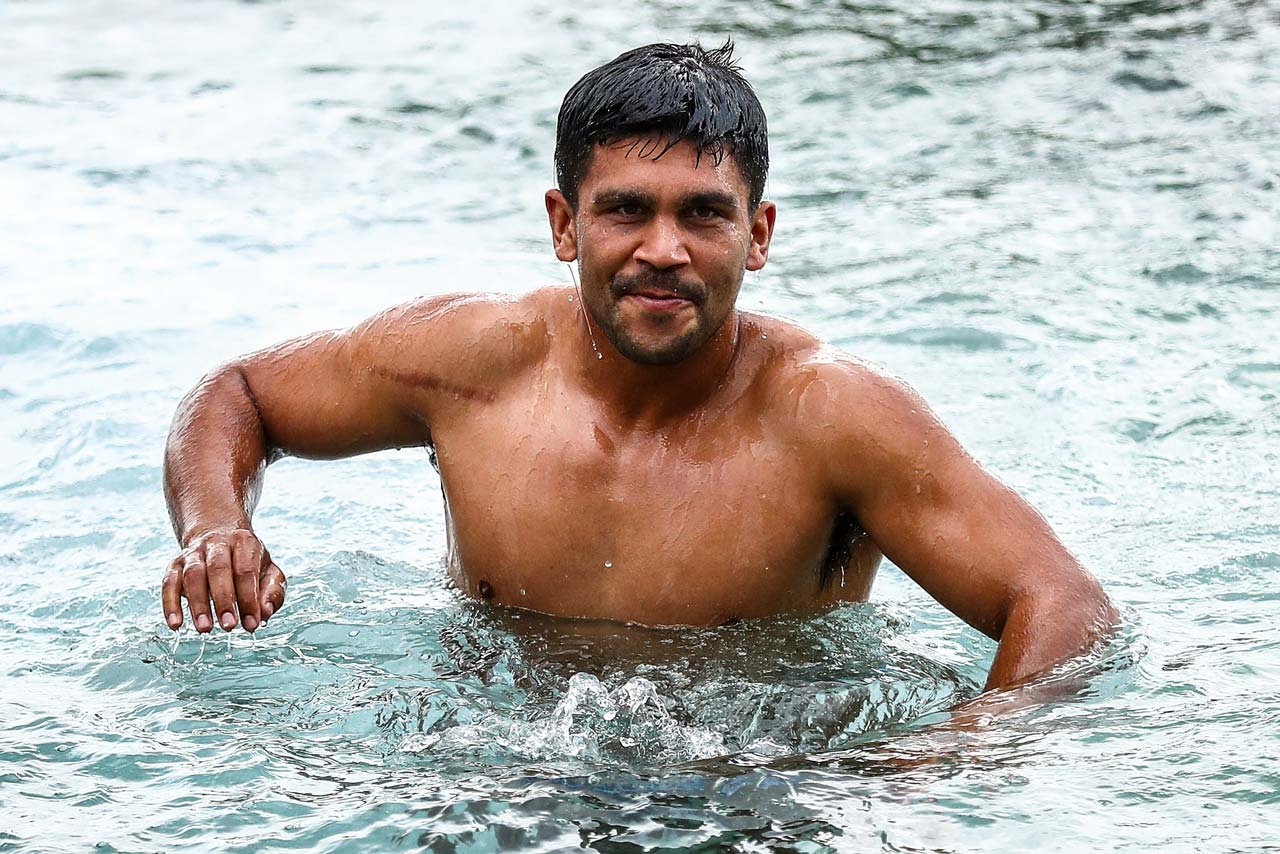 FREDDY, HOME & A BAD RAP
I try to get back to Wellington as often as possible to spend time at the club and see how the community is going. I like talking to young kids at the home games. There are some players who I grew up with – Justin Toomey-White, Jordan Stanley – still running around in A-grade.
Brad Fittler actually helped do a massive thing for Wellington earlier this year, through his Hogs For The Homeless initiative. Freddy, Danny Buderus, Steve Menzies and Nathan Hindmarsh rode into town on their motorbikes and helped lay 13,500 square metres of new turf at Kennard Park, the local footy ground that's home to the Wellington Cowboys.
They tell me it looks pretty good – I can't wait to take a look next time I'm out there. It was awesome for the community because the old field was a bit rough – they call it 'The Graveyard'.
Isaah Yeo, my Panthers teammate, played for Dubbo CYMS and he told me about the 'Graveyard' nickname. The crowd is always screaming, the field is rough and the Wellington boys go hard – they're a pretty competitive bunch. They hate to lose. It's a tough place for visiting teams.
I still have a lot of family in Wellington. I love it back there. For me, it's a happy place. A good place. When I go back, I'm surrounded by smiling faces and people who love footy.
Freddy, Danny Buderus, Steve Menzies and Nathan Hindmarsh rode into town on their motorbikes and helped lay 13,500 square metres of new turf at Kennard Park.
But unfortunately, Wellington has also become known for something else in recent years: problems with the drug ice.
That side of Wellington is not the one I know. Most who live there are healthy, productive people who I'm proud to know; certain people and parts give the town a bad rap, like many places.
Because I have family there, because I know the people who live there – good people, who have no connection whatsoever to drugs – the nicknames you hear in the media piss me off. South Pole. Little Antarctica. It is not a good feeling to have your home town and your community labelled in that way.
But you can't ignore the issue. And things are getting better – partly due to work the Cowboys are doing. Sport is such a major part of small communities, especially Indigenous communities, that it can be a very powerful force for positive change. Any way they can continue to do that in Wellington will be a massive help.
I'm not the only current NRL player from Wellington: Blake Ferguson and Kotoni Staggs are two others. We're proud of where we come from and footy's role in the town. The game has done so much for us.
A SPECIAL BLUES PARTNER
Using my profile as an NRL player to help with Indigenous community initiatives is something I've grown more interested in as I've gotten older.
I do some work with Paul Ralph, a founding member, director and former CEO of KARI. Paul is a proud Indigenous man who is passionate about bettering Aboriginal communities.
Since the foundation of KARI in 1999, he's overseen its growth into the largest Aboriginal foster care agency and a network that provides many other services to Indigenous people; focusing especially on cultural connectivity, providing opportunities for young people to thrive and closing the gap. He was also instrumental in establishing the KARI Foundation.
Paul had told me before Origin that KARI Foundation had become a major jersey sponsor and that he hoped I would be picked. He was rapt when not only I got the nod but also three other Indigenous men: Latrell Mitchell, James Roberts and Josh Addo-Carr.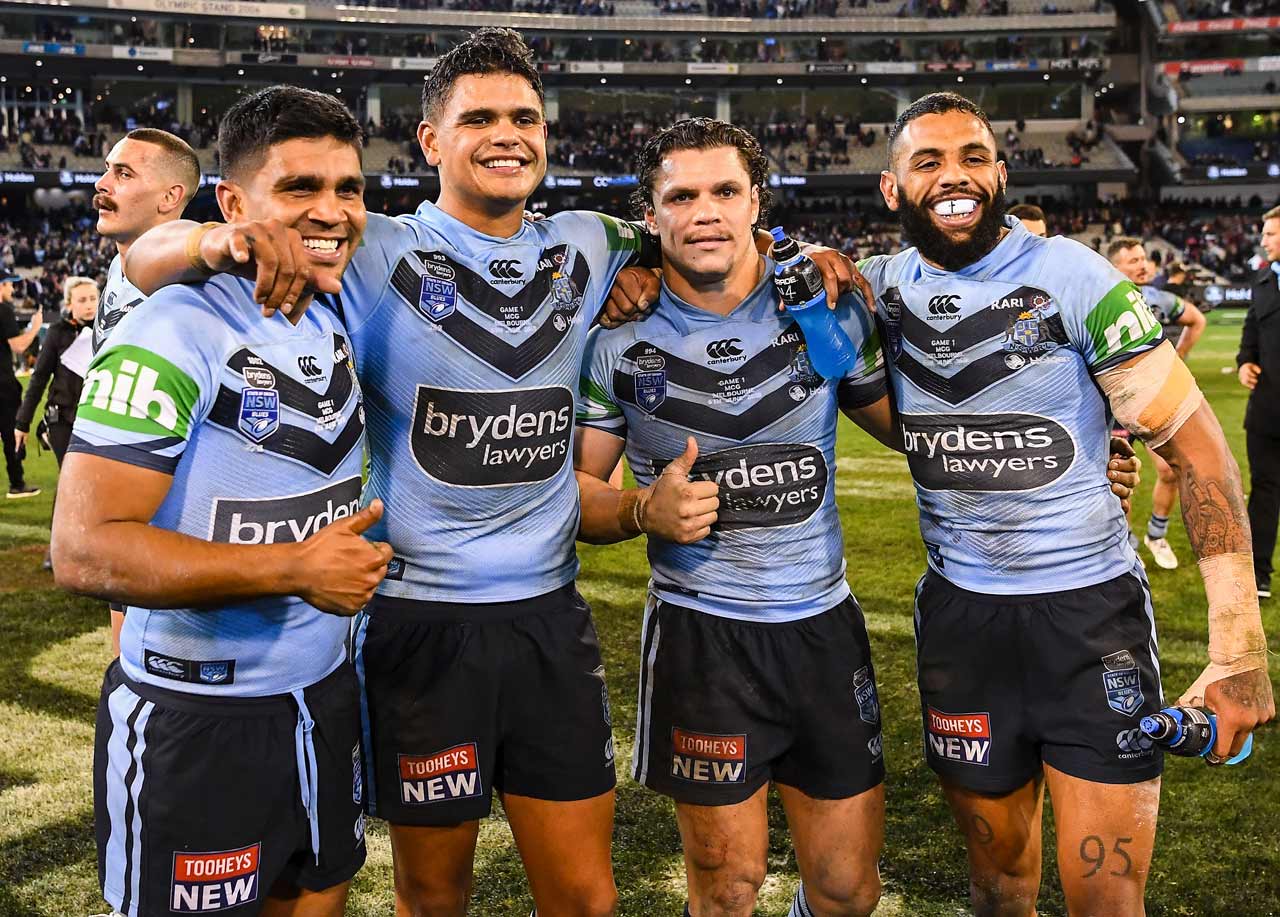 I first met Paul through the NSW Aboriginal Knockout – a massive rugby league event that's been running since 1971 and will this year be held out at Dubbo. Paul has been influential in gaining sponsorship to help the teams with travelling expenses and other costs.
KARI Foundation has a new community sponsorship program for the tournament, which will this year welcome about 145 teams across the men's, women's, under-12, 15s and 17s divisions.
I've been using my profile as a rugby league player to help with some of their programs, NAIDOC Week events and the Aboriginal Knockout in particular. It's something I'm looking forward to doing more of this year and into the future.
The nicknames you hear in the media piss me off. South Pole. Little Antarctica. It is not a good feeling to have your home town and your community labelled in that way.
I'm just starting out with KARI Foundation but I'm especially interested in any initiatives that can help young Indigenous people through sport. KARI Foundation is the community partner for NSW Rugby League, using footy to raise awareness of healthy lifestyle, domestic violence, substance abuse, child protection and education. It's all about building stronger, more resilient Aboriginal communities.
The Aboriginal Knockout is an easy one for me to support – I love it. It's a special event, one that the family always gets together for. My old teammates, Justin Toomey-White and Jordan Stanley, play in my Knockout team too, Nanima Common Connection.
The Knockout runs September 29 to October 1 this year. I can't wait.
Although, there's still plenty of footy before then – including Origin III and hopefully a grand final.
NRL & ORIGIN UTILITY
In some ways, being a versatile player made things a bit hard at the start of my career. Being able to cover several positions means you're valuable to the team but it can also mean that you don't spend extended time at any one spot, making it hard to improve and cement your place.
But after a while, I just realised that's my best position: as a utility, whatever that means in any given game.
I love having the Origin utility role for NSW. I feel I have grown into it. And I've witnessed what's possible in that role when you do your job: Kurt Gidley and Craig Wing had long and successful rep careers playing as utilities.
I just love being part of this NSW Blues team. It has always been my dream to wear that sky-blue jersey and I'll do whatever I can to stay there.
Origin has been an awesome experience. The way that Freddy brought our team together was special, especially leading up to the series-clinching win in Sydney. Now, we hope to finish the job and make it a clean sweep up in Brisbane.
I've never experienced anything like that night at ANZ Stadium. It was just crazy.
The week before Origin II, we played the Roosters at Allianz Stadium and there were like 4,000 people there! Then, running out at ANZ with 82,000 … the craziest thing I've ever been involved in.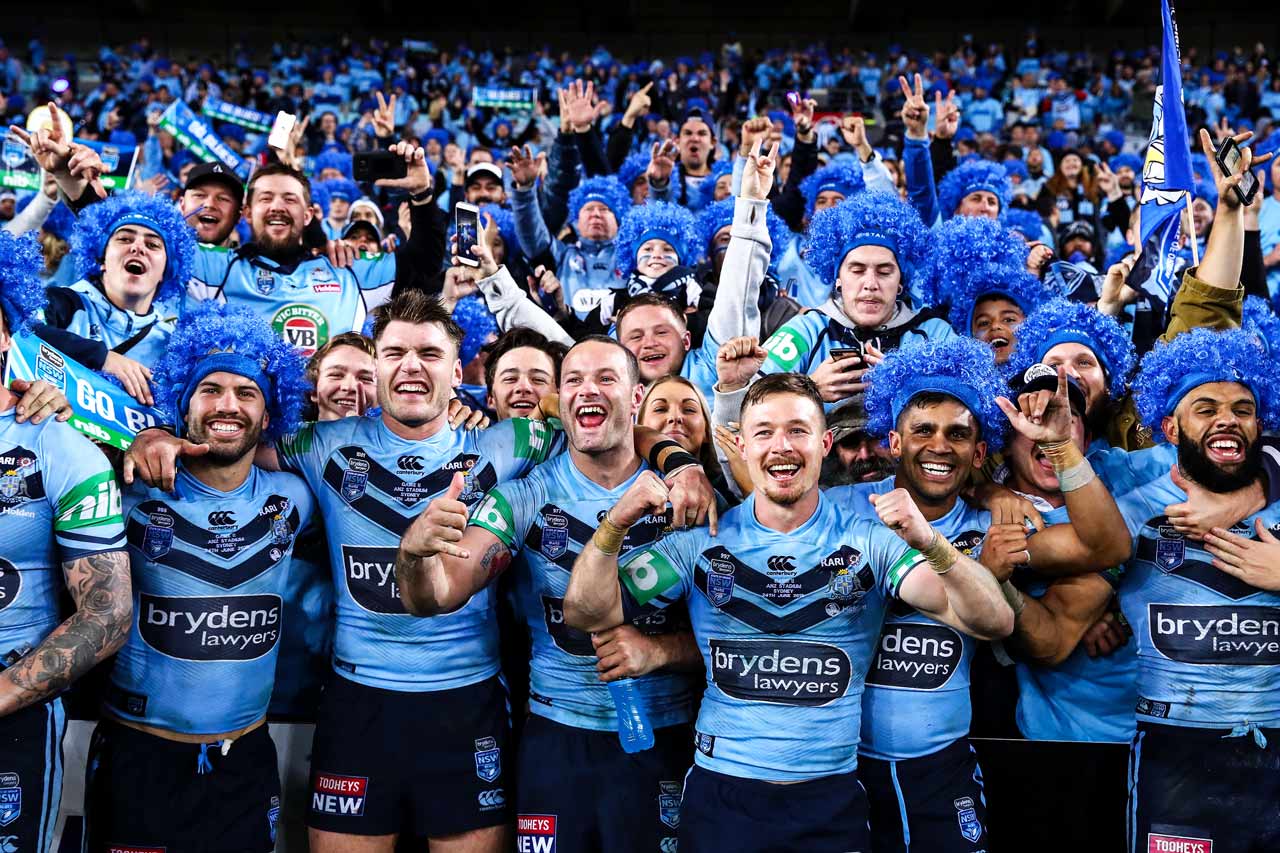 I've played a few finals at ANZ but I've never seen anything like that. Matty Prior said it was just like the grand final he played with the Sharks. Hopefully, I can experience that this year with Penrith.
We're in a good position and still have a lot of troops to come back. If it all comes together, our Panthers side can go deep into the finals.
It's my fifth season at Penrith – and my last.
I was 21 when I joined the Panthers. At the time, there was a lot of good back-rowers at Cronulla and that was the position I was trying to play.
They had Luke Lewis, Wade Graham, Anthony Tupou, Jeremy Smith, Jayson Bukuya, plus Paul Gallen playing in the middle. There were so many good players in front of me that I couldn't get a game. It made the decision to leave for Penrith a lot easier.
I was proud to make my NRL debut for Cronulla, following in Uncle David's footsteps, but it was also a good thing for me to move elsewhere and make my own mark.
From next season, I'll do that again with the Gold Coast Titans.
Gus Gould gave me the all-clear to get out of my final year at Penrith and Garth Brennan was pretty keen to get me to the Goldie. The Titans look like they're going places. They just got Shannon Boyd and they look like they might sign a couple of other blokes. I can't wait to get up there.
Living on the beach again will be something I'll enjoy, having spent so many good years at Cronulla. It will be great for my partner Kellie and my little girl Penelope, too.
Whatever comes next, I'll enjoy it.
More about: Brad Fittler | Cronulla Sharks | Danny Buderus | Gold Coast Titans | Indigenous Australians | Josh Addo-Carr | Latrell Mitchell | NSW Blues | Paul Gallen | Penrith Panthers | State of Origin | Tyrone Peachey