'Is Mum going to die?'
You can prepare yourself for the possibility your kids will ask that question, but it still hits you like a truck when they do.
My wife, Dawn, and I had talked about what we were going to say when we sat them down to tell them their Mum's breast cancer had come back.
But kids, because they're unaffected, are so honest and direct with their questions.
It was our son, Taj – who's nine now but was still eight then – who asked the question. Our daughter, Shae, who's now seven, was sitting there with us.
I looked straight at Dawn and thought, 'Who's going to crack first?'
That's when you pull your kids close in your arms and say, 'Hey, listen, we're all going to die one day, but Mummy's not going to die from this. She's going to be sick for a while, but she's going to fight it and she's going to be here for a long time. We're all going to help Mum out and we're going to get through this as a family.'
It was one of the hardest things I've ever done. It's the last conversation you would ever want to have with your kids.
Dawn and I had put it off a few times. We'd say, 'No, today doesn't feel right.' But kids know when something's wrong. We wanted to be open and honest with them and it was rewarding that we were.
Taj and Shae have been fantastic through this whole thing. You don't want it to happen this way, but they're seeing their Mother bravely fight cancer every day and that will give them a great foundation in life.
They're finding out at a young age how strongly you can fight adversity if you work hard enough and you've got love and support behind you.
These kids have responded. They'll go and give Mum a cuddle when she can't get out of bed, or they'll make her a cup of tea.
Every single day they ask, 'How are you feeling today, Mum?'
'YOU'RE BEAUTIFUL ON THE INSIDE'
Dawn's hair started falling out, and of course she hated that, but Shae told her, 'It doesn't matter what you look like on the outside, Mum. You're beautiful on the inside.'
When she shaved her hair off both the kids were there, one helping her with the clippers and the other holding her hand.
Now Dawn walks them into school with no hair and the kids are as proud as punch.
I offered to shave my head in solidarity, but Dawn said, 'It's bad enough I have to look in the mirror, I don't want to have to look at your ugly face with a bald head, too!'
Fair enough. I couldn't argue with that.
Dawn was first diagnosed in 2011. I was coaching the Townsville Crocodiles at the time. She was breast-feeding Shae and had noticed a lump.
That's when you pull your kids close in your arms and say, 'Hey, listen, we're all going to die one day, but Mummy's not going to die from this.
It was game day when we got the bad news. We were playing the Melbourne Tigers and the Prime Minister, Julia Gillard, was at the game. The whole family got a picture with her. It was a bit of an up-and-down day, you might say.
Dawn had surgery to cut the cancer out. Then she went back in for a double mastectomy and followed that up with hormone treatment. She beat it like the fighter she is.
She's an independent woman, a real self-starter, which is one of the things that attracted me to her when I met her while I was coaching in the US. She was employed as a business development manager, overseeing more than 40 hotels in six states over there.
Dawn is highly motivated, but I guess you still don't find out exactly what you've got in you until you're in the heat of the battle.
CHEMO, RADIATION & THE FIGHT
When we got the news earlier this year that the cancer had come back, Dawn had completed an Olympic-sized triathlon just six days before.
She was feeling fine when she went for a routine ultrasound to check the integrity of her implants, but the surgeon noticed an abnormal growth and took a biopsy. It came back malignant, so she had surgery to cut it out.
But the surgeon, who has been brilliant through all of this, still wasn't totally convinced and wanted to go back in to clean things up. When she did that she found five lymph nodes tucked away behind one of the implants, which had blocked them from showing up on scans.
Dawn underwent further surgery to cut them out and It was the full-court press this time. Eight doses of chemotherapy and 25 hits of radiation.
But now she has to have an extra week of radiation – five more hits – because they want to be sure. Dawn was naturally very upset about having to do that, but we know we must look at the big picture.
The doctors got all the cancer cells out of the affected area with the surgeries – all up, Dawn has had eight cancer-related operations – but you go through the chemo and radiation just in case it has snuck off somewhere else in the body.
Dawn is highly motivated, but I guess you still don't find out exactly what you've got in you until you're in the heat of the battle.
Hopefully, after the radiation finishes, we'll get the all-clear again and the hormone treatment will look after her from there.
The Perth Wildcats players and management have been magnificent to Dawn and our family through all of this. Helping with the kids, providing meals while I was away in the US recruiting, just being there whenever necessary. The fans have really embraced us as well.
My two worlds collided in October when the players wore pink outfits for our home game against the Illawarra Hawks and Dawn was there as we all raised awareness and funds for Breast Cancer Care WA.
I don't want to put the players under any more pressure than they already are, playing basketball in a very tough competition, but Dawn and I have grown very close to them since we arrived at the club in 2013.
Most of the guys were single then and we've followed them through their engagements and marriages and now many of them have kids. You can't help but become emotionally attached.
I'm just so proud of the players that they were able to stay professional and get the job done with a big win on the night.
We've won three of the last four NBL championships and I know I've changed as a coach during that time. What Dawn has endured has given me a new perspective and I think it's done the same thing for the players.
When you're playing or coaching professional sport you get so engrossed in what you're doing. And if you don't have the right balance you go through the peaks of a win and the troughs of a loss too dramatically.
This experience has given all of us that balance of knowing what we do in basketball is a pleasure. We do it out of love and we get paid for it. But there are more important things in life.
Let's be accountable to ourselves and each other but, at the same time, let's enjoy it. Let's be in it together and not short-change ourselves.
We're not here for a long time. We're just holding the Wildcats' torch for a while. So let's do that to the best of our ability and make ourselves and everyone connected with the club proud.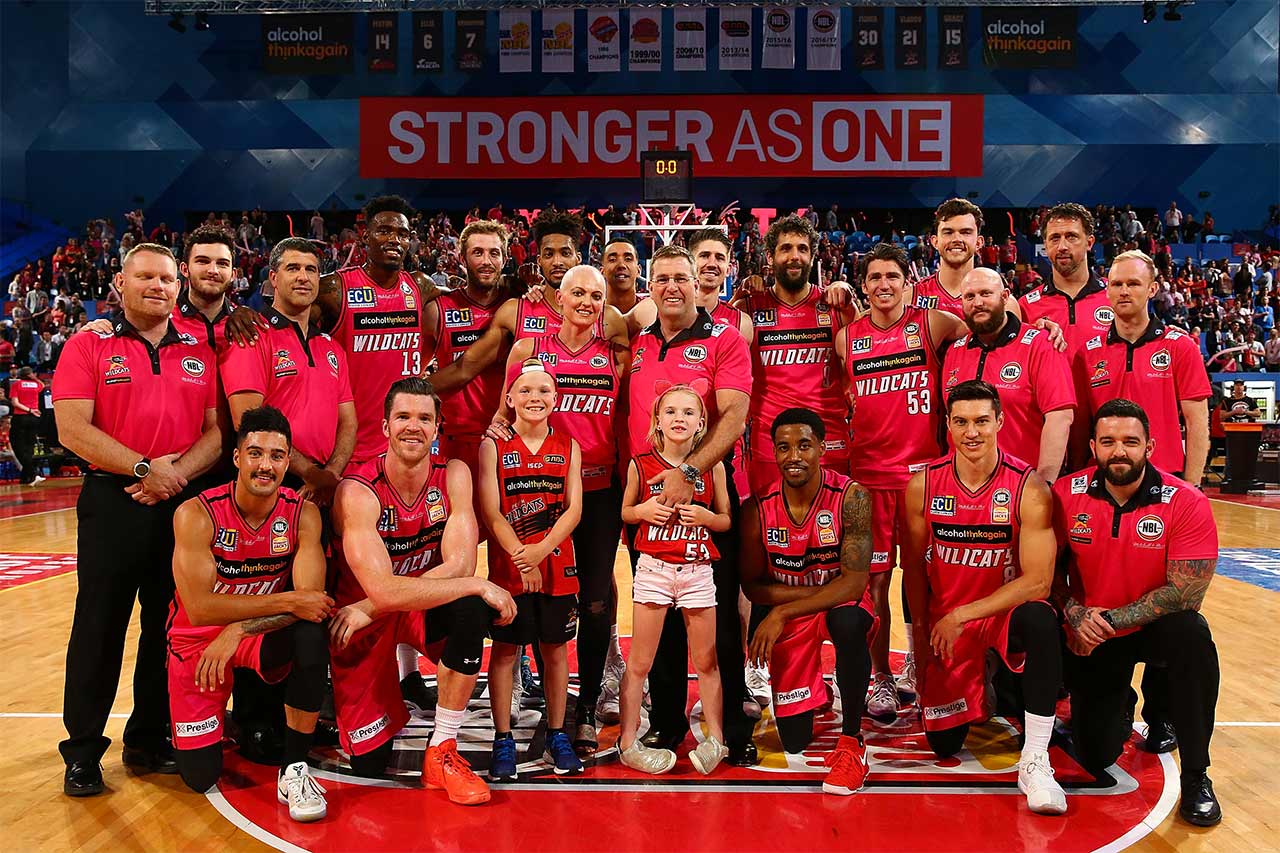 MY INSPIRATION
I grew up playing Australian football and basketball in country Victoria, but I had to stop playing after a one-and-a-half-ton steel hydraulic door slammed down on me when I was working at the abattoirs as an 18-year-old.
I went under the door to try to get a cow out that was stuck, but the cable snapped and the door fell like a guillotine. I spent two months in hospital with two fractured vertebrae, six broken ribs and a punctured lung. But in one sense I was lucky.
They reckon if the cow's body hadn't been in the way to cushion the impact a bit, I would've ended up in a wheelchair. Or, worse, six feet under.
I went into coaching after that and I've been involved with a lot of players who can handle whatever challenges are thrown at them, but then I see Dawn bounce back every day and I know I've witnessed something else again.
We did an interview together recently and she said, 'I can't play basketball, but I can fight cancer.' To see her approach it with such a spirit and positive attitude, you can't not be touched by that.
She's my inspiration. Nothing drags her down. She's all about staying positive, let's get back the next day, let's work a little bit harder. It's incredible to be around someone like that.
All I'm doing with the Wildcats is something that I love. Dawn is fighting for her life and embracing that challenge, stretching herself all the time to meet it.
I let a lot of inconsequential things go now, in life and especially in coaching. Things that in the big picture don't really matter. I'd get upset in the past, but not now.
I see those rich qualities in Dawn, that amazing spirit and nothing-can-keep-me-down attitude. She's not one to just roll over and say, 'Poor me.' She knew exercise was a big part of her rehabilitation, so she was walking 10 kilometres a day even while she was doing chemo.
If I come home from basketball after we've had a bad day at training, or lost a game, all I have to do is look at Dawn, fighting her fight, and I'm reminded what my priorities are in life.
She has her moments of self-pity, of course, but way more often than not she keeps it positive. She has flown miles high with her attitude.
I've seen her true colours and they're beautiful.
More about: Cancer | NBL | Resilience