Tracy Bevan - Contributor
Jane McGrath's selfless act
It was just after dawn and I was standing in the middle of the Sydney Cricket Ground with Jon Steele, Jane McGrath's brother.
We looked up at the Ladies Stand in the twilight which, thanks to the SCG Trust and Cricket Australia, had just been renamed the Jane McGrath Stand in acknowledgement of the Pink Test and the McGrath Foundation.
It was an emotional moment. This was the stand Jane and I had sat in for years as cricket wives, freezing our bums off, watching Glenn and Michael play for NSW and Australia.
Now that same stand was bearing my friend's name.
'I can't believe it, Trace,' said Jon, holding my hand. 'Who would've thought a bloody Pom would get their name on a stand at the SCG.'
A BEDSIDE PROMISE
Today is the tenth Jane McGrath Day and I can hardly believe it.
We started as a team of four people – three at the ground, one back in the office manning the phone – inspired by a single message from Jane: If we can help just one family by providing them a breast care nurse, we will have done a wonderful thing.
We have now helped 60,000 families. I'm having a mini-breakdown just thinking about it!
It's a never-ending mission and, to be honest, it doesn't leave me with a lot of time to reminisce. But this year is different. As we reach a decade of Jane McGrath Days, I hope everyone involved takes a little time to stop, reflect and smile about what this day has come to mean to cricket, to Sydney and to the thousands of people and their families going through breast cancer around the country.
Now that same stand was bearing my friend's name. 'I can't believe it, Trace,' said Jon, holding my hand. 'Who would've thought a bloody Pom would get their name on a stand at the SCG.'
Jane passed away six months before the first Pink Test, but she was right across all the planning.
I spent her last two weeks with Glenn nursing and caring for her at their home. We talked a lot.
I made three pledges to Jane in her bedroom. I made promises as godmother to her children. I made the promise that, no matter what, I would see her again. And I promised that I would continue the work we had started with the Foundation.
I had conversations with her about the Pink Test. She knew that we were going to turn the SCG pink and the gold coin bandana initiative. She might have been sick but that wasn't going to stop her carrying out her role as chairman of the Foundation!
The thought of the SCG swathed in pink made her smile. She loved the idea that the cricket community – our second family – were getting behind us.
'Can you believe it?' she'd say.
At the time of the first Pink Test, the McGrath Foundation had four breast care nurses in positions and funding for another two. But Jane had bigger plans.
She knew Glenn and Ricky Ponting were having lunch with John Howard, the Prime Minister at the time, so Jane penned John a letter from the heart.
It said, 'Please help our Foundation help families of Australia.' She knew John's wife, Janette, had endured her own battle with breast cancer and that he would understand the importance of the McGrath Foundation's work.
From that letter came the funding for what we thought was 30 more nurses. It ended up being 44 more nurses. Jane was really proud about that.
She passed away knowing those nurses would be in place – and that the Foundation had another incredible opportunity on the horizon in form of the Pink Test.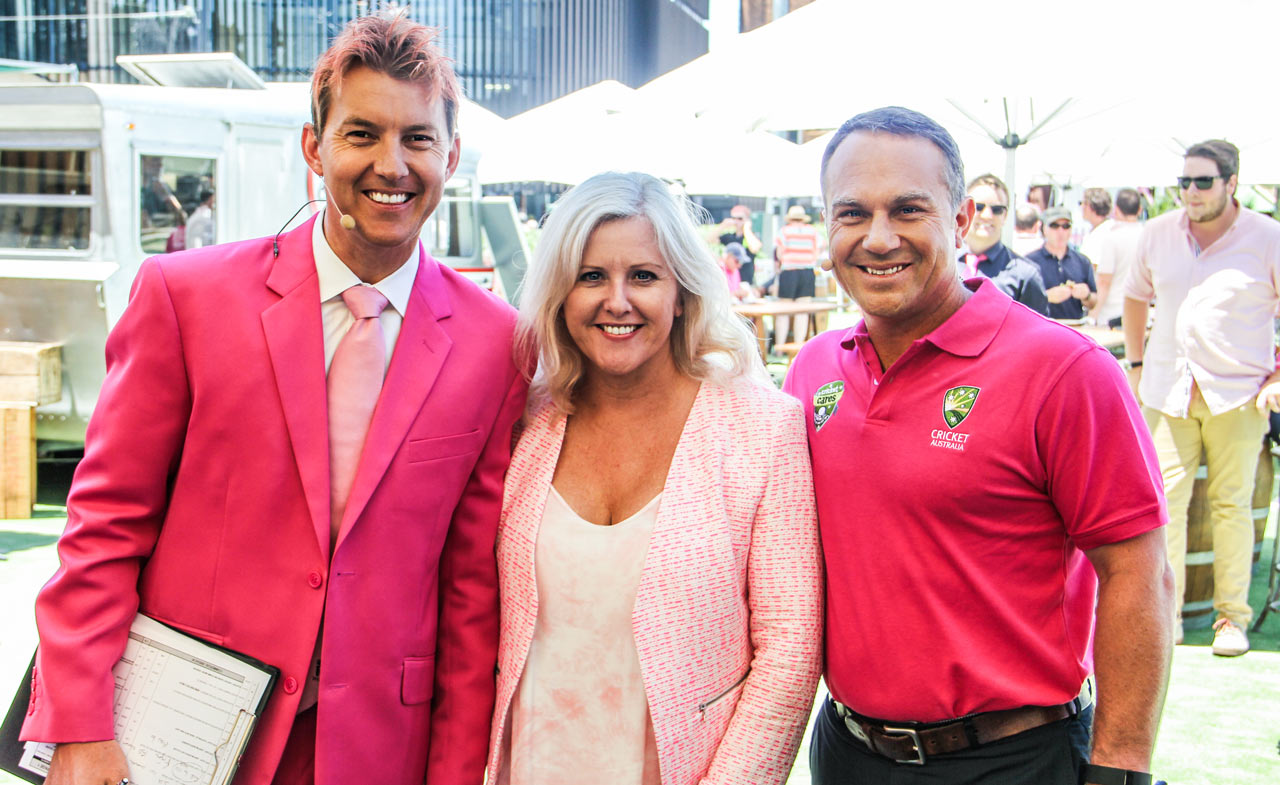 THE MAKING OF THE PINK TEST
We were a crew of all sorts from the McGrath Foundation, SCG Trust, Cricket Australia, Cricket NSW and 3 Mobile working on that first Pink Test.
We didn't know if the concept would progress beyond that 2009 Test against South Africa. It was a suck-it-and-see situation. Our focus was on raising funds and awareness there and then. If anything came of it beyond that, brilliant.
Ideas were coming from all around the group. I remember Ian Jickell from 3 Mobile coming up to me one day and saying, 'How amazing would it be if we got Cricket Australia to turn the baggy green pink?'
I said, 'You've got no chance. That's never going to happen.'
Being married to Michael, I knew all-too-well how sacred that cap was.
Ian said, 'I'll tell you what: let's have a go anyway.'
He just reminded me of this the other day!
We had done a lot of work, but I still wasn't sure how it was all going to be received by the cricket public ahead of the Test. This was Test cricket, after all. How would they take to turning everything pink?
I was scheduled for a cross into the Today show on the first morning and got to the SCG at about 5am. I was feeling quite sombre. It was the first time at the SCG without Jane.
But my spirits soon lifted.
The members had already begun queuing, as they always do, to secure those same seats they've sat in for decades and decades at the Test match. And so, so many of them were wearing pink. I was blown away.
They must have thought I was like a lunatic. I was walking up and down the line to everyone saying, 'Thank you! My name is Tracy! Thank you so much! I'm Tracy Bevan!'
They weren't the only people to think I was mad. A few months earlier I was in a meeting room at Lord's trying to arrange a legends game to raise money for the McGrath Foundation and Breakthrough Breast Cancer, which was a charity in the UK.
One of the MCC bosses looked at me and said, 'What are you doing then?'
I said, 'We're going to turn the Sydney Test pink.'
'What?' he asked.
'We're turning the Sydney Te…'
'Hold on a minute,' he interjected, and called over someone else. 'Come here and listen to this!'
He thought I was bonkers.
'Good luck, love,' he said.
England toured here a couple of years later and that same person sent me a message.
'I just want to shake you by the hand,' he said, 'Because I never thought you'd bloody do it.'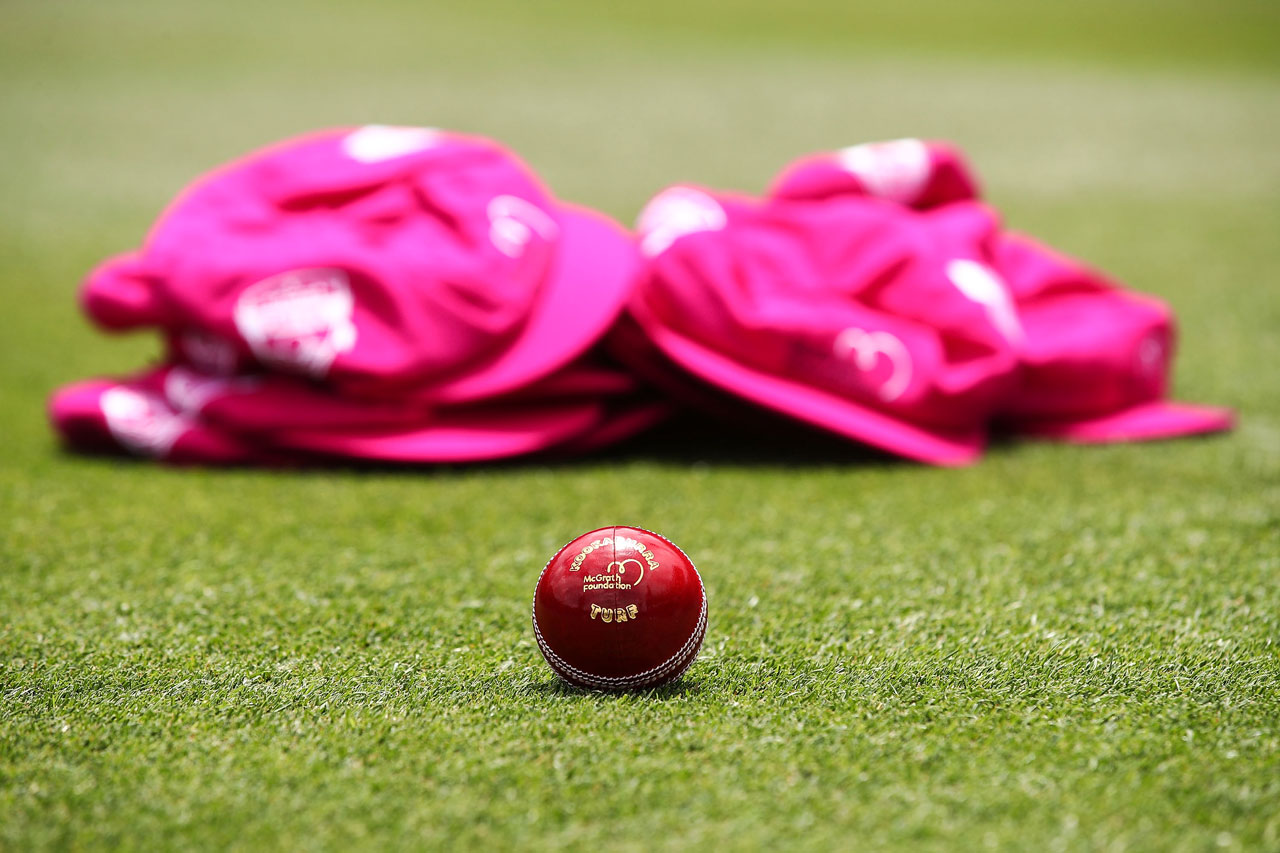 TURNING THE MEMBERS AROUND
But back to that first Pink Test.
It was quite overwhelming watching the stands fill up with pink. It was beyond anything we dared dream of. Seeing this movement literally grow in front of your eyes, and the frantic way we were running around selling the bandanas and rattling tins, helped deal with the sense of loss of not having Jane around.
We had five days to raise as much as we could for the Foundation and we didn't come up for air the entire time. I had these massive blisters on my feet but I didn't feel them. I was all caught up in the adrenaline and the atmosphere.
I wish I took more pictures.
I was overwhelmed with how emotional the players were when they handed their pink caps back to Jane's kids, Holly and James. You could see it really meant something to them. It was the same with the commentators. It was either Slats or Warney, I can't remember which of them, who wore the loudest pink suit you could imagine. It brought some fun to the day.
I imagined Jane having a good old laugh at some of the crazy pink outfits people were getting around in in the stands. But, more than anything, I could see how proud she would've been to see what had become of the little Foundation she started.
The thought of the SCG swathed in pink made Jane smile. She loved the idea that the cricket community – our second family – were getting behind us.
For us, it had always been about Glenn and Michael when we were at the cricket.
But this was about Jane. I had never seen anything like this in cricket before. It was very special.
I had to have a laugh myself on the last few days. At first, a few of the members had been a bit standoff-ish about buying a bandana. I guess bright pink attire wasn't their thing! But by the end of the match, I literally had members coming up to me offering $100 for the bandana I had tied to my handbag.
At the end of the Test, Jamie Barkley from the Trust got everyone together for drinks on the field.
It felt like the Foundation was now officially part of the cricket family, far beyond the ties of being married to a player. We were there with the groundsmen and the officials and the people who work within the game every single day.
I remember walking into the middle of the ground, knowing all the crowd had gone. I heard the players sing their song. And I thought, 'I know she's with me right now.'
I had to leave. I said goodbye to Glenn and walked out. I was emotionally spent.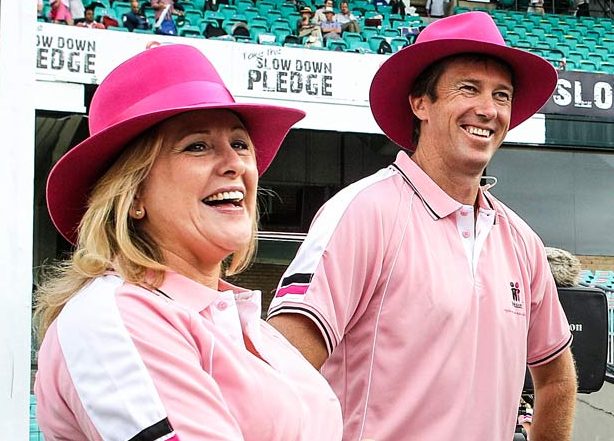 JANE'S SELFLESS ACT
I'm delighted with how the Pink Test has become part of families' traditions.
I received a message from a woman on Facebook not that long ago saying, 'It used to just be my husband going to the Test but now I always come on day three. It's our family tradition.' That meant a lot.
It's the same with my family. A few years ago, during an Ashes Test, it was all a bit busy and Michael couldn't make it to the ground to look after our daughters, Olivia and Amelia.
So I said to my girls, 'Don't bother coming out to the ground this year, it's too much.'
I arrived at the SCG and Jane and Glenn's kids, Holly and James, were waiting for me.
'Where's Olivia and Amelia?' they asked.
'They're not coming,' I replied.
James looked a bit stunned.
'No, you need to bring them,' he said. 'This is our day.'
It really hit me. I didn't realise we had started our own tradition. All those kids know that Jane McGrath Day is the day they all get together. It's great to see them and Glenn. Sara really has done an amazing job.
I was overwhelmed with how emotional the players were when they handed their pink caps back to Jane's kids, Holly and James. You could see it really meant something to them.
I call day three my Christmas Day. I walk in and take a few minutes to stop and think, 'Who would've thought it would become as big and special as this?' And I know that Jane is there.
I still miss her. She was like my sister, my family. I thank God for her every day.
Jane wasn't very comfortable talking about herself because she was a private person. But she knew she had to share this piece of herself with the world. Not to draw attention to herself. But because by telling her story, she knew her Foundation would be able to raise awareness and help others.
It was hard for her to do. It was an incredibly selfless act.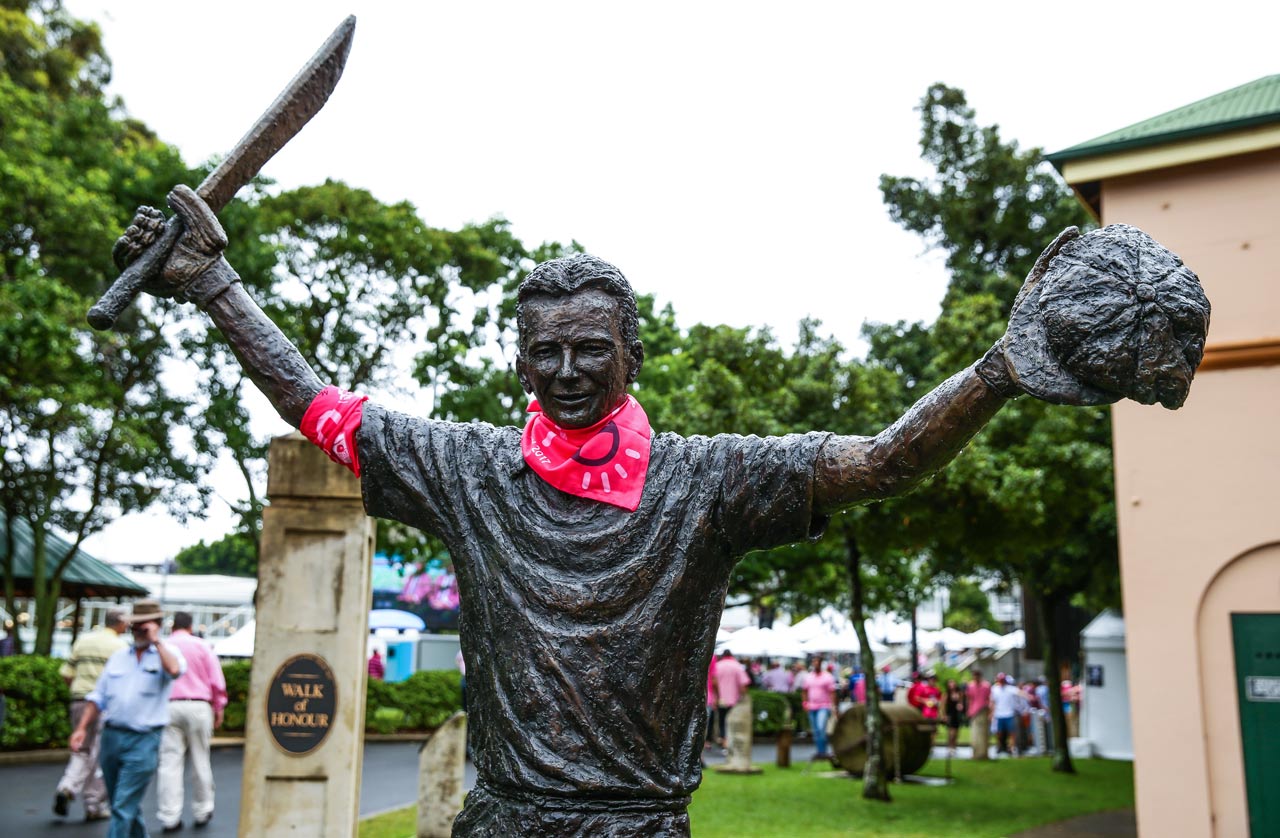 THANK YOU
On behalf of all the amazing people who work at the McGrath Foundation – Glenn, the nurses and the staff – I would like to thank you for what you have done to make Jane McGrath Day so special.
The Foundation, and the wonderful team behind it, has achieved great things.
I was enormously proud when we partnered with the Royal Flying Doctors Service. That particular nurse, Jo Beven, has been able to access the most remote families who were doing it really tough.
But the proudest moments are the hugs – the moments when you look at somebody and you know what they're going through and they're hugging you and thanking you for the difference their breast care nurse has made to their life.
It's a horror time in their lives and the McGrath Foundation made it a little bit easier for them.
In 2015 we had a fundraising dinner. It was at the Sydney Opera House. They turned the sails pink.
For people like Jane and I, coming from the UK, we grew up looking at pictures of Sydney and thinking, 'Wow, the Opera House, imagine going there one day.'
They just coloured it in for her.
For a bloody Pom!
Click here for more information on the McGrath Foundation and to make a donation to the Pink Test.
More about: Cancer | McGrath Foundation | Pink Test | Resilience