Coach Brown quit but I didn't
I was recruited for college basketball by Larry Brown.
That's Larry Brown the former US Olympic team coach. The only coach to win both an NBA championship and an NCAA championship. The guy who's coached players like Allen Iverson. He's done it all.
Being recruited by someone like that and having him call you every couple of days is pretty amazing, especially for a 17, 18-year-old Aussie kid.
Larry also played for Team USA at the 1964 Tokyo Olympics, beating an Australian Boomers team featuring Lindsay Gaze. He got to know Lindsay so well that he ended up presenting him for his induction into the Naismith Memorial Basketball Hall of Fame. He knew about Aussie players and he liked them.
He told me he loved the way Australian players go about their business; tough, no nonsense, no ego. They're willing and they want to get to work.
He said he really liked my game; thought I saw the floor well, could shoot the ball well, was a good passer who could bring the ball up the floor. He was a big fan of my game, from what he told me.
Coach Brown was the main reason I went to SMU, Southern Methodist University in Dallas. He was contracted through my sophomore year, so I figured I'd be getting to play under him for at least two seasons, something I was happy and comfortable with.
Things took a disappointing turn after only a month – the start of a rough introduction to playing abroad.
We were just about to start a gym session, it was around 7am. They called the team into a meeting with Coach Brown. We knew something was up.
I was sitting with one of my best friends, Harry Froling, another Aussie who joined SMU along with me. He'd only arrived a couple of days ago, as he'd been on a tour.
Coach Brown told us he wouldn't be coaching the team any more. He was stepping down immediately.
I remember Harry and I looking at each other, thinking, 'Oh … what happens now? What do we do? We came to play under Coach Brown and now he's gone!' It was definitely an interesting moment.
Coach Brown felt really bad, especially to freshman players like Harry and I. He told us he'd made a promise yet wouldn't be able to fulfil it. He said he wanted to step down now before he recruited any more kids who wouldn't get to play under him.
It stemmed from wanting a contract extension, from what I understand. The school wasn't willing to give him what he wanted, because of his age – 75 at the time.
I was living in the school dorms. I was by myself and all of a sudden, I had a new head coach – a guy who hadn't recruited me, with his own plans.
That was July. I stayed around until December, to see if things would work out. They didn't.
Without feeling sorry for myself, I had to move on. But that didn't work out, either. I transferred to Boise State knowing I would have to red-shirt, just wanting to secure a spot. But I knew I didn't want to sit out for a whole year, as NCAA rules required.
I felt like a year was being taken away for no good reason – and certainly reasons beyond my control. A year is a long time out when you've arrived in the US from halfway around the world, with dreams of playing well and going to the NBA Draft.
I spent a month living with an Aussie family: the son of a lady my dad knew. He was a surgeon who lived in Dallas with his wife and four kids. Funnily enough, he also went to the AIS for basketball, as I had. It was great; it was nice to be around Aussies in a time when things hadn't worked out so well. It shows you that it's not the end of the world, that other things are more important.
ANOTHER TOUGH BREAK
Things being what they were, I was more than happy to pursue other avenues. I contacted some people and they told me there would definitely be some professional opportunities for me.
I thought that I'd much rather do that than sit out of the game for a year. After a not-great experience in my first time playing overseas, I was ready to start fresh.
I ended up in Europe, with Partizan Belgrade in Serbia. It's a club with a long history of success but I arrived there in a transitional phase. They weren't really sure what they were trying to do with their roster.
Some people on the board wanted it to be a development club, to sign some young players, improve them, sell them and make money. The fans, being so passionate in Serbia, and the coaches were thinking differently. They clashed and unfortunately, I was caught on the wrong side of the outcome.
'Oh … what happens now? What do we do? We came to play under Coach Brown and now he's gone!' It was definitely an interesting moment.
But it was a great experience to be there; a serious learning curve starting out as a young pro. I was in a professional environment for five months, training every day, twice a day. That's something you don't really get exposed to in Australia or the US.
European basketball is a different world from here in terms of workload. It's a serious full-time job. Yet coming from Australia, where we have the best sports science in the world, in Europe it's about how you look after your body. Most of that stuff is on you; you're a professional now, so it's up to you to deal with it yourself. The club had set me up in my own apartment; when I wasn't in with them at the gym or at games, I was on my own.
Living overseas, where nobody really speaks English, you can't really have a meaningful conversation with anyone. You can talk to a couple of your teammates about basketball but it's not the same as speaking to your friends or family.
It was all a huge learning experience for me. While I wouldn't want the same thing to happen again, I definitely took some positives away despite it not being a great situation.
NBL, NBA, BOOMERS
After I came back from Europe, I spent the back half of the last NBL season with the Sydney Kings, getting to watch and learn from elite guards like Jerome Randle and Kevin Lisch. Now, I'm signed for the next two seasons, to play in what I think is one of the world's most underrated leagues.
My Kings deal was announced just a few days before Andrew Bogut's, though I had no idea he was signing. No one had any idea – except perhaps Brad Newley, who's close friends with Bogey.
It was a shock – like everyone else, I first saw it on social media. It was crazy. I was pumped. We already had a pretty amazing team on paper, so to then sign someone like that – who's done what Bogey's done and with the talent that he still has – just took us to a whole new level.
Right now, I'm 100 per cent focused on this season with the Kings. I recently went back and played SEABL with the Melbourne Tigers, my junior club, and played well enough to win league MVP, so I feel like I have a great springboard into the NBL.
To play under Andrew Gaze, an Australian basketball and Tigers icon, will be extra special. Since idolising him as a kid, I've gotten to know him as a great, down-to-earth person; and a coach with amazing insights into the game, thanks to his playing career.
Bigger picture, I have outs in my contract should an NBA or European opportunity come knocking – pretty normal in a contract for a younger player.
My desire to make the NBA is as strong as ever. That's an aspiration of mine and I definitely think I can play at that level.
The most important thing in the NBA now is your ability to shoot the ball. The Golden State Warriors and Houston Rockets are basically putting five guys on the floor who can all stretch the defence; it's pretty hard to guard five shooters. I think my ability to shoot the ball, to handle the ball and make plays on the offensive end is my biggest asset for the NBA.
I've always had that mapped out as the ultimate goal. But with the setbacks that I had in college and Europe, I've learnt to focus on what's right in front of me; that's the most important thing. If I put all my energy into having a strong season with the Kings, good things will follow, whether that's playing in Europe or going to the NBA Summer League.
It was great to watch Ben Simmons' NBA rookie year unfold. And with Ryan Broekhoff just joining the NBA, then Mitch Creek, we have potentially 11 guys in the world's biggest league next season.
Ben is leading the charge, he's already cemented himself as our best player. It's just great for the country to have a player of that calibre leading the way, laying the NBA pathway even more for young Australian players.
Playing for the Boomers and going to an Olympics has always been a major goal of mine. The thing that I'm happiest with in my career to date is that I got to play for Australia, having captained the under-17 and under-19 teams.
Wearing the green and gold is something that, once you've done it, you truly realise how significant it is. There's a lot of talent lining up to make Boomers squads now but I'm hoping I can have a good year with the Kings and then see where things lead to.
We've definitely been edging closer to that elusive Olympic medal and with the group we have now, there's exciting new talent and an elite core that have been around the program for a long time; a perfect storm.
Guys like Joe Ingles, Bogut, Delly and Patty Mills, they've had a lot of international experience and success. For the young guys like Ben and Jonah Bolden, coming in without having yet played much international basketball, it's invaluable to be surrounded by that experience.
I think come Tokyo 2020, the Boomers can definitely make history and come away with a medal.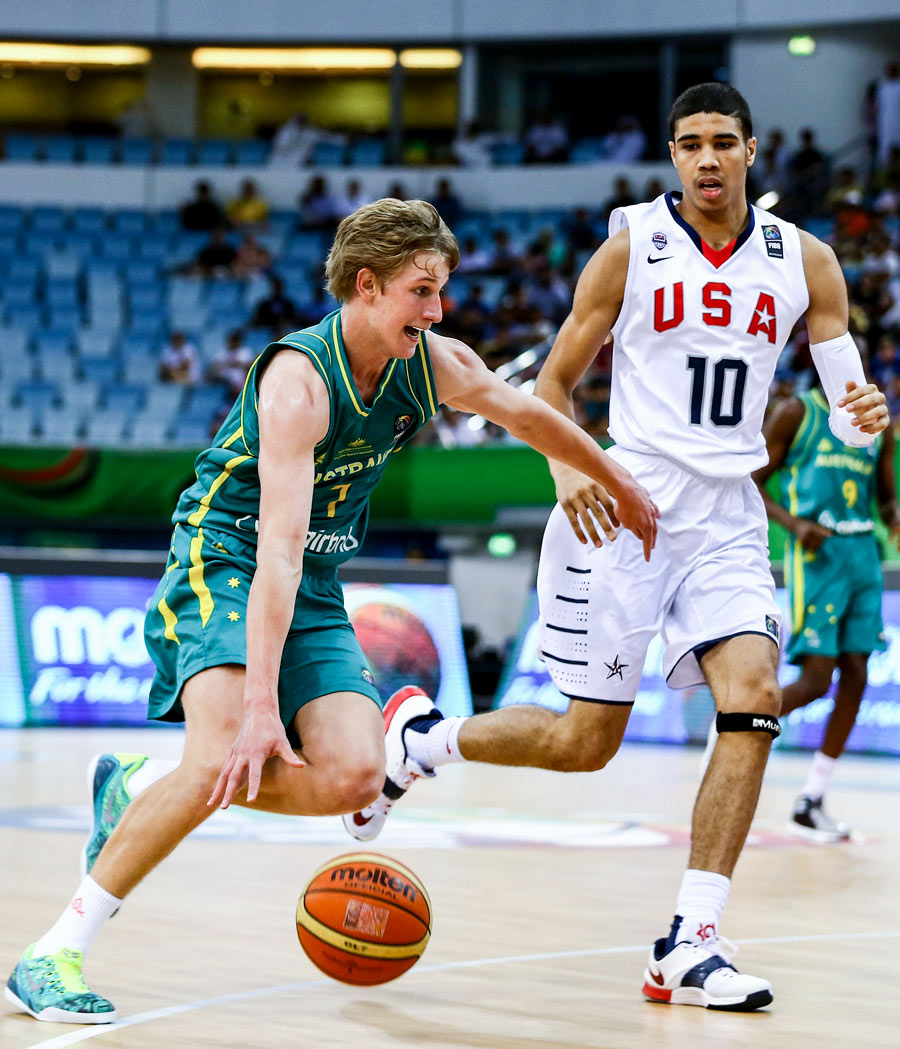 HOOPS OVER FOOTY
About the time that I had to decide between footy and basketball, I knew that I had the opportunity to go to the FIBA under-17 world championship. I really wanted to do that. I went into the AIS program beforehand and I was selected.
I ended up having one of my best-ever performances: 23 points in the gold medal game against a USA team full of guys with mixtapes, including a young Jayson Tatum (a bench player that tournament). He was raw then but really athletic; you could tell he was super-talented and had the potential to go on and do what we're seeing now in the NBA with the Boston Celtics. 
I was part of the AIS's AFL academy at the same time, as I was making the decision. I'd just been to an under-16s nationals with Vic Metro. It was definitely a tough decision to make. I really could have gone either way but I decided to go with basketball in the end.
I think I've made the right decision. I've already had some great life experiences and I haven't looked back, to be honest. Though should I ever rethink things, given my background in footy and playing at a high level as a junior, I definitely think that I could succeed in the AFL system.
Basketball's enormous global scope was definitely a factor in my decision. It's an international game that you can play for your country, that you can play in huge leagues overseas; that was a major attraction in basketball's favour.
Footy is great but it's just an Australian sport. Seeing basketball in Europe, let alone what the NBA is like … it's just on a different level.
My desire to make the NBA is as strong as ever. That's an aspiration of mine and I definitely think I can play at that level.
I get asked about it a lot, the possibility of switching back to footy. People think it must be in the back of my mind. And occasionally, things just happen – like some recent reports.
I've had a good relationship with Geelong footy club. They've always kept the door open to me, as have quite a lot of other clubs, making sure I know that they're still interested if I decide to switch back to football.
My girlfriend has a beach house down at Ocean Grove, which is not too far from Geelong. Sometimes we go down there on the weekend and on the way back, Geelong let me come in to use the gym and recovery facilities.
Somewhere along the line, someone must have seen me there and told someone else, who thought I'd be switching back to football, something like that. Maybe that's what it looked like to them but it's not the case.
I made my decision to choose basketball right back in under-16s; it's been a while. If I have a bad game, I'm not thinking, 'Right, I'm going to go play footy now, it's not working out'.
The questions don't distract me. I know that basketball's what I want to do. It's where I want to achieve my dreams. All of them.
More about: Andrew Bogut | Ben Simmons | Boomers | College basketball | Geelong Cats | Jerome Randle | Joe Ingles | Matthew Dellavedova | Mitch Creek | NBA | NBL | Patty Mills | Ryan Broekhoff | Sydney Kings