Country people are never ones to complain. You often hear about farmers always wanting more rain, but that doesn't mean they're complaining. It's just the way it is on the land.
I grew up on a farm just out of Finley in the NSW Riverina, about 20 km north of the Murray River. They've had less than a third of their usual rainfall so far this year.
My dad Jack – who played 182 games for Geelong – still runs the farm. I haven't been up to Finley for a bit because of my football season commitments with the Cats, but I know through conversations with him, and with family members and cousins that are still up there farming, that it's starting to become quite tough.
In a way they've been lucky in that they've had small amounts of rain at probably the right times. I know the 80 or 90 millimetres of rain that has fallen so far this year isn't a lot, but they've been hanging on OK, especially compared to some of the farmers through northern NSW and Queensland that have been battling for longer periods of time.
So obviously while the rainfall figures don't read that well, they're doing OK for now. But it's starting to turn.
Dad says it's becoming quite dry and he's starting to make decisions on the farm, and being proactive with what he's doing stock-wise just to prepare himself.
The farm is pretty diverse because Finley is irrigation country. Dad's got summer and winter cereals, rice and canola and wheat and runs some cattle and some sheep. It's been a good snow season in the mountains and, when all that snow melts, it'll end up in the Murray River and it will lift the water allocation for farmers in our part of the world.
Further north where they rely entirely on natural rainfall, the problem is worse. The people up there have got stock dying and they can't do anything about – they've just got no water.
So when I say my dad and the farmers around Finley are going OK, I mean compared to those farmers.
But we are really starting to see the effects of it being pretty dry in Finley, and it's still tough times when it's your profession and your income getting affected.
And the thing with drought is you never really know when it's going to end.
The period through the early 2000s when I was younger and living at home, we had eight years when we were technically in drought. It was pretty tough going year after year after year.
Being younger I can't remember the finer details, but enough to know dams were empty and crops were struggling year after year. Throughout this period my parents showed an amazing amount of strength and optimism considering what was happening on the farm. 
That's why, as the drought of 2018 started to hit hard, I knew I had to do something, no matter how small.
GOAL DROUGHT
Helping raise money for Rural Aid was an initiative of myself and my wife Emma.
Rural Aid is a charity which provides assistance for rural communities and farmers adversely affected by droughts, floods and other natural disasters.
To be honest, I didn't know that much about Rural Aid until recently. I watched a feature about the Buy a Bale campaign on The Project, and then I did a bit of research and I thought they seem to be doing great things. They can't help everyone, but if they can help a few that are out there, it's certainly better than nothing.
Dams were empty and crops were struggling year after year. Throughout this period, my parents showed an amazing amount of strength.
Having seen that story and a lot of other media recently on what's happening up north, Emma and I were sitting there and thinking about how we were lucky enough to have a profile that we could use to raise awareness, and help donate a bit of money.
To make it interesting, we came up with the idea of donating $200 for every goal that Geelong kicks in the game versus Hawthorn earlier this month.
Unfortunately, we didn't have as successful a day as we'd hoped – we only kicked eight goals and narrowly lost a low-scoring game – but it was still an interesting way for footy fans who watched the game to have the drought in mind.
I have a couple of personal sponsors that I've worked with for a few years and I asked if they would be keen on getting involved. Woolworths was one of those and they matched my donations. They also did some great things recently donating all of their profits from fruit and veg sales to Rural Aid.
Morris Finance – a Geelong-based finance business – ended up donating $1000 per goal, which was great too. I've had no real contact with Rural Aid, but when you've seen how people are affected by the drought, what's important is that everyone knows. That's the main thing.
The Rural Aid website is here if you'd like to donate any amount to drought-affected communities and families.
WHAT CHOOKS TAUGHT ME
Growing up on a farm was a great start to life for me. It taught me so many things.
You don't realise it at the time because it's all you know, but on reflection, living on a farm gives you a good work ethic for life beyond the farm.
Probably the biggest thing is that sense of responsibility of looking after something other than yourself. For us, there were daily chores and responsibilities – and it's interesting reflecting on that now I'm a parent.
I was keen on the chooks, so it was my job to feed them and collect the eggs and make sure they had water every day. If you don't look after them, they don't get fed and ultimately they probably end up dying.
It was the same with calves. If you don't rear your calves the right way, then in the long term when you go to sell them, you don't make as much money. We would rear poddy (orphan) calves or Friesian dairy calves and there was the responsibility of feeding them twice a day for a six- to eight-week period.
That's how we made our pocket money at home – instead of working at the newsagency or something like that. But when you live on a farm and that's what both your parents do, you just have to help out. Sometimes you might be shearing, or you might go and help Dad because he needs an extra set of hands to open gates or bring the sheep in or load a cattle truck.
There were constantly different jobs to be done, and on reflection, the responsibility is something that I have got a lot out of in life.
And now, depending on who you talk to, I'm a farmer myself!
MORE THAN A HOBBY FARMER
Emma and I bought a property just west of Geelong through the Barrabool hills two years ago now. It only takes me about 20 minutes to get to the footy club.
I think some of my mates in Melbourne and Geelong might think of me as a farmer. But to my cousins and friends and family back home, I'm the furthest thing from a farmer. They like to remind me that my farm is just a hobby – and I shouldn't get too ahead of myself!
I consider myself purely a hobby farmer, although I suppose that's that modest country boy in me coming out. The truth is somewhere in between, I reckon.
Some of my mates in Melbourne and Geelong might think of me as a farmer. But to my cousins and friends and family back home, I'm the furthest thing from a farmer.
We've got some Angus cattle at the moment that we calved in the autumn and 100 ewes that are proving a bit hard to handle without a sheepdog. I enjoy running the farm and it's a great relief from playing footy, but the big difference between me and people like Dad is I'm certainly not reliant on how everything goes on the farm.
When I have large jobs to do around the farm, I pencil them in around time I've got off, or when Dad's down, or when I've got a bit of help.
I do have almost a farming mentor down the road – a farmer called John who's been really generous and helps me out. He's only 10 minutes down the road, which you effectively call neighbours out here.
I just love being on the land. It's hard to put my feelings into words, but the land makes me feel refreshed, enthused and clear in the mind. I'm lucky. Most farmers don't have time to feel that without the constant worry.
I look out into my paddocks at the moment and they're green and even though the big dam at the front of the property is as low as it's been since we moved here, I often remind myself that there are so many people in worse situations. I've got green feed and the dam is a third full.
A lot of people's dams in the worst drought-affected areas are completely empty.
ANYONE'S GAME
I have been in Geelong for 12 years now and Emma and I really love it. My mum was originally from Geelong, and I've got family in Geelong and connections going back through my dad.
It's only really recently since I've found my family home and I've had a baby and got married that the sense of calling Geelong home is a little bit more comfortable. I always referred to Finley as home – I suppose that's where a lot of my fondest memories were created. The sense of saying it's not home kind of makes me a little bit sad sometimes.
But it's pretty easy to call Geelong home. And of course, the Geelong Cats are part of that.
After finishing the last two games of the home-and-away season with big wins against Freo and the Gold Coast, I reckon we'll carry a bit of momentum into our elimination final against the Demons at the MCG. I suppose what the last couple of years have shown is that sides that carry a bit of momentum into the finals can win it from anywhere.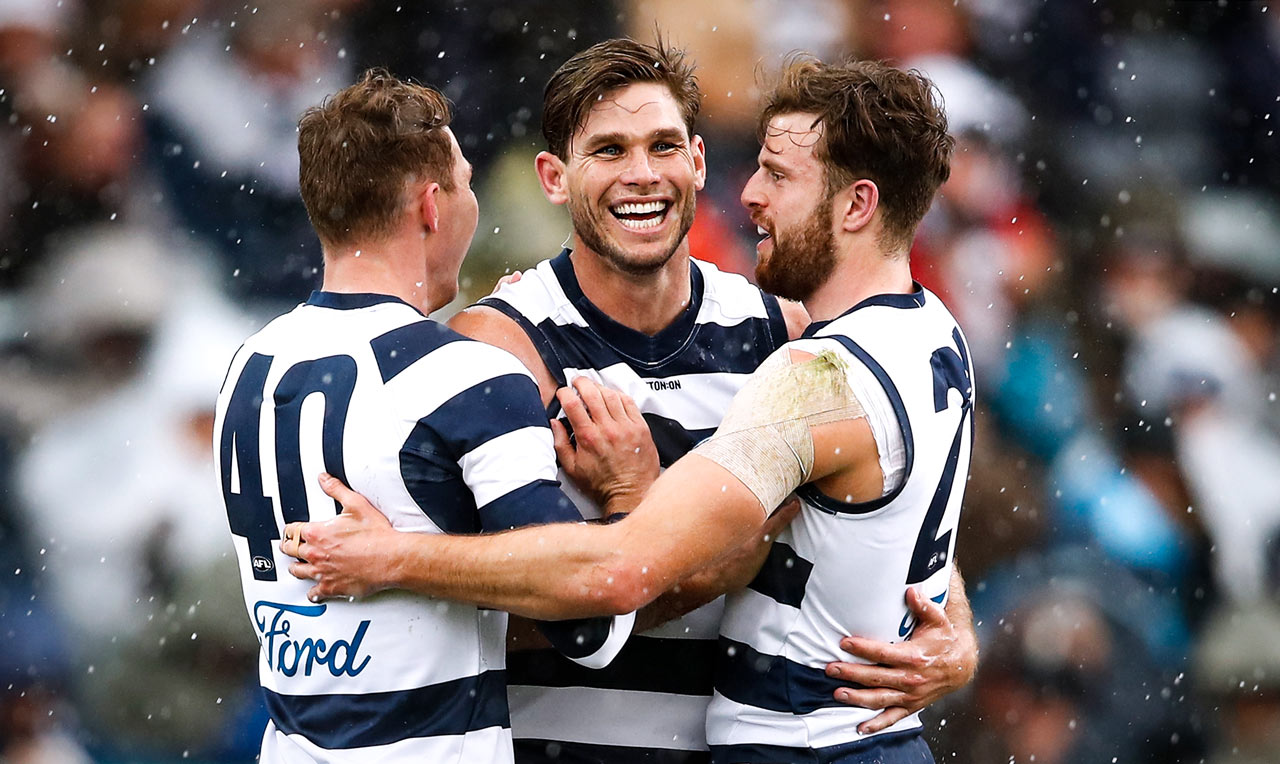 We'll just try to ride the wave of momentum. What's there to lose? We're feeling good, we've got a good balance of youth and experience, and as I'm coming to the back end of my career, I certainly don't take for granted the opportunity to play in finals every year.
I honestly do believe that Richmond are the best side and they deserve to be favourites. But if you're good enough for a four-week period, you can win the grand final.
And really, that's the ultimate in footy. I've experienced it before when I was young and I just want my teammates to experience that, so I'll be trying to do everything I personally can, and that's certainly the feeling amongst the group too.
More about: Drought | Geelong Cats | Hawthorn Hawks | Melbourne Demons | Richmond Tigers