The day the penny dropped
I grew up dreaming of playing for the Wallabies.
As a young bloke, I was in awe of Michael Lynagh, Mark Ella and their teammates. My dad was, too. I still remember him waking me up at 2am to watch the Wallabies win the Grand Slam.
In the end, I got close to my dream without ever quite realising it. No regrets. It was a good run. I was Australian schoolboys captain, played for Queensland, represented Australia at Sevens and was fortunate enough to sign a few contracts overseas.
What I didn't realise at the time – and what I see very clearly now – is that all these experiences were shaping the coach I would eventually become. There have been so many random events, uncanny timing and important people along the way who have brought me to this point.
I'm grateful for all of them.
THE INFLUENCE OF BEN RYAN
The Rio Olympics will always be right at the top of my list of most cherished memories. Not just because of the gold medal our extraordinarily dedicated and talented women won, but also the deeds of Ben Ryan and the Fijian men's team.
You might know Ben as the man who led Fiji to their first-ever Olympic gold medal. For me, it goes back much further than that.
Ben coached me at Newberry a decade or so ago. We became good friends. To think we'd be coaching our respective teams to Olympic gold years later is, frankly, mindblowing.
I learned so much from Ben. He was very creative and always looking for reasons to try new things. He cooked up out-there moves like the one-one-four – at the base of the scrum would be the halfback, then 15 metres away was the fly-half, then there'd be four players on the other side of the field all standing in the tramlines.
Opposition teams would look up and go, 'How the hell are we going to defend this?'
At training, he'd have six different kinds of balls out there and different coloured cards. You would constantly have to look up and scan. Balls were flying everywhere. Chaos. It was all about thinking on your feet, looking, scanning, making decisions.
If you stopped, you were dead.
I was an experienced Sevens player by then and had just finished a full summer of Sevens around the time Ben was named England Sevens coach. He hadn't coached Sevens before. He didn't know all that much about it.
I remember him taking me out to lunch and asking me to walk him through what I knew about the Sevens environment and format. I still tell him that I taught him everything he knows.
The reality of the situation, though, is that I incorporated many elements from Ben's coaching into my own. He's one of the most important people I've come across in my rugby career.
It wasn't always this free and easy in the UK. I rocked up to Worcester in my first year there and there was a great coach called Andy Keast, who had been involved with the British & Irish Lions. He was the most ruthless, demanding, detail-oriented coach I have ever come across.
The standards were non-negotiable.
He would have guys in tears. They were petrified to come to training.
I definitely see myself more like Ben than Andy, but that's not to say I didn't take things from both. Sometimes it's the people least like you that can challenge you the most and lead you to different ways of thinking.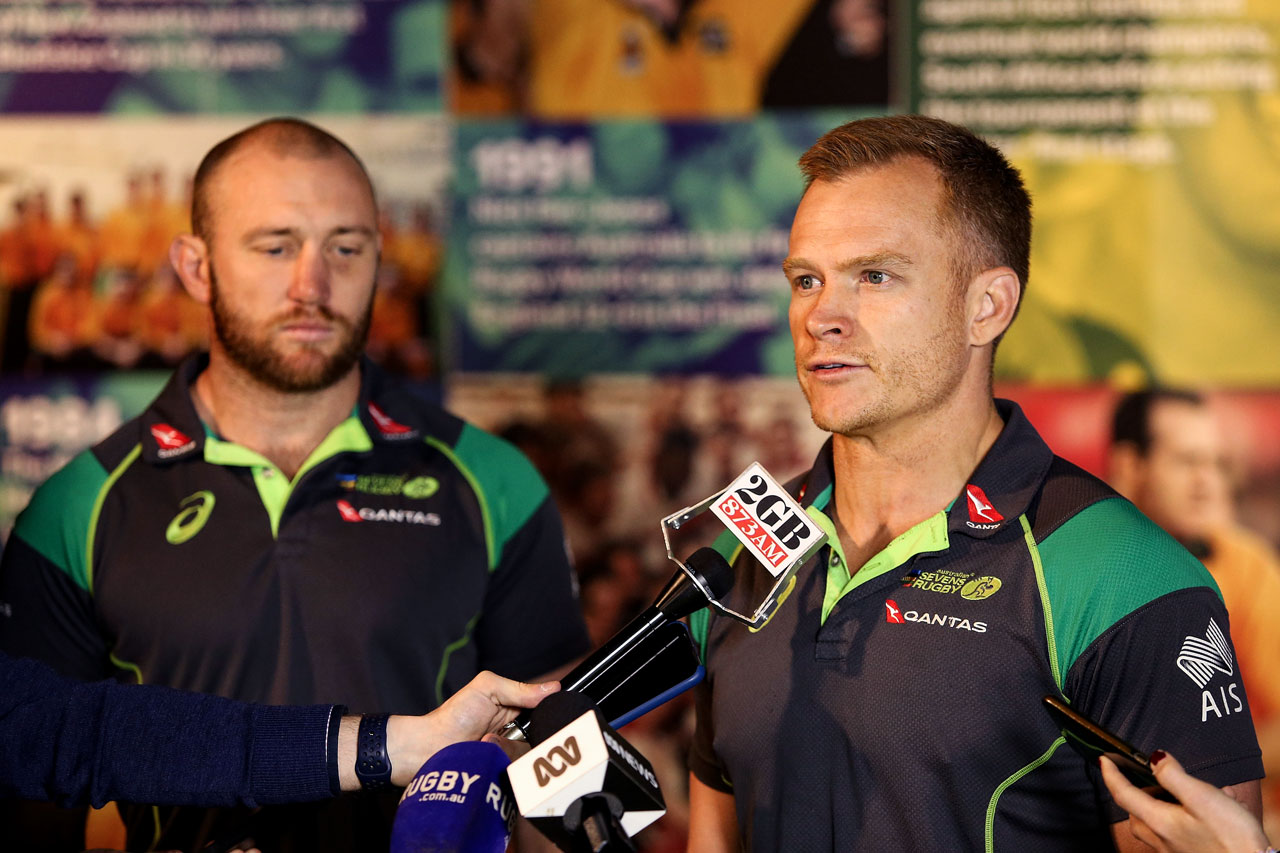 THE AGENT BECOMES A RED
It took me eight years to play my first Super Rugby game after playing my first game for the Reds in 1999 and leading the Australian schoolboys in 1996.
By that time, I had already had stints in New Zealand and England. I was playing for Leeds Tykes in English Premiership and Heineken Cup when I got the call from Queensland to replace Elton Flatley, who was injured.
My next stint with the Reds came six years after that. It was a pretty random set of circumstances that led me there.
It was 2010 and I was studying law and sports marketing. I was also working as an agent for athletes across rugby, netball and cricket. I wasn't overly enjoying it.
I had a meeting at the Reds. Quade Cooper was in a bit of trouble and Ewen McKenzie called me in to go through my client list.
'Which fly-halves have you got overseas?', he asked.
I told him I didn't really have any who were available.
Then, out of the blue, Ewen said, 'A few of the guys around the office reckon you could do it'.
I didn't know how serious he was. It certainly wasn't a scenario I had considered coming into the meeting – I was there purely as the agent – and I'm pretty sure Ewen hadn't given it tons of thought, either.
'Come to training,' he said. So I did.
There have been so many random events, uncanny timing and important people along the way who have brought me to this point.
I was playing for Randwick at the time, living in Brisbane, flying down to Sydney on Thursdays and flying back after the game. After Ewen's invitation, I played for the Reds in a trial in Lismore. That went well and they gave me a full-time contract.
That season under Ewen was a huge turning point for me. I'd never seriously considered coaching as a career option before. But, watching the way he approached it, the penny dropped.
Ewen ran the Reds like a business. He wasn't just involved in the coaching. He was across the marketing, financials, stakeholders, sponsors, the media and comms and all other parts of the organisation. He understood all the moving parts of the organisation and connected the dots to aid the performance of his team.
I thought, 'If I ever got a chance to coach I'd like to approach it in this manner'.
I was a passive observer, watching him build this organisation up into one that would win the Super Rugby title the following season. The Reds were his canvas and he painted them into a picture the envy of the rugby world. It was pretty inspirational stuff.
Ewen showed me coaching wasn't just about teaching blokes to kick and pass. It was about getting the best out of people and understanding how the whole organisation works – not only to win but to commercially get the best out your sport, which enables you to get the best players.
The rugby on the weekends is the fun bit. It's the other stuff – selecting, negotiating, planning and the like – that really stretches you.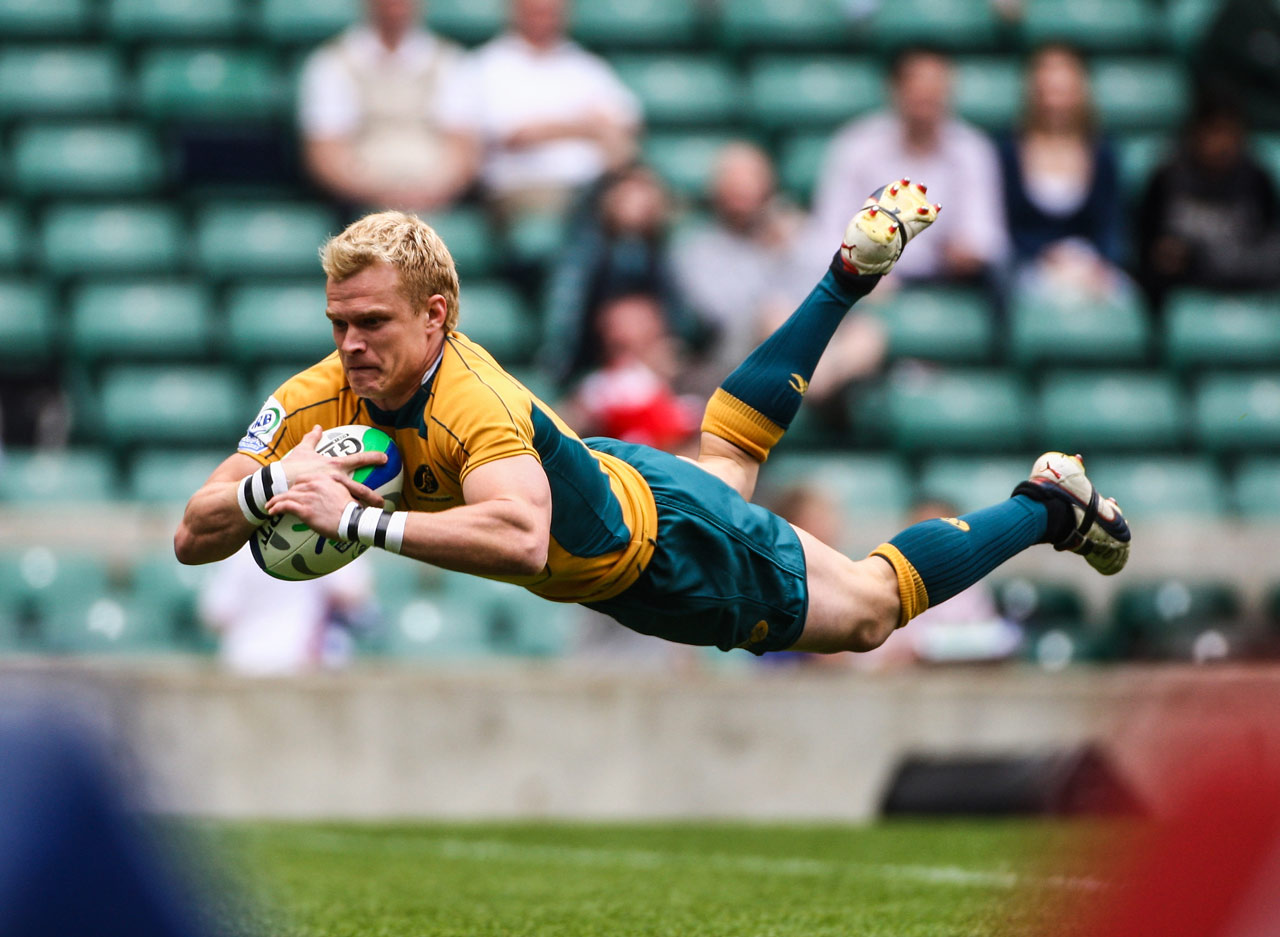 THE ITALIAN JOB
I signed a contract with Padova in Italy the next season. It's a beautiful place about 25 minutes west of Venice and the same distance again from Verona.
We won the championship that year. It was another lesson again.
The Italians are very balanced in the way they approach life. They're not stressed. They place a lot of importance on family and feeling good. They might not be the best trainers you'll come across in rugby but they were big on forming a very tight-knit unit.
We did everything together. When we ate, it was for two-and-a-half hours. It wasn't like you finished training, scoffed down some food and did your analysis. The emphasis was very much about enjoying each others' company and building relationships.
We became close because of the time we spent together. We were there for each other on the field and off it. We built up a lot of trust.
It was a diverse playing group: Italians and South Africans and Kiwis and Aussies and players from the Baltic states. We had to learn how to communicate despite our different languages. I picked up Italian.
My favourite thing was to jump on my Vespa, drive around all those little cobblestone streets, pull up in the cafes and try to speak the language with the locals.
I told him I didn't really have any fly-halves who were available. Then, out of the blue, Ewen said, 'A few of the guys around the office reckon you could do it'.
Coincidentally, the junior World Championships were in Italy the year I arrived in Padova.
David Nucifora was coaching the Australian team. I knew him well from back home. He asked me, 'Do you want to help us out as a translator, do some analysis work and assistant coaching?'
It sounded like a good opportunity. I accepted.
The Aussies ended up coming third and everything seemed to run pretty smoothly.
At the end of the tournament, Dave approached me again.
'Do you want to coach the Australian women's sevens team?'
I'm a bit embarrassed to admit this, given all that's happened since, but I'll just go ahead and say it. I laughed at him.
'I don't want to coach women's rugby. You're kidding! I'm staying in Italy and drinking my prosecco.'
A year later he came up to me again.
'Do you want to be coaching coordinator for the men's and women's sevens team?'
I accepted. I was retiring from playing and coming home and it was a good way to do it.
??? #RWC7s pic.twitter.com/WrGry3icU3

— AU 7s (@Aussie7s) July 19, 2018
I'd thought about what I'd said 12 months earlier and realised that the women's team, in particular, was actually an incredible opportunity. There was the potential to rebrand the game and help shape the future of women's sport in Australia.
Sevens had Olympic status, which was a carrot, but it was more than that.
Most countries at that point were going down the path of turning 15s players into Sevens players. We approached it differently. We wanted to turn athletes into Sevens players, whether they were from athletics, basketball, rugby league or elsewhere.
We didn't think it would come together so quickly. But we won a tournament. Then another one. And it just took off.
We were blessed to have wonderful athletes. Strong, skilful women with real personalities. They were a team we thought could influence generations of young, female athletes to take up rugby.
That's exactly what they did. They put rugby on the map for many girls who otherwise might never have considered it.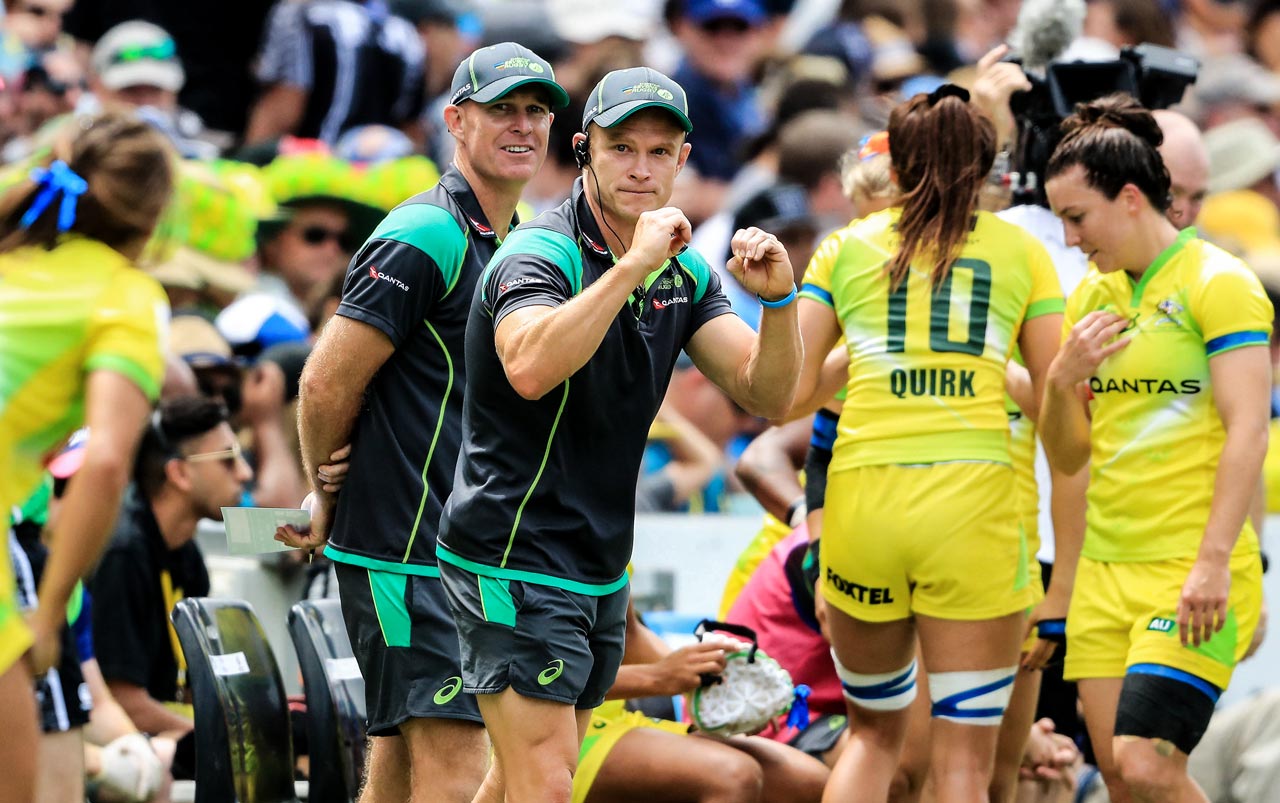 THE CHANGE
Prior to coaching the women's Sevens team, I had never stayed at any one club for longer than two years.
Approaching the Commonwealth Games on the Gold Coast, I'd been in the Australians Sevens program for six years, five as the women's head coach.
I started thinking, 'What's going to keep the players challenged? What's going to keep me challenged? What's going to keep the program growing?'
We had won the World Sevens series, we'd won the Olympic gold medal, we broke a world record in Sydney by winning six straight games without conceding a single point.
It dawned on me that the best decision for the team and for myself was to leave. I had been approached to coach the men's team twice while with the women and said no both times.
The timing was right when the third offer came.
I'm a bit embarrassed to admit this, given all that's happened since, but I'll just go ahead and say it. I laughed at him. 'I don't want to coach women's rugby. You're kidding!'
Over the last decade, the men's team have finished anywhere between third and eighth, sporadically winning tournaments along the way.
It's a good record, but not great. At benchmark events, we were eighth at the Olympics, fifth at the Commonwealth Games (third at the Games before that) and fifth at the World Cup.
There is huge room for growth and an opportunity to rebrand Sevens and redefine where it sits within Rugby Australia and the rugby landscape, generally.
The World Cup in San Francisco is upon us. I've conducted a six-week audit on the program and got plans in place for the next few years. I don't know how much influence I'm going to have in this short amount to time, but there are some great players in this squad who have tasted success in Sydney.
There's no reason why we can't do it again.
The skippers are ready. Are you? #RWC7s pic.twitter.com/11DzRo0TXl

— AU 7s (@Aussie7s) July 19, 2018
When I was a player travelling the world, I used to put together little one-pagers of things I learned. I'm putting that into practice with the men's team now. Whenever we go to a new country, I get a couple of the players to make a presentation to the group about the place. It's a bit of fun and something the women really embraced.
They were really creative. Some did quizzes, some set activities. We had to build the Eiffel Tower out of marshmallows once. I usually pair up a young player and one of the more experienced ones. I'm looking forward to seeing what the men come up with this week in San Francisco.
The Sevens World Cup is a perfect launching pad. A good campaign will give us a lot of confidence going into the Olympic qualifying season.
That's the next job.
More about: Coaching | Fiji | Queensland Reds | Rugby Sevens | Rugby World Cup | Rugby World Cup Sevens | San Francisco 2018 | Super Rugby | Wallabies | Women's Rugby | Women's Sport