Lessons of a 26-year-old rookie
I guess a lot of male athletes would say their dad has been the biggest influence on their sporting lives, always riding them and pushing them to be better. For me, it's my mum.
Mum knows what it takes to be an elite sportsperson, having played softball for Australia. She's always told me, 'You've got to work hard, things aren't going to just be given to you. You've got to want it more than the next person.'
My unusual journey to the AFL proved her right there. I've got her to thank for teaching me resilience.
I can't say I dreamed of playing AFL football, but as a kid you aspire to be like the men you watch on TV. I played for Upper Ferntree Gully, the club that was just around the corner from home, from the under nines until I was 21. By 16 or so, I was getting my first taste of senior football. I was having more fun playing footy with my mates at Upper Gully than getting involved in a pretty full-on program at Eastern Ranges.
After I passed Year 10, I decided to leave school. It's not that I wasn't keen to learn, but school wasn't really my thing. I was probably being more of a nuisance than anything, and the school politely said I'd better find somewhere I really wanted to be.
My parents told me that if I wasn't going to school I had to get a job, so I tried a few different things, including a couple of months of greenkeeping at a golf course. My under 16s footy coach had a mate who was a plumber and he convinced him to give me a go. I did my apprenticeship with him, and I still work there now. I owe him a great deal.
I used to get up at 5.30am and ride my bike to his house about 10 minutes away, jump in the car with him and we'd go to work from there. I was definitely more into work than footy – I had the belief that it was something that would help me for the rest of my life, whereas footy at the time was a bit of fun with mates on a Saturday afternoon.
I didn't have any ambition to take my footy further.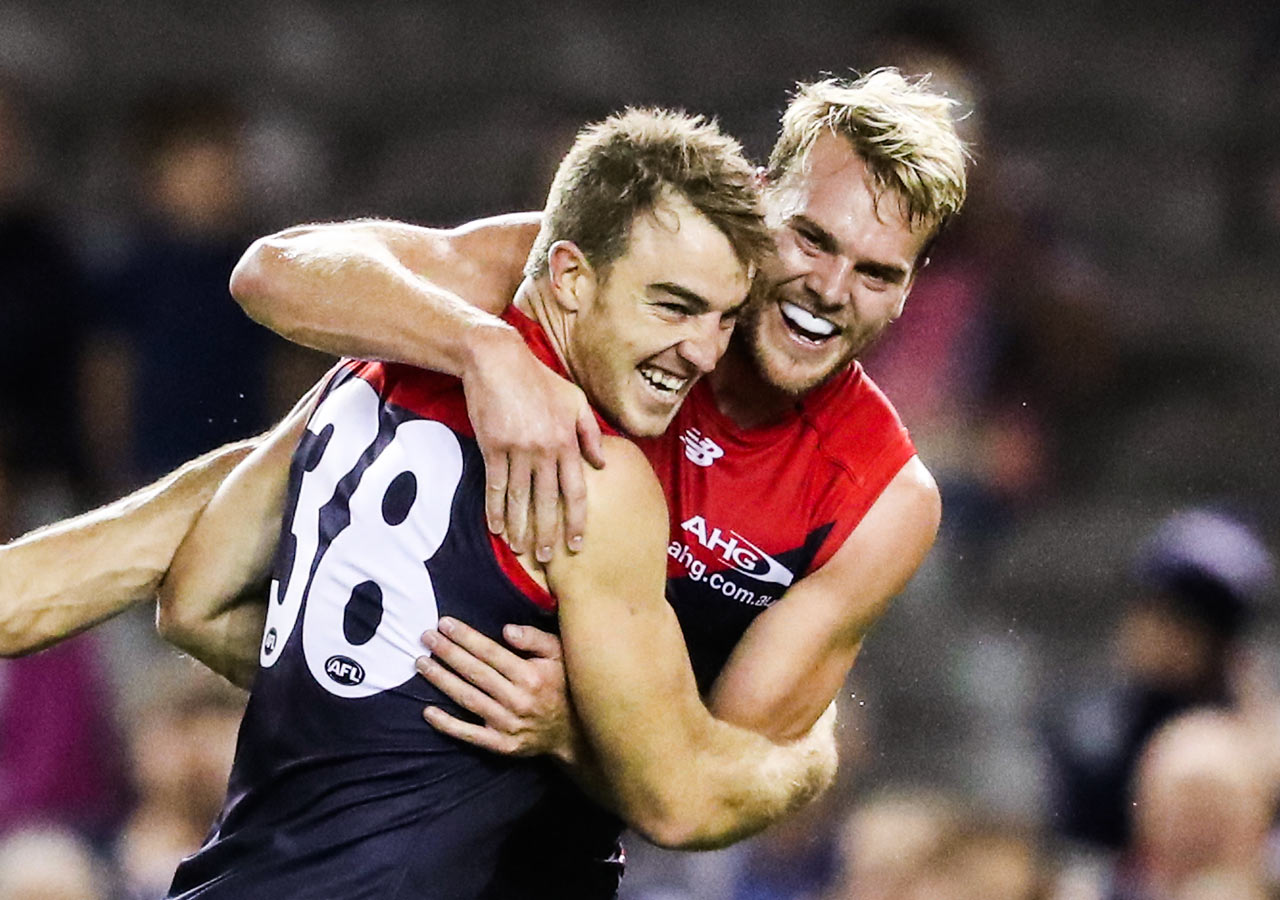 PLUMBING & PLAYING FOOTY
In some senses, I was leaps and bounds ahead of my mates – they were still at school, I was getting a pay cheque at the end of the week and thinking, 'What the hell am I going to do with this?'. Finding time to see mates was tough – I couldn't do the things they were doing during the week because I had to front up to work the next morning.
It had its challenges, but it gave me a grounding in what the real world was like.
We were doing general plumbing – houses, factories and the like. Later we got into commercial buildings, a lot of work in the city. Early in my apprenticeship, I spent days at a time where I didn't touch the tools at all – I would just be on the shovel labouring.
On one job, I had to dig a hole that was two-and-a-half metres deep by a metre-and-a-half wide, all by hand. Those were the lessons you learnt as a young bloke, that it wasn't always easy.
When we won the senior flag at Upper Gully in 2010, I played as a rebounding half-back flanker lining up on bigger forwards, trying to beat them in the air, then run off them. I rarely if ever played in the forward line in local footy. In 2011, I broke my hand; I don't know what clicked, but I just thought to myself that I didn't want to have any regrets about my football, didn't want to look back and think I hadn't given it everything I could.
The coach knew the general manager at Casey Scorpions in the VFL and they invited me down to try out. I spent five years there, a five-year slog of working a full-time job, leaving the club as late as 10pm after training and getting up at 5.30am to go to work. I was still on the tools full-time – the early start and the days on the shovel were non-negotiable. But I don't regret one bit of it.
Those were the lessons you learnt as a young bloke, that it wasn't always easy.
My time at Casey I was virtually injury-free, apart from a low-grade A/C joint strain. By the end of the 2015 season, I was ready to move on from VFL footy and had pretty much come to the conclusion that I was done. It was a big commitment, and I could see other things in my life that I wanted to do. I was content with how far I'd got, playing good VFL footy. I would have been happy to walk away and say I'd given it my all, hadn't left a stone unturned.
My coach at the time, Justin Plapp, sat me down for a post-season coffee and convinced me to go another year. He told me my best footy was still ahead of me, and it turned out he was right.
I started 2016 thinking 'get drafted or bust' and ended it having played my best-ever season.
Coaches Award – Tim "Bull" Smith pic.twitter.com/9x1gb9O9yh

— Casey Demons (@CaseyDemonsFC) September 29, 2016
'I'M NOT LETTING THOSE GUYS DOWN'
It's pretty unusual to get drafted just before your 26th birthday, but geez I'm grateful it happened. When I saw my name come up on the computer on rookie draft day I was shaking, but that feeling was just the beginning for me.
I was rapt that I'd got an opportunity, but I didn't rest on that. I'd only trained at Melbourne occasionally through the club's alliance with Casey; I knew most of the players reasonably well, but some blokes I barely knew at all. I knew it was going to be a hard slog.
Walking out onto Etihad Stadium in round three to make my debut against Geelong, that was the moment.
This is real, this is what it's all about.
To kick a goal late in the first quarter, to have my teammates mob me, that was very special. I went about playing AFL the hard way. I'm really happy those guys appreciated what it had taken to get to that moment.
I was left out of the team the next week, but I just went back and played well in the VFL and got the call-up to play Richmond on Anzac Day. There were more than 85,000 people there.
I'd be lying if I said I wasn't out of my comfort zone – I'd never played at the MCG before, and to be honest a normal week for the previous five years had been playing in front of a hundred diehards at Casey – less if the wind and rain didn't stay away!
I started the game with my best quarter of AFL footy, then in the second quarter I went back to take a mark and copped Alex Rance's knee in my ribs.
It was nothing untoward, but it just flushed me, broke two of my ribs and punctured a lung. It felt like my chest had collapsed on one side; I knew my ribs were in a bad way and I just couldn't get my breath back at all. I spent a week in hospital waiting for my lung to reinflate.
I missed about six weeks, and in my second game back in the VFL we played Collingwood out at Casey at the start of June. Midway through the third quarter, I flew for a mark in the goal square, and when I came down I thought my opponent had landed on my foot. I tried to run it off, which wasn't a great idea. By the time I got to the bench I couldn't put any weight on it, couldn't walk at all.
It was right on top, but the pain felt like it went really deep. The physio was looking at it, and even though he didn't say anything I could sense something wasn't right. I got the scans the next day and a call from the Melbourne doctor that night saying I had a stress fracture in my navicular and my season was done. Later that week, the surgeon put a screw across the break.
I had a really down couple of days thinking, 'I'm a rookie, I'm 26, and I've got a foot injury that has ended some guys' careers.' I'd watched Jack Trengove take two years to come back from it. I had a one-year deal. I thought, 'This could be the end of my AFL career, and it's only just started.'
The surgeon put a screw put across the break, and I voiced my concerns with a couple of the coaches, telling them I needed to know if I was done or not.
Senior coach Simon Goodwin and footy boss Todd Viney took me into a room and reassured me: "We're not getting rid of you, we want you to be a part of this club in 2018."
That was such a comforting thing to hear, a massive relief.
I thought, 'This could be the end of my AFL career, and it's only just started.'
From disappointment and uncertainty I committed to flipping the situation on its head, doing everything in my power to come back bigger, stronger and better. More than anything, I committed to not letting those guys down.
I was in a moon boot for four months, went from partial weight bearing to walking on the foot for two hours a day, building that up slowly over a four-week period. My rehab became my life; if that meant missing out on stuff, so be it. It's not much fun going out socially with a moon boot on anyway.
I've never had a doubt that I can still get better and learn new tricks, that's the person I am. My body was obviously a bit suss at the time, and at the start that did make me think, 'Am I getting old? Am I running out of time?'.
I was initially a bit scared of getting back and playing, but I've put on some size and strength. I'm really happy with where I am at the moment and have to thank the medical and rehab staff for getting me there.
Just to get out there in a VFL practice match in early March, after nine months of rehab and training away from the group, I was so excited. I know I've got to play to my strengths, the things that got me drafted: relentless pressure, tackling, contest-based football through marking and bringing the ball to ground. You can't spend your time worrying about getting hurt.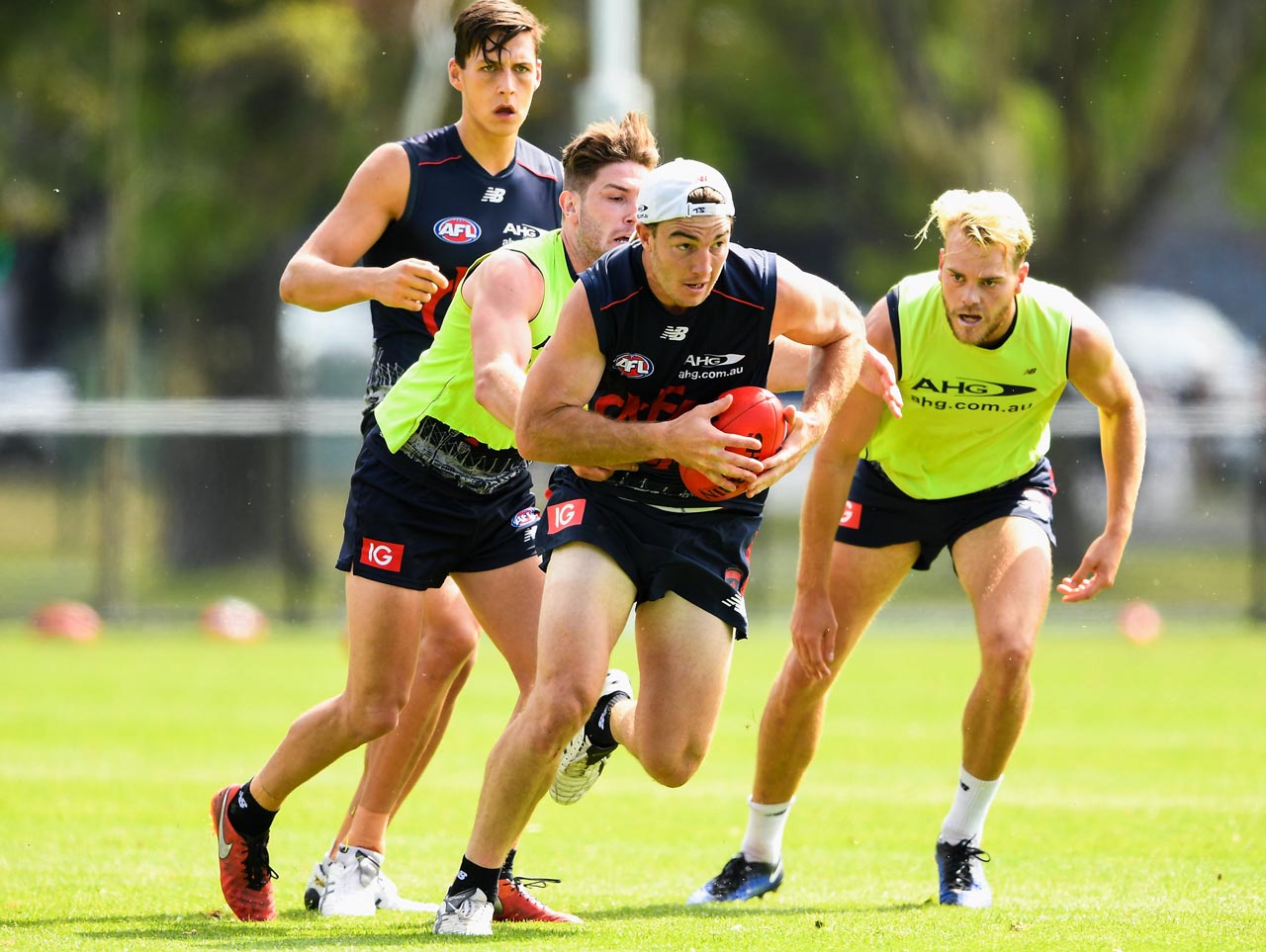 HAVE A CRACK
I still have a great relationship with my old boss. Before I was drafted, I ran a lot of the jobs for him and managed a couple of guys. Now I just keep my head in the game, do some quoting, a bit of management stuff. Football's obviously not going to last forever, I'd very happily fall back into plumbing.
But I'll be doing everything to ensure that doesn't happen for a while yet. I'm 27, but my age is just a number. There are plenty of guys a lot older than me who are playing great footy, having really successful careers. If I get my head down and get back to the role I know I can play in the team, I give myself every chance of playing AFL again.
I've been lucky to learn so many great lessons, and now that my fiancé Georgia is expecting our first child, I'm looking forward to passing them on. Parenthood – that will be a great string to the bow. That's a new part of the journey that's about to happen for us, and I'm looking forward to it so much.
I'll tell our kids: don't let anything hold you back. Don't think of age as an impediment or believe that because you didn't play in the local rep side you're no chance. Get your head down and have a crack, and if you're humble and a good person, things have a way of sorting themselves out. You'll get your opportunity.
More about: Anzac Day | Injuries | Melbourne Demons | Resilience | VFL